Debut

March, 1828




Name

Hidenoyama Raigoro




Died

June 16, 1862




Height

1.64 m




Retired

March, 1850




Role

Sumo wrestler




Makuuchi rank

Yokozuna




Weight

162 kg






Record

112-21-96 33draws-2holds(Makuuchi)




Highest rank

Yokozuna (September 1847)




Championships

6 (Makuuchi, unofficial)




Stable

Hidenoyama stable (1827–1850)




Similar People

Tanikaze Kajinosuke, Maruyama Gondazaemon, Ayagawa Goroji, Umegatani Totaro I, Ozutsu Man\'emon
Hidenoyama Raigorō (秀ノ山 雷五郎, 1808 – June 16, 1862) was a sumo wrestler from Kesennuma, Miyagi Prefecture, Japan. He was the sport's 9th yokozuna. He was also known as Amatsukaze Kumoemon (天津風 雲右衞門), Tatsugami Kumoemon (立神 雲右衞門) and Iwamigata Jōemon (岩見潟 丈右衞門).
Contents
Career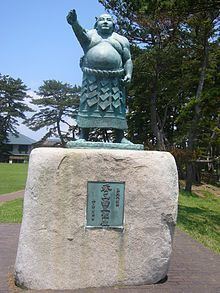 In 1823, he attempted to make his debut, but he was completely ignored at first due to his short height of only 1.51 m (4 ft 11 1⁄2 in). He joined Hidenoyama stable in 1827 and made his debut in March 1828. He was promoted to the top makuuchi division in January 1837. He recorded 30 consecutive wins and won the equivalent of six championships before the modern yūshō system was established. In the top makuuchi division, he won 112 bouts and lost 21 bouts, recording a winning percentage of 84.2.
Hidenoyama was awarded a yokozuna licence in November 1847. His height of 1.64 m (5 ft 4 1⁄2 in) is lowest among all yokozuna in sumo's long history. He was not one of the greatest wrestlers of his time, but received the licence because he had influential backers. Ōzeki Tsurugizan Taniemon reportedly handed over the yokozuna licence to Hidenoyama.
Retirement from sumo
After his retirement, he was an elder known as Hidenoyama and produced later yokozuna Jinmaku. He served as a judge (naka-aratame, modern shimpan) but this gave him many opportunities to give favourable decisions to his own pupils. At that time, there were many lower division wrestlers and they were sometimes forced to be absent from sumo bouts. They attempted to have their number of sumo bouts increased. He had the right of deciding their attendances and rejected this, excluding his own pupils. The other lower ranking wrestlers were angry, accusing him of bias, and went on strike because of his practices in 1851. It was the first walkout in sumo history. He eventually apologized to them.
Top division record
The actual time the tournaments were held during the year in this period often varied.
*Championships for the best record in a tournament were not recognized or awarded before the 1909 summer tournament and the above unofficial championships are historically conferred. For more information see yūshō.
References
Hidenoyama Raigorō Wikipedia
(Text) CC BY-SA