Record

258-14-112




Role

Sumo wrestler




Debut

April 1769




Makuuchi rank

Yokozuna





Championships

21 (unofficial)




Height

1.88 m




Name

Tanikaze Kajinosuke




Weight

160 kg






Born

金子 与四郎 Kaneko Yoshiro September 8, 1750 Wakabayashi, Sendai, Japan (

1750-09-08

)


Highest rank

Yokozuna (November 1789)




Died

February 27, 1795, Miyagi Prefecture, Japan




Stable

Isenoumi stable (until 1795)




Similar People

Raiden Tameemon, Maruyama Gondazaemon, Akashi Shiganosuke, Futabayama Sadaji, Tachiyama Mineemon
Kajinosuke Tanikaze (谷風梶之助, Tanikaze Kajinosuke, September 8, 1750 – February 27, 1795) was a sumo wrestler in Japan in the Tokugawa era, is officially recognized as the fourth yokozuna, and the first to be awarded the title of yokozuna within his own lifetime. He achieved great fame and won 21 tournament championships. He was also the coach of Raiden Tameemon.
Contents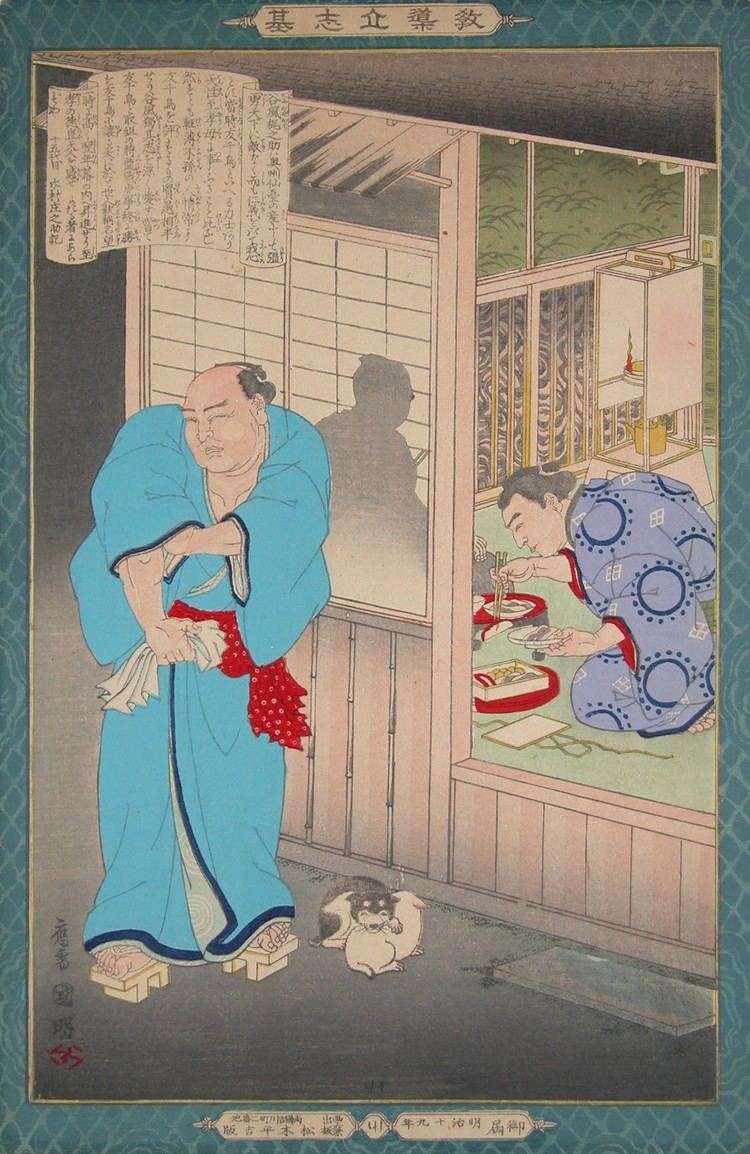 Early career
He was born in Sendai with Yoshiro (与四郎) as his infant name. He made his debut in sumo in 1769 when he was 19. With a height of 189 cm and a weight of 169 kg, he was extremely large in comparison with most Japanese men of his era.
In this period, local men with a large physique but often little to no sumo background were asked to enter sumo tournaments. They would debut as kanban or "guest" ōzeki and in most cases their "careers" were short-lived. This is how Tanikaze, due to his size, debuted in 1769. He chose to stay active in sumo however, and would eventually be promoted to a true ōzeki outright in March 1781. From October 1777 until February 1786, he lost only one bout. This was to Onogawa in February 1782. He recorded the longest run of consecutive victories in sumo bouts at that time, with 63. This record remained unbroken for about 150 years, until Futabayama in 1938.
Yokozuna
On November 19, 1789, he became one of the first two sumo wrestlers to be allowed to perform a yokozuna dohyō-iri (a special ring-entrance ceremony for the yokozuna alone, rather than entering as part of a parade of the top ranked wrestlers). Both he and Onogawa were granted a special so-called yokozuna license simultaneously in that year. Officially he is recorded as being the 4th Yokozuna in sumo history. However, as the first three (see list of yokozuna), if indeed they existed at all, were awarded the title posthumously, he can be said to be one of the first two real holders of the title.
He was still an active wrestler when he died at the age of 44 of influenza. He was on another winning streak of 35 bouts at his death. In the top makuuchi division, Tanikaze won 258 bouts and lost only 14 bouts, achieving a winning percentage of 94.9.
Tanikaze was a very popular rikishi. Unlike other wrestlers of his day, many nishikie (woodblock print based) portraits and images of him participating in bouts still remain.
Top division record
The actual time the tournaments were held during the year in this period often varied.
Tanikaze's first three tournaments were as a "guest" ōzeki, see above.
Tanikaze's record for the Spring 1776 tournament is unknown.
*Championships for the best record in a tournament were not recognized or awarded before the 1909 summer tournament, and the unofficial championships above are historically conferred. For more information, see yūshō.
References
Tanikaze Kajinosuke Wikipedia
(Text) CC BY-SA