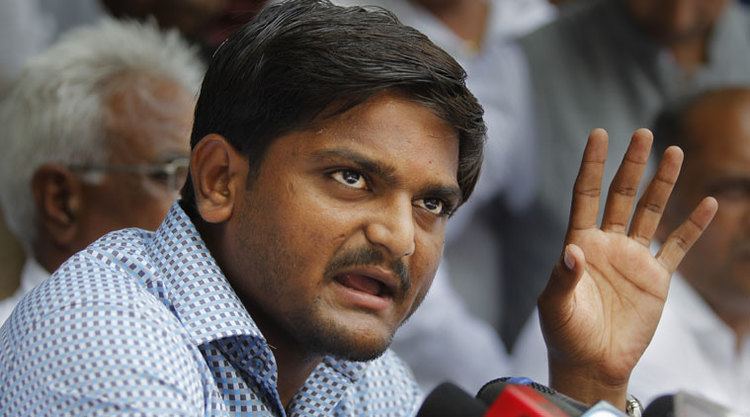 Hardik Patel was born on 20 July 1993 in a Gujarati Patidar family to Bharat and Usha Patel. In 2004 his parents moved to Viramgam, a town 11 km away, to give their children a better education. Hardik studied from Class VI to Class VIII at Divya Jyot School in Viramgam, before moving to K B Shah Vinay Mandir, where he studied until Class XII. He was an average student and a cricket enthusiast.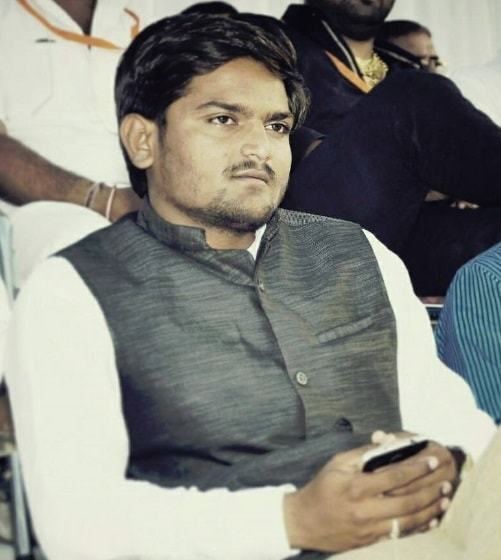 After completing Class XII, Hardik started helping his father, Bharat, to run a small business of fixing submersible pumps in underground water wells. Bharat, a former BJP worker, met current Chief Minister of Gujarat and herself a member of the Patidar caste, Anandiben Patel, when she held the Mandal assembly seat, in which Viramgam falls.
In 2010 Patel joined Sahajanand College, Ahmedabad and earned a Bachelor of Commerce (B. Com.) degree. He completed his B. Com. degree with grace marks. He ran for the post of general secretary of the college students' union and was elected unopposed. While still in college, Patel opened a potable water stand at the Viramgam Bus Stand as an act of social service. In 2013 he graduated from college, after two attempts, with less than 50% marks.
In 2015, Patel's sister, Monica, started a Bachelor of Arts degree in English as an external student.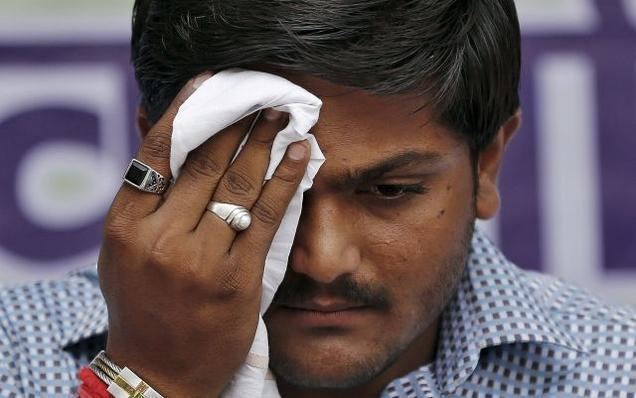 On 31 October 2012 Hardik Patel joined the Sardar Patel Group (SPG), a Patidar youth body, and within less than a month, became president of its Viramgam unit. Interaction with its 50,000 strong membership revealed that Patidar youth faced challenges while securing private sector jobs because of a slow economy, while they were shut out of government jobs because of reservation quotas and the expectation of bribes. He found that some Patidar farmers saw their agriculture land acquired for urbanization and industrialization, while Patidar businessmen faced failure of their traditional businesses due to competition from online retailers. He discovered that the diamond industry, a traditional source of wealth and employment for the Patidars, was in limbo. More than 20,000 small firms had shut down and thousands of unemployed Patel diamond cutters and polishers had returned to their villages.
In 2015, Hardik Patel was ousted from his post with the SPG after a conflict with its leader, Lalji Patel.
In July 2015 Patel's sister, Monica, failed to qualify for a state government scholarship. Patel was upset when a friend of Monica's qualified for the same scholarship through the Other Backward Class (OBC) quota even though she had scored lower marks. Recognizing that affirmative policies were benefiting other castes but not Patidars, Patel formed the Patidar Anamat Andolan Samiti (PAAS) which claim itself as an apolitical organization that aims to get Patidars included in the OBC quota. Patel claims that he was inspired by Indian independence movement activists like Mahatma Gandhi, Sardar Patel, and Chandra Shekhar Azad.
Using social media to spread his message and gather supporters, Patel addressed his first rally in Visnagar, Gujarat on 6 July 2015. Since then, he has organized several rallies across Gujarat, drawing millions of people through his oratorical skills.
On 25 August 2015, a large number of Patidars from all over Gujarat gathered at GMDC ground, Ahmedabad for a rally. Patel declared the day as Patidar Kranti Diwas (Patidar Revolution Day). That evening, he was briefly arrested by Ahmedabad City Police when he went on fast after a rally held earlier in the day had dispersed. He was charged under section 151 of Indian Penal Code for 'knowingly joining or continuing in assembly of five or more persons after it has been commanded to disperse'. Violent protests broke out in response, forcing the Gujarat state government to impose a curfew and call in the Indian Army.
On 31 August 2015, he addressed a gathering of Gujjar and Kurmi communities from Uttar Pradesh, Madhya Pradesh and Rajasthan. On 23 September 2015, Patel surfaced after a brief disappearance, claiming that had been "abducted" by people with weapons.
On 9 September 2015 Patel, launched Patel Navnirman Sena (PNS) and announced a major stir across India. PNS was established with the aim to bring Patels (Patidars) and affiliated communities such as Kurmis and Gujjars under one platform to press for their demand for reservation in government jobs and education under the OBC category.
On 18 October 2015, Patel was booked for insulting the Tiranga, the National Flag of India, in a case registered in Rajkot. He was briefly detained for trying to disrupt the one-day international (ODI) cricket match between India and South Africa. On 19 October 2015, Patel was booked in Surat under the charges of sedition over alleged remarks about 'killing cops'. Subsequently he was imprisoned. On 15 July 2016, Patel was granted bail on the condition that he would stay out of the state for six months and out of Mehsana for nine months. He moved to Udaipur for this period.
Hardik's close aid Chirag patel and Ketan Patel have alleged Hardik of using Community's fund for living luxurious life. They claim that he has become Crorepati just after 1 year of launching of Patidar Quoata stir. They wrote a letter to him and later made it public stating that
Your ambition to become a leader, selfishness and urge to be wealthy has caused huge damage to the community as well as to our agitation. People of our community very well know that instead of helping kin of those who lost their lives during our agitation, you and your close friends are living a lavish life. You and your uncle Vipulbhai bought expensive cars from the donations collected to help the martyrs and to fund the agitation. Normally, people find it difficult to make both ends meet after going to jail. But, it is exactly opposite in your case as you have become a crorepati after going to jail