When Tracy Turnblad (Ricki Lake), an overweight teen, auditions for a spot on a popular teen dance show, she beats out the spiteful Amber von Tussle (Colleen Fitzpatrick), winning over Ambers boyfriend (Michael St. Gerard) in the process. After meeting some black students at her school, Tracy begins to push for more racial integration on the dance show. This gets her into trouble on many sides, especially with Ambers pushy parents (Sonny Bono, Deborah Harry).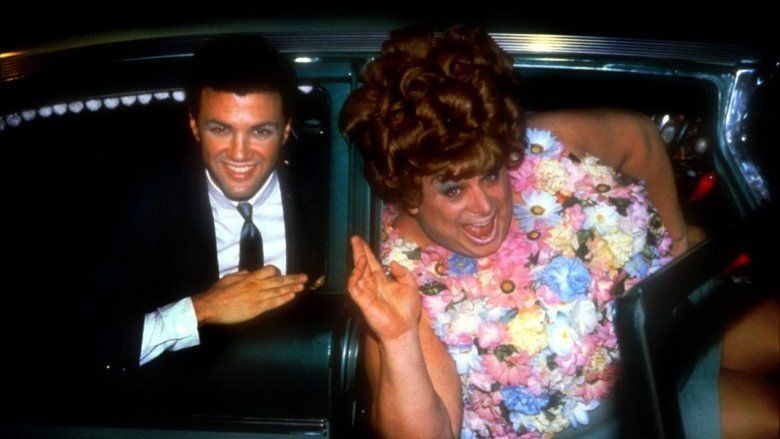 Hairspray is a 1988 American romantic musical comedy film written and directed by John Waters, and starring Ricki Lake, Divine (in his final film role), Debbie Harry, Sonny Bono, Jerry Stiller, Leslie Ann Powers, Colleen Fitzpatrick, and Michael St. Gerard. Hairspray was a dramatic departure from Waters earlier works, with a much broader intended audience. In fact, Hairspray???s PG is the mildest rating a Waters film has received; most of his previous films were rated X by the MPAA. Set in 1962 Baltimore, Maryland, the film revolves around self-proclaimed "pleasantly plump" teenager Tracy Turnblad as she pursues stardom as a dancer on a local TV show and rallies against racial segregation.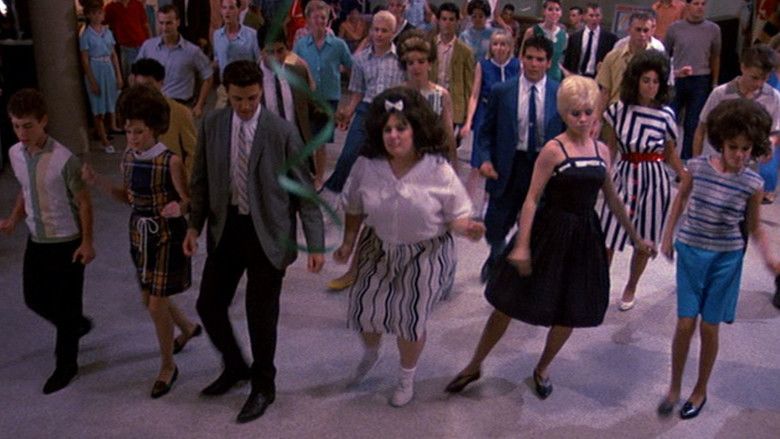 Hairspray was only a moderate success upon its initial theatrical release, earning a modest gross of $8 million. However, it managed to attract a larger audience on home video in the early 1990s and became a cult classic. Most critics praised the film, although some were displeased with the overall campiness.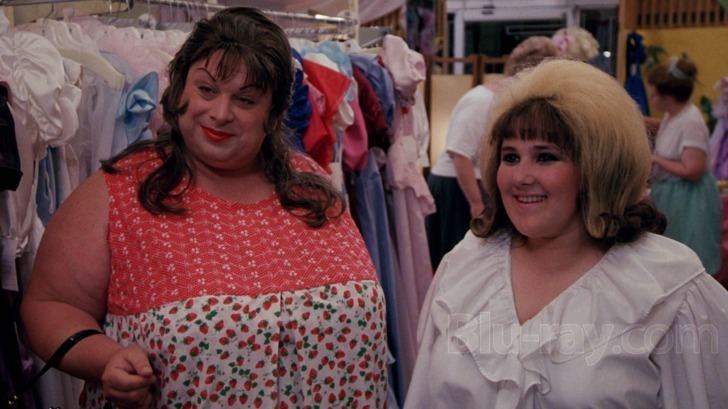 In 2002, the film was adapted into a Broadway musical of the same name, which won eight Tony Awards, including Best Musical in 2003. A second film version of Hairspray, an adaptation of the stage musical, was also released by New Line Cinema in 2007, which included many changes of scripted items from the original. The film also ranks #444 on Empire magazines 2008 list of the 500 greatest movies of all time.
Ample teen Tracy Turnblad wants nothing more than to be on the hip local TV dance program, "The Corny Collins Show" and when her dream comes true, her lively moves and bubbly personality meet with unexpected popularity. But after witnessing firsthand the terrible state of race relations in 1960s Baltimore, Turnblad becomes an outspoken advocate for desegregation.
Tracy Turnblad (Ricki Lake) and her best friend, Penny Pingleton (Leslie Ann Powers), audition for The Corny Collins Show, a popular Baltimore teenage dance show based on the real-life Buddy Deane Show. Penny is too nervous and stumbles over her answers, and another girl, Nadine, is cut for being black (there is a Negro Day on the show on the last Thursday of every month, she is told). However, despite being overweight, Tracy is a strong enough dancer to become a regular on the show, infuriating the shows reigning queen, Amber Von Tussle (Colleen Fitzpatrick), a mean, privileged, beautiful high school classmate whose pushy stage parents, Velma (Debbie Harry) and Franklin Von Tussle (Sonny Bono), own Tilted Acres amusement park (based on Baltimores Gwynn Oak Amusement Park, where racial problems occurred). Tracy steals Ambers boyfriend, Link Larkin (Michael St. Gerard), and competes against her for the title of Miss Auto Show 1963, fueling Ambers hatred of her.
Tracys growing confidence leads to her being hired as a plus-size model for the Hefty Hideaway clothing store owned by Mr. Pinky (Alan J. Wendl). She is also inspired to bleach, tease, and rat her big hair into styles popular in the 1960s. At school, a teacher brands her hairstyle as a "hair-dont" and sends her to the principals office, from which Tracy is sent to special education classes, where she meets several black classmates who have been put there to hold them back academically. The students introduce Tracy to Motormouth Maybelle (Ruth Brown), an R&B record shop owner and host of the monthly "Negro Day" on The Corny Collins Show. They teach Tracy, Penny, and Link dance moves and Penny begins an interracial romance with Motormouth Maybelles son, Seaweed (Clayton Prince). This horrifies Pennys mother, Prudence (Joann Havrilla), who imprisons her daughter in her bedroom and tries to brainwash her into dating white boys and oppose integration with the help of a quack psychiatrist, Dr. Fredrickson (director John Waters). Seaweed later helps her break out of the house and run away. It is implied that she will never return, as she has finally broken free from her mother.
Undeterred, Tracy uses her newfound fame to champion the cause of racial integration with the help of Motormouth Maybelle, Corny Collins (Shawn Thompson), his assistant Tammy (Mink Stole), and Tracys agoraphobic, slightly overbearing, and overweight mother, Edna (Divine). After a race riot at Tilted Acres results in Tracys arrest, the Von Tussles grow more defiant in their opposition to racial integration. They plot to sabotage the Miss Auto Show 1963 pageant by planting a bomb in Velmas bouffant hairdo. The plan literally blows up in Velmas face when the bomb detonates prematurely, resulting in the Von Tussles arrest by the Baltimore police after it lands on Ambers head. Tracy, who had won the crown but was disqualified for being in reform school, dethrones Amber after the governor of Maryland pardons her; Tracy then shows up at the competition, integrates the show, and encourages everyone to dance.
Ricki Lake as Tracy Turnblad
Divine as Edna Turnblad / Arvin Hodgepile
Debbie Harry as Velma Von Tussle
Sonny Bono as Franklin Von Tussle
Jerry Stiller as Wilbur Turnblad
Leslie Ann Powers as Penny Pingleton
Colleen Fitzpatrick as Amber Von Tussle
Michael St. Gerard as Link Larkin
Clayton Prince as Seaweed J. Stubbs
Ruth Brown as Motormouth Maybelle Stubbs
Shawn Thompson as Corny Collins
Mink Stole as Tammy
Joann Havrilla as Prudence Pingleton
Alan J. Wendl as Mr. Pinky
Toussaint McCall as himself
John Waters as Dr. Fredrickson
Council members
Josh Charles as Iggy
Jason Downs as Bobby
Holter Graham as I.Q. Jones
Dan Griffith as Brad
Regina Hammond as Pam
Bridget Kimsey as Consuella
Frankie Maldon as Dash
Brooke Stacy Mills as Lou Ann Levorowski
John Orofino as Fender
Kim Webb as Carmelita
Debra Wirth as Shelly
Special appearances
Ric Ocasek as Beatnik cat
Pia Zadora as Beatnik chick
John Waters wrote the screenplay under the title of White Lipstick, with the story loosely based on real events. The Corny Collins Show is based on the real-life Buddy Deane Show, a local dance party program which pre-empted Dick Clarks American Bandstand in the Baltimore area during the 1950s and early 1960s. Waters had previously written about "The Buddy Deane Show" in his 1983 book Crackpot: The Obsessions of John Waters.
Principal photography took place in and around the Baltimore area during the summer of 1987. The school scenes were filmed at Perry Hall High School with set locations including the library, a first-floor English class, and the principals office. In the scene set in the principals office, the Harry Dorsey Gough (see Perry Hall Mansion) coat-of-arms that once hung in the main lobby can be seen through the doorway. The scenes set at Tilted Acres amusement park were filmed at Dorney Park in Allentown, Pennsylvania.
The film was Divines final film and his only film with Waters in which he didnt play the lead. Originally, Divine was considered to play both Tracy Turnblad and her mother Edna. Executives from New Line Cinema, the films distributor, discouraged this concept, and it was eventually dropped.
A handful of scenes were cut while in post-production, some of which explained certain elements seen in the film. One involved Tracy breaking into the Von Tussles home, stealing Ambers hair bleach, and bleaching her hair in Ambers sink, thus explaining Tracys change of hair color later in the film.
Another deleted scene involved live roaches crawling out of Tracys hair (presumably placed there by Amber), which becomes a significant plot point throughout the rest of the film. When discussing his decision to ultimately cut the scene, Waters explained "Bob Shaye, the head of New Line, probably correctly, said, This doesnt work. What is this, a Bunuel movie? [...] And he was probably right." An alternate scene is instead included in which Amber claims to have seen a roach in Tracys hair, but she is presumed to be joking and/or lying.
The final deleted scene was a musical number which involved the teens performing an obscure 1960s dance called "The Stupidity" at the auto show just prior to Tracy being released from reform school, but again, Waters ultimately decided it wasnt appropriate, stating, "[B]asically, I thought, you know, you dont want your leading man to look stupid right in the big finale."
Hairspray received three stars from critics Gene Siskel and Roger Ebert.
The film currently holds a 97% "fresh" rating on Rotten Tomatoes; it is Waters second-highest-rated film (behind Multiple Maniacs); the sites consensus states "Hairspray is perhaps John Waters most accessible film, and as such, its a gently subversive slice of retro hilarity."
Hairspray opened on February 26, 1988 in 79 North American theaters, where it grossed US$577,287 in its opening weekend. On March 11, it expanded to 227 theaters, where it grossed $966,672 from March 11–13. It ended its theatrical run with $8,271,108.
The film was nominated for six Independent Spirit Awards, and the Grand Jury Prize at the Sundance Film Festival.
In mid-2002, Margo Lion teamed with writers Marc Shaiman and Thomas Meehan to turn Hairspray into a Broadway musical production. The show opened on August 15, 2002 starring Marissa Jaret Winokur as Tracy and Harvey Fierstein as Edna. The show went on to win eight Tony Awards, including Best Musical, in 2003. The show closed on January 4, 2009.
In 2006, New Line joined forces with Adam Shankman to adapt the Broadway show into a movie musical. The film was released July 20, 2007, starring John Travolta as Edna, Michelle Pfeiffer as Velma, Christopher Walken as Wilbur, Amanda Bynes as Penny Pingleton, Brittany Snow as Amber Von Tussle, Queen Latifah as Motormouth Maybelle, James Marsden as Corny, Zac Efron as Link, and newcomer Nikki Blonsky as Tracy. The film had a $75 million budget and earned over $200 million worldwide.
The soundtrack was released in 1988 by MCA Records. The album featured one original song by Rachel Sweet and eleven other songs mostly from the early 1960s by Gene Pitney, Toussaint McCall and The Ikettes, among others. Two songs, "You Dont Own Me" and "Mama Didnt Lie" came out in 1964 and 1963
Additional songs
Other songs appear in the film, but are not on the soundtrack, due to licensing restrictions, because many of the songs listed were on the Cameo Parkway Label, a recording label owned by Allen Klein.
"Limbo Rock" – Chubby Checker
"Lets Twist Again" - Chubby Checker
"Day-O" – Pia Zadora
"Duke of Earl" – Gene Chandler
"Train to Nowhere" – The Champs
"Dancin Party" – Chubby Checker
"The Fly" – Chubby Checker
"The Bird" – The Dutones
"Pony Time" – Chubby Checker
"Hide and Go Seek" – Bunker Hill
"Mashed Potato Time" – Dee Dee Sharp
"Gravy (For My Mashed Potatoes)" – Dee Dee Sharp
"Waddle, Waddle" – The Bracelets
"Do the New Continental" – The Dovells
"You Dont Own Me" – Lesley Gore
"Lifes Too Short" – The Lafayettes
Hairspray was issued for the first time on VHS and LaserDisc in 1989 by RCA/Columbia Pictures Home Video. New Line reissued the film on VHS in 1996.
The film was released on DVD by New Line in 2002. The disc included an audio commentary by John Waters and Ricki Lake and a theatrical trailer. It was released on Blu-ray on March 4, 2014.