Genres

rhythm and blues




Record label

Atlantic Records




Albums

soul the Hits


Years active

1960–1974; 1990s




Genre

Rhythm and blues







Occupation(s)

backing vocalists, Girl group


Labels

Atco RecordsTeena RecordsInnis RecordsPhi-Dan RecordsModern RecordsPompeii RecordsLiberty RecordsUnited artists


Associated acts

Ike & Tina Turner, Ike Turner, The Mirettes


Past members

Robbie MontgomeryFrances HodgesSandra HardingDelores JohnsonEloise HesterJo ArmsteadJessie SmithVenetta FieldsJanice Singleton (Hughes)Diane RutherfordMarquentta TinsleyPat Arnold (a.k.a. P. P. Arnold)Juanita HixsonGloria ScottMaxine SmithPat PowdrillAnn ThomasShelly ClarkRose SmithPaulette ParkerStonye FigueroaEster JonesFalisha WallsJeanette BazzellRandi Love a.k.a. Michelle LoveStonye FigueroaAudrey Madison-TurnerSee members section for others




Members

Robbie Montgomery, P P Arnold, Claudia Lennear, Venetta Fields, Bonnie Bramlett


Similar

Maxayn, Honey Cone, The "5" Royales




Appearance

Shoot the Moon
60's Girl Group The Ikettes ~ Heavenly Love
The Ikettes were a trio (sometimes quartet) of female Backing vocalists for the Ike & Tina Turner Revue. Despite their origins, the Ikettes became successful artists in their own right, with hits in the early- and mid-1960s. Mostly unheralded, they were arguably one of the ten top R&B female groups of all time.
Contents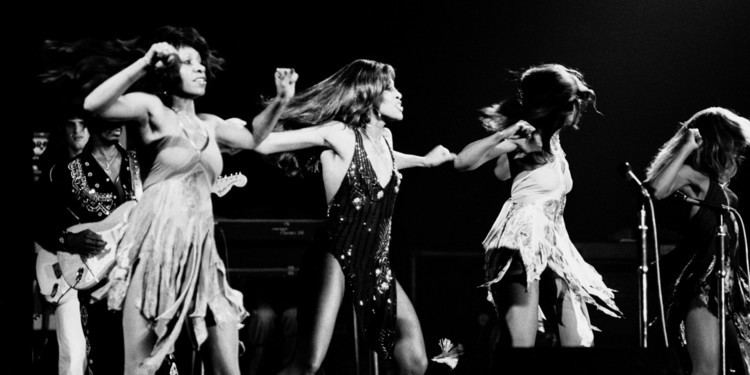 The group started as the Artettes, the backing group of Art Lassiter. The first official incarnation of The Ikettes was composed of Robbie Montgomery, Venetta Fields, and Jessie Smith; Ike never paid them much, which caused their lineup to change frequently, and they never received royalties. The original trio of Ikettes later morphed into the Mirettes.
History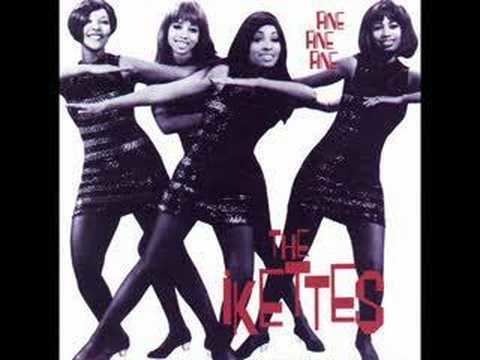 In 1960, when Art Lassiter didn't show up for a recording session, Ike Turner took Lassiter's backup singers, the Artettes — Robbie Montgomery, Frances Hodges, and Sandra Harding — and had them accompany Tina Turner on her first recording, "A Fool in Love". The hit single propelled Ike to form the Ike & Tina Turner Revue, but with a new group of backup singers: Delores Johnson, Eloise Hester, and Jo Armstead. (Montgomery was pregnant and unable to tour.)
Montgomery rejoined the Revue shortly after having her baby, and teamed with Jessie Smith, and eventually Venetta Fields, to form the first official incarnation of The Ikettes. They cut "I'm Blue (The Gong-Gong Song)" the following year. Ike produced the record and leased it to Atco Records, who issued three less successful Ikettes singles in 1962. The following year, Ike switched them to his Teena record label for two singles: "Crazy in Love" (credited as Robbie Montgomery & the Ikettes) and "Prisoner in Love". "Here's Your Heart" came out on Innis in 1964 but failed to go national; nor did a Phi-Dan single in 1965.
A six-record stint from 1964 through 1966 on Modern Records saw The Ikettes score three hits: "The Camel Walk" (1964), and "Peaches and Cream" and "I'm So Thankful" (both 1965). Ultra-funky remakes of "Sally Go Round the Roses" and "Da Doo Ron Ron" did not go as well; neither did "He's Gonna Be Fine, Fine, Fine," though it sounded like a precursor to the stuff Betty Davis did later. When "Peaches and Cream" exploded, Ike sent a different set of Ikettes — Janice Singleton (Hughes), Diane Rutherford and Marquentta Tinsley — on the road with "The Dick Clark Caravan of Stars", and kept Montgomery, Smith, and Fields on tour with his revue. Singleton and Rutherford provided backing vocals for Tina Turner on the Phil Spector-produced 1966 classic "River Deep – Mountain High".
In the meantime, Turner hired new women as Ikettes. The first set included Pat Arnold (a.k.a. P. P. Arnold), Juanita Hixson, Gloria Scott, and Maxine Smith. Later members included Pat Powdrill, Ann Thomas, Shelly Clark (later of Honey Cone), Rose Smith and Paulette Parker. Innis, attempting to earn some money from its unreleased material, issued "So Blue Over You"/"So Fine" credited to Ike & Tina Turner & the Ikettes in 1968.
Ike Turner's formation of a second group of Ikettes in 1965 caused much annoyance to Montgomery, Fields, and Smith, and they left the Ike and Tina Turner Revue in late 1965. After trying unsuccessfully to continue using the name the Ikettes under management of Tina Turner's sister, Alline Bullock, they changed their name to "The Mirettes", after the Mirwood label they had signed to. Their single release did not chart and they signed with Revue Records. The stint with Revue proved luckier: their first two singles, a sexy "In the Midnight Hour" and "Take Me for a Little While", made impressions. A third single, "First Love", stiffed, as did a single on Minit Records in 1968 entitled "Help Wanted". A shift to Uni Records was more fruitful for The Mirettes, but the songs were not big hits. Zea Records dropped the raunchy "Ain't My Stuff Good Enough" in 1970. The Mirettes broke up in 1971, after Venetta Fields left the group and was replaced by one-time Ikette Pat Powdrill.
Pompeii and Liberty Records issued singles credited to The Ikettes in 1969 and 1970 respectively, but only a remake of Sly & the Family Stone's "I Want to Take You Higher" (with Ike & Tina Turner) got much notice. It was followed by two more singles credited to the Ikettes on United Artists, including a remake of "Camel Walk" in 1971 and "Two Timin', Double Dealin'" in 1973, the last known single by either the Ikettes or the Mirettes [see below].
The Ikettes changed once again in 1969 when Edna Lejeune Richardson contracted tuberculosis and was temporarily replaced by Stonye Figueroa. Stonye along with Ester Jones and Claudia Lennear, went on to perform on The Ed Sullivan Show with Ike and Tina Turner on January 11, 1970. The Ikettes trio performed in Las Vegas January 1970, at the Hilton Hotel opposite Redd Foxx.
Edna Lejeune Richardson returned to the group in 1972. In 1974 she, along with Stonye Figueroa and Ester Jones, appeared on Don Krishner's Rock Concert. Jones and Richardson were long-time members of the Ikettes. Lejeune was married to Ike Turner's drummer Soko Richardson, but later was divorced. In 1974 Edna had a minor role in the blaxploitation classic "Truck Turner". She played "Frenchie", one of "Dorinda's Girls". She later became a backup dancer for Tina Turner during Tina's solo years; she was noted as being Tina's favorite Ikette. (Tina Turner no longer uses Ikettes in her shows; instead, she affectionately refers to her back-up dancers as her "flowers.")
As Ike Turner revived his career in the 1990s, he formed a new set of Ikettes, including Jeanette Bazzell, Randi Love a.k.a. Michelle Love, Stonye Figueroa (1998), and Audrey Madison-Turner.
Post-Ikette careers
Former Ikettes Clydie King and Venetta Fields had a successful joint career after leaving Ike & Tina, joining Ray Charles as The Raelettes, the UK rockers Humble Pie (post-Peter Frampton) as two-thirds of The Blackberries, as well as a brief stint with Delaney and Bonnie. They also appear as backing vocalists on the first album by Steely Dan.
Armstead, the first of the originals to leave, went solo and sang with groups before hooking up with a pre-Motown Nickolas Ashford and Valerie Simpson to form the formidable songwriting/production team of Ashford/Simpson/Armstead.
Janice Singleton (Hughes) left the Ikettes to lead groups on A&M (The Secrets: lead vocals on A&M recording by Diane Rutherford-Swann) and Verve (The Unit Plus), then teamed with ex-Ikette Maxine Smith (Green) on world tours with Leo Sayer, Martha Reeves, Boz Scaggs, and Joe Cocker, among others. In 2007, Singleton & Smith joined the Mohegan Sun All Stars.
1960s-1970s
Shirley Alexander (a.k.a. Shirley Butler) (1969-1971)
Jo Armstead (1960–c.1964)
P. P. Arnold (1964–1966)
Mary Bennett (April–July 1978, during the breakup of Ike and Tina)
Bonnie Bramlett (c. 1963–c. 1966) — first white member
Jean Brown (Burks) (c. 1971)
Mary Brown
Alesia "Sugar" Butler (1972-1974) — performed on Midnight Special (1972), The Johnny Carson Show, and Burns & Schreiber Comedy Hour
Shelly Clark (c. 1966–c. 1968) — later a member of Honey Cone
Vera Cliburn (1970s, mid-1990s)
Denise Ferri
Venetta Fields (1962–1965)
Stonye Figueroa (a.k.a. Barbara Cook) (1969-1974, 1998–2007)
Yolanda Goodwin
Martha Graham (c. 1968)
Vera Hamilton (c. 1973; died August 31, 2013)
Eloise Hester (1960–?)
Juanita Hixson (1964–?)
Delores "Dee Dee" Johnson (1962–?)
Esther Faye Buron Jones (1966–1974; died in 2006) — "longest running Ikette"
Clydie King
Claudia Lennear (c. 1969–c. 1971)
Charlotte Lewis
frances hodges
Robbie Montgomery (1960–1965) — later a successful restaurateur and star of the reality series Welcome to Sweetie Pie's
Paulette Parker a.k.a. Maxayn (1967–?)
Pat Powdrill (c. 1966–c. 1972; died April 11, 1996)
Edna Lejeune Richardson (?–1969; 1974–?) — married to Ike's drummer Soko Richardson
Diane Rutherford-Swann (c. 1964–1966)
Gloria Scott (1964)
Linda Sims
Janice Singleton (c. 1964–1966)
Jessie Smith (c. 1961–1965)
Maxine Smith (1964–?)
Rose Smith (c. 1966)
Jackie Stanton
The Stovall Sisters (1967)
(Margaret) Ann Thomas (c. 1966–?) — the "non-singing Ikette"
Marquentta Tinsley (c. 1964–?)
Adrienne Williams
Carlena "Flora" Williams (1964) — sang lead on "Blue With a Broken Heart"
Debbie Wilson
1980s and 1990s
Jeanette Bazzell (mid-1990s–early 2000s) — married to Ike Turner from 1995–2001
Vera Cliburn (1970s, mid-1990s)
Stonye Figueroa (a.k.a. Barbara Cook) (1969-1974, 1998–2007)
Bonnie Johnson (1988)
Randi Love a.k.a. Michelle Love (mid-1990s–early 2000s)
Audrey Madison-Turner (mid-1990s–early 2000s) — married to Ike Turner in 2006
Vermettya Royster (c. 1996-?) — also member of the Clara Ward Singers, the Raelets, New Spirit & lead singer of Sisters Love
Marcy Thomas (1988)
Albums
Fine FIne Fine (Stateside, 1965)
Soul the Hits (Modern Records, 1966)
In Person (Minit, 1969) — credited to Ike & Tina Turner And The The Ikettes
Come Together (Liberty, 1970) — credited to Ike & Tina Turner And The Ikettes
The Ikettes (G)Old & New (United Artists, 1974)
Can't Sit Down ... 'Cos It Feels So Good! The Complete Modern Recordings (Kent, 1987)
Singles
"Come On and Truck" (1962)
"I Do Love You" (1962)
"I'm Blue (The Gong-Gong Song)" (1962)
"Pee Wee" (1962) — as Robbie Montgomery and the Ikettes
"I'm Leaving You" (1963)
"Crazy In Love" (1963) — as Robbie Montgomery and the Ikettes
"I'm Leaving You" (1963)
"No Bail in This Jail" (1963)
"You're Still My Baby" (1963) — Venetta Fields on lead vocals
"Blue With a Broken Heart" a.k.a. "Blue On Blue" (1964)
"Camel Walk" (1964)
"Here's Your Heart" (1964) — as The Ikettes With Ike & Tina Revue
"Prisoner in Love" (1964)
"Don't Feel Sorry For Me" (1965)
"(He's Gonna Be) Fine, Fine, Fine" (1965)
"How Come" (1965)
"I'm So Thankful" (1965)
"It's Been So Long" (1965)
"(Never More Will I Be) Lonely For You" (1965)
"Nobody Loves Me" (1965)
"Peaches N' Cream" (1965)
"Your Love Is Mine" (1965)
"You're Trying To Make Me Lose My Mind" (1965)
"The Biggest Players"(1966)
"Can't Sit Down 'Cos It Feels So Good" (1966)
"Da Do Ron Ron" (1966)
"The Loco-Motion" (1966)
"Not That I Recall" (1966)
"Sally Go Round The Roses" (1966)
"Sha La La" (1966)
"What'cha Gonna Do" (1966)
"You Can't Have Your Cake and Eat It Too" (1966)
"So Fine" (1968) — as Ike & Tina and The Ikettes
"I Want To Take You Higher" (1970)
"I'm Just Not Ready For Love" (1972)
"Two Timin' Double Dealin'" (1973)
Singles
"Take Me For a Little While" (1968)
"First Love" (1968)
"Help Wanted" (1968)
"In the Midnight Hour" (1968)
"Ain't My Stuff Good Enough" (1970)
"Now That I Found You Baby" (1996)
"He's All Right with Me" (1966)
Songs
I'm BlueHairspray · 1988
I Want to Take You HigherCome Together · 1970
Camel WalkSoul the Hits · 1966

References
The Ikettes Wikipedia
(Text) CC BY-SA