The HAL Advanced Medium Combat Aircraft (AMCA) is an Indian programme of a fifth-generation fighter aircraft. It is being developed by an aerospace industry team which consists of the Aeronautical Development Agency as the design firm with manufacturing carried out by Hindustan Aeronautics Limited (HAL) as the primary contractor and main assembly firm. It is a single-seat, twin-engine, stealth supermaneuverable all weather multirole fighter stealth aircraft. Unofficial design work on the AMCA started in 2008 with official work started in 2011 and completed in 2014. In 2008, the Indian Navy joined the programme seeking a naval variant optimized for operation from aircraft carriers. The first flight is scheduled to occur in 2025.
Contents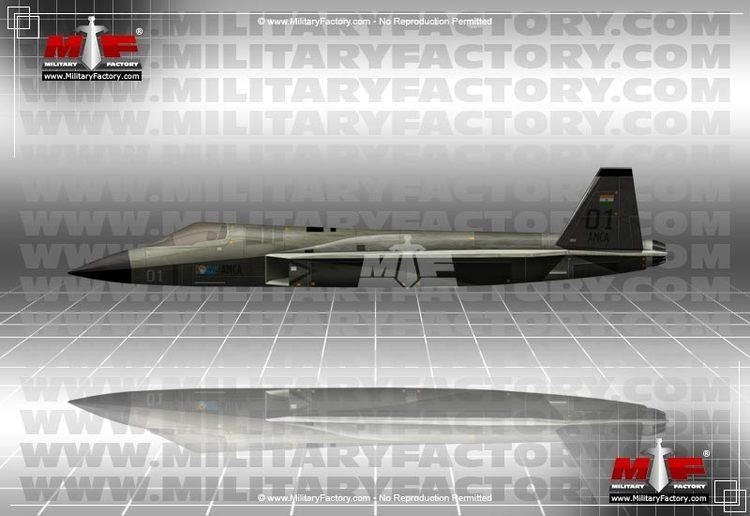 It is a multirole combat aircraft designed for the air superiority, ground attack, bombing, intercepting, strike and other types of roles. It combines supercruise, stealth, advanced AESA radar, supermaneuverability, and advanced avionics to overcome and suppress previous generation fighter aircraft along with many ground and maritime defences. It will complement HAL Tejas, Sukhoi/HAL FGFA, the Su-30MKI, and Rafale in the air force service and HAL Naval Tejas and Mikoyan MiG-29K in the naval service. The AMCA is intended to be the successor to the SEPECAT Jaguar (Shamsher), Dassault Mirage 2000 H (Vajra), MiG-23 and MiG-27 Bahadur in the Indian Air Force. The aircraft, along with its naval variants, is intended to provide the bulk of the manned tactical airpower of the Indian Air Force and Navy over the coming decades. AMCA would be the third supersonic jet of Indian origin after the HAL Marut and HAL Tejas.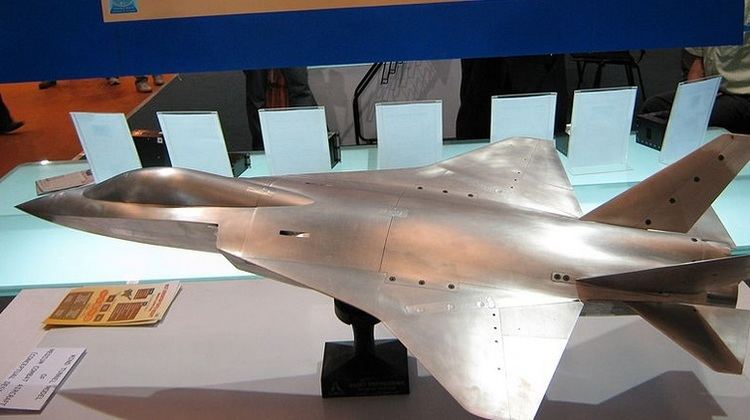 AMCA Program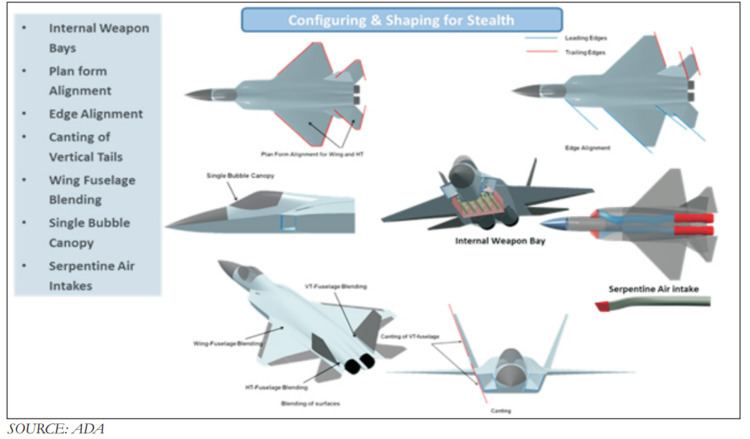 The Advanced Medium Combat Aircraft (AMCA) fifth-generation stealth fighter program evolved out of Medium Combat Aircraft (MCA) programme, was initiated to fulfil several requirements for a common fighter to replace different types of existing fighters aircraft which included Dassault Mirage 2000, Sepecat Jaguars, Mikoyan MiG-23 and Mikoyan MiG-27. The development contract for the aircraft programme was signed on 8 March 2008. The MCA program was created to replace various aircraft while keeping development, production, and operating costs down. In October 2008, the Indian Air Force asked the ADA to prepare a detailed project report on the development of a Medium Combat Aircraft (MCA) incorporating stealth features. In the same month the aircraft's name was changed to Next Generation Fighter Aircraft (NGFA) by the Indian Air Force and Indian Navy, but ADA and DRDO still used the MCA designation for the aircraft.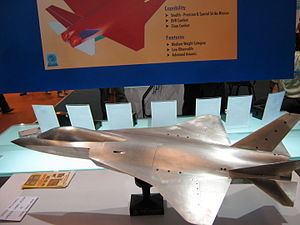 In February 2009, ADA director PS Subramanyam said at an Aero-India 2009 seminar that they were working closely with the Indian Air Force to develop a Medium Combat Aircraft. He added that according to the specification provided by the Indian Air Force, it would likely be a 20-ton aircraft and would be powered by two GTX Kaveri engines.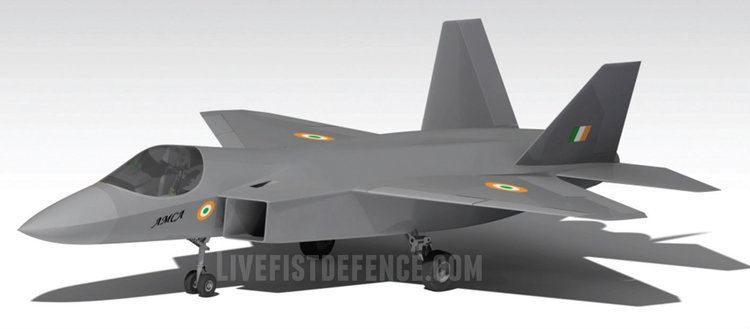 In March 2010, the aircraft was renamed as Advanced Medium Combat Aircraft (AMCA). In April 2010, the Indian Air Force Chief of Air Staff issued the Air Staff requirements (ASR) for the AMCA, which placed the aircraft in the 25-ton category. Full-fledged support for the AMCA project was approved by Indian Air Force and Indian Navy on 16 July 2010 by the Joint Review Committee of the Indian Air Force and Indian Navy. The first flight test of the prototype aircraft was scheduled to take place by 2017.
Development of the aircraft had been divided into four phases or approaches: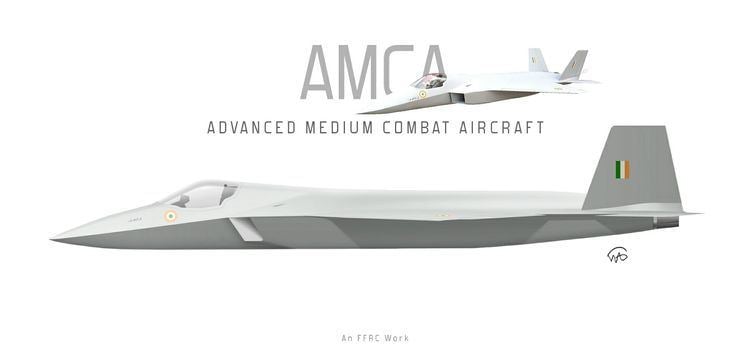 Design approach – designing and other activities
Test approach – Project Definition, wind tunnel testing and modelling
Technology development approach – engineering technology manufacturing development (ETMD) and prototype development
Manufacturing and support approach – development during manufacturing and upgrades during the project lifetime
Funding
In November 2010, the ADA sought ₹9,000 crore (approximately €1.5 billion/US$2 billion) of funding for the development of the advanced medium combat aircraft (AMCA). PS Subramanyam subsequently stated, "We have just started working on this fifth-generation aircraft, for which we had already received sanctions to the tune of ₹100 crore. The way the government is cooperating, I am able to say that we will receive the funding (₹9,000 crore) in the next 18 months". Funding was utilised to develop two technology demonstrators and seven prototypes. Design funding of ₹ 100 crore was approved in March 2011. AMCA project also contributed to the universities and start-up, with more than ₹ 700 crore was contributed from AMCA's funding to the various start-up and ₹1,000 crore to the various universities and IITs. Full funding for the research and development was approved by MoD in March 2015 along with the procurement of the first batch of 200 AMCA which includes 150 for the Indian Air Force and 50 for the Indian Naval Air Arm. Initial development cost stands around ₹5,000 crores.
Design phase
The design development phase of the aircraft occurred from October 2008 to February 2013 during this phase design and configuration were confirmed. Total ten design proposal with five major design's sharing similarities with five design emerged after intensive wind tunnel testing. The proposal of the aircraft was finalized in October 2012 and was shown at Aero India 2013. Proposal of design which included tail were designated with the serial number 3B-01 to 3B-09. During the design phase more than 200 employees of ADA worked on the various aspects of the design and related field and activities.
Previous designs
The first design of the AMCA was a pure triple delta wing configuration with two V-shaped tail wings with tailless configuration and only two air brakes with a total length of 13.9 meters with a wing span of 11.4 m and an empty weight of around 12 tonnes with advance stealth capability. The only empennage-mounted control surfaces are the single-piece rudder and two air brakes located in the upper rear part of the fuselage, one each on either side of the fin.
AMCA's second design proposal was first showcased at Aero India 2009. The previous proposal which was shown as a part of Multidisciplinary design optimization (MDO) included cantilever wings with a V-shaped twin tail and a medium-sized tail-wing with serpentine air intake and blended large leading-edge root extension (LERX), total length was 13.9 m and wing span of 10.8 m with empty weight of around 12 tonnes, with overall nose on low observability design. The previous design boosted design based stealth feature which were further optimized by the use of air-frame shaping, composite material, edge matching fuselage, RAPs, body conforming antennae and engine bay cooling, RAMs, weapons bay, special coatings for poly-carbonate canopy and other stealth features, the aircraft had a weight of 16–18 tonnes with 2-tonnes of internal weapons and four-tonnes of internal fuel with a combat ceiling of 15-km, max speed of 1.8-Mach at 11-km. The second Proposal were designated with the designation of 3B-01.
A third design proposal for AMCAs was shown in 2011 at Aero India 2011 with a near complete re-designed aircraft with only Tail-wing from the previous design remained constant. Trapezoidal wings in a semi shoulder-mounted cantilever state. The total length of aircraft around 15.7 m and a wingspan of 11.6 m, much greater than previous design. The aircraft had a serpentine air intake. Design of this category were designated with the designation from 3B-02 to 3B-04. By August 2011 the AMCA's broad specifications stated that the aircraft will have a weight of 16–18 tonnes with 2-tonnes of internal weapons and four-tonnes of internal fuel with a combat ceiling of 15-km, max speed of 1.8-Mach at 11-km.
The fourth proposal for AMCAs was shown in 2012 with a complete re-designed aircraft with only Tail-wing from the previous design remained constant. The aircraft had a shoulder-mounted Trapezoidal wing sharing similarities with Lockheed Martin F-22 Raptor wings with the total length of aircraft was around 16.9 m and with a wingspan of 11.7 m much greater than previous design which had given it a larger wing area ratio, a larger weapons bay with an increase range and greater maneuverability with the designations from 3B-05 to 3B-06. A major difference from second and third design was the use of S-duct rather than the serpentine air intake. The aircraft previous proposal was in the preliminary design phase and in June 2012, with aerodynamic design optimization of previous proposal was in near complete stage, the AMCA's broad specifications stated that the aircraft will have a weight of 16–18 tonnes with 2-tonnes of internal weapons and four-tonnes of internal fuel with a combat ceiling of 18-km, max speed of 2.2-Mach at 11-km.
Finalised concept
The aircraft concept was finalized and shown to the air force in 2012, after which full-scale development on the project was started. In February 2013, the Aeronautical Development Agency (ADA) unveiled a 1:8 scale model at Aero India 2013, to show the finalized proposal. From finalised design series from 3B-07 to 3B-09, 3B-08 was chosen.
Project Definition phase
Project Definition commenced from February 2013 to March 2014, started immediately after the design was finalized with intensive development on the finalised design. The wind tunnel testing of the aircraft occurred at HAL's AR&DC high speed wind tunnel facility at Nasik and Bengaluru, the National Aerospace Laboratories (NAL) wind tunnel testing facility at Kanpur and Aurangabad, and the Indian Institute of Science (IISc) facilities at Kolhapur and Bhubaneswar. Some testing was also conducted at the Calspan wind tunnel facility in Boston. In April 2013, the Ministry of Defence had put the project on hold, wanting to make up for the protracted delays incurred by the ADA and DRDO's labs and establishments during the development of the HAL Tejas. According to the Defence of Ministry, "this decision was taken recently to let the ADA and DRDO's Labs to focus on the HAL Tejas." The AMCA design team led by Dr. A K Ghosh had completed low-speed wind tunnel testing, supersonic wind tunnel testing and Radar Cross-Section(RCS) testing between 2008 and 2014 during which all the five design proposals underwent intensive air flow testing, design development and improvements.
Design research and development of the finalized design was completed by NAL from October 2012 to September 2014. The R&D efforts led to the current configuration of the aircraft and a structurally efficient wings layout with four bending attachment brackets and two shear attachment brackets. For the AMCAs, structural design, analysis and size optimization was carried out to cater for all critical symmetric and un-symmetric load cases. Finite element models were built separately for each of the fuselage segments and then integrated to build a full fuselage finite element model which also incorporated a new design for the air intakes, a key element to maintain the aircraft's low observation lineament (stealth characteristics). Project definition phase was fully completed by February 2014. New and various types of simulation models, software and programming languages were created and developed by ADA, HCL Technologies, Wipro, CMC subsidiary of Tata Consultancy Services (TCS) and various other firmes for Aircraft modeling, simulation, simulation testing, simulation running and aircraft programme languages. Various model simulation and testing was carried out by the Advanced Numerical Research and Analysis Group (ANURAG) from February 2013 to September 2014. The newly commissioned Dhruva computing unit was used by Anurag in simulation, programming and other fields.
ETMD phase
The Engineering Technology & Manufacturing Development (ETMD) phase was started on 7 January 2014 when work on AMCA had again commenced after HAL Tejas attained IOC, and it was announced that the AMCA will be developed by 2018. The configuration finalised in 2014, with the first flight was scheduled for 2018. The product design work of Advanced Medium Combat Aircraft was started by the Defence Research and Development Organisation (DRDO) and the work on the prototype as the part of proof of concept stage was expected to be ready in 2018.
On 7 February 2014 DRDO Director Dr Tamilmani told reporters on the sidelines of the three-day international meet on Product Life Cycle Modelling, Simulation and Synthesis (PLMSS) at VIT university,' he said the aircraft would be equipped with twin engines with super cruise power and for the first time it would be using the stealth technology to 'hide' from radar surveillance. At a seminar ahead of the Aero India show, DRDO's chairman Dr. V.K Saraswat said that Indian private sector firms are also participating and offering support in the program.
At Aero India 2015, Tamilmani confirmed that the work on three major Technological issues which includes Thrust Vectoring and Super Cruising engine, AESA radar and Stealth technology is going on full swing and availability of the technology on the aircraft will occur on schedule. In 2015, 700 ADA employees were working on the project along with 2,000 employees of DRDO and 1,000 employees of HAL supported by over 500 employees of subcontractors of both Indian and foreign firms. On 7 March 2015 a Memorandum of Understanding (MoD) through Government to Government (G-to-G) route between India and Russia was signed in which various Russian firms agreed to help Indian firms in various technological fields which included the Gas Turbine Research Establishment (GTRE) entered in a joint-venture with Klimov for the development of Three-Dimensional Thrust Vectoring (TDTVC), Electronics and Radar Development Establishment (LRDE) with Tikhomirov Scientific Research Institute of Instrument Design (TSRIID) for the AESA Radar and ADA with the Sukhoi for stealth technology and other various key technological fields. In March 2015 Boeing and Lockheed Martin offered to help HAL and DRDO in the field of Stealth, thrust vectoring and other key technologies. Work on various technology was carried by various establishment of DRDO, ADA and HAL which included Stealth, Engine, three-dimensional thrust vectoring, AESA radar, internal weapons bay, serpentine air intakes and all other major avionics. In September 2015, 140 Firms were working on the various fields and aspects of the programme. By October 2015 AMCA's development was fast tracked in order to achieve results earlier than planned. According to Deputy Air Marshall Sinha "To provide adequate time to Indian industries to develop required capabilities, the armed forces will soon come out with a list of technologies of interest, Sinha said, underlining that these efforts are expected to synergise indigenous development of advanced aerospace systems." Saab AB made an offer for participating in the programme on its own and also helping and sharing many technical information and data for development in Amca programme. Saab's head of aeronautics division Ulf Nilsson, pushed the idea of Saab taking part in the programme.
Engine development
Engine development on K 9 and K 10 started in August 2012 by Gas Turbine Research Establishment (GTRE). A tender of joint venture on development of the engine was issued to engine manufacturers in 2015 for a foreign partner to help in developing the engine by combining both Kaveri engine technology with the joint-venture partners engine to create a 110–125 KTN thrust engine. On 19 February 2015 at the Aero India 2015 Tamilmani told reports that a tender of joint venture on development of the engine was issued to General Electric, Rolls Royce, Snecma, Eurojet, NPO Saturn to use current engine technology by combining Kaveri engine technology with JV engine to produce an engine capable of producing thrust of 110–125 kN. At Aero India 2015, Tamilmani confirmed the possibility of combining Kabini Core-engine with joint venture partner core engine I.e. with EJ 200, Snecma M88, NPO Saturn AL-31-117 or General Electric F414 to produce 110–125 KN of thrust . France made an unsolicited call to help in development of AMCA's engine with full access to the Snecma M88 engine and other key technology, while United States has offered full collaboration in the engine development with full access to the F-414 and F-135. During U.S President Barack Obama's visit on 25–27 January he pointed out a possibility of joint-development of a Hot-Engine, an advanced variable cycle engine capable of performing in hot weather conditions like those of India. Rolls-Royce was also pushing a deal for a joint venture engine by offering the co-development of a new engine based on the Kaveri and EJ2XX engines. In November, during the visit of Indian prime minister Narendra Modi to UK, Rolls-Royce again pushed the EJ2XX engine in a joint development proposal despite favouritism towards General Electric for a JV programme. In December U.S government made sign of support for full fledge transfer of technology including many classified information of F-414 engine in joint venture engine development. During Indian defence minister Manohar Parrikar's visit to the United States, the U.S defence secretary Ashton Carter and Parrikar discussed the matter of joint development of the engine.
Modular approach
AMCA uses a modular approach in its design, development and production. Most of the assembly and equipment are outsourced to both private firms and public sector undertakings. A consortium of more than 140 firms are taking part in the programme. This is a major departure from Hal's previous fighter aircraft, the HAL Tejas, which used in-house production with minor outsourcing. Additionally, AMCA uses a modular method of production in order to reduce the time required for development and production. This method of production also results in increased on-schedule delivery resulting in an increased rate of production. Firms participating in the programme include Hal as the prime contractor, while sub assembly is carried out by Tata Advanced Systems, Reliance Aerospace, Larsen & Toubro, and Godrej Aerospace. Sub-assembly carried out by sub-contractors includes the wings, tail, tail fins, raydome, rear fuselage and landing gear.
The development and production of the aircraft is carried out by four types of firm:
Design team – ADA as the prime designer and developer of the aircraft.
Core team – DRDO agencies carrying out primary development.
External agencies – Various institutes, universities and other firms of both domestic and foreign origin.
Manufacturing team – Manufacturers and assemblers.
Prototype
At Aero India 2015, Dr. Tamilmani confirmed that two Technology Demonstrators and seven prototypes are planned and will go head with construction of the first prototype when funds are allocated in the later part of 2015. In January 2019, two technology demonstrator and four prototype are scheduled to go under various type of testing, analysis and development during testing phase. Aeronautical Development Establishment (ADE) constructed the two Technology Demonstrator and three prototype under modular construction method.
Overview
The HAL Advance Medium Combat Aircraft is a multirole fighter aircraft, with shoulder mounted diamond shaped trapezoidal wings, a profile with substantial area-ruling to reduce drag at transonic speeds, and an all-moving Canard-Vertical V-tail with large fuselage mounted Tail-wing. flight control surfaces include leading and trailing-edge flaps, ailerons, rudders on the canted vertical stabilizers, and all-moving tailplanes; these surfaces also serve as Air brakes. The cockpit features a single seat configuration which is placed high, near the air intakes and wings of the aircraft to provide good visibility to the pilot with a single bubble canopy construction. The aircraft features a tricycle landing gear configuration with a nose landing gear leg and two main landing gear legs. The weapons bay is placed on the underside of the fuselage between the nose and main landing gear. The AMCA is designed to produce a very small radar cross-section. To accomplish this it features serpentine shaped air-intakes to reduce radar exposure to the fan blade which increases stealth, uses an internal weapons bay and features the use of composites and other materials. The flight control surfaces are controlled by a central management computer system. Raising the wing flaps and ailerons on one side and lowering them on the other provides roll.
A leading-edge root extension (LERX), which is a small fillet, is situated on the front section of the intake and wings of the aircraft. It has a typically roughly rectangular shape, running forward from the leading edge of the wing root to a point along the fuselage. Also, the AMCA has an In-flight refueling (IFR) probe that retracts beside the cockpit during normal operation.
Airframe
The AMCA is constructed of carbon-fibre composites (C-FC), and titanium alloy steels. The AMCA would employs C-FC materials for up to 80% of its airframe by weight, including in the fuselage (doors and skins), wings (skin, spars and ribs), elevons, tailfin, rudder, air brakes and landing gear doors. Composite materials are used to make an aircraft both lighter and stronger at the same time compared to an all-metal design, and the AMCA's percentage employment of C-FCs is one of the highest in an aircraft. Apart from making the aircraft much lighter compared to conventional metal airframed aircraft, There are also fewer joints and rivets, which increases the aircraft's reliability and lowers its susceptibility to structural fatigue cracks. The majority of these are bismaleimide (BMI) and composite epoxy material. The aircraft will be the first mass-produced aircraft to include structural nanocomposites, namely carbon nanotube reinforced epoxy.
Stressed ducts in s-shape are locked with airframe with the loaded bulkheads which are made of composite materials spanning the aircraft from air intake to engine shafts. The radome which holds radar is made of advance composite and construction, which result in allowing only the operating frequencies of the mated radar to transmit from the dome, while blocking other radars.
Flight surfaces and controls
Since the AMCA is a relaxed static stability design, it is equipped with a quadruplex digital fly-by-optics flight control system to ease pilot handling. The AMCA's aerodynamic configuration is based on a diamond shaped trapezoidal-wing layout with shoulder-mounted wings. Its control surfaces are electro hydraulically actuated and digitally controlled using fiber optic cables. The wing's outer leading edge incorporates three-section slats, while the inboard sections have additional slats to generate vortex lift over the inner wing and high-energy air-flow along the tail fin to enhance high-Angle of attack stability and prevent departure from controlled flight. The wing trailing edge is occupied by two-segmented elevons to provide pitch and roll control. The only empennage-mounted control surfaces are the Pelikan tail with single-piece rudder which includes two airbrakes located in the upper rear part of the Pelikan tail, one each on either side of the tail. The AMCA feature a highly evolved integrated control laws for flight, propulsion, braking, nose-wheel steering and fuel management and adaptive neural networks for fault detection, identification and control law reconfiguration. Flights controls of the aircraft are both highly integrated and independent of each other which includes flight controls, engine controls, brake and landing controls, and other systems this is possible due the active controls gears systems (ACGS).
The digital FBW system of the aircraft employs an advance next-generation distributed digital flight control computer (DDFCC) made by Aeronautical Development Establishment (ADE) comprising four computing channels, each with its own independent power supply and all housed in differently placed LRU. The DFCC receives signals from a variety of sensors and pilot control stick inputs, and processes these through the appropriate channels to excite and control the elevons, rudder and leading edge slat hydraulic actuators. DFCC provides Raising the wing flaps and ailerons on one side and lowering them on the other provided roll. The pelikan-tail fins are angled at 27 degrees from the vertical. Pitch is mainly provided by rotating these pelikan-tail fins in opposite directions so their front edges moved together or apart. Yaw is primarily supplied by rotating the tail fins in the same direction. The AMCA is designed for superior high Angle of attack (AoA) performance. Deflecting the wing flaps down and ailerons up on both sides simultaneously provided for Aerodynamic braking.
Propulsion
AMCA is a twin-engined aircraft which is powered by two GTRE K 9 + or K 10 engine which are successor to the cancelled Kaveri engine. The K 10 Program is a Joint Venture partnership with a foreign engine manufacturer. K 10 program engine will be final production standard Kaveri engine and shall have less weight and more reheat thrust along with certain other changes to meet the original design intent. Both the engines are designed by ADA and developed by GTRE. Full scale development of the K 9 and K 10 engine would be completed by 2019. while AMCA Test Demonstrator would be powered by an existing 90 kN thrust engine.
The K 9 + and K 10 both engines are designed to supercruise, the AMCA can achieve a supercruise of Mach 1.82 with both engine, with both are a stealthy afterburning jet engine. The aircraft has a maximum speed of over Mach 2.5, with a maximum takeoff weight of 60,000 lb (29,000 kg).
Stealth and radar signature
The AMCA is designed to be difficult to detect by radar and other electronic measures due to various features to reduce radar cross-section include airframe shaping such as planform alignment of edges, fixed-geometry serpentine inlets that prevent line-of-sight of the engine faces from any exterior view, use of radar-absorbent material (RAM), and attention to detail such as hinges and pilot helmets that could provide a radar return. Efforts have been made to minimise radio emissions and both the infrared signature and acoustic signature as well as reduced visibility to the naked eye. Alignment of wings, tail, flaps and other edges increases radar and visually stealthe.
Radar absorbing structures and radome, body conformal antennae surface hard aperture, flush air data sensors and frequency selective surface (FSS) radome are used to reduce radar detection. Stealth ability is enhanced by the use of microelectromechanical systems (MEMS) and nanoelectromechanical systems (NEMS) during the construction of the airframe and in the airframe and instruments. AMCA's design prevents detection of the aircraft from L band, C band and X band radars. The aircraft's thrust vectoring nozzle reduces infrared emissions to mitigate the threat of infrared surface-to-air or air-to-air missiles. Additional measures to reduce the infrared signature include special paint and active cooling of leading edges to manage the heat build up from supersonic flight.
Armament and standards
The AMCA features two internal weapons bays which can carry four air-air missiles each. A total of eight missiles are carried in the internal bays, and there are external hardpoints for mounting up to six underwing pylons including two near wingtip pylons and two for drop tanks along with two hardpoints underneath the aircraft's belly, with two on the each side of the weapons bay. Internal carriage of weapons preserves the aircraft's stealth and significantly reduces aerodynamic drag, thus preserving kinematic performance compared to performance with external stores. The AMCA's high cruising speed substantially increases weapon effectiveness compared to its predecessors due to its ability to launch weapons at supersonic speed. The external pylons can carry missiles, bombs, and external drop tanks at the expense of an increased radar cross-section, and thus reduced stealth. The aircraft is equipped with beyond visual range missiles, close combat missiles, standoff weapons, precision weapons and laser guided bombs. The aircraft has the capability to deploy Precision Guided Munitions. Another feature of AMCA is the extended detection range and targeting range with the ability to release weapons at supersonic speeds. Missile launches require the bay doors to be open for less than a second, during which hydraulic arms push missiles clear of the aircraft; this is to reduce vulnerability to detection and to deploy missiles during high speed flight.
The aircraft's close combat weapons includes a Gryazev-Shipunov GSh-301 a 30 mm cannon with precision sight. The cannon is mounted internally with 320 rounds placed in the cannon. The aircraft carries missile varying from beyond-visual-range missile air-air missile like DRDO Astra, Derby and Close-combat Missile like Vympel R-73, Vympel R-27, Python 5 and Helina anti-tank missile which is under development, depending on the mission, AMCA is also designed to carry and launch air-air and air-surface variant of cruise missile which includes BrahMos A, Brahmos M, Brahmos NG and Nirbhay cruise missile. Astra is single stage, smokeless, solid fuelled missile with a length of 3,570 mm with a diameter of 178 mm. It weighs only 154 kg, which is the lightest in its class, allowing it to fit easily in the AMCA's internal weapons bay. The aircraft is also designed to launch hypersonic cruise missiles like the Brahmos 2, a mid-range hypersonic missile and the HSTDV long-range hypersonic missile. BrahMos NG and Nirbhay are the only cruise missiles capable of being carried in the internal weapons bay of the AMCA, while the BrahMos A and M can only be carried on external hard points. For bombing missions the aircraft carries a configuration of various bombs which range from the Sudarshan laser-guided bomb, the KAB-500L laser-guided bomb and a mixture of the OFAB-100-120, OFAB-250-270, gravity bombs and RBK-500 cluster bombs.
Avionics and equipment
The aircraft's avionics suite will include highly advance AESA radar which will use gallium nitride (GaN), IRST and advance situational oriented electronic warfare systems and all aspect radar warning receiver (RWR), Self-Protection Jammer(SPJ), CMOS, laser warning receiver (LWR), missile warning suite. The Multifunction RF Sensor, which has a broad spectrum agility, includes capabilities for electronic countermeasures (ECM), electronic support measures (ESM), communications functions, and possibly even microwave weapon functions. AMCA will be integrated from the cockpit to accompanying UAVs and UCAVs which will include DRDO AURA, DRDO Rustom through encrypted datalink connections.
Defence Electronics Application Laboratory (DEAL) has designed and developed a next-generation network-centric aircraft management system (including weapons) including various features such as data fusion, Cooperative Engagement Capability, decision aids, integrated modular avionics, and intern signature control with sharpening for low observability. The aircraft is designed to be multi-role, with the ability to undertake both long and short-range missions, and conduct both air-to-air and strike missions. The aircraft will use integrated modular avionics for real time computing, and the fibre optic cables used on the aircraft feature photonic crystal fibres technology for faster exchange of data and information. Unlike the HAL's previous fighter aircraft, the Tejas, which has a digital flight-control computer and hydraulic controllers, the AMCA has a distributed processing system employing fast processors and smart subsystems and will be electronically controlled via a "central computational system connected internally and externally on an optic-fibre channel by means of a multi-port connectivity switching module". This results in using the IEEE-1394B-STD a departure from MIL-STD-1553B databus standard.
AMCA uses fibre optic gyroscope, ring laser gyroscope and MEMS gyroscope. The pressure probes and vanes that make up the air data sensors is an optical and flush air data system, position of the sensors is in linear/rotary optical encoders. Importantly, actuators – currently electro-hydraulic/direct drive – could be electro-hydrostatic to accurate substantive weight savings on the AMCA. The aircraft has integrated radio and navigation system supported by IRNSS, where all burdens earlier borne by analogue circuits will be carried out by digital processors. Communication systems are based on software radio ranging from UHF to K band, with data links for digital data/voice data and video footage. The aircraft is equipped with AMAGB gearbox, which is designed and produced by CVRDE. The castings are made of magnesium alloy and the gearbox has its own self-contained lubrication system. AMAGB operates in two modes. In the starter mode, it aids in starting the engine through jet fuel starter. In accessory mode, it drives two hydraulic pumps and an integrated drive generator. These accessories, in turn, generate hydraulic and electrical power for the aircraft.
Radar and sensors
AMCA would be equipped with an LRDE X-band AESA radar which is developed by Electronics and Radar Development Establishment (LRDE). The radar is a solid state type which uses gallium nitride (GaN), development for the radar was approved in March 2012. AESA radar which is slated to be used in AMCA will have three-dimensional target search ability. AESA radar is mounted on a mechanically steerable mount. The radar is designed with electronically steered array, which enables new mission capabilities for combat aircraft such as simultaneous multiple radar functionalities, air surveillance, air-to-ground and weapon control. Mechanical and electronically steered arrays offer a wide view angle of 90° steerable for a 360° angle of view.
The electronic warfare system providing sensor fusion of radio frequency and infrared tracking functions, advanced radar warning receiver including geolocation targeting of threats, multispectral image countermeasures for self-defense against missiles, situational awareness and electronic surveillance, employing 10 radio frequency antennae embedded into the edges of the wing and tail. Six additional active infrared sensors are distributed over the aircraft as part of an electro-optical Distributed Aperture System (DAS), which acts as a missile warning system, reports missile launch locations, detects and tracks approaching aircraft spherically around the AMCA and replaces traditional night vision devices. All DAS functions are performed simultaneously, in every direction, at all times. To enable the AMCA to perform in the air supremacy role, it includes several passive sensor systems. The front-sector Electro-Optical Targeting System (EOTS), developed by DLRL, is completely integrated within the aircraft and can operate both in the visible and infrared wavelengths. The EOTS enables the deployment of infrared missiles such as MICA at beyond visual range distances; it can also be used for detecting and identifying airborne targets, as well as those on the ground and at sea. The EOTS is immune to jamming and capable of providing covert long-range surveillance. An onboard condition monitoring system is used in AMCA.
Cockpit
The AMCA features a full-panel-width glass cockpit touchscreen, panoramic cockpit display (PCD), with dimensions of 60 by 24 centimetres designed by DARE and manufactured by Samtel or 44 by 18 centimetres by HALBIT which is a joint-venture between HAL and Elbit Systems with both systems supporting cockpit speech-recognition system (DVI) provided by Adacel which has been adopted on the F-35. Control system includes HOTAS sidestick. The primary flight controls are arranged in a hands-on-throttle-and-stick (HOTAS)-compatible configuration, with a right-handed side-stick controller and a left-handed throttle. The AMCA's cockpit features a panoramic active-matrix display, with the switches, bezels and keypads replaced with a single large multi-functional touch screen interface supported by voice commands. AMCA's cockpit has a secondary "get-you-home" panel providing the pilot with essential flight information in case of an emergency. The displays provide information on the key flight systems and controls on a need-to-know basis, along with basic flight and tactical data. The pilot interacts with on-board systems through a multi-functional keyboard and several selection panels. The CSIO head up display and helmet-mounted display and sight (HMDS), and hands-on-throttle-and-stick (HOTAS) controls reduce pilot workload and increase situation awareness by allowing the pilot to access navigation and weapon-aiming information with minimal need to spend time "head down" in the cockpit.
Electronic countermeasures and self repair
The HAL AMCA includes capabilities such as self-protection and self-repair with the help of self-diagnosing and self-healing systems that distribute the work load to other systems from affected to non-affected systems. Protection would be provided with the use of nanotechnology to produce advanced composite materials designed to have a higher resistance to damage and therefore reducing the damage surface area. The aircraft uses Self Repairing Flight Control Capability to automatically detect failures or damage in its flight control surfaces, and using the remaining control surfaces, calibrate accordingly to retain controlled flight.
The electronic warfare suite is designed to enhance the survivability during deep penetration and combat. The AMCA's EW suite is developed by the Defence Avionics Research Establishment (DARE) with support from the Defence Electronics Research Laboratory (DLRL). This EW suite includes a radar warning receiver (RWR), missile approach warning (MAW) and a laser warning receiver (LWR) system, Infrared & Ultraviolet Missile warning sensors, self-protection jammer, chaff, jaff and flare dispenser, an electronic countermeasures (ECM) suite and a towed radar decoy (TRD).
Navalised AMCA
The Indian Navy is carrying out feasibility studies on a naval variant of the AMCA.
Specifications
Data from SP's Aviation, Dainik Bhaskar, Military Factory and India Defence News
General characteristics
Crew: 1 (pilot)
Length: 17.20 m (55 ft 25 in)
Wingspan: 11.80 m (38 ft 7 in)
Height: 4.80 m (15 ft 6 in)
Wing area: 39.9 m²' (486.5 ft²)
Empty weight: 14 tons (31000 lb)
Loaded weight: 24 tons (53000 lb)
Max. takeoff weight: 36 tonnes with 4 tonnes of internal weapons and 4 tonnes of internal fuel. (79,366 lb)
Powerplant: 2 × K 9+ or K 10 engine afterburning turbofan, 125 kN of thrust each according to idrw (28,100 lbf/31,400 lbf) each
Performance
Maximum speed:
At altitude: Mach 2.5+ (2,655+ km/h, 1,650+ mph) at altitude.
Cruise speed: Mach 1.82 (1,960 km/h, 1,220 mph) Speed as capable of supercruise.
Range: 2800 kilometres (1750 miles)
Combat radius: 1000 Km (625 Miles)
Ferry range: 4600 kilometers (2875 miles)
Service ceiling: 18,044 m (59,200 ft)
Rate of climb: 13,716 m/min (45,000 ft/min)
Armament

Guns: 30 mm GSh-301 cannon
Hardpoints: 8 (Stealthy configuration) 14 (maximum non stealth load)
Missiles:
Air to Air missiles (AAM)
Astra (missile)
Derby
Python 5
Vympel R-73
Air to Surface Missiles (ASM)
Helina
Cruise Missile
BrahMos NG
BrahMos 2
HSTDV
Bombs:
Laser guided bomb (LGS)
Sudarshan laser-guided bomb
KAB-500L
Gravity Bomb
OFAB-100-120
OFAB-250-270
RBK-500 cluster bomb stake .
References
HAL AMCA Wikipedia
(Text) CC BY-SA