Parrikar served in the BJP government under Prime Minister Narendra Modi as Defence Minister of India from 2014 to 2017. He is a former member of the Rajya Sabha from Uttar Pradesh.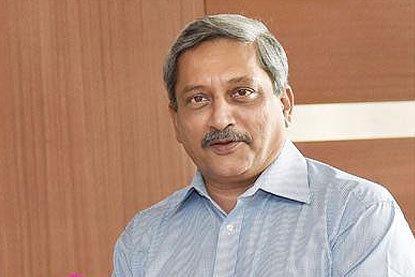 Manohar Parrikar was born in Mapusa, Goa. He studied at Loyola High School, Margao. He completed his secondary education in Marathi and went on to graduate in metallurgical engineering from the Indian Institute of Technology, Mumbai (IIT Mumbai) in 1978. He is the first IIT graduate to serve as Chief Minister of an Indian state. He was awarded the Distinguished Alumnus Award in 2001 by IIT Mumbai.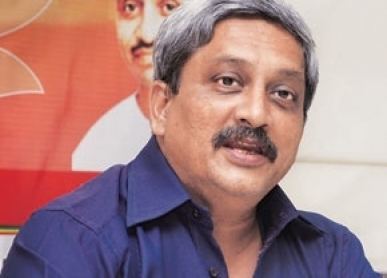 Parrikar joined the Rashtriya Swayamsevak Sangh (RSS) at a young age and became a mukhya shikshak (chief instructor) in the final years of his schooling. After graduating from IIT, he resumed RSS work in Mapusa while maintaining a private business, and became a sanghchalak (local director) at the age of 26. He was active in the RSS's North Goa unit, becoming a key organiser of the Ram Janmabhoomi movement. He was seconded by RSS to the Bharatiya Janata Party (BJP) with the objective of fighting the Maharashtrawadi Gomantak Party. Parrikar has often expressed considerable pride in his RSS background, saying that he learnt "discipline, progressiveness, gender equality, equality of all before the law, nationalism and social responsibility from the RSS". He is sometimes described as having been a pracharak of the RSS.
As a member of the BJP, Parrikar was elected to the Legislative Assembly of Goa in 1994. He was leader of the opposition from June to November 1999. He successfully contested the election to become Chief Minister of Goa for the first time on 24 October 2000, but his tenure lasted only until 27 February 2002. On 5 June 2002, he was re-elected and served another term as Chief Minister.
On 29 January 2005, his government was reduced to a minority in the Assembly after four BJP MLAs resigned from the House. Pratapsinh Rane of the Indian National Congress would subsequently replace Parrikar as Chief Minister. In 2007, the Parrikar-led BJP was defeated in the Goa state elections by the Indian National Congress led by Digambar Kamat. His party became victorious once again after the BJP and their party-allies won twenty-four seats against the Indian National Congress' nine in the Goa Assembly Elections held in March 2012. In the 2014 General Elections, BJP won both the Lok Sabha seats in Goa. Parrikar was reluctant to leave Goa and move to Delhi in November 2014, by his own admission but was persuaded by Prime Minister Narendra Modi to join the central government. He was succeeded by Laxmikant Parsekar as Goa's CM. Parrikar had represented the Panaji constituency in the Goa Legislative Assembly when he was a player in the state politics.
In November 2014, Parrikar was chosen as the Minister of Defence replacing Arun Jaitley, who, till then, held the additional charge of the Ministry. His entry into the parliament was facilitated by choosing him as the party's candidate for the elected Rajya Sabha seat from Uttar Pradesh. He has since been credited with transparent, efficient and fast decision making in what was till then thought of as a sluggish ministry. He has also opened up several investigations into alleged scams like AugustaWestland Chopper scam.
On March 14, 2017, Parrikar was sworn in as Chief Minister of Goa. The Maharashtra Gomantak Party (MGP), one of the parties who allied with BJP in Goa after election results were announced, had said that it would extend support to the BJP only if Defence Minister Manohar Parrikar was brought back to the state as Chief Minister.
His wife Medha Parrikar died of cancer in 2001. They have two sons - Utpal Parrikar is an Electrical Engineering graduate from Michigan State University and Abhijat Parrikar who is a local businessman.
Education policy
In 2001, the Parrikar government turned over fifty-one government primary schools in rural areas to Vidya Bharati, the educational wing of the Sangh Parivar, inviting criticism from certain educationists.
European garbage tour junket
In November 2013, a 37-person delegation travelled to Italy, Germany and Austria to observe European waste management plants and practices. The delegation included deputy chief minister Francis D'Souza, government MLAs, members of panchayats and municipal councils, and ordinary residents. The taxpayer-funded trip cost about Rs 1 crore (Rs 10 million).
FIFA World Cup junket
He also drew criticism for approving a junket costing at least Rs 89 lakh (Rs 8.9 million) for six government MLAs from the ruling party, including three ministers, to attend the 2014 FIFA World Cup in Brazil. The Indian National Congress termed the trip "wasteful expenditure" and criticized the lack of other government officials or soccer experts in the delegation.
Controversial remarks
Parrikar has often made remarks of controversial nature. In wake of the debate on religious intolerance in India and actor Aamir Khan stating that his wife Kiran Rao had asked to move out of India, Parrikar made a controversial remark that "if anyone speaks like this, he has to be taught a lesson of his life". He later clarified that he had not targeted any specific individual.
In August 2016, Parrikar stated that going to Pakistan is the same thing as "going to hell". In November 2016, Parrikar, while serving as Minister of Defence of India, raised a question about why India should bind itself to the no first use policy.
In December 2016, Parrikar advised media critics to "remove (their) clothes and dance naked" if they wanted publicity. His comments in Konkani were "kapde kadha ani nagde nacha".
2012: CNN-IBN Indian of the Year in politics category