7.8

/

10

Alchetron

Rate This





Genre

Horror




Duration




Language

English






Director

Donald G. Jackson




Budget

3.2 million USD




Country

United States






Release date

April 20, 1997 (1997-04-20)




Writer

Donald G. Jackson, Scott Shaw (story)




Screenplay

Scott Shaw, Donald G. Jackson




Cast

Scott Shaw

(Jack B. Quick),

Julie Strain

(Queen B),

Kevin Eastman

(King Allmedia),

Robert Z'Dar

(Z-Man Lord Invader),

Conrad Brooks

(Deputy Reins),

Joe Estevez

(Rocket Ranger Dan Danger)


Similar movies

Related Donald G Jackson movies



Guns of El Chupacabra is a 1997 martial arts based monster film that was directed by Donald G. Jackson and was produced by and stars Scott Shaw. The co-stars of this film include: Julie Strain, Kevin Eastman, Conrad Brooks, Joe Estevez, and Robert ZDar.
Contents
No overview found.
Plot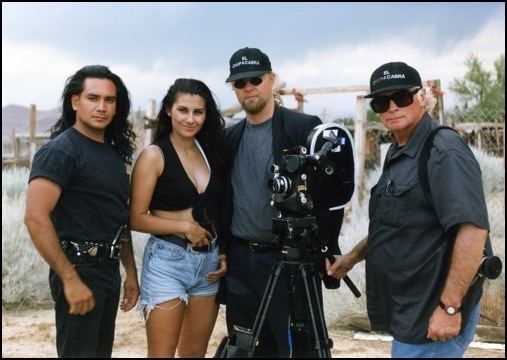 This films follows the lead character Jack B. Quick, Space Sheriff, (Scott Shaw), who is sent to Earth by Queen Bee, (Julie Strain) and King Allmedia, (Kevin Eastman) to battleEl Chupacabra. He enters the earth driving a vintage Plymouth Belvedere. Once on earth he acquires several fire arms and goes on a mission to rid the earth of El Chupacabra. As it turns out, El Chupacabra are the wayward pets of Z-man, Lord Invader, (Robert ZDar). After Shaw has defeated Zdar and El Chupacabra, he returns to the planet of Strain and Eastman and is knighted, the Reverend, Doctor, Saint Francis Blade.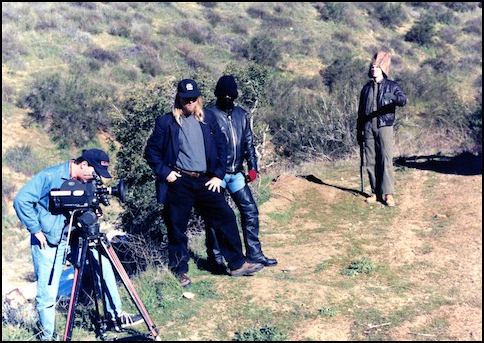 Approximately half way through this film, Joe Estevez enters, playing the character, Rocket Ranger Dan Danger. This character is a narrator who is reminiscent of the science fiction television show narrators from the 1940s and 1950s. Once this character is introduced, he goes about adding information to the ever-developing storyline.
El Chupacabra
The legend of El Chupacabra was first born in Puerto Rico and has since spread throughout Latin America. The term Chupacabra literally means "Goat Sucker", as these mythical creatures are believed to be a vampire-like creature who prey upon farm animals.
Interviews
In 1998 Shaw and Jackson were interviewed, regarding this film, on the syndicated television series Strange Universe. In this episode Shaw detailed that while scouting film locations in Mexico, Jackson and Shaw actually witnessed the attack of El Chupacabra.
Zen Filmmaking
This film is an ideal example of the style of filmmaking developed by Scott Shaw and Donald G. Jackson, known as Zen Filmmaking. Zen Filmmaking is a distinct style of filmmaking where the primary concept is that no scripts are used in the creation of a film.
Perhaps one of the most distinctive elements of this film, in regard to Zen Filmmaking, is that the film begins by presenting its characters in a traditional storyline fashion. Approximately thirty minutes into the film, a documentary film crew is introduced into the plot. From this point forward, the film shifts between storyline and documentary until the two plot lines collide and the film becomes part theatrical presentation and part documentary. In addition, much of this film is shot using the hand-held camera technique, which is also a distinctive element of Zen Filmmaking.
As is the case with all of the films created by Donald G. Jackson and Scott Shaw, this film follows a non-linear storyline. Another unique element of this film, and a technique used in many Jackson/Shaw productions, is that the various segments of this film are preceded by full screen, white on black, screen credits announcing an upcoming plot twist.
Locations
Traditional to Jackson/Shaw productions, Guns of El Chupacabra was filmed in many spectacular locations. These locations include the desert of Mexico, Vasquez Rocks, Bronson Canyon, Los Angeles Chinatown, and Hollywood, California. Using Hollywood as a cinematic backdrop is a common element to both the films of Jackson and Shaw. Hollywood landmarks such as the Hollywood Sign and images of Hollywood Boulevard are seen in this film.
This film also presents scenes filmed at Los Angeles Union Station. This railway hub was built in 1939 and is considered to be, The last of Americas great rail stations. It was created in an art deco style of architecture and is a very visual location that has been featured in many films and music videos. Union Station is a commonly presented location in the films of Scott Shaw and Donald G. Jackson.
Filmmaking process
This feature was filmed in on 35mm film, using the Panavision anamorphic film process.
Distribution
This film received a theatrical release in several Latin American countries from 1998 forward, but was limited to Videotape, DVD, and Cable television release in the West and Asia.
According to the interview that was presented on the episode of Strange Universe, this film is the first segment of the Guns of El Chupacabra Trilogy. The second feature of this trilogy is Guns of El Chupacabra 2: The Unseen. According to the Hollywood Reporter, Shaw will be filming the third film in the series.
References
Guns of El Chupacabra Wikipedia
(Text) CC BY-SA
Guns of El Chupacabra IMDb
Guns of El Chupacabra themoviedb.org