The shootout was couched in the movie as a heavily armed firefight that took place at medium range. The historical event itself lasted only about 30 seconds, and was fought at close range with only a few firearms.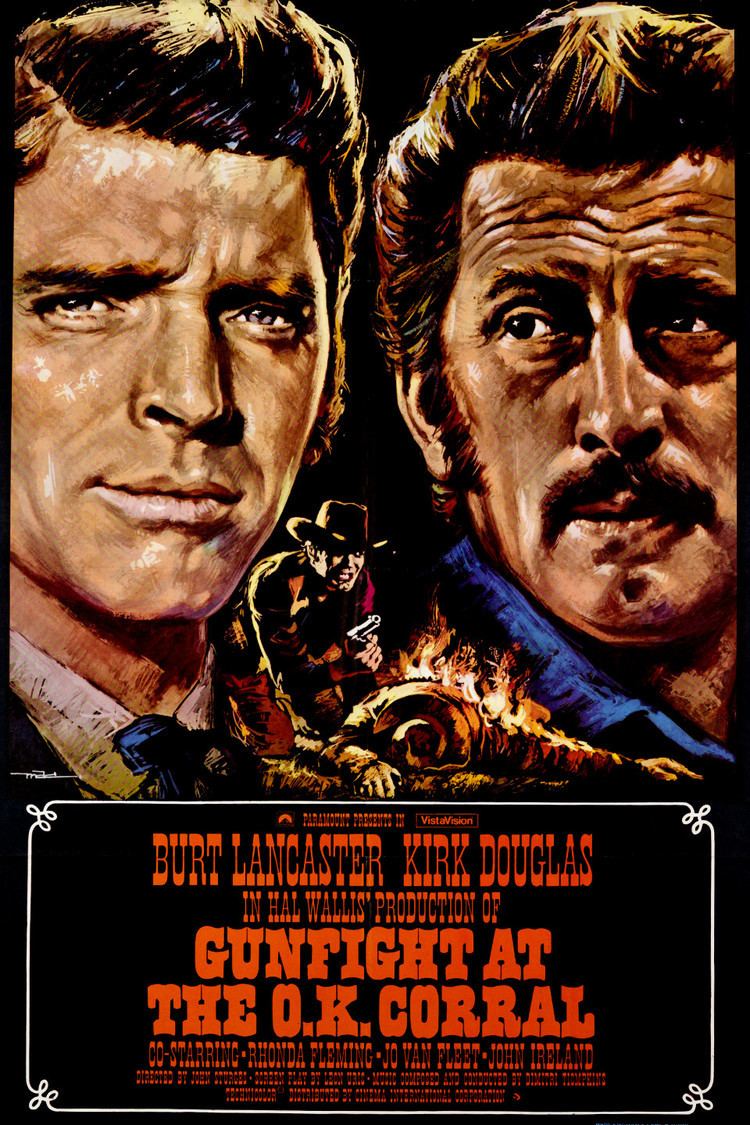 In Fort Griffin, Texas, Ed Bailey (Lee Van Cleef) comes looking to avenge the death of his brother at the hands of gunslinger John H. "Doc" Holliday (Kirk Douglas). Seeing him in a bar, Holliday's girl, Kate Fisher (Jo Van Fleet), returns to Holliday's room, where the two argue—while Holliday throws knives at the wall—once she brings up Holliday's once-prominent family. At the same time, well-known marshal Wyatt Earp (Burt Lancaster) arrives in Fort Griffin thinking he will take outlaws Ike Clanton (Lyle Bettger) and Johnny Ringo (John Ireland) into custody, but instead finds out that the local sheriff, Cotton Wilson (Frank Faylen), released them despite the outstanding warrants for their arrest. Holliday refuses to help the lawman, holding a grudge against Wyatt's brother, Morgan. Holliday kills Bailey with a knife-throw when Bailey attempts to shoot him in the back. Holliday is arrested for murder, though Wyatt and Kate allow him to escape from a lynch mob.
In Dodge City, Kansas, Wyatt finds out that Holliday and Kate are in town. Holliday tells him he has no money, so Wyatt allows him to stay if he promises to not fight while he is in town. Meanwhile, gorgeous gambler Laura Denbow (Rhonda Fleming) is arrested for playing cards since women are not allowed to gamble. She is released and allowed to play in the side rooms of the saloon. Wyatt is forced to deputize Holliday because a bank robber kills a cashier and Wyatt's other deputies are out in a posse catching another outlaw. The bank robbers attempt to ambush Wyatt outside of town, but are instead killed by Wyatt and Holliday.
Back in Dodge City, Holliday learns Kate has left him for Ringo, who taunts Holliday to a shootout and throws liquor on him. Holliday steadfastly refuses to fight him. Shanghai Pierce (Ted de Corsia) and his henchmen ride into town, wound deputy Charlie Bassett (Earl Holliman) and attack a dancehall, but Wyatt and Holliday hold the men and defuse the situation. As Ringo attempts to intervene, Holliday shoots him in the arm. Holliday returns to his room and Kate is waiting for him, but he refuses to take her back. She swears she will see him dead. By now, Wyatt and Laura have fallen in love, but when he receives a letter from his brother, Virgil, asking him to come clean up Tombstone, Arizona, she refuses to go with him unless he changes. Holliday catches up to Wyatt on the trail and both head to Tombstone.
In Tombstone, Wyatt finds out that Ike Clanton is trying to herd thousands of head of rustled Mexican cattle but cannot as long as the Earps control Tombstone's railway station. Morgan Earp (DeForest Kelley) criticizes his brother's association with Holliday, but Wyatt insists the gunslinger is welcome in Tombstone as long as he stays out of trouble. Cotton, the cowardly county sheriff from Fort Griffin, offers Wyatt a $20,000 bribe (about $496,000 today) if he allows the stolen cattle to be shipped, but Wyatt refuses. He rides out to the Clanton ranch, returning young Billy Clanton (Dennis Hopper) to his mother after finding Billy drunk. Wyatt informs Ike that he has been made a U.S. Marshal and has legal authority in every county in the United States. Finding no recourse, the Clantons decide to ambush Wyatt as he makes his nightly rounds, but kill his younger brother James Earp (Martin Milner) by mistake.
The next morning, Ike and five of his henchman go to Tombstone to face off against the Earps at the O.K. Corral. Holliday, who is sick from tuberculosis, joins them. Though Virgil and Morgan are wounded in the gunfight, all six in Clanton's gang are killed, including Billy, who is given a chance to surrender but refuses. After the fight is over, Wyatt joins Holliday for a final drink before heading off to California to meet Laura, as promised.
There are historical inaccuracies contained in the film depiction of the Gunfight at O.K. Corral:
Virgil Earp was already a deputy U.S. Marshal when he arrived in Tombstone, while Wyatt had little, if any, legal authority.
Wyatt came to Tombstone with a common-law wife, whom he later sent away to stay with his family—in order to get her away from opiates.
The real gunfight was a 30-second long, face-to-face affair with only a few firearms, not a medium-range, heavily armed shootout as in the film.
Johnny Ringo was not present at the OK Corral gunfight. He later killed himself.
Ike Clanton brought murder charges against the Earps and Doc Holliday. The Cowboys claimed the Earps had killed the outlaws as they attempted to surrender. During the Spicer hearing, the coroner and witnesses presented conflicting evidence about whether the Cowboys had their hands in the air or guns in their hands or were trying to draw their weapon when the fighting started.
Morgan and Virgil Earp were wounded and Holliday was grazed by a bullet. Wyatt was unhurt.
Judge Wells Spicer ruled that the lawmen acted within their authority.
It was Wyatt's younger brother, Morgan, not James (Wyatt's older brother), who was ambushed and murdered in Tombstone. This occurred after the O.K. Corral gunfight, not before. Virgil Earp was also ambushed in Tombstone after the O.K. corral fight. He survived the attack, but was left with a permanently disabled arm.
The actual gunfight took place in a vacant lot behind the O.K. corral, next to a photography studio, not in the corral itself. It was not an "event by appointment", as the prearrangement between Billy and Wyatt the night before depicts in the movie. It evolved the morning of the fight as the Earps responded to the chaos and threats raised by Ike Clanton after drinking himself into a rage the entire night before.
James Earp was the older brother of Wyatt and never involved in the law enforcement side of the family. He was present in Tombstone but worked as a bartender. Warren Earp was the youngest brother of the Earp brothers and bounced between Tombstone and California during 1880-82.
Ike Clanton was never the leader of the Cowboys. Old Man Clanton controlled the gang until he was killed in 1881 and leadership of the gang fell to Curly Bill Brocis and Johnny Ringo.
The film introduces a romance involving Wyatt Earp and a fictional character (based on Lottie Deno) which played no factor in the actual gunfight nor did anything to advance the film's plot.
Charlie Bassett was Wyatt's boss in Dodge City. The film portrays the relationship as the other way around. Bassett and Wyatt Earp were nearly the same age. The film portrays Bassett as a younger man compared to Wyatt.
Doc Holliday did not directly follow Wyatt to Tombstone. He turned-up there sometime after Wyatt had already established residence.
Doc Holliday saved Wyatt Earp's life, not the other way around.
The real sheriff's name was John Behan, not Cotton Wilson.
Part of the movie was shot on the set of Paramount Movie Ranch.
The film was a big hit and earned $4.7 million on its first run and $6 million on re-release. Its Dimitri Tiomkin score, featuring the song "Gunfight at the O.K. Corral", with lyrics by Ned Washington, sung by Frankie Laine, pushes the movie's momentum relentlessly throughout.
Members of the Western Writers of America chose the song "Gunfight at the O.K. Corral" as one of the Top 100 Western songs of all time.
Sturges revisited the same material a decade later when he directed a more historically accurate sequel of sorts, Hour of the Gun, starring James Garner as Wyatt Earp, Jason Robards as Doc Holliday, and Robert Ryan as Ike Clanton. That film begins with a more accurate version of the O.K. Corral gun battle, then moves forward into the aftermath for the balance of the movie.
The film was nominated for two Academy Awards.
Film Editing (Warren Low)
Sound Recording (George Dutton)