7.6

/

10

Alchetron

7.6

Rate This







Final episode date

25 April 1992




Starring

Alan ThickeJoanna KernsKirk CameronTracey GoldJeremy MillerAshley JohnsonLeonardo DiCaprio

Theme music composer

John BettisSteve Dorff

Ending theme

"As Long As We Got Each Other"

Theme song

As Long as We've Got Each Other

Cast




Profiles



Where are they now growing pains cast reunites on good morning america 10 05 11
Growing Pains is an American television sitcom that aired on ABC from September 24, 1985, to April 25, 1992. The show ran for seven seasons, consisting of 166 episodes.
Contents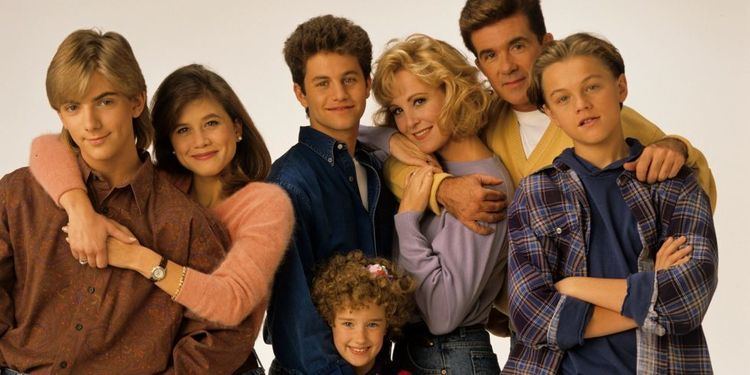 Growing pains season 3 theme song
Premise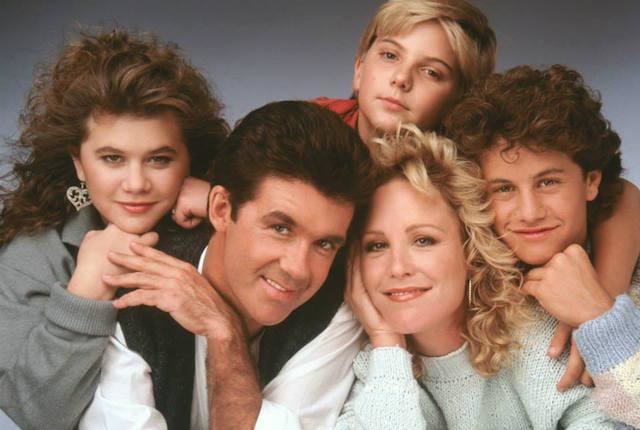 The Seaver family resides at 15 Robin Hood Lane in Massapequa, Long Island, New York. However, other sources claim Huntington, Long Island, New York.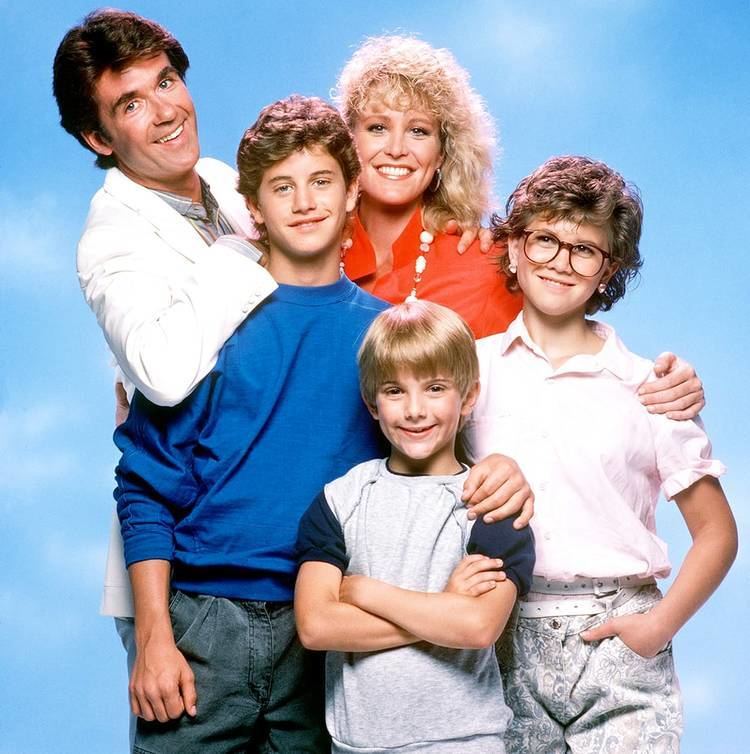 Dr. Jason Seaver (portrayed by Alan Thicke), a psychiatrist, works from home because his wife, Maggie (Joanna Kerns), has gone back to work as a reporter. Jason has to take care of the kids: ladies man Mike (Kirk Cameron), bookish honors student Carol (Tracey Gold), and rambunctious Ben (Jeremy Miller). A fourth child, Chrissy Seaver (twins Kelsey and Kirsten Dohring; Ashley Johnson), is born in October 1988. In the middle of season four (1988-89), she was first played in her infant stage by an uncredited set of twin sisters. Then, by season five (1989-90), she was played in her toddler stage by alternating twins Kristen and Kelsey Dohering. In seasons six and seven (1990-92), Chrissy's age was advanced to six years old. By the seventh and final season, homeless teen Luke Brower (Leonardo DiCaprio) is brought into the Seaver family to live with them nearly until the end of season seven.
Main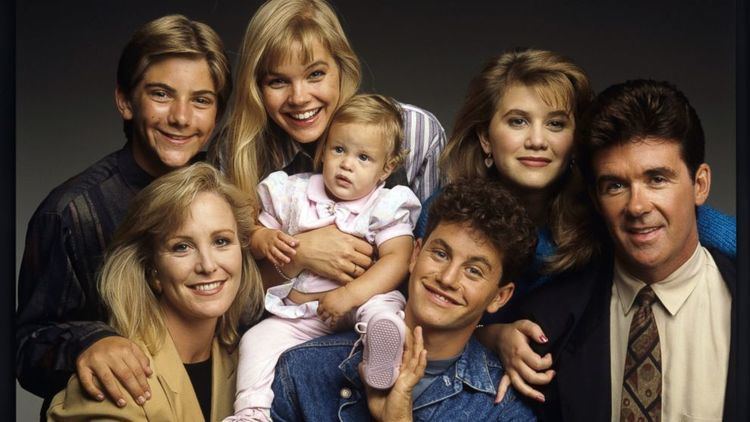 Alan Thicke as Dr. Jason Roland Seaver
Joanna Kerns as Margaret "Maggie" Katherine Malone Seaver
Kirk Cameron as Michael "Mike" Aaron Seaver
Tracey Gold as Carol Anne Seaver
Jeremy Miller as Benjamin "Ben" Hubert Horatio Humphrey Seaver
Ashley Johnson as Christine "Chrissy" Ellen Seaver (seasons 6–7)
Kelsey and Kristen Dohring as Christine Ellen "Chrissy" Seaver (toddler) (season 5, alternating)
Leonardo DiCaprio as Luke Brower (season 7)
Recurring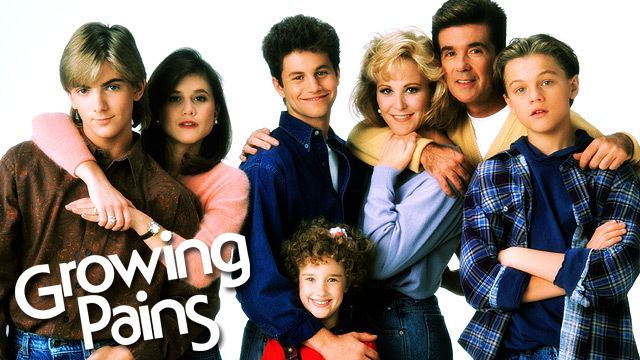 Andrew Koenig as Richard Milhous "Boner" Stabone (seasons 1–4), Mike's friend; left to join the United States Marine Corps
Jamie Abbott as Stinky Sullivan (seasons 2–6), Ben's friend
K. C. Martel as Eddie (seasons 1–7), Mike's friend
Chelsea Noble as Kate MacDonald (seasons 5–7), Mike's girlfriend
Gordon Jump as Ed Malone (seasons 1–7); Maggie's father
Lisa Capps as Debbie (seasons 2–4), Carol's friend
Rachael Jacobs as Shelley (seasons 2–4), Carol's friend
Julie McCullough as Julie Costello (seasons 4–5), Mike's former girlfriend
Sam Anderson as Principal Willis DeWitt (season 1–7), Mike's history teacher
Betty McGuire as Kate Malone (seasons 1–7); Maggie's mother
Bill Kirchenbauer as Coach Graham Lubbock (seasons 2–5; starred in spin-off Just the Ten of Us), gym teacher
Jodi Peterson as Laura Lynn (seasons 4–6), Ben's girlfriend / love interest
Evan Arnold as Richie (seasons 2–4)
Jane Powell as Irma Seaver (seasons 1–3), Jason's mother
Fred Applegate as Francis X. Tedesco (season 7), principal of the learning annex where Mike teaches
Matthew Perry as Sandy (season 4), Carol's boyfriend
Opening sequences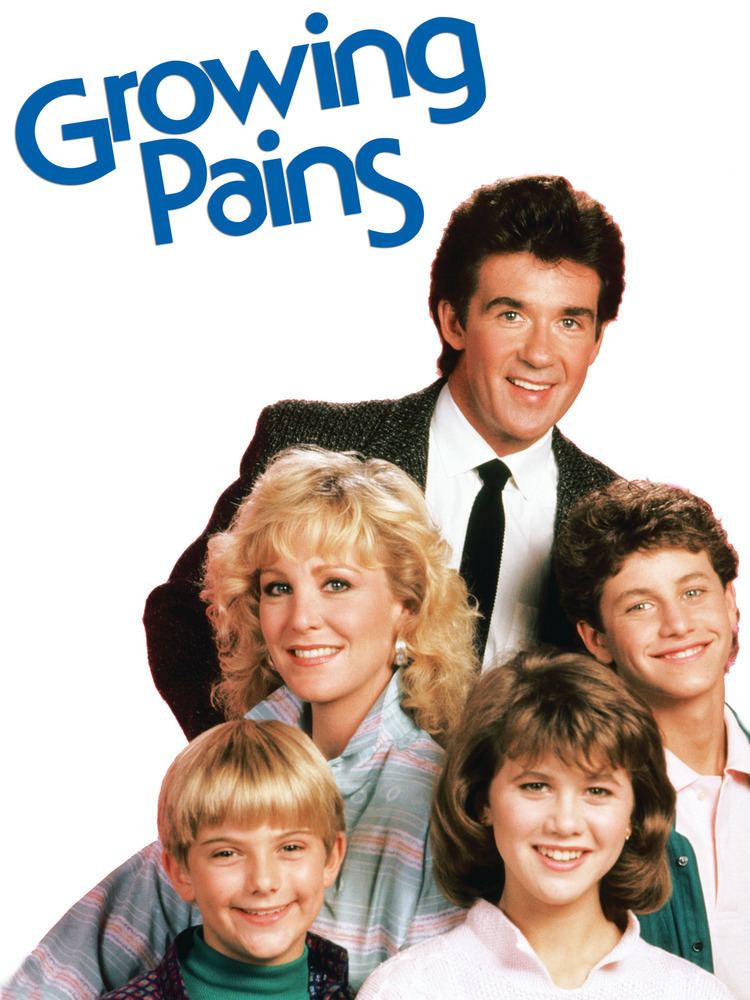 The season one main opening features various works of art and vintage photography depicting family life, closing with a shot of the cast.
The opening credits from seasons two through five features an opening shot of the cast in front of the Seaver house exterior. This is followed by a series of photos of each cast member from their childhood onward ending with a clip from the show. The credits closed with another shot of the cast in front of the Seaver house before they all run inside. Starting in the fourth season, several different versions of the opening sequence were filmed. Whoever was the last to go into the house would usually be the focus of that week's episode.
The opening used in seasons six and seven featured opening and shot of the mantle on the Seavers' fireplace panning over photos of the cast. The photos of the cast from childhood remained but instead of clips from the show, current still photos were used. Some versions of these credits end with another shot of the mantle while others close with a montage of group shots from the same family photo shoot which the current photos used in the rest of the credits come from.
Theme song
The show's theme song is "As Long as We've Got Each Other", which was written and composed by John Bettis (lyrics) and Steve Dorff (music). It was performed by:
B.J. Thomas (singing solo); season 1
B.J. Thomas & Jennifer Warnes; seasons 2, 3, 5, part of 7
B.J. Thomas & Dusty Springfield; season 4
Joe Chemay, Jim Haas, Jon Joyce and George Merrill (singing a capella); season 6, part of 7, series finale
There were nine versions of the theme song used; others included a Halloween-themed version not sung by Thomas or Warnes used in a two-part Halloween episode in 1990. A shorter version of the Thomas/Warnes version was used starting in season five.
There was also an a cappella version of the song which was used for all of season six, but this version was abandoned for most of season seven in favor of the reinstatement of Thomas' and Warnes' duet version, although the a cappella theme returned for three episodes as well as the series finale. A full-length version by Thomas and Springfield was released as a single in 1988.
A soundtrack was released in 1988 titled Steve Dorff and Friends: Growing Pains and Other Hit TV Themes. The soundtrack contains songs penned by Dorff from his television series theme songs and three tracks from Growing Pains:
Theme Song "As Long As We Got Each Other" (B.J. Thomas and Dusty Springfield)
Aloha Episode – "Swept Away" by Christopher Cross
Graduation Day Episode – "This Is The Day" performed by B.J. Thomas
Production
Kirk Cameron was once an atheist, but when he was 17, during the height of his career on Growing Pains, became a born-again Christian. After converting to Christianity, he began to insist that story lines be stripped of anything he thought too adult or racy.
The biggest consequence of Cameron's conversion to Christianity was the firing of actress Julie McCullough who had landed the role of nanny Julie Costello in 1989. McCullough's character appeared in eight episodes of the show before she was fired at Cameron's insistence and replaced on the show by Cameron's real-life girlfriend, Chelsea Noble. Cameron objected to and was outraged at McCullough's having posed nude in Playboy, and accused the show's producers of promoting pornography. A decade later, Cameron apologized, attributing his behavior to his lack of maturity, but did not reconcile with McCullough, who claims that Cameron refused to speak to her during a later encounter, and who remains critical of him, stating that she lost a lot from the public criticism she endured from the controversy. McCullough has criticized the evangelical television programming Cameron has produced, which she has viewed on one occasion, saying on her MySpace page:
He thinks if I read science books that I'm going to hell. [I would] rather laugh with the sinners than cry with the saints ... the sinners are much more fun. And a lot more interesting than some book-burner who is still having growing pains. I am at peace with God. Kirk thinks people like me are going to Hell, if I do then at least I'll go well informed and well read.
Cameron, however, tells a different story:
"Contrary to popular gossip, I had nothing to do with the firing of Julie McCullough.... But don't take my word for it.. According to Dan Guntzelman, the head show-runner for Growing Pains: 'The truth is, Julie was let go because Mike being in a commmitted relationship was a dead end - he was, after all, an immature imp who was ill-equipped to deal with a grownup world on all levels. That's where the conflict and comedy came from. The maturity to have and maintain a lasting relationship fought against this... Julie was to play the part of Mike's first serious relationship - the first time he was swept up in something larger than himself, but she was never intended to be his mate for life, even the life of the series.'
"Producer Mike Sullivan confirms Dan's comments: 'It was a guest star role; she wasn't hired as a series regular. There was never any intention of the Mike character being married or in a permanent romantic relationship.'"
In season four, the show's scripts called for the character Carol Seaver to be the brunt of fat jokes from her television brothers. Beginning in October 1988, Gold dieted from 133 pounds to about 110 pounds on a medically supervised 500-calorie-a-day diet, but still occasionally the scripts included fat jokes at her expense. In her autobiography, she says that between 1989 and 1991, she became increasingly obsessed with food and her weight and continued to slowly and steadily lose weight. In 1990, Gold began group therapy in an eating disorder program, but only learned more ways to lose weight. That season, her problem with weight loss was touched upon slightly on the television series, when Gold is seen looking at her body in a carnival mirror, and describes to another character the distorted image in her head. In 1991, she started starving herself more than ever and began vomiting, losing a massive amount of weight, to the point that she was admitted to a hospital in early 1992. Her lowest weight is estimated to have been near 80 pounds. She was suspended from the show for her skeletal appearance. Photos of Gold's emaciated body were plastered all over tabloid magazines, and she was one of the first celebrities ever to be formally outed for anorexia. The producers and wardrobe department for the show tried to hide her skeletal and gaunt appearance by dressing her in large and baggy sweaters and sweatshirts. She last appeared in the 1991 episode "Menage a Luke" after missing the two prior episodes where her problem is very obvious in some scenes, and did not return until the last two episodes of the series in the late spring of 1992, although she was not fully recovered.
Spin-off
Growing Pains spawned the spin-off series, Just the Ten of Us, which featured Coach Graham Lubbock, Mike and Carol's gym teacher, moving to California with his large family to teach at an all-boys Catholic school after he was fired from Thomas Dewey High School.
Reunion movies
In 2000, the cast reunited for The Growing Pains Movie, followed by Growing Pains: Return of the Seavers in 2004.
DVD Releases
Warner Home Video has released the entire series on DVD in Region 1. Seasons 3–7 are manufacture-on-demand (MOD) releases, available exclusively through Warner's online store and Amazon.com.
On December 6, 2011, Warner Bros. released The Growing Pains Movie and Growing Pains: Return of the Seavers on DVD in Region 1 via their Warner Archive Collection. Similar to the subsequent season sets, these are manufacture-on-demand (MOD) releases, available exclusively through Warner's online store and amazon.com.
United States
ABC aired reruns of the show on its daytime schedule from July 1988 to August 1989. The show originally aired at 11:00 am (EST) until January 1989, when with the cancellation of Ryan's Hope and the expansion of Home to an hour (from 11:00am-noon), the reruns moved to 12:00 pm.
In the fall of 1989, the show was sold to local syndication, which continued until 1997. The show also aired on TBS for several years.
Reruns aired on the Disney Channel from September 1997 to September 2001. The cable rights for the show moved to sister network ABC Family, where it ran from 2001 to 2004. It has also aired on ION Television during the fall of 2006 into the spring of 2007.
Nick at Nite began airing Growing Pains on February 12, 2007, launching with a marathon from 9:00 pm ET-1:00 am ET. It was pulled from the line-up shortly after, and later moved to sister network The N/TeenNick, where it aired up until early 2010. TeenNick re-aired the series on Monday, September 13, 2010, in a 5:00 am hour block, and aired its final showings on December 27, 2010.
Growing Pains began to air on Up TV in October 2016.
Asia
Mainland China
This show was dubbed in Chinese by the Shanghai Television in the late 1980s with the title of Chéngzhǎng de Fánnǎo (成长的烦恼; literally "Growing vexation")
Taiwan
This show was dubbed in Chinese by Chinese Television System in the 1980s–1990s, and was given a Chinese title called Huānlè Jiātíng (歡樂家庭; Happy Family)
Japan
Growing Pains was dubbed in Japanese, and broadcast by the NHK of Japan in the title of "Yukai na Shiba Ke (愉快なシーバー家)" (Happy Seaver family) from 1997 to 2000
Europe
Germany
The show aired with the title of Unser lautes Heim on ProSieben from 1993.
France
Two books published in French exclusively about Growing Pains: Cyrille Rollet, PhD (EHESS, Paris),
Physiologie d'un sitcom américain (voyage au cœur de Growing Pains), (volume 1) – Physiology of an American Sitcom (Journey to the Heart of Growing Pains)
Circulation culturelle d'un sitcom américain (volume 2) – The Cultural Circulation of an American Sitcom
Australia
Digital free-to-air channel 7TWO began reruns of Growing Pains in October 2010, and reached the final episode in June 2011, replacing it with Night Court. The Nine Network first aired the show back in the 1980s and 1990s.
Turkey
The show aired in the beginning of the 1990s in Turkey's first private TV channel, Star TV.
Latin America
The show was previously aired on Nickelodeon's block, Nick at Nite from 2006 until 2009.
References
Growing Pains Wikipedia
(Text) CC BY-SA