1989

Rutgers (GA)




1999–2000

Miami (DC)




Positions

Linebacker




1998

Chicago Bears (DB)




Spouse

Christy Schiano




1991–1995

Penn State (DB)




Role

Coach




1990

Penn State (GA)




Name

Greg Schiano








Born

June 1, 1966 (age 56) Wyckoff, New Jersey (

1966-06-01

)


1996–1997

Chicago Bears (Def Asst)




Past teams coached

Tampa Bay Buccaneers (Head coach, 2012–2013)




Children

John Schiano, Matt Schiano, Katie Schiano, Joey Schiano




Education

Bucknell University, Ramapo High School




Similar People

Josh Freeman, Butch Davis, Kyle Flood, Al Golden, Lovie Smith
Stephen A. Smith: Greg Schiano is being 'royally screwed over' | First Take | ESPN
Gregory Edward Schiano (born June 1, 1966) is the Defensive Coordinator and Associate Head Coach for the Ohio State Buckeyes football team. He served as the head football coach at Rutgers University from 2001 to 2011 and as head coach of the National Football League's Tampa Bay Buccaneers from 2012 to 2013.
Contents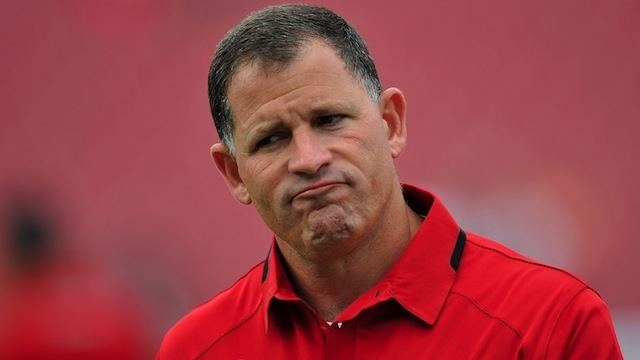 Greg schiano encourages dads
Early life and education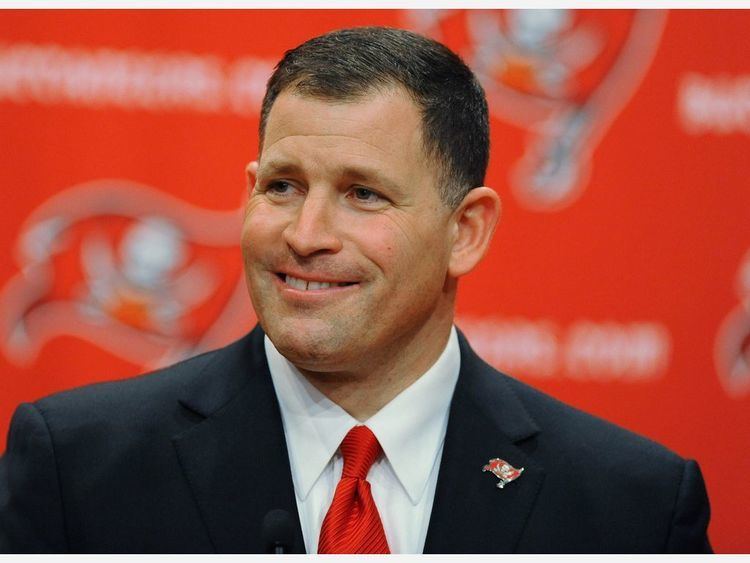 Schiano was born and grew up in Wyckoff, New Jersey, and attended Ramapo High School. He then attended Bucknell University, where he was a member of Phi Gamma Delta Fraternity, and graduated in 1988 with a B.S. in business administration. Despite being a 190-pound linebacker in high school, Bucknell assistant Joe Susan felt he was a perfect fit for the defense. Susan would later join Schiano at Rutgers.
Playing career
Playing at linebacker, Schiano was a three-year letterman at Bucknell. In his junior year, he led the team with 114 tackles and was named to the All-Conference team. In his senior year, he was named team captain, and was named to The Sporting News Pre-season All-American Team.
Personal life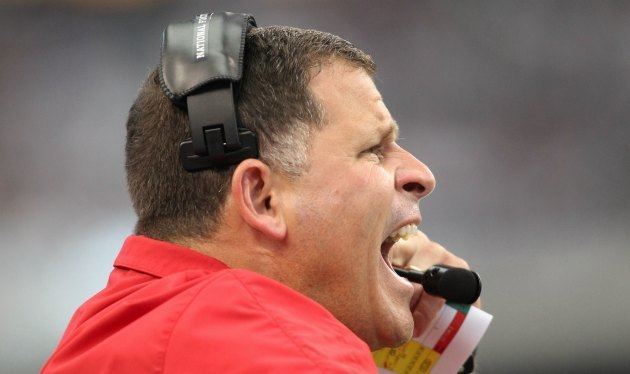 Schiano and his wife Christy have four children: Joey, John, Matt, and Katie.
Coaching career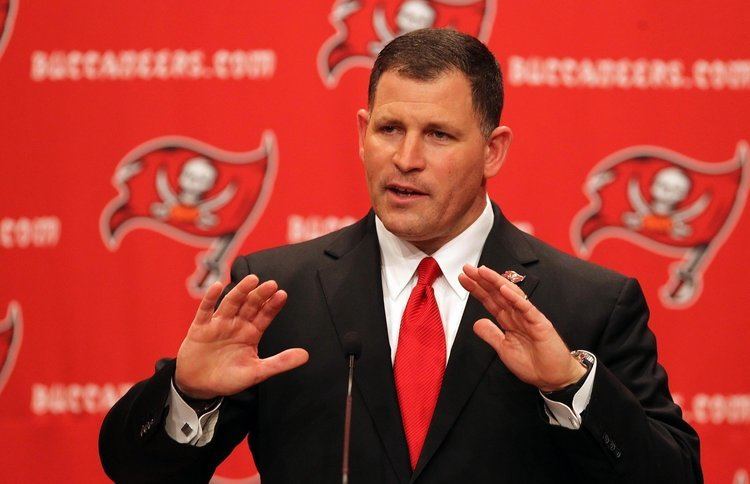 Schiano began his coaching career in 1988 as an assistant coach at Ramapo High School for the Raiders football team. In 1989, he served as a graduate assistant at Rutgers. In 1990, he took the same position at Penn State, and later served as the defensive backfield coach there from 1991 until 1995. From 1996 to 1998, Schiano was an assistant coach in the NFL with the Chicago Bears. For his first two seasons there, he was a defensive assistant, and then was promoted in his third and final season with the Bears to defensive backfield coach.
University of Miami
Schiano served as defensive coordinator for the University of Miami from 1999 to 2000. In 1999, Miami finished the year ranked 12th in the NCAA's Division I-A in points allowed per game (17.2), and in 2000 moved up to 5th (15.5 points allowed per game). His brief 18-month stint at Miami and his roots in New Jersey made him a candidate for his next position as head coach at Rutgers University.
While at the University of Miami, Schiano coached NFL Pro Bowlers Dan Morgan, Jonathan Vilma, and Ed Reed.
Rutgers
On December 1, 2000, Schiano accepted the head coaching position at Rutgers, the state university of New Jersey. He was given the task of turning around a struggling program that had been without a bowl game appearance since the 1978 Garden State Bowl (coincidentally, that game was also against Arizona State, and a then-12-year-old Schiano was among the attendees), and had just two winning seasons since 1980. Although Schiano was producing solid recruiting classes, especially by Rutgers standards, the Scarlet Knights struggled to mediocre records in his first four seasons as head coach.
Despite the rough start to his tenure at Rutgers, Schiano began to turn around for the program during the 2005 season. Schiano recruited New York native Ray Rice, who was considered the top running back in the Tri-State area. He coached Rutgers to a 7–4 record that season. The highlight of their season came in a nationally-televised 37–29 upset win over Pittsburgh and their coach Dave Wannstedt, a long-time friend of Schiano's who hired him while coaching Chicago. At season's end, Schiano and the Scarlet Knights accepted a bid to play in the Insight Bowl against Arizona State University, which Rutgers lost by a score of 45-40. Just prior to the game, Schiano was offered a new contract, extending his contract through the 2012 season. The 2005 season laid the foundation for a rebirth of the Rutgers football program.
In the 2006 season, Schiano's Scarlet Knights raced off to a 9-0 record, highlighted by their November 9 victory over the third-ranked, undefeated Louisville Cardinals. After this game, Rutgers jumped to seventh in the national AP Poll, which was their highest ranking in school history and first Top 25 ranking since 1976. The euphoria from the win and high ranking quickly faded the following week with a loss to Cincinnati, but Scarlet Knights bounced back to finish 11-2 and qualify for the inaugural Texas Bowl. There, they would defeat the Kansas State Wildcats 37–10, capturing their first ever bowl game win in school history.
Throughout the season, coach Schiano and Rutgers were featured prominently in both the local and national media, and Schiano's motivational phrase "keep choppin'" became part of the lexicon of college football. Rutgers finished the season ranked 12th in the national poll, their best finish in school history. For his work in the 2006 season, Coach Schiano was awarded several Coach of the Year honors, including the Home Depot Coach of the Year award and the inaugural Liberty Mutual Coach of the Year Award. In just two years at the helm, coach Schiano had unquestionably turned around the fortunes of Rutgers football and established the team as one of the top football programs in the country.
With high expectations after their "Cinderella" season, Schiano coached Rutgers to respectable finishes and three more bowl game victories to give them four in a row. Schiano's team experienced tragedy in 2010, when defensive tackle Eric LeGrand suffered a spinal cord injury. This clearly affected the team's play: when the extent of LeGrand's injury became apparent, it contributed to sending Rutgers into a funk that resulted in a six-game losing streak to end the season.
Schiano has been credited for his involvement in LeGrand's recovery, essentially treating LeGrand's family like his own and assisting the family in any way needed, and being with LeGrand every day he was in the hospital. Though LeGrand was initially given a diagnosis of lifetime paralysis, he has since regained movement in his arms and shoulders and sensation throughout his body.
In 2011, Rutgers rebounded from the previous season to post a 9-4 record and once again earn a bowl game berth. In the Pinstripe Bowl, they defeated Iowa State 27–13, which would be his final game as Rutgers coach. He led the team to winning seasons and bowl game berths in six of his final seven seasons, with wins in the final five bowl games.
Current NFL players who played under Schiano at Rutgers:
Atlanta Falcons wide receiver Mohamed Sanu
Cincinnati Bengals long snapper/tight end Clark Harris
Cleveland Browns cornerback Jason McCourty
Cleveland Browns wide receiver Kenny Britt
Detroit Lions tight end Tim Wright
Houston Texans quarterback Tom Savage
New England Patriots free safety Devin McCourty
Tennessee Titans cornerback Logan Ryan
New England Patriots linebacker Jonathan Freeny
New England Patriots safety Duron Harmon
San Francisco 49ers center Jeremy Zuttah
Free Agent long snapper Andrew DePaola
Tampa Bay Buccaneers
On January 26, 2012, Schiano accepted his first head coaching opportunity at the professional-football level, with the NFL's Tampa Bay Buccaneers. The hire was generally considered surprising (as "college" coaches, historically, tend to experience a high rate of failure at the NFL/professional level. examples include Template:Nick Saban, Template:Lane Kiffen, Template:Steve Spurrier, and Template:Butch Davis); Schiano's mere 68–67 record at Rutgers received less scrutiny at the time, as high-profile, upset victories had enhanced media/popular perceptions of Schiano's effectiveness. The Buccaneers ended the 2012 regular season with a 7–9 record, missing the playoffs in the process. In the 2013–2014 season, the team regressed to 4–12.
On December 30, 2013, the Buccaneers fired Schiano along with Mark Dominik, the general manager who had selected him.
Ohio State
In 2016, after two seasons out of coaching, head coach Urban Meyer hired Schiano to serve as defensive coordinator/associate head coach for the Ohio State Buckeyes football program, replacing Chris Ash who, coincidentally, left Ohio State to accept the head coaching position at Rutgers.
Awards and bowl bids
Schiano received most of the major 2006 national Coach of the Year awards after orchestrating what was considered by many to be one of the great turnaround stories in college football history, transforming the hapless Scarlet Knights into a winning football program (see above).
On December 4, 2006, one day after Rutgers accepted a bid to play in the 2006 Texas Bowl against Kansas State, Schiano announced that he would not be a candidate for the recently vacated head coaching job at his previous employer, the University of Miami, ending rumors and speculation that he would leave his creation at upstart Rutgers to return to Miami. He stated that he is "very happy at Rutgers" and that Rutgers is just beginning to "scratch the surface" of what the team can accomplish. He confirmed this by signing yet another contract extension, announced on February 16, 2007, upping his yearly compensation to $1.5 million per year and extending his deal with Rutgers to 2016. Schiano's 2011 salary and compensation of $2.3 million made him "by far" the highest-paid public employee in New Jersey, as well as the highest paid coach in the Big East.
In December 2007, The Star-Ledger reported that Schiano spoke with University of Michigan Athletic Director Bill Martin "for quite a while" on December 5 about the head coaching vacancy at the school. Two days later, he withdrew his name from consideration and remained as the Rutgers Head Coach. In 2008, after a bad start his Knights staged a come-from-behind season where they ended up 8–5 with the school's 4th straight bowl bid. Schiano's name once again came up in general speculation about the Miami head coaching position in 2010, after the firing of Randy Shannon.
Coaching tree
Assistant coaches under Greg Schiano who became NCAA head coaches:
Mario Cristobal: Florida International (2007–2012)
Bill Cubit: Western Michigan (2005–2012), Illinois (2015)
P. J. Fleck: Western Michigan (2013–2016), Minnesota (2017–present)
Kyle Flood: Rutgers, (2012–2015)
Darrell Hazell: Kent State (2011–2012), Purdue (2013–2016)
Brian Jenkins: Bethune–Cookman (2010–2014), Alabama State (2015–present)
Darren Rizzi: Rhode Island (2008)
References
Greg Schiano Wikipedia
(Text) CC BY-SA