The film stars Cameron Mitchell, Anne Bancroft, Lee J. Cobb and Raymond Burr, with Lee Marvin and Warren Stevens in supporting roles. Directed by Harmon Jones, it was made by Panoramic Productions, and distributed through 20th Century Fox in Technicolor and 3-D.
It is notable for being one of their first 20th Century Fox films filmed in 3-D. (The first was Inferno, which was released a year before.)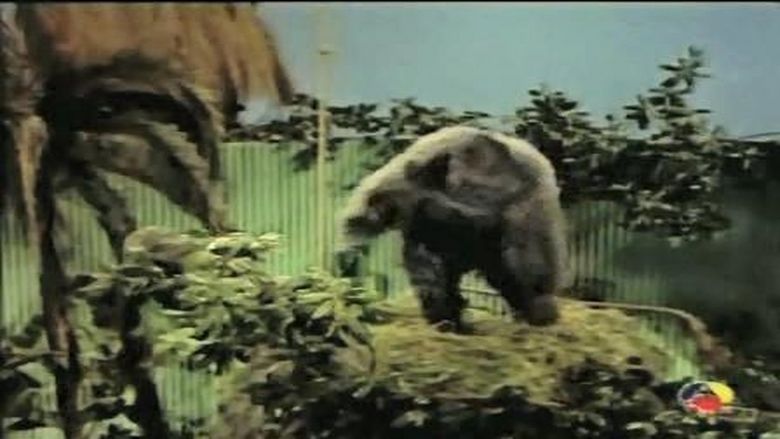 Cyrus Miller's circus has come to the fairgrounds, where barker Joey Matthews invites the crowd to come see the great gorilla, Goliath.
Trapeze artist Laverne Miller flies over the gorilla's cage. She tells husband Cyrus that she wants a few changes made, demanding that the animal's handler, Kovacs, be fired, and that Joey join the act. Inside a gorilla costume, Joey would be waiting to catch Laverne when she drops from the trapeze, the crowd shrieking as it believes him to be Goliath.
Cyrus refuses to dismiss Kovacs, who is the only one able to control the gorilla. Going through with her new act, however, Laverne and Joey practice, incorporating some judo moves in their routine. Joey tells fiancee Audrey Baxter that the additional money he makes will help them raise enough money to be married and leave the circus life for good.
A concessionaire, Morse, is accused by Cyrus of robbing from the receipts. Morse is found dead near Goliath's cage with a broken neck and a gin bottle nearby. Detective Garrison of the police speculates that the victim got drunk and ventured too close to the dangerous gorilla. Cyrus' right-hand man, Owens, argues that Morse never drank alcohol due to an ulcer.
Joey becomes a suspect, having once threatened Morse for bothering Audrey. But it is Joey's hunch that Cyrus is behind this. He could be out to frame Joey, who has been the object of Laverne's flirtations. Or the killer could be Kovacs, who once was married to Laverne before an accident led to the death of Kewpie, her partner on the trapeze.
While cop on duty Shaughnessy falls asleep, Goliath is set free by someone in a gorilla suit. Audrey begins screaming. Cyrus and others rush to rescue her in the hall of mirrors. Owens says he knows who the killer is, but then he is found dead. Kovacs leads the gorilla away.
To the surprise of the police, Cyrus confesses to both murders. He says both men were involved in Kewpie's death. Joey is not convinced. He still feels Kovacs is the killer, believing Cyrus's lame arm made him incapable of breaking anyone's neck.
Laverne is about to do her drop from the trapeze, but expecting Joey in the costume, she falls to the real gorilla. It turns out Laverne is the killer. Using her own judo skills, she overpowered Morse, who was blackmailing her over Kewpie's death, then Owens, who had deduced her guilt.
Goliath carries a screaming Laverne to the top of the roller coaster. The gorilla dies in a hail of bullets, and the murderer is placed under arrest.
Cameron Mitchell as Joey Matthews
Anne Bancroft as Laverne Miller
Lee J. Cobb as Detective Sergeant Garrison
Raymond Burr as Cy Miller
Charlotte Austin as Audrey Baxter
Peter Whitney as Kovacs, the gorilla's keeper
Lee Marvin as Shaughnessy, Policeman
Warren Stevens as Joe, Detective
John Kellogg as Morse (as John G. Kellogg)
Charles Tannen as Owens
For an independent production, Gorilla at Large wasn't lacking for talent, including both seasoned actors and upcoming stars.
Cameron Mitchell had already appeared in the 1951 screen version of Arthur Miller's Death of a Salesman. For Anne Bancroft, Gorilla was her fifth film under contract to 20th Century Fox, and in 1962 her performance in The Miracle Worker would win her an Academy Award. Lee J. Cobb had a prolific screen career and received two Oscar nominations, the first for On the Waterfront, made the same year as Gorilla at Large.
Raymond Burr's imposing stature and dark brooding looks often landed him the role of the villain before his breakout role of lawyer Perry Mason came along. Lee Marvin had begun his film career in Hollywood in the early 1950s playing mainly crooks or cops, but would go on to become an Oscar-winning leading man.
George Barrows played the gorilla "Goliath", one of many gorilla roles in his film and TV career. The most infamous of these was as the alien "Ro-Man" in Robot Monster (1953), also a 3-D production, in which he wore a gorilla suit with a diving helmet on his head.
Production for Gorilla At Large took place at Nu Pike Amusement Park in Long Beach, California. The crew had the use of the amusement park from midnight until morning for approximately a week.
Although released through 20th Century Fox, the film was actually made by Leonard Goldstein's Panoramic Productions. The idea behind the deal that was made between the two companies was that Fox would focus and release primarily CinemaScope films, and Panoramic would be their supplier of Academy and flat widescreen ratio films. The only other 3-D productions released or produced by Fox until Ice Age: Dawn of the Dinosaurs in 2009 were the previous year's Inferno, with Robert Ryan and Rhonda Fleming, and 1960's September Storm, with Joanne Dru and Mark Stevens.
Rather than make different posters for the 2-D and 3-D release of this film only a flat (non 3-D) poster was made. Poster snipes with "3-D" were furnished to use on the posters for theatres showing the 3-D version. This was common practice at the point that the film was released, because fewer theaters were booking 3-D films in their stereoscopic form.
Bosley Crowther of The New York Times called Gorilla at Large a "straight scoop of melodramatic muck about murder and other odd distractions at an outdoor amusement park."
TV Guide said "This often hilarious 3-D thriller stars Bancroft as a trapeze artist at an amusement park, where the top attraction is a ferocious gorilla".
Cameron Mitchell recalled that he met Mel Brooks when both were at the MGM Commissary. Brooks told him that Gorilla at Large was his favourite film and asked him if he wanted to play Jimmy Hoffa in a movie for him that was My Favorite Year.
A dual projection polarized 3-D print of "Gorilla at Large" was screened at both The World 3-D Expos, most recently at the Second World 3-D Expo on September 17, 2006 at the American Cinematheque's Egyptian Theatre in Hollywood, Ca. and at the "3-D at the Castro" film festival October 17, 2006 at the Castro Theatre in San Francisco, California.
The trailer can be seen here courtesy of Sabu Cat Productions.
Gorilla at Large was released on DVD, September 11, 2007, and does occasionally play on the"Fox Movie Channel" on cable television.