Gopura Vasalile (English: In the Door of Temple) is a 1991 Indian Tamil black comedy film written and directed by Priyadarshan in his directional debut in Tamil cinema, produced by M. K. Muthu. The film features Karthik, Bhanupriya, Suchitra, Nassar, Janagaraj, Charle, Junior Balaiah, V. K. Ramasamy, Sukumari and Poornam Vishwanathan. Mohanlal appears in a cameo role in a song. Music was composed by Ilaiyaraja, while cinematography was by P. C. Sreeram.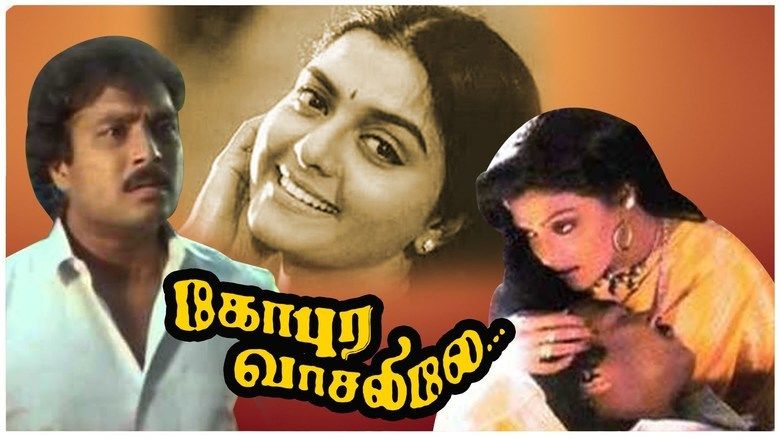 The story of the film borrows some subplots from the Malayalam film Pavam Pavam Rajakumaran (1990). The film is one of the earliest examples of black humour in Tamil cinema. Gopura Vasalile was well received at the box office and ran for more than 100 days at many theatres in Tamil Nadu.
Manohar (Karthik) is a schoolteacher in a local town. He is a bachelor living along with his friends (Nassar, Junior Balaiah and Charlie). Manohar has had a troubled love-life, having lost his lover, Kasthuri (Suchitra) in a car accident. His friends are wastrels who roam about the town, flirting with the local girls. During one such dalliance with an army officer's (V. K. Ramasamy) daughter Kalyani (Bhanupriya), they are put behind bars for a few days. Manohar also gets peeved with their behaviour and reprimands them for their uncouth behaviour.
Humiliated, the friends decide to wreak their revenge on Manohar. They collude with Janagaraj, a clerk in a local bank, and attempt to trick Manohar into believing that Kalyani is in love with him. A few anonymous letters later, the plan comes out successful.
In the meantime, during the course of a few accidental events, Manohar comes across to Kalyani as a brave and resourceful hero. Impressed, she seeks his hand in marriage through the help of her father. This sudden development takes his scheming friends aback. They cook up evidences to convince Manohar that Kalyani is a whore. The gullible hero believes the subterfuge and cancels the plans of marriage.
Despondent after the twin love failures in his life, Manohar attempts suicide in a hotel. Thinking he is dead, the friends flee the town to avoid police confrontations. It is finally revealed to the viewers that Manohar was rescued by the police later and had reunited with Kalyani, after the foul play was decoded. Manohar pardons the friends as they had played some role in developing a love with his wife and invites them to a banquet at his new house atop a hill.
Karthik as Manohar
Bhanupriya as Kalyani
Suchitra as Kasthuri
Nassar
Janagaraj as a bank clerk
Charle
Junior Balaiah
V. K. Ramasamy as an army officer
Nagesh
Sukumari
Poornam Vishwanathan
Mohanlal as the Accordionist in the song "Keladee En" (Cameo appearance)
The original score and six original songs for the movie were composed by maestro Ilayaraja and the lyrics by Vaali and Piraisoodan.
Kadhal Kavithaigal - S. P. Balasubramaniam, K. S. Chitra
Keladee En - S. P. Balasubramaniam
Naatham - K. J. Yesudas, S. Janaki
Priyasagi - Mano, S. Janaki
Dhevadhai Poloru - Malaysia Vasudevan, Mano, Deepan Chakravarthy, S. N. Surendar
Thalattum Poongkaatru - S. Janaki