Years active

1979–present

Website

www.glynisbarber.com

Children

Alexander Max Brandon







Movies and TV shows




Similar People




Profiles



Glynis barber and endymed pro 3deep
Glynis Barber (born Glynis van der Riet; 25 October 1955) is a South African actress. When she was five years old, her parents divorced, and she and her mother moved to Johannesburg. She is best known for her portrayals of Sgt. Harriet Makepeace in the British police drama Dempsey and Makepeace, Glenda Mitchell in EastEnders, DCI Grace Barraclough in Emmerdale, Fiona Brake in Night and Day, and Soolin in Blake's 7.
Contents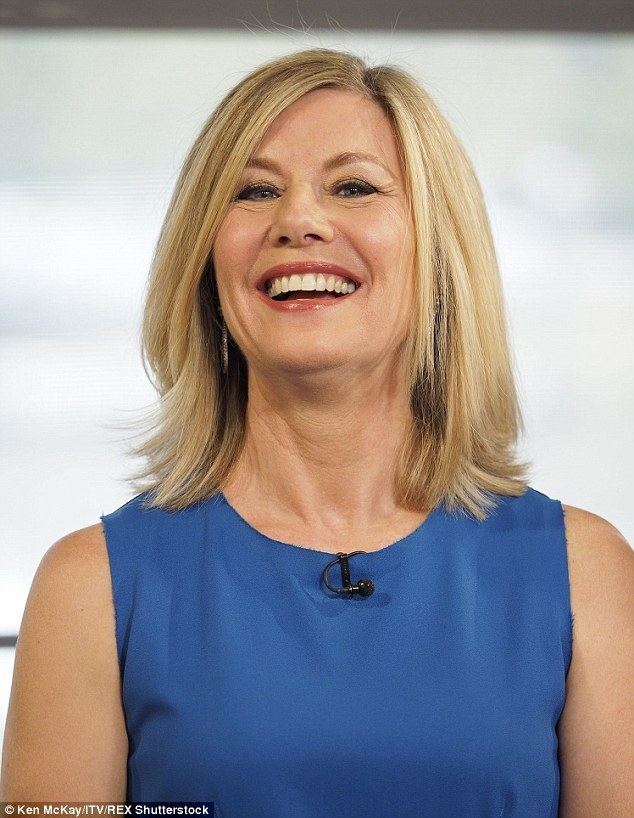 Glynis barber and michael brandon loose women
Television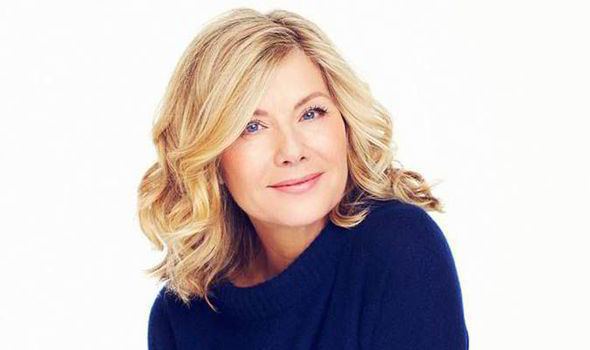 She studied at the Mountview Academy of Theatre Arts. Acting since 1978, her breakthrough came in 1981 with her role as Soolin in the BBC science fiction television series Blake's 7.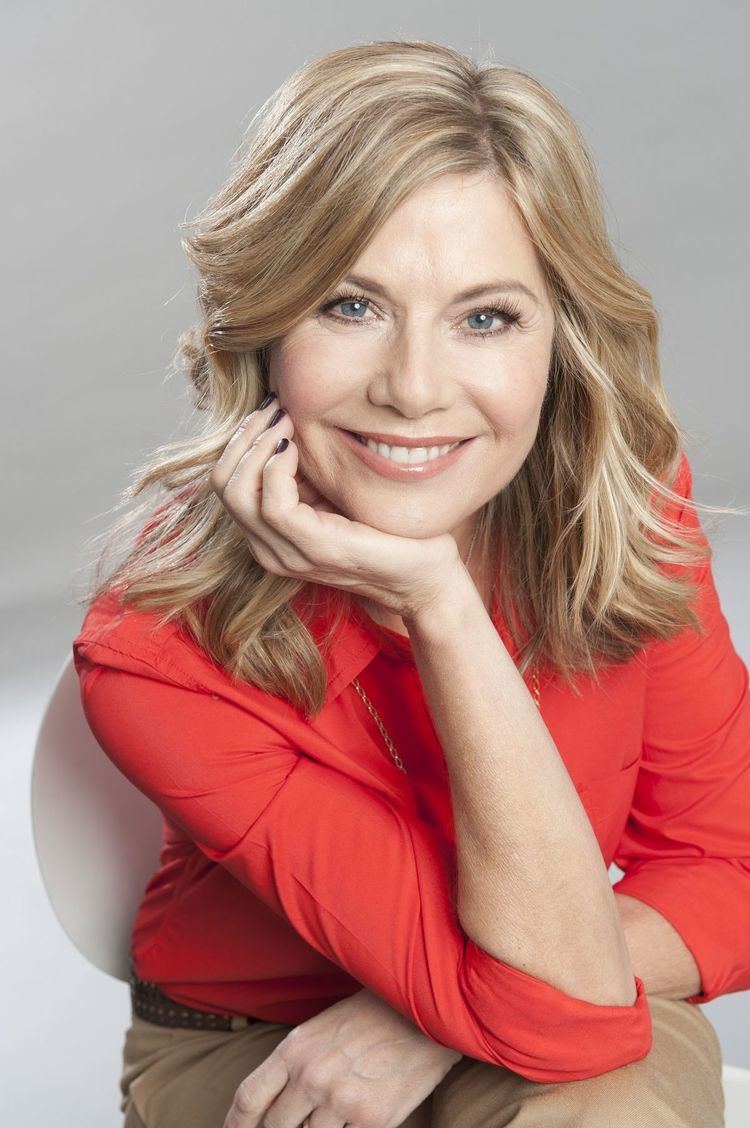 In 1982 she took the title role in the television series Jane playing a Second World War heroine. This series was filmed against a blue screen allowing for the addition of a cartoon background, an experimental technique in its day. However, Barber is best known for her mid-1980s role of Sgt. Harriet Makepeace in the British police drama Dempsey and Makepeace, where she met her future husband, Michael Brandon.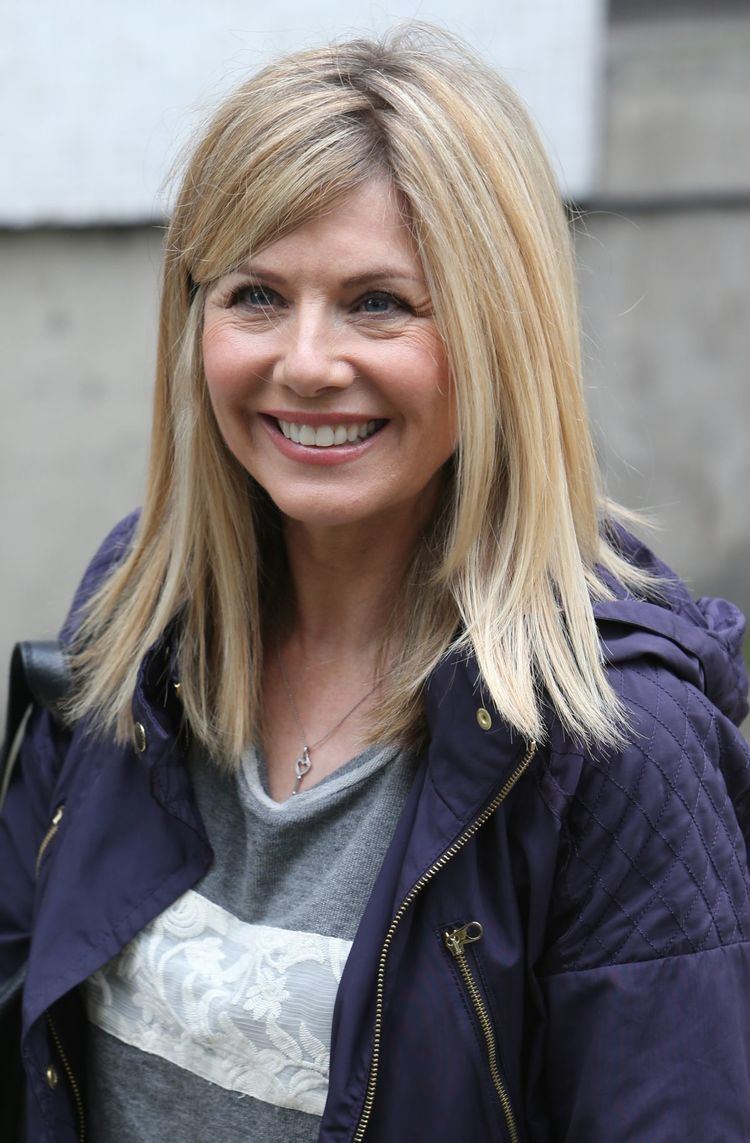 Since 1987, Barber has appeared frequently in plays, films and television series. She also starred in the LWT drama series Night and Day as Fiona Brake. In 2006 she joined the cast of ITV soap, Emmerdale, playing the character of DCI Grace Barraclough, investigating the death of Tom King on Christmas Day. She exited the soap in September 2007, when her character was killed. In 2009, she appeared as hospital administrator Jean McAteer in The Royal, another ITV drama series set in Yorkshire
On 23 October 2009, it was announced she would play Glenda Mitchell the mother of Ronnie Mitchell, Roxy Mitchell and Danny Mitchell in EastEnders after Jill Gascoine withdrew from the role during her first day on set. On 27 February 2011, it was announced that Barber was to leave EastEnders in March 2011. In February 2015, Barber admitted that she would consider an EastEnders comeback. The star commented: "I've always felt that Glenda left with a few unresolved issues. It would be fun to go back and create a little bit of havoc!". Glenda returned for two episodes on 1 January 2016. Barber returned to EastEnders full-time in January 2017.
In September 2013 she appeared in the ITV dancing show Stepping Out with husband Michael Brandon.
Theatre
Her stage work has included Macbeth, Killing Time with Dennis Waterman, High Flyers with Hugh Grant, Make Me a Match and The Graduate. In 2011 Barber starred alongside Christopher Timothy and Denis Lill in Alan Ayckbourn's Seasons Greetings playing Belinda. In 2013 she plays impulsive and rebellious Melissa Gardner in Love Letters at Dundee Repertory Theatre along with Michael Brandon. Barber played Carole King's mother, Genie Klein, in the West End production of 'Beautiful - The Carole King Musical' from opening at The Aldwych Theatre on 24 February 2015 until 28 November 2015
Film
Her early film roles included the horror film Terror, and the football drama Yesterday's Hero starring Ian McShane. She appeared as Lady Caroline in Michael Winner's 1983 remake of The Wicked Lady, which starred Faye Dunaway. In 1989 she appeared as Elisabeth Jekyll in Edge of Sanity, and the 1997 film Déjà Vu alongside Vanessa Redgrave. More recently she has appeared as Anthea Davis in On the Nose in 2001 along with Dan Aykroyd and Robbie Coltrane.
Personal life
Barber was born in Durban, South Africa, the daughter of Heather Maureen (Robb) and Frederick Werndly Barry van der Riet. She married actor Paul Antony-Barber, whom she met at drama school, in 1976. They were divorced in 1979.
Barber married her Dempsey and Makepeace co-star Michael Brandon on 18 November 1989; the couple have a son.
Filmography
Actress
-
Dream Hacker (post-production)
as
Sue Hamilton
2022
Hollyoaks (TV Series)
as
Norma Crow
2022
Silent Witness (TV Series)
as
Caroline Bergqvist
- History - Part Four (2022) - Caroline Bergqvist
2019
The Outpost (TV Series)
as
Gertrusha
- The Key to Paradise (2020) - Gertrusha
- There Will Be a Reckoning (2019) - Gertrusha
- Where You Go, People Die (2019) - Gertrusha
- Because She's Worth It (2019) - Gertrusha
- The Blade of the Three (2019) - Gertrusha
- Regarding the Matter of Garret Spears (2019) - Gertrusha
- This Is One Strange Town (2019) - Gertrusha
2019
Passport to Oblivion
as
Simone (voice)
2019
London Kills (TV Series)
as
Kirsten Pryce
- The Politician's Son (2019) - Kirsten Pryce
2018
Royal Hearts (TV Movie)
as
Joan
2010
EastEnders (TV Series)
as
Glenda Mitchell / Glenda
2015
Point Break
as
FBI - Head of Investigations
2013
Marple (TV Series)
as
Cora Van Stuyvesant
- Endless Night (2013) - Cora Van Stuyvesant
2013
Casualty (TV Series)
as
Barbara Cullen
- Three's a Crowd (2013) - Barbara Cullen
2013
BBC Comedy Feeds (TV Series)
as
Cynthia
- Bamboo (2013) - Cynthia
2013
Law & Order: UK (TV Series)
as
Sue Pendle
- Dependent (2013) - Sue Pendle
2013
Hammer of the Gods
as
Astrid
2009
The Royal (TV Series)
as
Jean McAteer
- Below the Surface (2011) - Jean McAteer
- Dead Air (2011) - Jean McAteer
- Manoeuvres (2011) - Jean McAteer
- The Enemy Within (2009) - Jean McAteer
- A Hero for Our Time (2009) - Jean McAteer
- Tutti Frutti (2009) - Jean McAteer
- Please Release Me (2009) - Jean McAteer
- Should I Stay or Should I Go Now (2009) - Jean McAteer
- Any Old Iron (2009) - Jean McAteer
- These Foolish Things (2009) - Jean McAteer
- Counting Chickens (2009) - Jean McAteer
- Safe as Houses (2009) - Jean McAteer
2009
New Tricks (TV Series)
as
Cheryl Brooker
- The Truth Is Out There (2009) - Cheryl Brooker
2006
Emmerdale Farm (TV Series)
as
DCI Grace Barraclough
2006
Trial & Retribution (TV Series)
as
Dora Hills
- Sins of the Father: Part 2 (2007) - Dora Hills
- Sins of the Father: Part 1 (2006) - Dora Hills
2005
Family Affairs (TV Series)
as
Belinda Heath
- Episode #1.2277 (2005) - Belinda Heath
- Episode #1.2276 (2005) - Belinda Heath
- Episode #1.2275 (2005) - Belinda Heath
- Episode #1.2274 (2005) - Belinda Heath
- Episode #1.2273 (2005) - Belinda Heath
2001
Night & Day (TV Series)
as
Fiona Brake / Gwen
- Final Hours, Final Revelations (2003) - Fiona Brake
- The Secret's Out (2003) - Fiona Brake
- The Monster's Haunting (2003) - Fiona Brake
- An Open Marriage (2003) - Fiona Brake
- Steph's Fire (2003) - Fiona Brake
- Roxanne's Wedding Day (2003) - Fiona Brake
- Excorcised (2003) - Fiona Brake
- Blast from the Past (2003) - Fiona Brake
- The Bitch is Back (2003) - Fiona Brake
- Searching and Finding (2003) - Fiona Brake
- Operation:Rescue (2003) - Fiona Brake
- The White Cell of Jane Harper (2003) - Fiona Brake
- Creature of the Night (2003) - Fiona Brake
- The Evil Beast (2003) - Fiona Brake
- Josh Disappears (2003) - Fiona Brake
- The Arrival of Aunt Begonia (2003) - Fiona Brake
- Skills of Pretense (2003) - Fiona Brake
- The Last Goodbye (2003) - Fiona Brake
- Queen of the Ball (2003) - Fiona Brake
- Keep on Running (2003) - Fiona Brake
- As Bonds Begin to Break (2003) - Fiona Brake
- Various Impact (2003) - Fiona Brake
- A Baby is Born (2002) - Fiona Brake
- The Wrong Thing (2002) - Fiona Brake
- Trial Seperation (2002) - Fiona Brake
- Break the Pattern (2002) - Fiona Brake
- Confessions, Confessions (2002) - Fiona Brake
- Reaching First Base (2002) - Fiona Brake
- Black Flowers (2002) - Gwen
- Making Peace (2002) - Fiona Brake
- Django's Hollywood Bound (2002) - Fiona Brake
- Cold Calling (2002) - Fiona Brake
- Nurse Bradshaw (2002) - Fiona Brake
- Stalker (2002) - Fiona Brake
- Blackout (2002) - Fiona Brake
- Alternative Days (2002) - Fiona Brake
- Fascination (2002) - Fiona Brake
- Old Flame (2002) - Fiona Brake
- Too Close for Comfort (2002) - Fiona Brake
- Decision Time (2002) - Fiona Brake
- Django Arrives (2002) - Fiona Brake
- As Good as It Gets (2002) - Fiona Brake
- Keeping in Touch (2002) - Fiona Brake
- Haunted (2002) - Fiona Brake
- Crush (2002) - Fiona Brake
- Means to an End (2002) - Fiona Brake
- Head to Head (2002) - Fiona Brake
- Accusations (2001) - Fiona Brake
- Mission (2001) - Fiona Brake
- Questions (2001) - Fiona Brake
- Stuff Happens (2001) - Fiona Brake
- Nightmares (2001) - Fiona Brake
- Flashback (2001) - Fiona Brake
- Bad Timing (2001) - Fiona Brake
- Gone (2001) - Fiona Brake
- Josh (2001) - Fiona Brake
- Children (2001) - Fiona Brake
- Birthday (2001) - Fiona Brake
2003
Murphy's Law (TV Series)
as
Patricia Morris
- Kiss and Tell (2003) - Patricia Morris
2003
The Afternoon Play (TV Series)
as
Brenda
- Turkish Delight (2003) - Brenda
2001
On the Nose
as
Anthea Davis
2001
Hostile Waters: Antaeus Rising (Video Game)
as
Church (voice, as Glynnis Barber)
2001
Dark Realm (TV Series)
as
Mrs. Parker
- The House Sitter (2001) - Mrs. Parker
2000
Doctors (TV Series)
as
Miranda Stockton
- Love You Madly (2000) - Miranda Stockton
1999
The Bill (TV Series)
as
Victoria Smith
- Sleeping with the Enemy (1999) - Victoria Smith
1999
Highlander: The Raven (TV Series)
as
Rachel
- The Rogue (1999) - Rachel
1998
Babes in the Wood (TV Series)
as
Angela
- Episode #1.6 (1998) - Angela
1998
Beings (TV Movie)
as
Nancy Preston
1997
The Apocalypse Watch (TV Movie)
as
Janine Courtland
1996
Goosebumps: Escape from Horrorland (Video Game)
as
Mrs. Morris
1994
Turbocharged Thunderbirds (TV Series)
as
Tin-Tin / Sally / Lady Penelope
- Attack of the Alligators! (1995) - Sally (voice)
- Ricochet (1995) - Tin-Tin (voice)
- Ready, Set- Danger! (1995) - Tin-Tin (voice)
- Martian Invasion (1994) - Lady Penelope (voice)
1995
Conqueror: A.D. 1086 (Video Game)
as
Victoria (voice, as Glynnis Barber)
1994
Diagnosis Murder (TV Series)
as
Samantha Litvak
- Georgia on My Mind (1994) - Samantha Litvak
1992
Miss Marple: The Mirror Crack'd from Side to Side (TV Movie)
as
Lola Brewster
1991
Palace Guard (TV Series)
as
Danielle
- Iced (1991) - Danielle
1989
Monsters (TV Series)
as
Dr. Jarris
- Mannikins of Horror (1989) - Dr. Jarris
1989
Edge of Sanity
as
Elisabeth Jekyll
1988
Tales of the Unexpected (TV Series)
as
Lilian / Sylvia Brett
- The Dead Don't Steal (1988) - Lilian / Sylvia Brett
1987
Screen Two (TV Series)
as
Lucy
- Visitors (1987) - Lucy
1985
Dempsey and Makepeace (TV Series)
as
Makepeace
- Guardian Angel (1986) - Makepeace
- Mantrap (1986) - Makepeace
- The Cortez Connection (1986) - Makepeace
- Out of Darkness (1986) - Makepeace
- Bird of Prey (1986) - Makepeace
- Extreme Prejudice (1986) - Makepeace
- The Prizefighter (1986) - Makepeace
- Jericho Scam (1986) - Makepeace
- The Burning: Part 2 (1986) - Makepeace
- The Burning (1986) - Makepeace
- The Bogeyman (1985) - Makepeace
- In the Dark (1985) - Makepeace
- The Hit (1985) - Makepeace
- Set a Thief (1985) - Makepeace
- Blood Money (1985) - Makepeace
- Tequila Sunrise (1985) - Makepeace
- No Surrender (1985) - Makepeace
- Love You to Death (1985) - Makepeace
- Wheelman (1985) - Makepeace
- Silver Dollar (1985) - Makepeace
- Judgement (1985) - Makepeace
- Cry God for Harry (1985) - Makepeace
- Blind Eye (1985) - Makepeace
- Make Peace Not War (1985) - Makepeace
- Nowhere to Run (1985) - Makepeace
- Hors de Combat (1985) - Makepeace
- Given to Acts of Violence (1985) - Makepeace
- Lucky Streak (1985) - Makepeace
- The Squeeze (1985) - Makepeace
- Armed and Extremely Dangerous (1985) - Makepeace
1986
Love and Marriage (TV Series)
as
Fiona Jebb
- Demons (1986) - Fiona Jebb
1982
Jane (TV Series)
as
Jane
- Episode #2.5 (1984) - Jane
- Episode #2.4 (1984) - Jane
- Episode #2.3 (1984) - Jane
- Episode #2.2 (1984) - Jane
- Episode #2.1 (1984) - Jane
- Episode #1.5 (1982) - Jane
- Episode #1.4 (1982) - Jane
- Episode #1.3 (1982) - Jane
- Episode #1.2 (1982) - Jane
- Episode #1.1 (1982) - Jane
1983
The Hound of the Baskervilles (TV Movie)
as
Beryl Stapleton
1983
The Wicked Lady
as
Caroline / Barbara's sister
1982
The New Adventures of Lucky Jim (TV Series)
as
Lucy Simmons
- Will Success Spoil Jim Dixon? (1982) - Lucy Simmons
- Scoop (1982) - Lucy Simmons
- A Foot in the Door (1982) - Lucy Simmons
- The Big Smoke (1982) - Lucy Simmons
1982
Invaders of the Lost Gold
as
Janice Jefferson
1978
Blake's 7 (TV Series)
as
Soolin / Mutoid
- Blake (1981) - Soolin
- Warlord (1981) - Soolin
- Orbit (1981) - Soolin
- Gold (1981) - Soolin
- Sand (1981) - Soolin
- Games (1981) - Soolin
- Assassin (1981) - Soolin
- Headhunter (1981) - Soolin
- Animals (1981) - Soolin
- Stardrive (1981) - Soolin
- Traitor (1981) - Soolin
- Power (1981) - Soolin
- Rescue (1981) - Soolin
- Project Avalon (1978) - Mutoid
1981
Kelly Monteith (TV Series)
- Episode #3.4 (1981)
1981
A Fine Romance (TV Series)
as
Linda
- Unlucky in Love (1981) - Linda
1981
Bognor (TV Series)
as
Secretary
- Deadline: Part 6 - Hard Cheese on Eric (1981) - Secretary
- Deadline: Part 5 - Good Luck Willy (1981) - Secretary
- Deadline: Part 4 - The Cricketer's Almanac (1981) - Secretary
- Deadline: Part 3 - There Comes No Answer (1981) - Secretary
- Deadline: Part 2 - Who Goes Home? (1981) - Secretary
- Deadline: Part 1 - They Don't Make Them Like That Any More (1981) - Secretary
1980
Sherlock Holmes and Doctor Watson (TV Series)
as
Meredith Stanhope / Sophie
- The Case of the Three Uncles (1980) - Meredith Stanhope
- The Case of the Sitting Target (1980) - Sophie
1980
The Sandbaggers (TV Series)
as
Margaret Müller
- To Hell with Justice (1980) - Margaret Müller
1980
The History of Mr. Polly (TV Mini Series)
as
Christabel
- Episode #1.2 (1980) - Christabel
1979
Yesterday's Hero
as
Susan
1979
BBC Play of the Month (TV Series)
as
Ethel Voysey
- The Voysey Inheritance (1979) - Ethel Voysey
Self
2023
Frogmore House: Royal Retreat (TV Movie documentary)
as
Self - Narrator
2022
The British Soap Awards 2022 (TV Special)
as
Self
2022
When Luxury Cruising Goes Wrong (TV Special documentary)
as
Narrator
2020
Royal Histories (TV Series documentary)
as
Self - Narrator
- Snowdon & Margaret: A Scandalous Affair (2021) - Self - Narrator
- When the Middletons met the Monarchy (2021) - Self - Narrator
- Wallis Simpson: Femme Fatale (2021) - Self - Narrator
- Camilla: Making of a Mistress (2021) - Self - Narrator
- Princess Alice: The Royals' Greatest Secret (2020) - Self - Narrator
- Beatrice and Eugenie: Pampered Princesses (2020) - Self - Narrator
- Edward and Sophie: The Reluctant Royals? (2020) - Self - Narrator
- Princess Anne: The Daughter Who Should Be Queen (2020) - Self - Narrator
- Philip: The King without a Crown (2020) - Self - Narrator
- The Queen Mother's Blitz (2020) - Self - Narrator
- The Royals on Holiday (2020) - Self - Narrator
- Harry: The Troubled Prince (2020) - Self - Narrator (voice)
- The Royals: A Family in Crisis (2020) - Self - Narrator
2018
Oxford Street 24/7 (TV Mini Series documentary)
as
Self - Narrator
- Episode #2.3 (2021) - Self - Narrator (voice)
- Episode #2.2 (2021) - Self - Narrator (voice)
- Episode #2.1 (2021) - Self - Narrator (voice)
- Crossrail Special (2019) - Self - Narrator (voice)
- Oxford Street 24/7 At Christmas (2018) - Self - Narrator (voice)
- Episode #1.3 (2018) - Self - Narrator (voice)
- Episode #1.1 (2018) - Self - Narrator (voice)
2019
The Wonderful World of Chocolate (TV Series documentary)
as
Self - Narrator
- At Christmas (2019) - Self - Narrator (voice)
2021
When Fergie Met the Monarchy (TV Movie documentary)
as
Self - Narrator
2020
World's Most Expensive Cruise Christmas (TV Special documentary)
as
Self - Narrator (voice)
2020
The Wonderful World of Cake (TV Series documentary)
as
Self - Narrator
- Amazing Christmas Cakes and Bakes (2020) - Self - Narrator (voice)
- Episode #1.4 (2020) - Self - Narrator (voice)
- Episode #1.3 (2020) - Self - Narrator (voice)
- Episode #1.2 (2020) - Self - Narrator (voice)
- Episode #1.1 (2020) - Self - Narrator (voice)
2019
Inside Hotel Chocolat (TV Series documentary)
as
Self - Narrator
- Episode #2.3 (2020) - Self - Narrator (voice)
- Episode #2.2 (2020) - Self - Narrator (voice)
- Episode #2.1 (2020) - Self - Narrator (voice)
- Episode #1.2 (2019) - Self - Narrator (voice)
- Episode #1.1 (2019) - Self - Narrator (voice)
2020
Secrets of the Royals on Tour (TV Series documentary)
as
Narrator
- Episode #1.1 (2020) - Narrator (voice)
2020
All the Queen's Horses (TV Movie documentary)
as
Narrator (voice)
2019
Prince Andrew and Scandal in the Royal House of York (TV Movie documentary)
as
Self - Narrator (voice)
2019
The World's Most Expensive Cruise Ship (TV Mini Series documentary)
as
Self - Narrator (voice)
2011
Loose Women (TV Series)
as
Self / Self - Presenter
- Episode #19.144 (2015) - Self
- Episode #18.134 (2014) - Self - Presenter
- Episode #17.174 (2013) - Self
- Episode #16.3 (2011) - Self
2015
Weekend (TV Series)
as
Self - Guest
- Episode #2.6 (2015) - Self - Guest
2013
Stepping Out (TV Series)
as
Self
- Episode #1.3 (2013) - Self
- Episode #1.2 (2013) - Self
- Episode #1.1 (2013) - Self
2013
All Star Mr & Mrs (TV Series)
as
Self
- Episode #5.4 (2013) - Self
2001
This Morning (TV Series)
as
Self
- Episode dated 14 December 2010 (2010) - Self
- Episode dated 6 November 2001 (2001) - Self
2001
GMTV (TV Series)
as
Self
- Episode dated 22 July 2009 (2009) - Self
- Episode dated 19 June 2003 (2003) - Self
- Episode dated 29 November 2001 (2001) - Self
2008
Drama Trails (TV Series documentary)
as
Self
- 'The Second Coming' to 'Afterlife' (2008) - Self
2007
TV Now and Then (TV Series)
as
Self
- Episode #1.8 (2007) - Self
2007
Mousetrapped (TV Movie documentary)
as
Self
2006
Brandon and Barber (Video documentary short)
as
Self
2005
Richard & Judy (TV Series)
as
Self
- Episode dated 22 February 2006 (2006) - Self
- Episode dated 12 January 2005 (2005) - Self
2003
The Terry and Gaby Show (TV Series)
as
Self
- Episode dated 19 August 2003 (2003) - Self
1993
This Is Your Life (TV Series documentary)
as
Self
- Errol Brown (1997) - Self
- Jackie Collins (1993) - Self
1993
Hollywood Women (TV Mini Series documentary)
as
Talking head / soundbites / Self
- Fear and Violence (1993) - Talking head / soundbites (as Glynnis Barber)
- Money and Power (1993) - Self (as Glynnis Barber)
- Glitz and Glamour (1993) - Talking head / soundbites (as Glynnis Barber)
1989
Wedden, dat..? (TV Series)
as
Self - Guest Panelist
- Episode #4.6 (1989) - Self - Guest Panelist
1985
Des O'Connor Tonight (TV Series)
as
Self
- Episode #9.5 (1985) - Self
1985
Fashion Aid (TV Special documentary)
as
Self
1985
Billy Connolly: An Audience with Billy Connolly (TV Special)
as
Self - Audience Member (uncredited)
1985
The Tonight Show Starring Johnny Carson (TV Series)
as
Self - Guest
- Episode #24.133 (1985) - Self - Guest
Archive Footage
2018
The Best of EastEnders (Video)
as
Glenda Mitchell (uncredited)
References
Glynis Barber Wikipedia
(Text) CC BY-SA