The sequel expands the archetypal high school teen surfer girl's romance with her college sweetheart Moondoggie. The film is the second of three Gidget films directed by Paul Wendkos. The screenplay was written by Ruth Brooks Flippen based on characters created by Frederick Kohner, who also wrote a novelisation of the film in 1961. Actor James Darren reprised his 1959 role of "Moondoggie", and another veteran of the 1959 film, Joby Baker, makes an appearance. Gidget Goes to Rome follows the film sequentially. Gidget Goes Hawaiian has been released to VHS and DVD.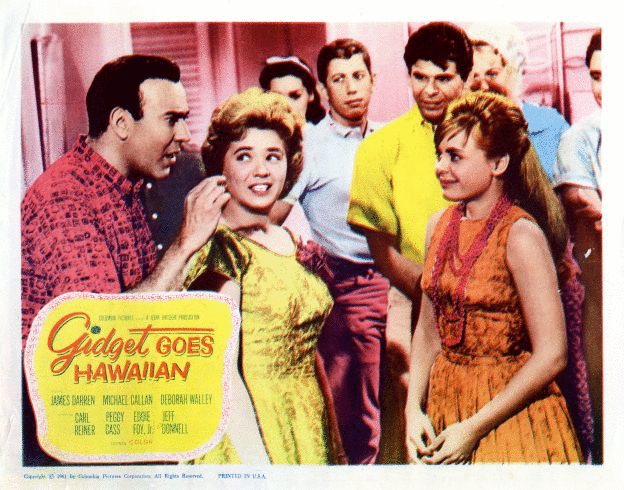 The film opens with Francie "Gidget" Lawrence (Deborah Walley) and Jeff "Moondoggie" Matthews (James Darren) getting pinned. Later, Gidget's father Russ (Carl Reiner) announces that they are going to Hawaii for a vacation. Gidget refuses to go and leave Jeff alone; Gidget's mother Dorothy (Jean Donnell) explains to Russ that Jeff is all that matters to Gidget. Russ decides to cancel Gidget's room reservation and make arrangements for her to stay with a relative so that she can be with Jeff. However, when Jeff tells Gidget that he thinks it's great and that she should go to Hawaii, Gidget gives him back his pin, runs home and tells her folks she has changed her mind.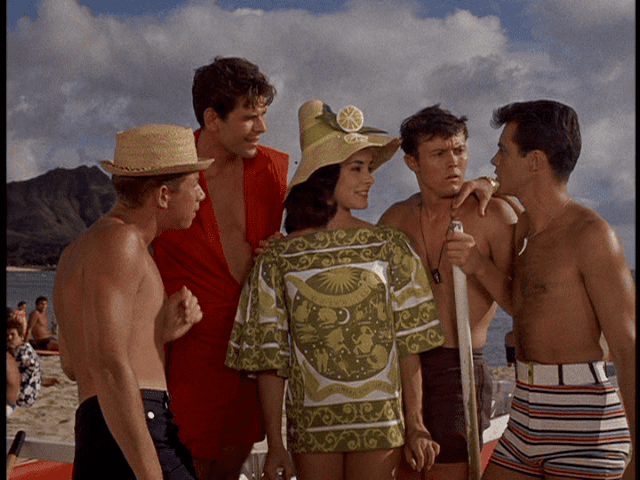 On the plane en route to the Aloha State, Gidget meets Abby Stewart (Vicki Trickett) and popular dance Eddie Horner (Michael Callan) who is en route to a performance at a theater–restaurant next to their hotel. They also meet three more men named Judge Hamilton (Joby Baker), Larry Neal (Don Edmonds), and Wally Hodges (Bart Patton). Abby enjoys the fact that they will all be at the same hotel but Gidget barely reacts. Abby figures out that Gidget has just broken up and asks her to tell the story; Gidget does, but in an overly dramatic way. She says it was love at first sight then she went overboard and "surrendered herself completely," which Abby misinterprets as "she went all the way". As the kids mingle, Gidget's parents and Abby's parents Monty (Eddie Foy Jr.) and Mitzi (Peggy Cass) are enjoying each other's company.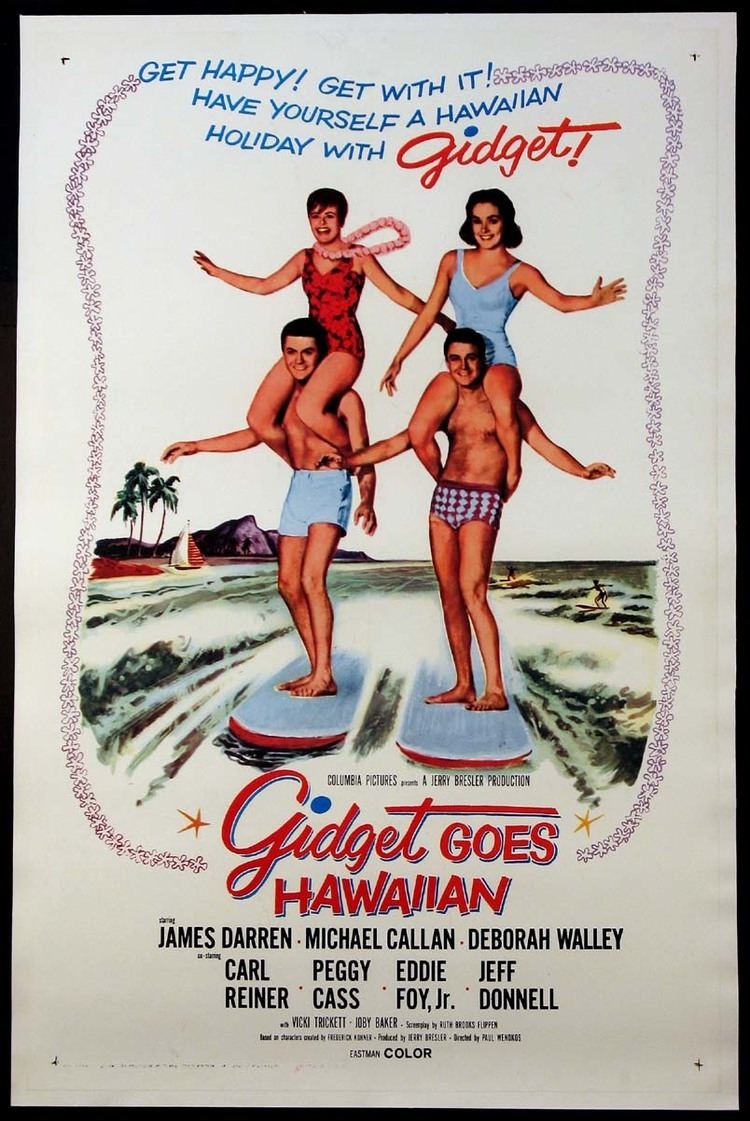 On the beach, Abby toys with all the boys' emotions, but appears to like Eddie best. Eddie, however, finds an interest in Gidget, who is still in a foul mood. Russ feels bad and decides to send a message to Jeff, suggesting that he come out to Hawaii to surprise Gidget and make her feel better. He immediately accepts.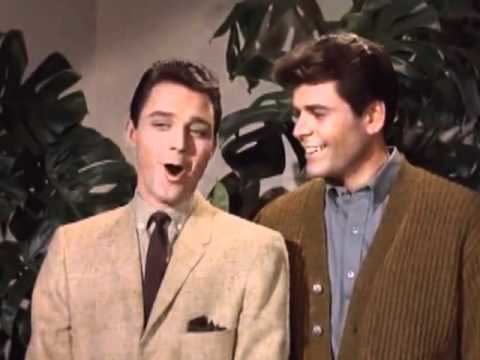 That night, Abby visits Gidget and invites her to dine with her and Eddie and the rest of the gang. Gidget declines at first, then agrees after her mother convinces her that she should enjoy her time there and have fun with Abby and the boys. At the restaurant, Abby is annoyed that she can't be alone with Eddie, so she finds two other girls named Barbara Jo Wells (Jan Conaway) and Dee Dee Waters (Robin Lory) to accompany them. At another table where Gidget's and Abby's parents are, Russ receives a telegram that Jeff is taking the first plane out to Hawaii. Gidget finally arrives, all dressed up, and joins the group. All the guys are completely drawn to her and when the dance music starts Eddie automatically grabs Gidget's hand. Later that night, Abby lets Gidget know how annoyed she was about her making such an entrance.
The next day, we see Gidget surfing with a very annoyed Abby (who is afraid of the water) looking on from the beach. The guys watch in amazement as Gidget shows off her surfing moves, prompting Eddie to ask her for surfing lessons. After Eddie wipes out on his first attempt, he and Gidget run back on shore where they kiss. Jeff, having just arrived from the mainland, sees this and walks off in disgust. Gidget runs after him, the two argue and finally decide to go their separate ways with Jeff threatening to "get a game of his own going". The "game" begins that night at dinner when Jeff arrives with Abby (who is unaware that he is Gidget's boyfriend as Gidget had only identified him as "Moondoggie"). For this, Gidget tries to make Jeff jealous by flirting with Eddie. The gang begins a conversation about things being tame with Judge suggesting to Gidget that she should try water skiing (which at the time was really risky). Gidget accepts.
The next day, the kids gather at the ski jump and try to persuade Gidget not to attempt it, but she does anyway. She starts off well, but during the jump she lets go of the handle and crashes into the water. Jeff and Judge jump into a speedboat and save her. Still desperate to make Jeff jealous, Gidget flirts with Judge who agrees to go with her to Eddie's performance that night...all in the presence of Jeff.
The following day, the kids are sailing the ocean on a catamaran. Jeff soundly chides Gidget for letting the "game" get out of control, but he backs off when she tells him that she won't tolerate such a scolding from anyone...except a husband. Meanwhile, Abby is fed up with Gidget and decides to take her down a notch by spreading a wanton rumor about her. She implies to her mother that Gidget has slept with Eddie and other guys, rationalizing that it is half-true because Gidget had said that she gave herself "completely to that Moondoggie person". Mitzi relays this to Dorothy, who refuses to believe it. Even after Gidget herself denies even the thought of such a thing, arguments about it break out between the adults. Russ and Mitzi end up down at the hotel bar where they realize they see eye-to-eye on things; they decide to go to the Mauhana Room. At the same time, Monty and Dorothy (who had been talking upstairs in the hotel room) also decide to go to the Mauhana Room.
At the Luau that night, Abby is the center of attention and is happy about it, especially since Gidget isn't there. Eddie decides to go for a walk and runs into Gidget. He tells her of the rumor then confesses he's in love with her. A crestfallen Gidget tells him that she doesn't love him but they agree to be friends. However, Gidget still can't bring herself to go to the Luau since she doesn't know how far Abby's rumor has spread, so she goes for a walk alone on the beach and pictures herself promiscuous and pregnant.
Back at the Luau, Abby tells Jeff about the rumor that Gidget sleeps around, admitting that it's a lie and that Gidget only had one affair with a guy named "Moondoggie". Jeff then realizes how much he cares about Gidget, so he puts Abby in her place by telling her that he likes her and to call him what everyone at home calls him: "Moondoggie". Jeff and Gidget reconcile on the beach and head back to the hotel to straighten everything out with the adults. When the hotel clerk informs them that Russ and Mitzi left the hotel from one way and Monty and Dorothy left from another exit, Gidget and Jeff wait for them in her parents' suite.
At the Mauhana Room, the adults also reconcile after discussing the situation; Mitzi assures Russ and Dorothy that Abby will be punished for her misdeed. They return to the hotel and find that Gidget is not in her suite. Word of Gidget's disappearance gets around to her friends and Abby, who shows deep regret for the trouble she has caused. Soon, everybody is gathered in Gidget's room; they express deep worry and concern, completely unaware that Gidget is just down the hall in her parents' suite with Jeff.
Worried that her parents are cheating on each other, Gidget and Jeff make up a plan. As she and Moondoggie embrace and kiss on the couch, Russ enters and expresses shock, then relief. Gidget tells her father that Mom is asleep but she fixed it so his bed looks slept in; she suggests that he stay in Jeff's room for the night and come back in the morning so she won't suspect anything. Russ plays along and goes to tell Dorothy to "get your half of what I got". Gidget tells her mother the same thing she just told her father, but Dorothy goes into the bedroom anyway. To Gidget's surprise, her father is in bed and appears to be asleep. She taps him and he jumps up and yells "Boo!" Jeff and the rest of the gang come in; Gidget embraces Jeff and all seems to be well now...with the exception of some unfinished business which is taken care of the next day. The guys drag a screaming Abby into the ocean and place her on top of Gidget's surfboard. When the surf comes rolling in, Abby frantically clings on for dear life while Gidget and Jeff enjoy riding the waves.
Deborah Walley as Gidget (Frances Lawrence)
James Darren as Moondoggie (Jeffrey Matthews)
Michael Callan as Eddie Horner
Carl Reiner as Russ Lawrence, Gidget's father
Jeff Donnell as Dorothy Lawrence, Gidget's mother
Peggy Cass as Mitzi Stewart
Eddie Foy Jr. as Monty Stewart
Vicki Trickett as Abby Stewart
Joby Baker as Judge Hamilton