He is the son of Ustad Waris Hussain Khan and grandson of Ustad Inayat Hussain Khan of Sahaswan Gharana. He is a living embodiment of the continuity of Indian musical tradition through heritage. He is associated with Hindi film industry as a singer, music director and as a teacher known to have trained several noted playback and classical singers. Being a rare combination of academic proficiency and musical excellence, he was awarded the Padma Shri in 1991, followed by Padma Bhusan in 2006. In 2003 he was awarded the Sangeet Natak Akademi Award highest Indian recognition given to practicing artists given by Sangeet Natak Akademi, India's National Academy for Music, Dance and Drama, amongst other awards & recognitions.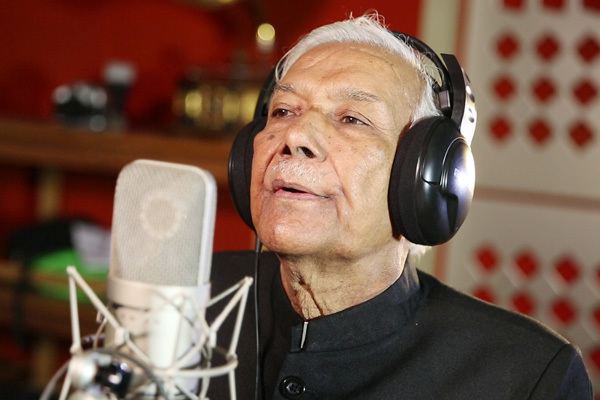 Ustad Ghulam Mustafa Khan was born on March 3, 1931 in Badayun, Uttar Pradesh. He started learning to sing before he had even started to talk properly. His father and first Guru Waris Hussain Khan used to hold him on his chest and teach him Sa Re Ga Ma when he was starting to lisp his first words. His mother was the daughter of the great Ustad Inayat Hussain Khan and music was the legacy of his family. Their seniya traditions go back to the times of Tansen and his great great grandfather Ustad Qutubuddin Khan was the court musician of the Nawab of Oudh, Wajid Ali Shah. His grandfather, Ustad Inayat Hussain Khan was also the court musician during the reign of king Ustad Wajid Ali Shah and also the Son-in-law of the pioneer of Gwalior Gharana Ustad Haddu Khan Sahib.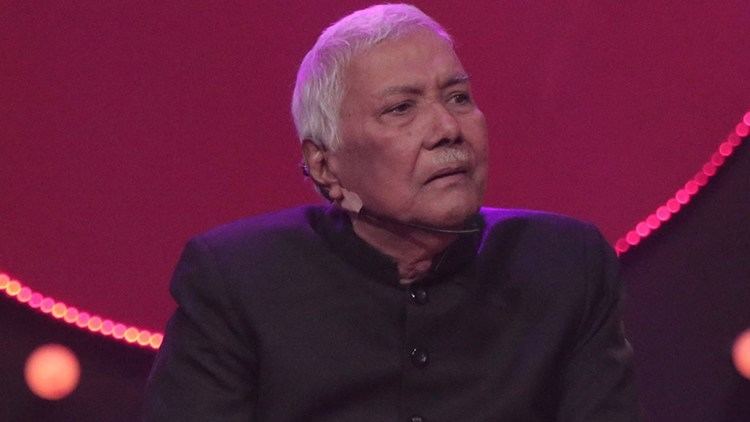 Since both Ustad Ghulam Mustafa Khan's parents wanted him to be a singer, his training in music started very young at a time when he could remember the tune but could not understand the words. After his father, he was trained by Ustaad Fida Hussain Khan who was the court singer at the Baroda's royal durbar. And then he learnt with none other than the great Ustad Nissar Hussain Khan. The traditional Styles of Rampur, Gwalior and Sahaswan "Gharana'" are therefore distinctly observed in his performance. He never had to find a guru outside his family as there were so many eminent musicians in the family itself. While growing up, daily riyaaz was strictly a rule. His father had told all the elders in his family that if he stepped out, they should discipline him and make sure he was back inside for either studies or riyaaz. So he never learnt any sport. He only played with his tanpura.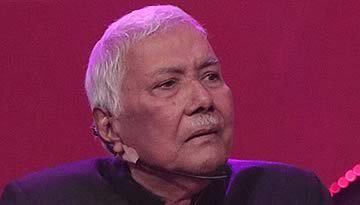 At the time, every city had a Victoria Garden and it was the custom that on Janmashtami, the first public performance of those interested in music be performed as a debut. Ali Maqsood, the Chairman of the Municipality, organised the Janmashtami function every year and asked Ustad Ghulam Mustafa Khan to perform when he was 8 years old. His performance was much appreciated and people lauded him for his courage to perform at this tender age in front of a very well-informed audience!
Ustad Ghulam Mustafa Khan's brother, Ustad Hafeez Ahmed Khan became a producer for All India Radio .He had organised a programme with all the great performers of the time and Ustad Ghulam Mustafa Khan had the privilege of singing in front of Ustad Bade Ghulam Ali Khan for four hours at a stretch. At the end of the performance, Ustad bade Ghulam Ali Khan greatly appreciated his deep sonorous voice.
Ustad Ghulam Mustafa Khan had cultivated his god gifted melodious voice to move with comfortable ease throughout the span of four octaves. His versatility to perform both classical and light music with great virtuosity got him recognition for his raga renditions that showcased his refined sense of time, style and rhythm as well as his Thumri's and other lighter varieties which were suffused with sensitivity and feeling. The path of music which he embarked on, saw him perform for Dr. Rajendra Prasad (former President of India) in 1952. Very few artists at his age had such an opportunity to perform with great maestros of that time. He was named Junior Tansen in the Haridas Sangeet Sabha in 1969. He performed in India and abroad in the presence of the Queen and Lady Diana and was awarded the Padmashri in 1991, the Sangeet Natak Academy Award (2003) and the Padmabhushan in 2006.
The first film he sang for was in Marathi, 'Chand Pretticha'. From 1957, he started singing playback for Marathi and Gujarati films. He started with Mrinal Sen's 'Bhuvan Shome' and sang 'Sajanaa kahe nahi aaye…' for 'Badnaam Basti' under the same music director, Pandit Vijay Raghav Rao. It was Muzaffar Ali's 'Umrao Jaan' that saw him sing and compose the immortal 'Jhoola kinne dala…' and 'Pratham dhar dhyan Raagmala Mala. The ambience of the kotha and the plight of the little Umrao as she is sold into the life of a courtesan, are made all the more poignant by the soulful rendition of the song sung by Ustad Ghulam Mustafa Khan. He played the role of Baiju Bawra in a German Documentary "Rain Maker" shot in Jaipur, besides being playback singer in the same film. He has given his voice to more than 70 documentaries films made by Films Division, many of them receiving international & National Awards. He has performed across India and European countries.
From the late 50s, he has been a guru to Asha Bhosle, Manna Dey, Kamal Barot, Waheeda Rehman, Ranu Mukherjee, Geeta Dutt, AR Rahman, Hariharan, Shaan and Sonu Nigam, Sanah Moidutty, Sagarika, Alisha Chinoy, Shilpa Rao, Kalpana Patowary, Amitabh Narayan are among his students. The mellifluous Ustad Rashid Khan is his nephew as well as his shagird. Ustad Aftab Ahmad Khan is his youngest brother & disciple. The most satisfying part of his life is knowing that he has been instrumental in keeping alive the tradition of the Rampur Sahaswan Gharana; a gharana known for vocal dexterity. His four sons Ghulam Murtuza, Ghulam Qadir, Ghulam Rabbani and Ghulam Hasan Khan are also trained by him. Currently they are professional singers and have sung in films like 'Fiza','Meenaxi: A Tale of Three Cities' and 'Saathiya'. His grandsons Faiz and Aamir are also receiving their taalim from him.
A glimpse of this master-protege chemistry can be witnessed in the premiering episode of the music series, Coke Studio, in which composer AR Rahman shares the stage with his 82 year old guru, also featuring his four sons- Murtuza, Qadir, Rabbani and Hasan- and his 12-year-old grandson, Faiz. All five vocalists and Rahman collaborated on two numbers as a part of Ustad Ghulam Mustafa Khan's 3 generation performance.
Ustad Ghulam Mustafa Khan has dedicated his life to preserving and nurturing the pristine Hindustani classical music genre, which is the country's legacy. And his sons are taking the baton forward by continuing the work of imparting knowledge and churning out more music talent. The disciples of Ghulam Murtuza include Tabu, Amin Rahman (Son of A R Rahman), Rihanna Rahman (Sister of A R Rahman), Manmeet Singh [Of Meet Bros], Mohammad Irfan, Khushboo Grewal, Anushka Manchanda, Priyani Vani, Aishwarya Shankar [Daughter of S Shankar, Geet Sagar, Winner of X Factor India et al. Ghulam Qadir is a vocal coach to many music reality shows on various TV Channels including Indian Idol on Sony TV, Mera Star Superstar & Jo Jeeta Wahi Superstar on Star Plus, India's Got Talent on Colours. His disc include names like Arman Malik, VJ Andy, Terence Lewis, Elli Avram, Rasha Tandon (Daughter of Raveena Tandon), et al.
Ustad Ghulam Mustafa Khan is married to Amina Begum who is grand daughter of Padma Bhushan Ustad Mushtaq Hussain Khan. They have four sons who are Murtuza Mustafa, Qadir Mustafa, Rabbani Mustafa and Hasan Mustafa. Murtaza, Qadir and Rabbani are well known classical vocalists and singers of Hindi Film Industry who have worked with the legendary music director A. R. Rahman Amit Trivedi, Tanish Baghchi and others.He is guru and maternal uncle of classical vocalist Ustad Rashid Khan. He currently lives in Mumbai, Maharashtra along with his family.
1. Conferred 'Padma Shri 'in the year 1991 by Shri R.Venkatraman (Honorable President of India). Padma Shree is the fourth highest civilian award in the Republic of India awarded by the Government of India.
2. Conferred the Sangeet Natak Akademi Award in the year 2003 by Shri APJ Abdul Kalam, Honourable President of India. It is the highest Indian recognition given to practicing artists given by Sangeet Natak Akademi, India's National Academy for Music, Dance and Drama.
3. Conferred Padma Bhushan in the year 2006 by Shri APJ Abdul Kalam (Honourable President of India). The Padma Bhushan is the third-highest civilian award in the Republic of India.
4. Conferred prestigious 'National Tansen Samman' by the Government of Madhya Pradesh in the year 2008. It is a musical award conferred to the exponents[4] of Hindustani music in the year 2008.
5. He was honoured with Pandit Dinanath Mangeshkar Award in 2011 by Smt. Lata Mangeshkar.
6. Conferred "Uttam Vag- Geykar Jialal Vasant Award" In 2014 by Hon'ble Shri Dilip Walse – Patil.(Speaker of Maharashtra Legislative Assembly). The award is constituted by Acharya Jialal Vasant Sangeet Niketan as a token symbolising strong foundation awarded Ustad Ghulam Mustafa Khan to recognise the incredible journey of music that has been and is still on and for contributing to the country.
7. Conferred Yash Bharti Award in 2016 by Uttar Pradesh Chief Minister Akhilesh Yadav for earning laurel for the state in the country as well as in the world with his talent.
8. Conferred the Ustad Haafiz Ali Khan award in 2003 by Shri Ram Vilas Paswan.
9. Conferred the Ustad Chand Khan award.
10. Conferred Pandit Basavaraj Rajguru National Memorial Trust award in 2016 by Minister Santosh Lad. The national award was instituted by the Swarasamrat Pandit Basavaraj Rajguru National Memorial Trust at Srujana Auditorium at Dharwad. Mustafa also presented a vocal recital on the occasion accompanied by Gulam Sultan Niyaz on the tabla, Ananth Kemkar on harmonium, and Liyakhat Ali Khan on sarangi.
11. Ustad Ghulam Mustafa Khan evinced particular interest in the history of Indian music and collaborated on a project of ancient Indian Music (Jati Gayan) with Acharya K.C Brahaspati, besides doing research work with him. He sang compositions derived from Natyashastra and Brihat Deshi written by Matang Rishi and from sharing Dev's Sangeet Ratnakar Based on Jati -Gayan. These had never been dung by any musician in recent times and for the first time after 700 years.
12. Ustad Ghulam Mustafa Khan Saheb brought to life this Ancient Indian Classical Music from the hoary era. Seven of his records of 30 minutes each are preserved in the Sangeet Natak Academy, New Delhi.
13. He was termed as Junior Tansen in 1969 by Haridas Sangeet Sabha, Mangalore.
14. Honorary Citizenship for outstanding contribution to the field of Indian Classical Music in 1986 (by Governor of Maryland)
15. He is among the few artists to perform at the conference held by Dr. Rajendra Prasad (Former President of India) in 1952.
16. He performed at Baltimore University and was conferred an Honorary Citizenship of Baltimore City.
17. He performed at Golden Jubilee in the presence of the honorable Queen of United Kingdom.
18. He performed at Festival de Lille in the presence of Lady Diana in France.
19. He was honoured with Maharashtra Sanskrutik Puraskar.
20. He was honoured with Tagore Ratna Award instituted by Central Sangeet Natak Academy in 2011.
This a filmography for Ustad Ghulam Mustafa Khan's playbacks in Indian Film Industry.
This a filmography for Ustad Ghulam Mustafa Khan's projects as a Music Director in Indian Film Industry.
This is the Non Film Work of Ustad Ghulam Mustafa Khan.
This is the Non Film Work of Ustad Ghulam Mustafa Khan as the Music Director.