The real gennady golovkin childhood days in kazakhstan discovering boxing and more part 1
Gennady Gennadyevich Golovkin (Kazakh: Геннадий Геннадьевич Головкин; born 8 April 1982), often known by his nickname "GGG" or "Triple G", is a Kazakhstani professional boxer who currently holds the unified WBA (Super), WBC, IBF, and IBO middleweight titles. As of May 2017, he is ranked as the world's best middleweight by BoxRec and the Transnational Boxing Rankings Board (TBRB), and second best by The Ring. He is also ranked as the world's second best active boxer, pound for pound, by The Ring; and fifth by BoxRec and the TBRB.
Contents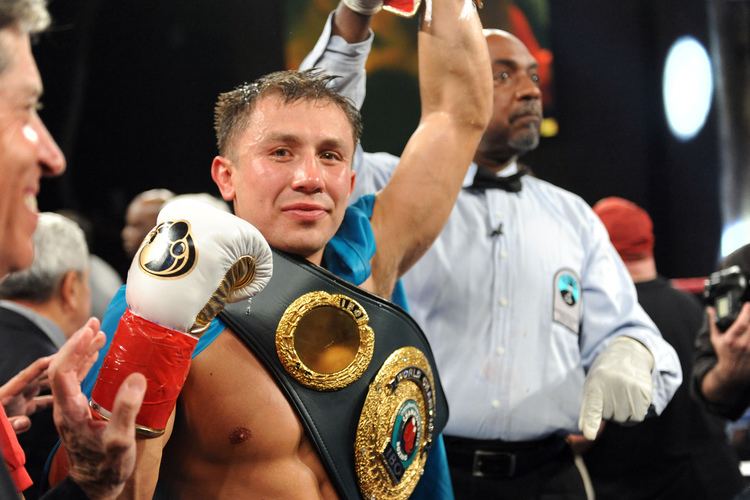 Golovkin won his first major world championship, the WBA interim middleweight title, by defeating Milton Núñez in 2010. He was elevated to WBA (Regular) champion in the same year, and in 2011 would win the vacant IBO middleweight title by defeating Lajuan Simon. In 2014, Golovkin was elevated to his current status of WBA (Super) champion and successfully defended both his titles against Daniel Geale. Later that year he defeated Marco Antonio Rubio to add the WBC interim middleweight title to his collection, and defeated David Lemieux in 2015 to win the IBF middleweight title. After Canelo Álvarez vacated his WBC middleweight title in 2016, Golovkin was elevated to full champion and now holds world titles by three of the four major boxing sanctioning bodies.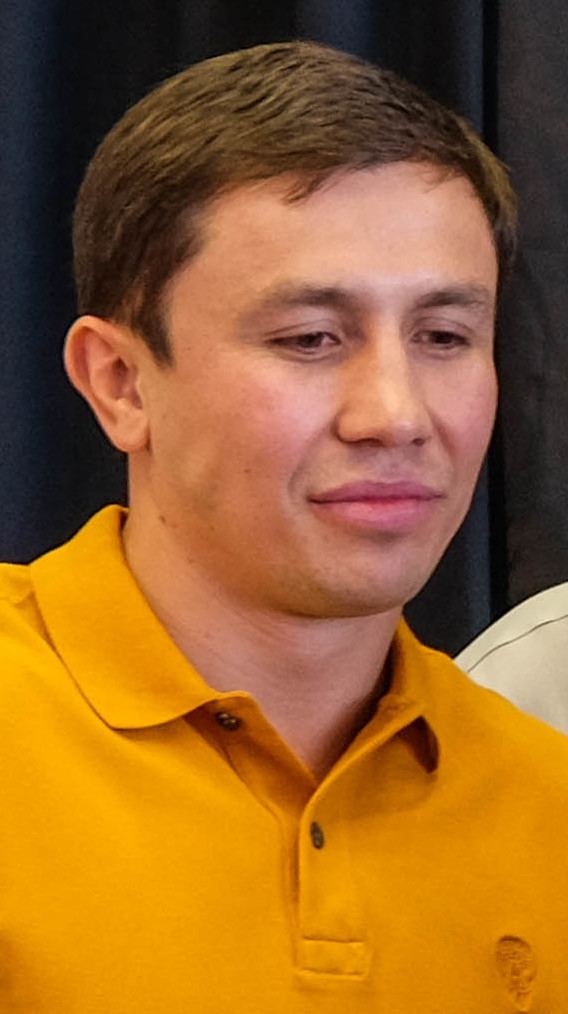 A calculating pressure fighter, Golovkin is known for his powerful and precise punching, balance, and methodical movement. With a streak of 23 knockouts that spanned from 22 November 2008 to 18 March 2017, he holds the highest knockout percentage – 89.8% – in middleweight championship history. In 2016, he achieved his 17th title defense by knockout, which equaled the record set by Wilfredo Gómez in 1982. Golovkin is also said to have one of the best chins in modern boxing, having never been knocked down or knocked out in a total of 388 fights, 38 as a professional and 350 amateur.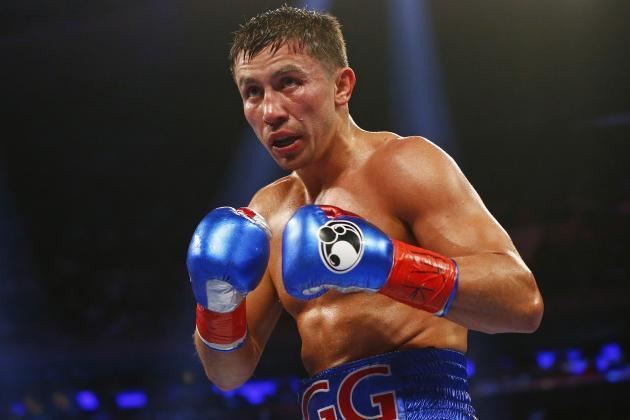 In his amateur career, Golovkin won a gold medal in the middleweight division at the 2003 World Championships. He went on to represent Kazakhstan at the 2004 Summer Olympics, winning a middleweight silver medal.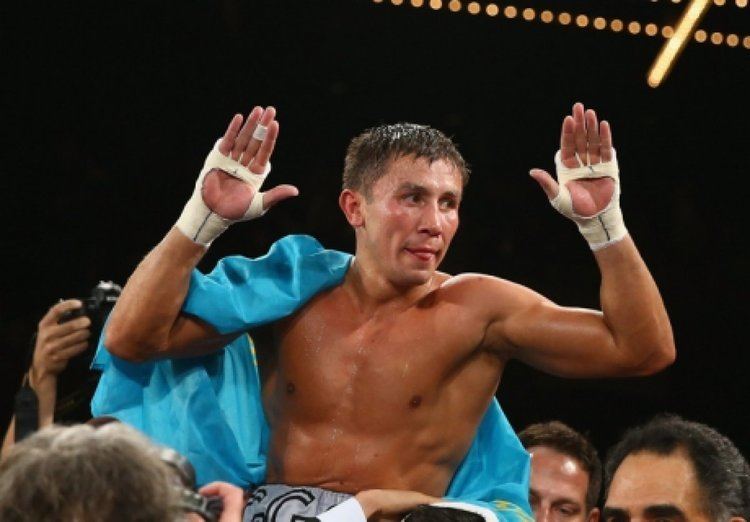 Gennady Golovkin's COMPLETE Strength & Conditioning Workout Video
Early life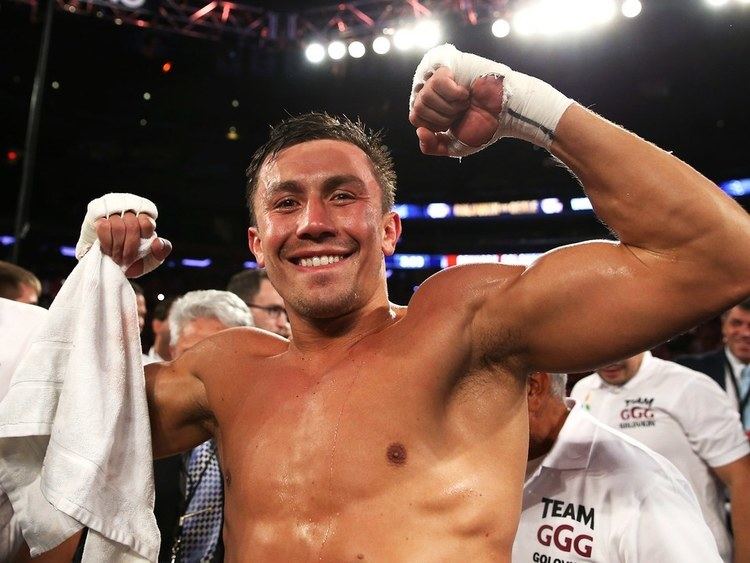 Gennady Golovkin was born on April 8, 1982, in the city of Karaganda in the Kazakh SSR, Soviet Union (now Karagandy, Kazakhstan) to a Russian coal miner and Korean mother, who worked as an assistant in a chemical laboratory.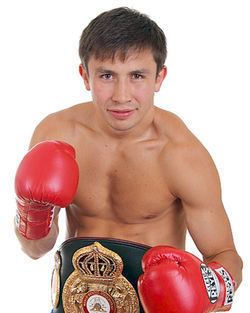 He has three brothers, two elder named Sergey and Vadim and a twin, Max. Sergey and Vadim had encouraged Golovkin to start boxing when Golovkin was eight years old. As a youth, Golovkin would walk the streets with them, who went around picking fights for him with grown men. When asked, "Are you afraid of him?," Golovkin would respond "No," and be told to fight. "My brothers, they were doing that from when I was in kindergarten," Golovkin said. "Every day, different guys." When Golovkin was nine years old, Golovkin's two older brothers joined the Soviet Army. In 1990, the government told Golovkin's family that Vadim was dead. In 1994, the government had told Golovkin's family that Sergey was dead.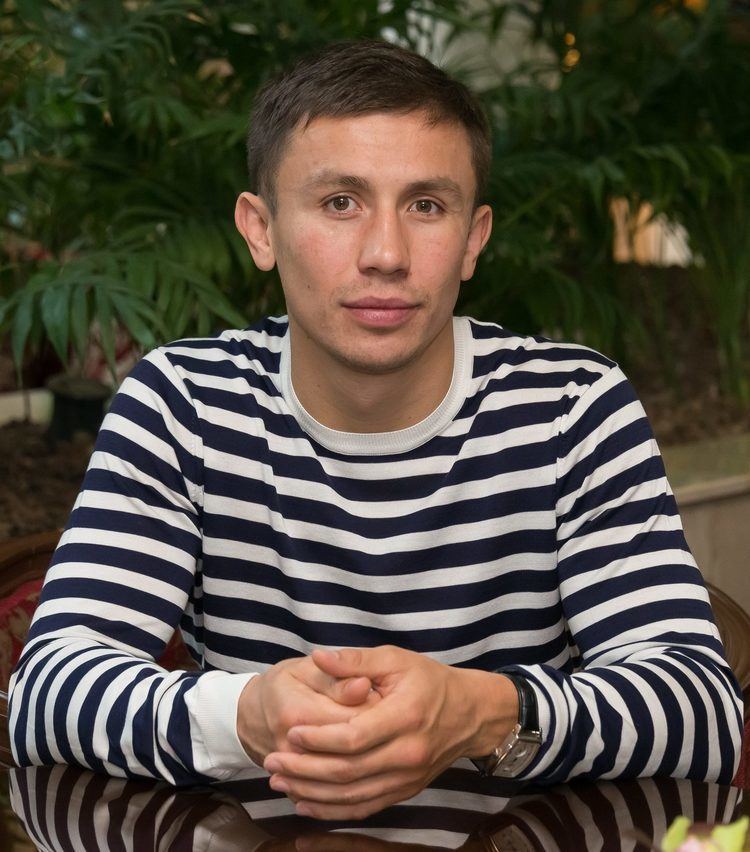 Golovkin's first boxing gym was in Maikuduk, Karaganda, Kazakhstan, where his first boxing coach was Victor Dmitriev, whom he regards as "very good".
Amateur career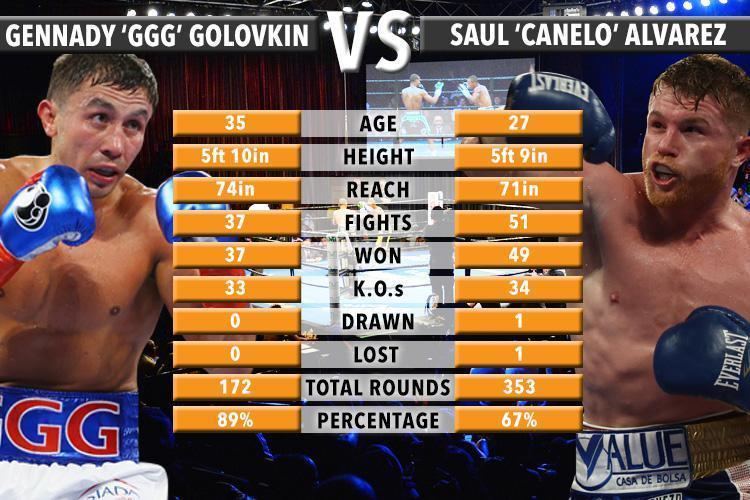 He became a scholarship holder with the Olympic Solidarity program in November 2002.
At the 2003 World Amateur Boxing Championships in Bangkok, he won the gold medal beating future two-time champion Matvey Korobov (RUS) 19:10, Andy Lee (29:9), Lucian Bute (stoppage), Yordanis Despaigne in the semi-finals (29:26) and Oleg Mahskin in the finals.
At the 2004 Summer Olympics he beat Ramadan Yasser Abdelghafar 31 – 20 and Andre Dirrell 23 – 18, losing to the Russian Gaydarbek Gaydarbekov 18 -28 to take the silver medal. He qualified for the Athens Games by winning the gold medal at the 2004 Asian Amateur Boxing Championships in Puerto Princesa, Philippines. In the final he defeated home fighter Christopher Camat.
At the World Championships in 2005 he sensationally lost to Mohamed Hikal. He finished his amateur career with an outstanding record of 345–5.
Amateur highlights
2000 won the Junior World Championships in Budapest, Hungary as a Light Welterweight. Results were:
Defeated Hao Yen Kuo (Chinese Taipei) RSC-3
Defeated Alexander Renz (Germany) PTS (26–7)
Defeated Benjamin Kalinovic (Croatia) PTS (21–10)
Defeated Evgeni Putilov (Russia) PTS (24–10)
Defeated Maikel Perez (Cuba) PTS (30–17)
2002 won the Asian Games in Busan, South Korea as a Light Middleweight. Results were:
Defeated Abdullah Shekib (Afghanistan) AB-1
Defeated Nagimeldin Adam (Qatar) RSCO-1
Defeated Song In Joon (South Korea) PTS (18–12)
Defeated Suriya Prasathinpimai (Thailand) RSCO-3
2003 won the World Championships in Bangkok, Thailand as a Middleweight. Results were:
Defeated Matvey Korobov (Russia) PTS (19–10)
Defeated Andy Lee (Ireland) PTS (29–9)
Defeated Lucian Bute (Romania) KO-4
Defeated Yordanis Despaigne (Cuba) PTS (29–26)
Defeated Oleg Mashkin (Ukraine) RSCI-2
2004 Middleweight Olympic Silver Medalist as a member of the Kazakh Olympic Team. His results were:
Defeated Ali Ahmed Khan (Pakistan) 31–10
Defeated Ramadan Yasser (Egypt) 31–20
Defeated Andre Dirrell (U.S.) 23–18
Lost to Gaydarbek Gaydarbekov (Russia) 18–28
Contracted to Universum
After ending his amateur career in 2005, Golovkin signed a professional deal with the Universum Box-Promotion (UBP) and made his professional debut in May 2006. By the end of 2008 Golovkin's record stood at 14–0 (11 KO) and whilst his best win was over Ian Gardner it was obvious that he had the talent to reach the top as long he was let off the proverbial leash. Unfortunately under Universum that didn't seem likely to happen any time soon and Golovkin was given 4 more relatively easy bouts in 2009. In 2010, Universum started to run into financial issues after having been dropped by German television channel ZDF. This caused a number of issues for Golovkin who was effectively unable to fight in Germany, and contract disputes between the two parties got complicated.
Golovkin terminated his contract with Universum in January 2010 and stated the following in an interview: "The reason for this decision is that I've always been placed behind Felix Sturm and Sebastian Zbik by Universum. Our demands to fight against Felix Sturm or Sabastian Zbik have been always rejected on absurd grounds. Universum had no real plan or concept for me, they did not even try to bring my career forward. They would rather try to prevent me from winning a title as long as Sturm and Zbik are champions. Further more, bouts against well-known and interesting opponents were held out in prospect, but nothing happened. This situation was not acceptable. It was time to move forward."
Signing with K2 and training with Abel Sanchez
Golovkin was determined to become a worldwide name, dreaming of following in the Klitschko brothers' footsteps by fighting in Madison Square Garden and Staples Center. He signed with K2 and went into training in Big Bear, California, with Abel Sanchez, the veteran trainer behind Hall of Famer Terry Norris and many other top talents. Sanchez was stunned by and impressed with Golovkin's talent and attitude from their first meeting. He has since then worked to add Mexican-style aggression to Golovkin's Eastern European-style amateur discipline, thereby producing a formidable hybrid champion. "I have a chalkboard in the gym, and I wrote Ali's name, Floyd Mayweather's name and his name," Sanchez said. "I told him, 'You could be right there.' He was all sheepish, but once I felt his hands, and I saw how smart he was in the ring and how he caught on... sheesh. He's going to be the most-avoided fighter in boxing, or he's going to get the chance he deserves."
Golovkin vs. Proksa, Rosado
Golovkin put on an impressive performance in his American debut by battering The Ring's #10-rated Middleweight Grzegorz Proksa (28–1, 21 KO). Golovkin's fifth-round TKO was Proksa's first loss by knockout. In October, when the WBA (Super) middleweight champion Daniel Geale signed to fight Anthony Mundine in a rematch, the WBA stripped Geale of the title and named Golovkin the sole WBA champion at middleweight.
Golovkin followed up his Proksa win with a TKO victory over The Ring's #9-rated light middleweight Gabriel Rosado (21–5, 13 KO) on the HBO Salido-Garcia card in the co-main event. The fight was halted when Rosado's corner threw in the towel to save Rosado, who was battered and bleeding heavily from his nose and left eye. At the time of the stoppage, Golovkin led on the judges' scorecards 60–54, 60–54, 59–55.
Golovkin vs. Ishida, Macklin
It was first reported on January 31, 2013 that a deal was close for Golovkin to defend his world titles against former WBA interim super welterweight champion Nobuhiro Ishida (24–8–2, 9 KO) in Monte Carlo on March 30. Ishida had lost his last two fights, but had never been stopped in his 13 year career. Golovkin became the first to knock out Ishida, in what was said to be a 'stay busy fight', finishing him in the third round with a vicious overhand right. The referee did not begin a count and immediately waved an end to the bout.
Golovkin fought British former two-time world title challenger Matthew Macklin at the MGM Grand at Foxwoods Resort in Mashantucket, Connecticut on June 29, 2013. The fight was officially announced in April. Macklin previously lost back to back world title fights against Felix Sturm and Sergio Martinez in 2011 and 2012, respectively. There was a total of 2,211 fans in attendance. Macklin was billed as Golovkin's toughest opponent to date. In round 1, Golovkin landed clean with his right hand and sent Macklin against the ropes, although it could have been ruled a knockdown because it appeared that only the roped kept Macklin on his feet, referee Eddie Cotton, ruled out the knockdown. Golovkin dominate the first two rounds. In the third round, Golvokin landed a right uppercut followed by a left hook to the body. The impact was said to have been heard at ringside. Macklin, in pain was counted out and the fight was stopped at 1 minute 22 seconds of the round. Macklin called Golovkin the best opponent he has fought in the post-fight interview. Golovkin retained his WBA and IBO world titles. He earned $350,000 compared to the $300,000 earned by Macklin.
Golovkin vs. Stevens
On November 2, 2013, Golovkin successfully defended his titles against The Ring's #9-rated Middleweight Curtis Stevens (25–3, 18 KO) via an eighth-round technical knockout, methodically breaking down the latter with many ferocious punches to the head and body. Stevens went down hard in the 2nd from two left hooks to the head, and after watching their fighter absorb enormous punishment Stevens' corner called for a halt in the 8th. The event captured huge interest around the world, with it being broadcast in more than 100 countries worldwide, including SKY in the United Kingdom, Channel 1 in Russia and Polsat TV in Poland. The win was Golovkin's 15th straight stoppage victory and further cemented his status as one of the greatest finishers in the middleweight division. Golovkin's purse was $400,000 while Stevens received $290,000.
Golovkin's camp requested that he be awarded the WBA (Super) Middleweight title in December 2013, but this was refused by the WBA, as Golovkin was already granted special permission for a fight prior to his mandatory commitment.
Golovkin vs. Adama
Golovkin's tenth title defense took place in Monte Carlo against former title challenger Osumanu Adama (22–3, 16 KO) on February 1, 2014. HBO released a statement on January 22 confirming they could not televise the bout in the US. The reason stated was because of the size of the venue Salle des Etoiles and production issues. Coming into the fight, Adama was ranked #12 by the WBA. Golovkin won via seventh round stoppage. At the end of the 1st round, Golovkin dropped Adama with a solid jab and right hand. Golovkin went on to drop Adama again in the 6th by landing two sharp left hooks to his head, and then again in the 7th with a hard jab. Golovkin then nailed Adama with a left hook to the jaw, sending Adama staggering and forcing the referee to stop the bout. When the reporter asked Golovkin, after the fight, who he would to fight next, he replied, "I want to fight Sergio Martinez to prove who's the best middleweight." At the time of stoppage, one judge had it 60-52 and the other two at 59-53 in favour of Golovkin.
Unified middleweight champion
On June 3, 2014, after ten successful title defenses, the World Boxing Association officially elevated Golovkin from Middleweight champion to (Super) champion. Golovkin was also granted a special permission to defend his title against Daniel Geale. Golovkin had been previously ordered to face #2 Jarrod Fletcher.
Golovkin vs. Geale
K2 Promotions announced Golovkin would fight against The Ring's #2-rated Middleweight Daniel Geale (30-2, 16 KOs) at the Madison Square Garden Theater in New York on July 26, 2014 live on HBO. In front of 8,572 at The Theater, Golovkin successfully defended his title for the 11th time, defeating Geale via a third round stoppage. Golovkin dropped Geale in the second round. A right hand in the third sent Geale down again from which he never recovered completely. A staggering Geale prompted a swift stoppage from referee Michael Ortega. Geale's defeat started from a stiff Golovkin Jab, according to GGG's trainer Abel Sanchez, "Gennady hit him with a jab in the second round and that was a telling point." The accuracy of punches by both fighters were at the 29% mark by CompuBox, but the effectiveness of those that connected resulted in a noteworthy win for Golovkin in his record.
Golovkin vs. Rubio
On August 12, 2014 it was rumored that Golovkin would next fight former multiple time world title challenger and then Interim WBC champion Marco Antonio Rubio (59-6-1, 51 KO). On August 20, the fight between Golovkin and Rubio was made official. K2 Promotions announced the fight would place on October 18, 2014 o HBO at the StubHub Center in Carson, California. It would mark the first time Golovkin would fight in the West Coast. Golovkin spoke to ESPN about the announcement, "I'm very excited to fight in California. I always enjoy attending fights at the StubHub Center and look forward to a Mexican-style fight against Marco Antonio Rubio." Rubio failed to make weight, weighing in at 161.8 pounds, thus losing the Interim WBC title on the scales. Rubio was given the 2 hour timescales to lose the extra weight, but decided against this. The fight still went ahead.
Golovkin outworked Rubio in a competitive first round, landing more punches. In the second round, Golovkin landed an overhand power left to the head of Rubio with Rubio on the ropes. Rubio then went to his back on the canvas, and took the full ten count in Spanish from referee Jack Reiss. After the knockout, Rubio got up and was motioning with a glove to the back of his head to the referee. However, the knockout blow was clean, and the count, which was given in Spanish was of normal speed. Golovkin retained his WBA 'Super', IBO middleweight titles and won the Interim WBC title which made him mandatory challenger to full titleholder Miguel Cotto. Golovkin in the post fight showed respect, "Rubio, he does not step back. He is a good fighter. I respect him. It was a very hard punch." Rubio earned $350,000 after having to forfeit $100,000 to Golovkin for not making weight, who earned a base purse of $900,000 not including any pay through his promoter. With this being Golovkin's 12th successive defense, it tied him with Marvelous Marvin Hagler and Felix Sturm for third-most in middleweight history.
Golovkin vs. Murray
On February 21, 2015, Golovkin defended his middleweight titles against British boxer Martin Murray (28-1-1, 12 KOs) in Monte Carlo. The fight was officially announced in October 2014. Murray started the fight off well defensively, but by the fourth round Golovkin began to heat up and started finding Murray consistently. Murray was knocked down twice in the fourth round, even sustaining an additional punch to the head while down on a knee. Golovkin found it much easier to land his punches on Murray in the middle-rounds. Although Murray's chin withstood a lot of Golovkin punches in those middle-rounds, he eventually went down again in round 10 after sustaining a lot of punishment. Murray came out for round 11 and therefore had lasted longer in the ring with Golovkin than any other of his opponents so far, although Murray came out with a bloodied countenance and Golovkin continued to connect with shots, the referee stopped the bout as he felt Murray was not fighting back effectively and had taken too many punches. CompuBox statistics showed Golovkin landing 292 of 816 punches (36%), and Murray connected on 131 of 469 (28%). The fight aired on HBO in the USA during the afternoon and averaged 862,000 viewers. At the time of stoppage, the three judges had their respective scorecards reading 100-87, 99-88, 99-88 in favour of Golovkin. Golovkin's victory over Murray was his 13th consecutive successful title defense, placing him third all-time in consecutive middleweight title defenses behind Bernard Hopkins (19) and Carlos Monzón (14).
Golovkin vs. Monroe Jr.
Boxing Insider reported that a deal had been agreed for Golovkin to defend his titles against American Willie Monroe Jr. (19-1, 6 KOs) at The Forum, Inglewood, California on May 16, 2015. In front of 12,372, Golovkin defeated Monroe via sixth-riound TKO, to extend his KO streak to 20. In the first minute of the first round, Monroe started fast with superior movement and jabs, but after that the pace slowed with GGG cutting off the ring and outworking him. In round six, GGG came forward and quickly caught an off guard Monroe with power shots along the ropes, and Monroe went down to his knees, just beating the ten count of referee Jack Reiss. Referee Reiss was willing to give Monroe another chance, but Monroe did not respond. Reiss immediately stopped the contest. Monroe was dropped a total three times. At the time of the stoppage, the scorecards read 50-43, 50-43, and 49-44 for Golovkin. Golovkin landed 133 of 297 punches thrown (45%), Monroe landed 87 punches of 305 thrown (29%). In the post-fight, Golovkin said, "Willie is a good fighter, a tough fighter. I feel great. My performance was special for you guys. This was a very good drama show. This was for you." He then spoke about future fights, "I stay here. I am the real champion. I want unification. Let's go, let's do it guys. Who is No. 1 right now? Bring it on. I will show you." In regards to unification and big fights, the names of Miguel Cotto, Saúl Álvarez and Andre Ward were mentioned. The fight drew an average viewership of 1.338 million and peaked at 1.474 million viewers.
Golovkin vs. Lemieux
It was announced in July 2015 that Golovkin would be defending his three world titles against IBF world champion David Lemieux (34–2, 31 KOs) in a unification fight at the Madison Square Garden in New York City on October 17, 2015 live by HBO Pay-Per-View. Both boxers took to twitter to announce the news. Lemieux won the then vacant IBF title by outpointing Hassan N'Dam N'Jikam in June 2015.
Golovkin defeated Lemieux via eighth-round technical knockout to unify his WBA (Super), IBO, and WBC Interim Middleweight titles with Lemieux's IBF title. Golovkin established the pace with his jab while landing his power shots in between, keeping Lemieux off-balance the entire night. Lemieux was dropped by a body shot in the fifth round and sustained an additional punch to the head after he had taken a knee. He was badly staggered in the eighth, so the referee was forced to halt the bout. With this 21st consecutive knockout victory, Golovkin passed Monzón for most consecutive middleweight title defenses with 15. Golovkin landed 280 of 549 punches thrown (51%) whilst Lemieux landed 89 of 335 (27%).
The fight generated 153,000 PPV buys on HBO and generated a further $2 million live gate from the sold out arena. The fight was replayed later in the week and averaged 797,000 viewers and peaked just over 1 million viewers.
Golovkin vs. Wade
On February 10, 2016, it was announced that Golovkin would defend his IBF and WBA middleweight titles on HBO against IBF mandatory challenger Dominic Wade (18–0, 12 KOs) on April 23 at the Forum in Inglewood, California. This bout wasn't expected to be very competitive for Golovkin, who also stated that he wouldn't underestimate Wade and added, "I'm happy to fight again at the Forum in front of my fans and friends in Los Angeles, Dominic Wade is a very hungry and skilled middleweight who is undefeated and will be another big test for me." Wade was very thankful for getting the opportunity to fight Golovkin, "I am so grateful to be given the opportunity to fight 'GGG' for the IBF Middleweight Championship on April 23! I've worked hard my entire career to get to this point. I'm poised and ready to take on the challenge." The card was co-featured by Roman Gonzalez who successfully defended his WBC flyweight title with a unanimous points decision over McWilliams Arroyo. Golovkin successfully defended his World Middleweight titles with an early stoppage of Wade, his 22nd successive knockout. Unbeaten Wade was knocked down three times before the fight was stopped with 23 seconds remaining in round 2. Golovkin reportedly earned a career high $2m for this fight compared to the $500,000 that Wade earned. The fight drew an average of 1.33 million viewers on HBO.
Golovkin vs. Álvarez negotiations
Following Saúl Álvarez's victory against Miguel Cotto, talks began between the Golovkin and Álvarez camps over the future WBC title defense. In the end, an agreement was ultimately reached to allow interim bouts before the fight to, in the words of WBC president Mauricio Sulaiman, "maximize the interest in their highly anticipated showdown. The fight was anticipated to take place well into 2016.
On May 18, 2016, Álvarez vacated the WBC middleweight title, which resulted in Golovkin being immediately awarded the title by the WBC who officially recognized him as their middleweight champion.
Golovkin vs. Brook
On July 8, 2016, it was announced that Golovkin would defend his world middleweight titles against undefeated British IBF Welterweight Champion Kell Brook (36–0, 25 KOs). The fight took place on September 10, 2016, at the O2 Arena in London, England. Brook was scheduled to fight in a unification bout against Jessie Vargas, whereas there was negotiations for Golovkin to fight Chris Eubank Jr.; however, negotiations fell through and Brook agreed to move up two weight divisions to challenge Golovkin. This was Golovkin's 17th world title defence. The fight aired in the United States on HBO and on Sky Box Office pay-per-view in the United Kingdom.
On September 5, the WBA withdrew its sanction for the fight. Although they granted Golovkin a special permit to take the fight, they stated that their title would not be at stake. The reason for the withdrawal was because Brook had never competed in the middleweight division. WBA president Gilberto Mendoza Jr. said, "What I most regret is that there are no boxers at 160 pounds who will fight against 'Triple G,' and Brook has to move up two divisions to fight against him." The Golovkin camp were said to be disappointed with the decision with promoter Tom Loeffler saying, "somehow the WBA thought it was too dangerous for a welterweight to move up to middleweight to fight the biggest puncher in boxing. I guess that is a compliment to GGG as they sanctioned [Adrien] Broner moving up two divisions [from lightweight to welterweight] to fight Paulie [Malignaggi in 2013] and Roy Jones moving up two divisions [from light heavyweight to heavyweight] to fight John Ruiz [in 2003] for WBA titles, and Kell Brook is undefeated and considered a top pound-for-pound boxer."
Golovkin came out aggressively, going as far as to buckle the Englishman's legs in the first round. He was met with stiff resistance as Brook began to fire back, connecting multiple clean combinations on Golovkin, none of which were able to faze him. In the second round Brook had his greatest success of the fight, but in the process had his right eye socket broken. Over the next three rounds, Golovkin began to break Brook down. The Englishman showed courage, determination and a great chin as he absorbed the bulk of a Golovkin onslaught. Despite this, Brook's corner threw in the towel to protect their fighter's damaged right eye, ending the fight in the fifth round with both boxers still standing. According to Compubox stats, Golovkin landed 133 of his 301 punches thrown (44.2%), whilst Brook landed 85 punches, having thrown 261 (32.6%). The fight was aired live on HBO in the afternoon and drew an average of 843,000 viewers and peaked at 907,000 viewers. This was considered by HBO to be a huge success for an afternoon showing. A replay was shown later in the evening as part of the world super flyweight title fight between Roman Gonzalez and Carlos Cuadras. The replay averaged 593,000 viewers.
Golovkin vs. Jacobs
Following the win over Brook, there were immediate talks of a WBA unification fight against 'Regular' champion Daniel Jacobs (32–1, 29 KOs), as part of WBA's plan to reduce the amount of world titles in each division from three to one. Team Golovkin spoke of fighting Billy Joe Saunders after the Jacobs fight which would be a middleweight unification fight for all the belts.
The date discussed initially was 10 December, which Golovkin's team had on hold for Madison Square Garden. The date was originally set by HBO for Álvarez after he defeated Liam Smith, but Canelo confirmed he would not be fighting again until 2017 after fracturing his right thumb. There was ongoing negotiations between Tom Loeffler and Al Haymon about the split in purses, if the fight goes to purse bids, it would be a 75–25 split with Golovkin taking the lions share due to him being the 'Super' champion. As the negotiations continued, Jacobs wanted a better split, around 60–40. The WBA granted an extension for the negotiation period on 7 October, as the two sides originally had until October 10 to come to an arrangement or else a purse bid would be due. There was also a request to change the purse bid split to 60–40, which the WBA declined. Golovkin started his training camp for the fight on 17 October.
Loeffler told the LA Times on 18 October, although the negotiations remain active, the fight will not take place on December 10. A new date for early 2017 would need to be set, still looking at Madison Square Garden to host the fight. Golovkin prides himself on being an extremely active fighter, and this is the first year since 2012 that he has been in fewer than three fights. WBA president Gilberto Mendoza confirmed in an email to RingTV that a deal had to be made by 5pm on December 7 or a purse bid would be held on December 19 in Panama. Later that day, the WBA announced a purse bid would be scheduled with a minimum bid of $400,000, with Golovkin receiving 75% and Jacobs 25%. Although purse bids were announced, Loeffler stated he would carry on negotiations, hopeful that a deal would be reached before the purse bid.
On December 17, terms were finally agreed and it was officially announced that the fight would take place at Madison Square Garden in New York City on March 18, 2017 exclusively on HBO PPV. Golovkin tweeted the announcement via whilst Jacobs uploaded a quick video on social media. At the time of the fight, both fighters had a combined 35 consecutive knockouts. It was reported that Golovkin's IBO world title would not be at stake. The IBO website later confirmed the belt would be at stake. HBO officially announced the fight on December 22, being billed as "Middleweight Madness". Loeffler confirmed there was no rematch clause in place. Ultimately, the IBF title was not at stake for Jacobs because he skipped a fight-day weight check. Unlike the other major sanctioning bodies, the IBF requires participants in title fights to submit to a weight check on the morning of the fight, as well as the official weigh-in the day before the fight; at the morning weight check, they can weigh no more than 10 pounds (4.5 kg) above the fight's weight limit.
In front of a sell out crowd of 19,939, the fight went the full 12 rounds. This was the first time that Golovkin fought 12 rounds in his professional career. Golovkin's ring control, constant forward pressure and effective jab lead to a 115-112, 115-112, 114-113 unanimous decision victory, ending his 23 fight knockout streak which dated back to November 2008. ESPN had Golovkin winning 115-112. The opening three rounds were quiet with very little action. In the fourth round, Golovkin dropped Jacobs with a short right hand along the ropes for a flash knockdown. Jacobs recovered, but Golovkin controlled most of the middle rounds. Jacobs was effective in switching between orthodox and southpaw stance, but remained on the back foot. Both boxers were warned once in the fight by referee Charlie Fitch for rabbit punching. According to Compubox punch stats, Golovkin landed 231 of 615 punches (38%) which was more than Jacobs who landed 175 of 541 (32%). Following the fight, some doubted Golovkin did enough to win. Jacobs thought he had won the fight by two rounds and attributed the loss due to the potential big money fight that is Golovkin vs. Canelo. Jacobs also stated after being knocked down, he told Golovkin, "he'd have to kill me." In the post-fight interview, Golovkin said, "I'm a boxer, not a killer. I respect the game." Before revenue shares, it was reported that Golovkin would earn at least $2.5 million compared to Jacobs $1.75 million.
On March 24, Tom Loeffler revealed the fight generated 170,000 pay-per-view buys. A replay was shown on HBO later in the week and averaged 709,000 viewers. Lance Pugmire from LA Times reported the live gate was $3.7 million, a big increase from the Golovkin vs. Lemieux PPV which did $2 million. He also said that merchandise and sponsors were higher.
Golovkin vs. Álvarez
After retaining his belts against Jacobs, Golovkin stated that he wanted to unify the middleweight division and hold all the belts available. The only major belt not belonging to him was the WBO title held by British boxer Billy Joe Saunders. After defeating Jacobs, Golovkin said, 'My goal is all the belts in the middleweight division. Of course, Billy Joe is the last one. It is my dream.'' There was rumours of the fight taking place in Golovkin's home country Kazakhstan in June during the EXPO 2017. The last time Golovkin fought in his home country was in 2010. On March 20, Golovkin said that he would fight Saunders in his native Kazakhstan or The O2 Arena in London.
Saunders tweeted on social media that although he didn't watch Golovkin's fight with Jacobs, he was ready to fight him. Saunders claimed to have signed the contract on his end and gave Golovkin a deadline to sign his. On March 29, promoter Frank Warren also stated that Golovkin would have ten days to sign for the fight. Saunders later claimed to have moved on from Golovkin, until Warren said the deal was still in place. Over the next week, Saunders continued to insult Golovkin through social media. On April 7, Warren told iFL TV, that Golovkin had a hand injury, which was the reason why the fight hadn't been made. In the interview, he said, "At the moment, they're saying that Golovkin's injured. So we're waiting to see where this is all going. But as far as I'm concerned, we agreed [to] terms." It was also noted that he would wait until May 6, for any updates. On April 11, it was reported that the fight would not take place and Golovkin would ultimately focus on a September 2017 fight against Canelo Álvarez.
Immediately after the Chavez fight on May 6, Canelo Álvarez announced that he would next fight Golovkin on the weekend of September 16, 2017 at a location to be determined. Golovkin, who before the fight stated he would not attend, was joined by his trainer Abel Sanchez and promoter Tom Loeffler. Golovkin joined him in the ring during the announcement to help promote their upcoming bout. Speaking through a translator, Álvarez said, "Golovkin, you are next, my friend. The fight is done. I've never feared anyone, since I was 15 fighting as a professional. When I was born, fear was gone." When Golovkin arrived in the ring, he said, "I feel very excited. Right now is a different story. In September, it will be a different style -- a big drama show. I'm ready. Tonight, first congrats to Canelo and his team. Right now, I think everyone is excited for September. Canelo looked very good tonight, and 100 percent he is the biggest challenge of my career. Good luck to Canelo in September." In the post-fight press conference, both boxers came face to face and spoke about the upcoming fight.
On May 9, Eric Gomez, president of Golden Boy Promotions told the LA Times that Álvarez had an immediate rematch clause in place on his contract, whereas Golovkin, if he loses, won't be guaranteed a rematch. Oscar De La Hoya later also revealed in an interview with ESPN the fight would take place at the full middleweight limit of 160 pounds with no re-hydration clauses, meaning Golovkin and Álvarez would be able to gain unlimited amount of weight following the weigh in. On June 5, the T-Mobile Arena in Las Vegas was announced as the venue of the fight, and would mark the first time Golovkin would fight in Nevada. The AT&T Stadium, Madison Square Garden and Dodgers Stadium missed out on hosting the fight. Eric Gomez of Golden Boy Promotions said in a statement that Álvarez would fight for the IBF meaning he would participate in the second day weight in, which the IBF require that each boxer weighs no more than 10 pounds over the 160 pound limit. Although he said there was no word on whether Álvarez would fight for the WBC title, Álvarez claimed that he would not be. On July 7, 2017 Golden Boy and K2 Promotions individually announced the tickets had sold out.
On August 15, Golden Boy matchmaker Robert Diaz revealed that Álvarez would indeed attend the IBF mandatory second day weigh in and fully intended to fight for the IBF title along with the WBA title. He did make it clear that whilst Golovkin would still defend the WBC and IBO title, Álvarez would not pay their sanctioning fees. On August 22, IBF president Daryl Peoples announced that they would be dropping the mandatory second day weigh in for unification fights, meaning neither fighters are required to participate, however they would still encourage them to do so. It was reported that Álvarez would earn a base minimum $5 million and Golovkin would earn $3 million, before any shares of the revenue are added to their purses.
On fight night, in front of a sold out crowd of 22,358, Golovkin and Álvarez fought to a split draw (115-113, 114-114, 110-118). ESPN's Dan Rafael and HBO's Harold Lederman scored the fight 116-112 in favour of Golovkin. Judge Adalaide Byrd's scorecard of 118-110 in favor of Álvarez was widely ridiculed. Many observers felt that Golovkin had won a narrow, closely contested fight, and while a draw was justifiable, a card that wide in favor of Álvarez was inexcusable. Nevertheless, Bob Bennett, director of the Nevada Athletic Commission, said that he had full confidence on Byrd going forward. Despite the controversy, several mainstream media outlets referred to the bout as a "classic". The fight started with both boxers finding their rhythm, Álvarez using his footwork and Golovkin establishing his jab. During the middle rounds, particularly between 4 to 8, Álvarez started each round quick, but seemed to tire out after a minute, with Golovkin taking over and doing enough to win the rounds. The championship rounds were arguably the best rounds and Álvarez started to counter more and both fighters stood toe-to-toe exchanging swings, the majority of which missed. The draw saw Golovkin make his 19th consecutive defence, just one behind middleweight great Bernard Hopkins. CompuBox stats showed that Golovkin was the busier of the two, landing 218 of 703 thrown (31%), while Álvarez was more accurate, landing 169 of his 505 thrown (34%). Golovkin out punched Álvarez in 10 of the 12 rounds.
Speaking to Max Kellerman after the fight, Golovkin said, "It was a big drama show. [The scoring] is not my fault. I put pressure on him every round. Look, I still have all the belts. I am still the champion." Álvarez felt as though he won the fight, "In the first rounds, I came out to see what he had. Then I was building from there. I think I won eight rounds. I felt that I won the fight. "I think I was superior in the ring. I won at least seven or eight rounds. I was able to counterpunch and made Gennady wobble at least three times. If we fight again, it's up to the people. I feel frustrated over my draw." Golovkin's trainer Abel Sanchez believed judge Byrd had her scorecard filled out before the first bell rang. Álvarez ruled out another fight in 2017, claiming he would return on Cinco de Mayo weekend in May 2018. At the post-fight press conference, Álvarez said through a translator, "Look, right now I wanna rest. Whatever the fans want, whatever the people want and ask for, we'll do. You know that's my style. But right now, who knows if it's in May or September? But one thing's for sure – this is my era, the era of Canelo." Golovkin's promoter Tom Loaeffler stated that they would like an immediate rematch, but Golovkin, who prefers fighting at least three times in a calendar year, reiterated his desire to also fight in December. WBO middleweight champion Saunders said he was ready for Golovkin and looking to fight in December too.
Personal life
In 2006 Golovkin moved from his native Kazakhstan to Stuttgart, Germany, and then in late 2014 to Santa Monica, California, where he currently lives with his family. He trains in Big Bear, California. He and his wife Alina have a son, Vadim, who is in primary school. Golovkin speaks four languages: Kazakh, German, Russian and English. His fraternal twin brother, Maxim, an amateur boxer, joined Gennady's camp and team in 2012. Golovkin said that he wanted his son to attend school in California, because his training camp, team and promotions are based in California, he has many friends there, and it is a beautiful place. Golovkin's favorite food is beef. Golovkin enjoys playing games with his son and spending time with his family.
References
Gennady Golovkin Wikipedia
(Text) CC BY-SA