Original run

1989 – present

Main characters

Duen Long, Whispering Wind, Bou Tin

Similar

Oriental Heroes, Weapons of the Gods (comics), Cyber Weapon Z
fung wan comic book series in cantonese flashcard
Fung Wan (simplified Chinese: 风云; traditional Chinese: 風雲; pinyin: Fēng Yún; Jyutping: Fung1 Wan4; literally: "Wind and Cloud") is a Hong Kong Wuxia manhua series. It is the first manhua released by Ma Wing-shing in 1989 with the help of his assistant Siu Kit under his own company, Jonesky Publishing. Before the fourth story arc, the manhua was originally titled Fung Wan, until the two protagonists – Wind and Cloud – became secondary characters and the manhua was renamed Tin Ha (Chinese: 天下; pinyin: Tiān Xià; Jyutping: Tin1 Haa5; literally: "Under Heaven"). The story has been adapted into media, most notably the Hong Kong films The Storm Riders (1998) and The Storm Warriors (2009), the video game Fung Wan Online, and the Taiwanese television series Wind and Cloud (2002) and Wind and Cloud II (2004).
Contents
Plot
The story is set in China during the Ming dynasty, and revolves around two protagonists – Nip Fung (Wind) and Bou Ging-wan (Cloud) – who learn martial arts in their early years and grow up to become legendary fighters in the jianghu (martial artists' community). As the story progresses, more characters are introduced in new story arcs.
The first story arc is about the origins of Wind and Cloud. When they were still boys, they were accepted into the martial arts clan Tin-ha-wui (Under Heaven Society) by its chief, Hung-ba (Lord Conqueror), who tutors them in martial arts for a secret motive. Conqueror was once told by a Buddhist prophet that he would rise to power in the jianghu with the help of "Wind and Cloud". When Conqueror reaches the pinnacle of his achievements, the second half of the prophecy is revealed: that Conqueror's rise is attributed to Wind and Cloud, but they are also destined to bring about his downfall. Conqueror plots to turn Wind and Cloud against each other. The rest of the story arc tells of the adventures of Wind and Cloud after they escape from Under Heaven Society. They gradually improve their skills, acquire powerful weapons, and befriend other prominent jianghu figures, as well as meeting their respective romantic interests. Wind and Cloud eventually return to confront Hung-ba and defeat him, fulfilling the prophecy.

Juet-mou-san (Lord Godless), a formidable Japanese warrior, brings his family and followers to China to cause trouble and becomes a menace to the Chinese jianghu. Godless captures the top "kongwu" martial artists and takes over the Imperial Palace as well. He also captures "Nameless" to force him to reveal the secret "ManKimKwanChong", which is the pinnacle of the swordsplay in the martial arts world. Wind and Cloud embark on different adventures to find ways to counter the invasion. Wind masters a powerful skill to overcome Godless but enters a demonic trance in the process and loses his sanity; Cloud becomes the pupil of "Nameless" and taught to release his potential. The fight ends up with Godless losing his "Invincible Armor" protection with Cloud finding the one weak spot in his arm pit. Godless retreats to Japan, but the trio of Nameless, Wind and Cloud pursue him to find the emperor of China and other captives and also to remove the threat of Godless. In Japan, they meet Japan's emperor Tin-wong (Heavenly Emperor), who offers to help them defeat Godless. In the penultimate battle, Nameless defeats Godless but Godless releases his fellow disciple, Fist God, who almost defeats everyone but is finally defeated by Wing and Cloud. In a twist of fate, Tin-Wong makes his move to kill everyone, including his "allies" from China. Godless is killed by his own son, who betrayed his father to follow Tin-Wong. However, the Chinese contingent escapes but Wind is captured by Heartless and Ting-Wong, who reveals his plan to go to China to steal the Dragon Bones, the spiritual foundation of the Chinese empire, which would mean China would fall to him. Tin-Wong drugs Wind, who is already unstable from his demonic trance state and turns him into his slave. In the final battle, Tin-Wong manages to find the dragon bones but is thwarted by Cloud and his allies from possessing it, with Wind running off with the dragon bones, which has a mystical calming effect on him. Cloud and Nameless then defeat Tin-wong, whose "Perfect strike" technique is defeated by Nameless. The emperor puts a bounty on Wind for running off with the dragon bones, and in the heat of battle, a dragon bone fragment is lodged into Wind's forehead, slowly turning him into the "Kei Lun Demon". In the final showdown, Cloud manages to dislodge the bone fragment and save Wind, and sacrifices himself to save both Wind and his wife from falling off the mountain.
Publication
The English version of the manhua was published by the now-defunct ComicsOne.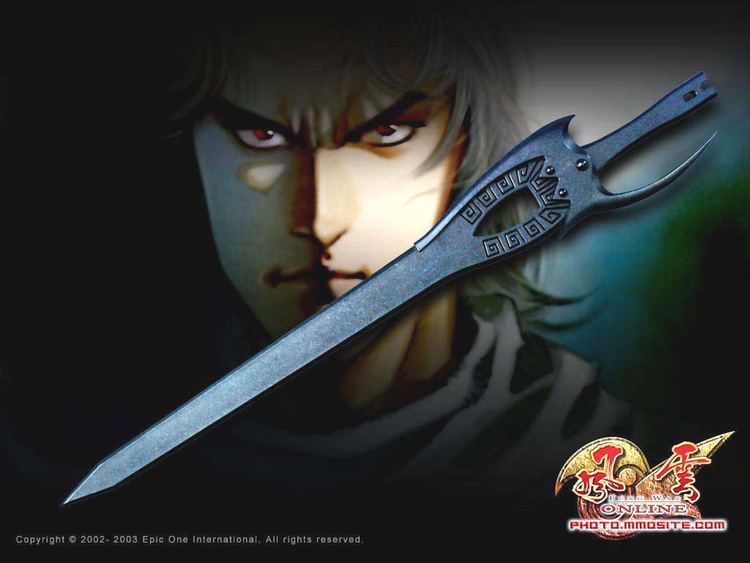 Storm Riders Vol.01: ISBN 1-58899-142-3
Storm Riders Vol.02: ISBN 1-58899-143-1
Storm Riders Vol.03: ISBN 1-58899-144-X
Storm Riders Vol.04: ISBN 1-58899-145-8
Storm Riders Vol.05: ISBN 1-58899-146-6
Storm Riders Vol.06: ISBN 1-58899-156-3
Storm Riders Vol.07: ISBN 1-58899-157-1
Storm Riders Vol.08: ISBN 1-58899-246-2
Storm Riders Vol.09: ISBN 1-58899-159-8
Storm Riders Vol.10: ISBN 1-58899-160-1
Storm Riders Vol.11: ISBN 1-58899-161-X
Storm Riders Vol.12: ISBN 1-58899-162-8
Storm Riders II: Invading Sun Vol.1: ISBN 1-58899-359-0
Storm Riders II: Invading Sun Vol.2: ISBN 1-58899-360-4
Storm Riders II: Invading Sun Vol.3: ISBN 1-58899-361-2
Storm Riders II: Invading Sun Vol.4: ISBN 1-58899-362-0
Storm Riders II: Invading Sun Vol.5: ISBN 1-58899-352-3
Storm Riders II: Invading Sun Vol.6: ISBN 1-58899-168-7
Spin-offs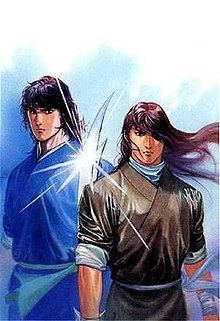 There is a spin-off of Fung Wan called Shenwuji, which involves the descendants of Wind and Cloud. It is also written by Ma Wing-shing and has met with mixed reviews.
Film
The Storm Riders. is a 1998 Hong Kong film starring Ekin Cheng as Wind and Aaron Kwok as Cloud.
The Storm Warriors is a 2009 sequel to The Storm Riders. Ekin Cheng and Aaron Kwok reprise their roles as Wind and Cloud respectively.
Storm Rider Clash of the Evils is a 2008 animated feature film by Puzzle Animation Studio Limited. A five-minute animated clip was released.
Television
Wind and Cloud is a 2002 television series starring Peter Ho as Cloud and Vincent Zhao as Wind.
Wind and Cloud 2 is a 2004 sequel to Wind and Cloud. Peter Ho and Vincent Zhao reprise their roles as Cloud and Wind respectively.
Video games
Fung Wan Online is a MMORPG based on the series.
References
Fung Wan Wikipedia
(Text) CC BY-SA