Allegiance

United Kingdom




Name

Freddie Guingand




Years of service

1919–1946




Died

1979, Cannes, France





Rank

Major-General




Battles and wars

World War II




Battles/wars

Second World War




Service/branch

British Army






Awards

KBE (1944) CB (1943) CBE (1943) DSO (1942) OBE (1941?) MID (1943) (1945) (1945) Legion of Merit (Commander) (USA 1945) Knight Grand Officer of the Order of Orange Nassau: with Swords (Netherlands, 1946) DSM (USA 1948)




Education

Royal Military Academy Sandhurst




Books

Operation Victory, From Brass Hat to Bowler Hat




Similar People

George S Patton, Omar Bradley, Ladislas Farago, Douglas Wilmer
Major-General Sir Francis Wilfred de Guingand KBE, CB, DSO (28 February 1900 – 29 June 1979), better known as Freddie de Guingand, was a British Army officer who served with Montgomery from El Alamein to the surrender of the Wehrmacht in the West. He served as Montgomery's staff officer for a period of over two and a half years. He played an important diplomatic role in sustaining relations between the notoriously difficult Montgomery and his peers and superiors.
Contents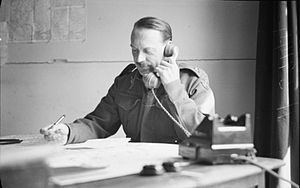 Early life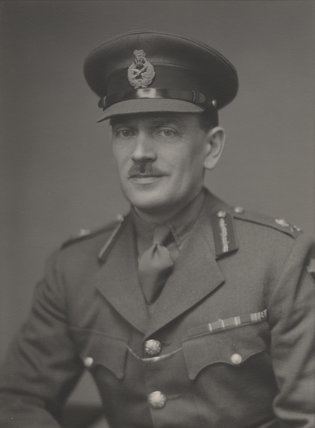 De Guingand was born in Acton (West London), the second of three brothers, and a younger sister. His parents moved to London from Yorkshire.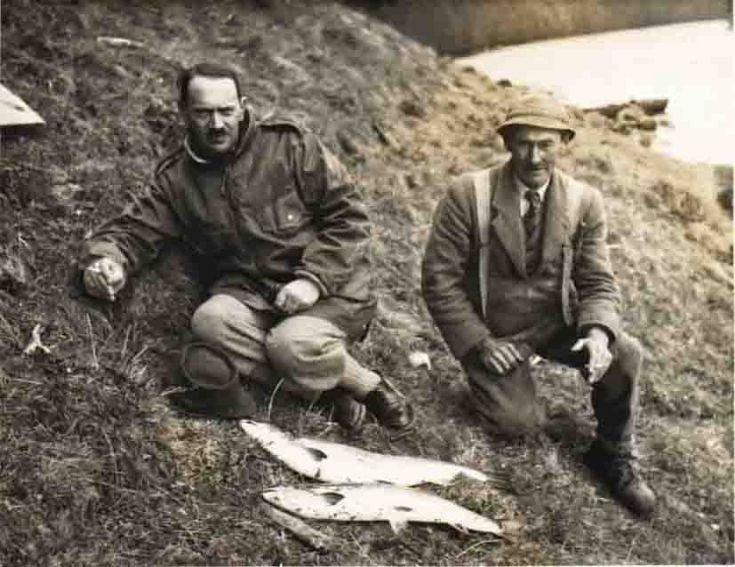 After the Royal Navy rejected him for being colour blind, he joined the British Army. De Guingand was educated at Ampleforth College and graduated from the Royal Military College, Sandhurst, in 1918. He joined the West Yorkshire Regiment (Prince of Wales's Own) in December 1919, and was promoted to lieutenant on 17 December 1921. He was seconded to the King's African Rifles from 1926 to 1931; during this time he was promoted to the temporary rank of captain on 10 June 1929 and to the permanent rank on 8 March 1930.
De Guingand was the Officer Commanding Troops, Nyasaland, 1930–1931 before returning to his regiment in October 1931. He was appointed regimental adjutant in July 1932 and then served as Military Assistant to the Secretary of State for War, 1933–1936, and again 1939-1940. He was promoted major in August 1938.
Despite failing the entrance exams to attend Staff College, he was nominated for the 1935-36 course at Camberley through the intervention of Bernard Montgomery, with whom he had served in the 1920s and formed a friendship.
Second World War
At the outbreak of the Second World War in September 1939, de Guingand became Military Assistant to the Secretary of State for War in which role he had exposure to the most senior officers in the army and developed skills in diplomacy. In January 1940 he was posted as an instructor to the new staff college at Haifa in the rank of lieutenant-colonel.
After a short period as Commandant of the newly formed School of Combined Operations, he was posted in December 1940, on the recommendation of the Staff College's Commandant Eric Dorman-Smith, to the Joint Planning Staff of GHQ Middle East in Cairo where he also took on the role of secretary to the Commanders-in-Chief Committee.
He was involved in controversy when it was discovered he had on his own initiative been planning from an early date the evacuation of the expeditionary force to Greece. However, with the support of the naval and air C-in-Cs he was allowed to continue with his plans.
In February 1942 Dorman-Smith, by this time Deputy Chief of the General Staff in Cairo, recommended de Guingand for the vacant post of Director of Military Intelligence, Middle East. In this role he proved to be very successful and after the First Battle of El Alamein he was appointed as Eighth Army's Brigadier General Staff (Operations).
When Montgomery was appointed to command Eighth Army in August 1942 he summoned de Guingand to meet him. He later wrote:
...I [needed] someone to help me, a man with a quick and clear brain, who would accept responsibility, and who would work out the details and leave me free to concentrate on the major issues – in fact, a Chief of Staff who could handle all the details and intricate staff side of the business [sic] and leave me free to command...Before we arrived at Eighth Army HQ I had decided that de Guingand was the man...I never regretted the decision.
He was to serve as Montgomery's chief of staff, responsible for the running of Montgomery's armies, on their journey from Egypt to the Rhine. He was promoted acting major-general after the surrender of the Axis forces in North Africa in May 1943. Montgomery once wrote to Chief of the Imperial General Staff Alan Brooke saying about de Guingand 'I do not know what I should do without him as he is quite 1st class'.
De Guingand was to prove indispensable to Montgomery, not only in battle, but also in relations with the Americans. De Guingand seems to have been blessed with considerable diplomatic skills, which proved useful when serving with Montgomery. He formed a close relationship with Walter Bedell Smith, Chief of Staff to Supreme Allied Commander Dwight Eisenhower and was able to smooth over many difficulties arising from Montgomery's problematic relationships with many of his peers and superiors. He was awarded the Legion of Merit (Commander) by the United States in April 1945 and the US Distinguished Service Medal in 1948. He was awarded the DSO after the victory at El Alamein and having been given the OBE earlier was promoted to CBE after the capture of Tripoli at the end of the Western Desert Campaign.
Following the campaign in Sicily he was appointed Companion of the Order of the Bath (CB). He was further promoted in the Order of the British Empire when he was knighted KBE in 1944, an unusual honour for a major-general. At the time he had a substantive rank of major (war substantive rank of lieutenant-colonel) although his permanent rank was advanced to full colonel in March 1945.
De Guingand had been under great strain, and during the first half of 1944 he was away on sick leave on several occasions. After the end of hostilities in Europe he spent time recuperating but was still not recovered when, he was appointed as Director of Military Intelligence in September 1945. He was promoted to substantive major-general in September 1946. Montgomery had become aware that he was to succeed Alan Brooke as Chief of the Imperial General Staff in 1946 and told de Guingand he wanted him as his Vice Chief. However, still recovering from illness, de Guingand failed to impress Brooke as DMI and as a result the Vice Chief job went to Frank Simpson.
Post war
In February 1947 de Guingand retired from the army and arrived in Southern Rhodesia to pursue a career in business, achieving considerable success. In addition he wrote the following books: Operation Victory, Generals at War, African Assignment and From Brass Hat to Bowler Hat. His memoirs did not always cast Montgomery in a favourable light and as a result their friendship suffered.
In 1973 he was interviewed on the British TV documentary series The World at War.
De Guingand died on 29 June 1979 at Cannes, Alpes-Maritimes, France, at the age of 79.
References
Freddie de Guingand Wikipedia
(Text) CC BY-SA