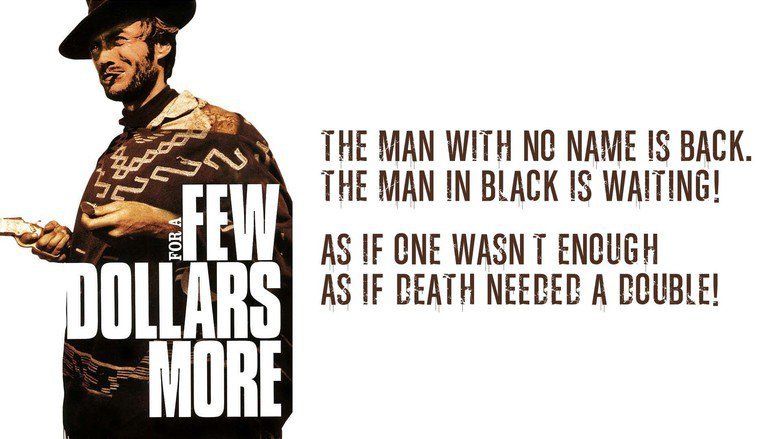 The film opens with a lone rider being shot dead by an unseen assailant before the credits. The event is explained by an on-screen caption which reads: "Where life had no value, death, sometimes, had its price. That is why the bounty killers appeared". Newman, who asserts the new heroic status that the film awards to bounty hunters, uses the caption as the sub-heading for the section on bounty hunters in his "Law and Order" chapter. According to Newman, being a bounty hunter was traditionally "something to be ashamed of" and "(ranking) lower than a card sharp on the Western scale of worthwhile citizens".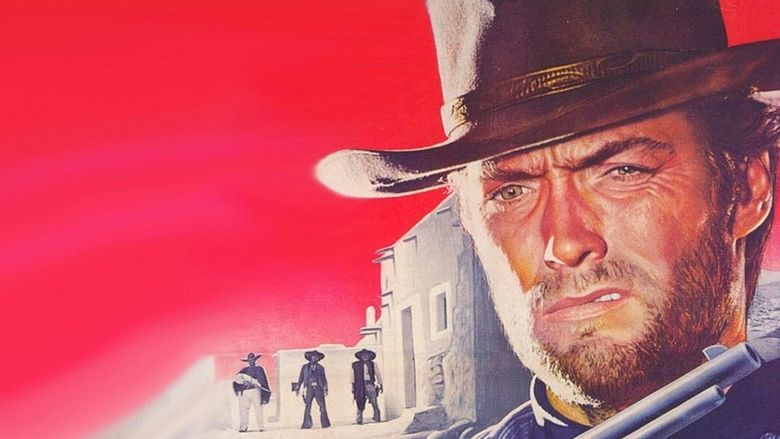 Colonel Douglas Mortimer (Van Cleef) and Manco (Eastwood) are separately introduced as two bounty killers who hunt down and kill wanted outlaws to collect bounty. Meanwhile, a gang of outlaws breaks into a prison to free their leader — the clever, ruthless and psychotic "El Indio" (Volonte) — killing the warden and most of the guards. When news of the escape is released, Mortimer and Manco are interested in the large reward announced.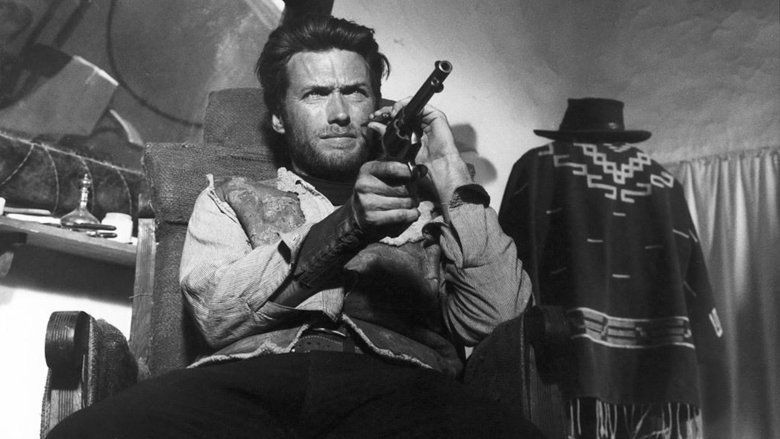 Indio has a musical pocketwatch that he plays before engaging in gun duels: "When the chimes finish, begin," he says. Flashbacks reveal that he took the watch from a young woman (Rosemary Dexter) whom he found in bed with her husband. He killed the husband and raped her, but she shot herself while he was doing it. Her photograph is inside the watch cover. Indio is haunted by the incident and smokes an addictive drug to cloud his memory. Mortimer states that Indio is "a complete madman" but later qualifies it by admitting that "he's no idiot".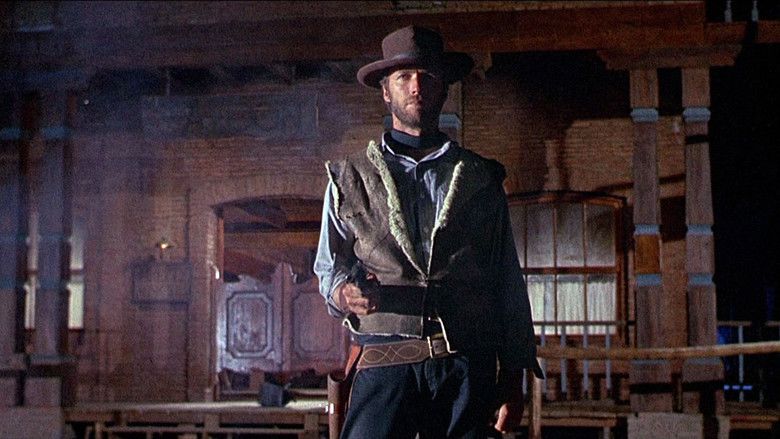 Indio plans to rob the Bank of El Paso which has a disguised safe containing "almost a million dollars". Manco arrives in the town and becomes aware of Mortimer, who arrived earlier. He sees Mortimer deliberately insult the hunchback Wild (Kinski), who is reconnoitring the bank. Manco confronts Mortimer and, as neither will give way, they decide to work together. Mortimer persuades Manco to join Indio's gang and "get him between two fires". Manco frees a friend of Indio from prison and, despite Indio's suspicions, is accepted into the gang.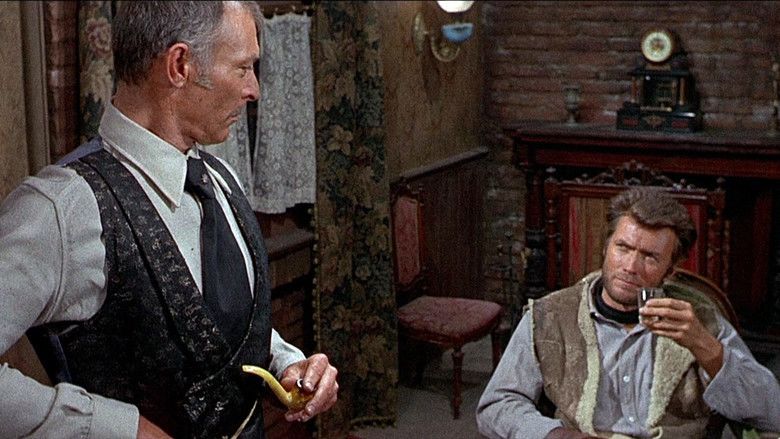 Indio sends Manco and three others to rob the bank in nearby Santa Cruz. Manco guns down the three bandits and sends a false telegraphic alarm to rouse the El Paso sheriff and his posse, who ride to Santa Cruz. The gang blast the wall at the rear of the El Paso bank and steal the safe but are unable to open it. Groggy (Luigi Pistilli) is angry when Manco is the only one to return from Santa Cruz, but Indio accepts Manco's version of events. The gang ride to the small border town of Agua Caliente. Mortimer, who has anticipated Indio's movements, is already there. Wild recognises Mortimer, forcing a showdown. Mortimer kills him and then cracks open the safe without using explosives. Indio locks the money in a strongbox and says the loot will be divided after a month.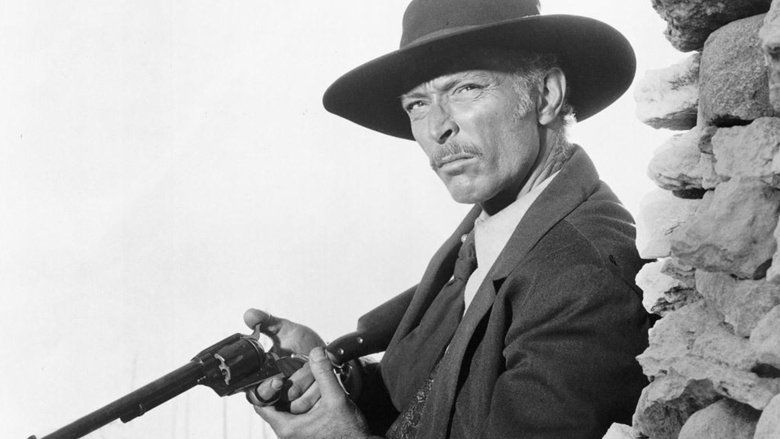 Manco and Mortimer break into the strongbox and hide the money but are caught immediately afterwards and are beaten up. Mortimer has secured the strongbox lock, however, and Indio believes the money is still there. At night, Indio's lieutenant Niño (Mario Brega) kills their guard and releases Manco and Mortimer. Indio frames Cuchillo (Aldo Sambrell) and shoots him, telling the gang that Cuchillo released Manco and Mortimer. He orders the gang to pursue the bounty hunters, hoping all will kill each other while he and Niño take the loot. Groggy realises what Indio intends and kills Niño. He forces Indio to open the strongbox, but the money is no longer there.
Next morning, still in Agua Caliente, Mortimer asks Manco to "leave Indio to me". Indio's men are killed one by one. Apparently alone, Mortimer shoots Groggy as he runs for cover, but then his gun is shot out of his hand by Indio. Now knowing Mortimer's identity, Indio plays the pocketwatch music and challenges the unarmed Mortimer to try and kill him when it ends. As it ends, an identical pocketwatch tune begins. Manco, holding this watch, has a rifle trained on Indio. Mortimer realises that Manco has taken his watch. Manco gives his own gunbelt and pistol to Mortimer and says: "Now we start". The music plays to completion and Mortimer shoots first, killing Indio.
Mortimer takes Indio's watch and Manco remarks on the resemblance in the two photographs. "Naturally", Mortimer replies, "between brother and sister". His revenge complete, Mortimer declines his share of the bounty and leaves. Manco tosses the bodies of Indio and his men into a wagon and, after recovering the stolen money from its hiding place, rides away.
Clint Eastwood as Manco (the "Man with No Name")
Lee Van Cleef as Colonel Douglas Mortimer
Gian Maria Volontè as El Indio
Mario Brega as Niño
Luigi Pistilli as Groggy
Aldo Sambrell as Cuchillo
Klaus Kinski as Wild, the hunchback
Benito Stefanelli as Hughie (aka Luke)
Luis Rodríguez as Manuel
Panos Papadopulos as Sancho Perez
Werner Abrolat as Slim (uncredited)
Eduardo García as Fausto (uncredited)
Enrique Santiago as Miguel (uncredited)
Antonio Molino Rojo as Frisco (uncredited)
Frank Braña as Blackie (uncredited)
José Canalejas as Chico (uncredited)
Nazzareno Natale as Paco (uncredited)
Carlo Simi as El Paso's bank manager (uncredited)
Dante Maggio as Carpenter in cell with Indio
Joseph Egger as "Old Prophet"
Lorenzo Robledo as Tomaso, Indio's traitor
Peter Lee Lawrence as Mortimer's brother-in-Law (uncredited)
Rosemary Dexter as Mortimer's sister (uncredited)
Sergio Mendizábal as Tucumcari's bank manager
Tomás Blanco as Tucumcari's sheriff
Antonio Palombi as El Paso bartender (uncredited)
Antoñito Ruiz as Fernando, Manco's El Paso informant (uncredited)
Diana Faenza as Tomaso's wife (uncredited)
Diana Rabito as Calloway's girl in tub
Francesca Leone as Tomaso's baby son (uncredited)
Giovanni Tarallo as Santa Cruz telegraphist
Guillermo Méndez as Sheriff of White Rocks (uncredited)
Jesús Guzmán as Carpetbagger on train (uncredited)
José Marco as Red "Baby" Cavanagh (uncredited)
José Terrón as Guy Calloway (uncredited)
Kurt Zips as Hotel manager (uncredited)
Mara Krupp as Mary, hotel manager's wife
Mario Meniconi as Train conductor
Roberto Camardiel as Station clerk
Román Ariznavarreta as Half-shaved bounty hunter (uncredited)
Sergio Leone as Whistling bounty hunter (voice only; uncredited)
After the box-office success of A Fistful of Dollars in Italy, director Sergio Leone and his new producer, Alberto Grimaldi, wanted to begin production of a sequel, but they needed to get Clint Eastwood to agree to star in it. Eastwood was not ready to commit to a second film when he had not even seen the first. Quickly, the filmmakers rushed an Italian-language print (a U.S. version did not yet exist) of Per un pugno di dollari to him. The star then gathered a group of friends for a debut screening at CBS Production Center and, not knowing what to expect, tried to keep expectations low by downplaying the film. As the reels unspooled, however, Eastwood's concerns proved to be unfounded. The audience may not have understood Italian, but in terms of style and action, the film spoke volumes. "Everybody enjoyed it just as much as if it had been in English", Eastwood recalled. Soon, he was on the phone with the filmmakers' representative: "Yeah, I'll work for that director again", he said. Charles Bronson was again approached for a starring role but he passed, citing that the sequel's script was like the first film. Instead, Lee Van Cleef accepted the role. Eastwood received $50,000 for returning in the sequel, while Van Cleef received $17,000.
Screenwriter Luciano Vincenzoni wrote the film in nine days. However, Leone was dissatisfied with some of the script's dialogue, and hired Sergio Donati to work as an uncredited script doctor.
The film was shot in Almería, Spain, with interiors done at Rome's Cinecittà Studios. The production designer Carlo Simi built the town of "El Paso" in the Almería desert: it still exists, as a tourist attraction Mini Hollywood. The town of Agua Caliente, where Indio and his gang flee after the bank robbery, is Albaricoques, a small "pueblo blanco" on the Níjar plain.
As all of the film's footage was shot MOS (i.e. without recording sound at time of shooting), Eastwood and Van Cleef returned to Italy where they dubbed over their dialogue, and sound effects were added. Although it is explicitly stated in the movie that the Colonel Mortimer character is originally from the Carolinas, Van Cleef opted to perform his dialogue using his native New Jersey accent rather than a Southern accent.
The musical score was composed by Ennio Morricone, who previously collaborated with director Leone on A Fistful of Dollars. Under Leone's explicit direction, Morricone began writing the score before production had started, as Leone often shot to the music on set. The music is notable for its blend of diegetic and non-diegetic moments through a recurring motif that originates from the identical pocket watches belonging to El Indio and Colonel Mortimer. "The music that the watch makes transfers your thought to a different place," said Morricone. "The character itself comes out through the watch but in a different situation every time it appears."
A soundtrack album was originally released in Italy by RCA Italiana. In the United States, Hugo Montenegro released a cover version as did Billy Strange and Leroy Holmes who released a cover version of the soundtrack album with the original American poster art. Maurizio Graf sang a vocal "Occhio Per Occhio"/"Eye For An Eye" to the music of the cue "Sixty Seconds to What" track that did not appear in the film but was released as a tie-in 45rpm record.
All tracks written by Ennio Morricone.
For a Few Dollars More was released in Italy in December 1965 as Per Qualche Dollaro in Più. In the United States, the film debuted on 10 May 1967, four months after the release of A Fistful of Dollars, grossing $5 million.
At the time of its Italian release, the film proved to be even more commercially successful than its predecessor. By 1967, the film became the highest-grossing film of any nationality in the history of Italian cinema.
It was the seventh most popular movie at the French box office in 1966, after La Grande Vadrouille, Dr Zhivago, Is Paris Burning?, A Fistful of Dollars and Lost Command and A Man and a Woman.
It initially received mediocre reviews from critics. Bosley Crowther of The New York Times said, "The fact that this film is constructed to endorse the exercise of murderers, to emphasize killer bravado and generate glee in frantic manifestations of death is, to my mind, a sharp indictment of it as so-called entertainment in this day." Roger Ebert of the Chicago Sun-Times described the film as "one great old Western cliché after another" and that the film "is composed of situations and not plots."
The film has since grown in popularity, while also gaining more positive feedback from contemporary critics. The review aggregator website Rotten Tomatoes reports a 94% approval rating with an average rating of 7.8/10 based on 33 reviews. The website's consensus reads, "With Clint Eastwood in the lead, Ennio Morricone on the score, and Sergio Leone's stylish direction, For a Few Dollars More earns its recognition as a genre classic."
In a retrospective review of the Dollars Trilogy, Paul Martinovic of Den of Geek said, "For A Few Dollars More is often overlooked in the trilogy, awkwardly sandwiched between both the original film and the best-known, but it's a stunning film in its own right." Paolo Sardinas of MovieWeb said, "Eastwood gives it his all and turns in another iconic performance along with scene stealer Lee Van Cleef, who helps make For a Few Dollars More twice as good as its predecessor."
Lando Buzzanca parodied the film in For a Few Dollars Less (1966).