Nickname(s)

La Serenissima




Most caps

Andy Selva (74)




Home stadium

San Marino Stadium




Founded

1931




Manager

Pierangelo Manzaroli




Head coach

Pierangelo Manzaroli




Confederation

UEFA (Europe)




Top scorer

Andy Selva (8)




FIFA code

SMR




Arena/Stadium

San Marino Stadium




Captain

Matteo Vitaioli






Association

San Marino Football Federation
The San Marino national football team (Italian: Nazionale di calcio di San Marino) is the national football team of San Marino, controlled by the San Marino Football Federation (FSGC). The team represents the second smallest population of any UEFA member.
Contents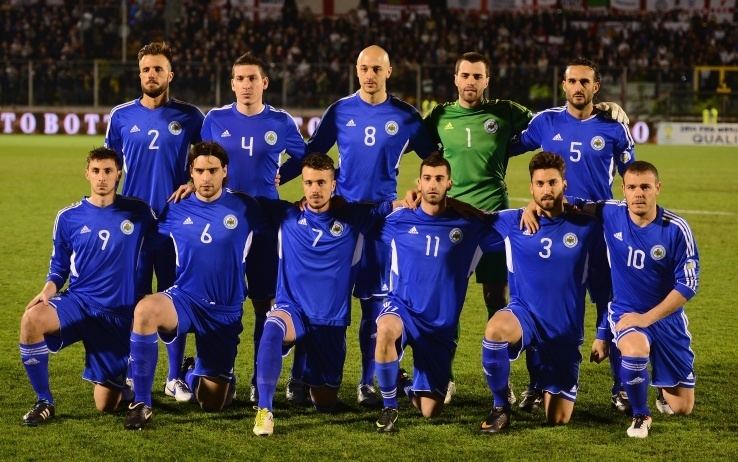 The first official game played by a San Marino team was a 4–0 defeat in a European Championships qualifier by Switzerland in 1990. Previously, a San Marino side had lost 1–0 to a Canadian Olympic team in 1986, but this was not an official match. Since making their competitive bow, San Marino have competed in qualifying for every European Championships and World Cup, but have never won a match in either competition. They have only ever won one game, beating Liechtenstein 1–0 in a friendly match on 28 April 2004.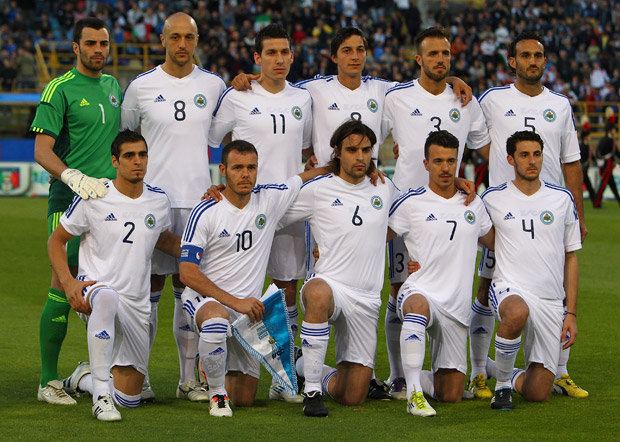 Until November 2014 San Marino were tied in last place in the FIFA World Rankings, a run that lasted since the rankings were given a new calculation methodology. They were tied for last with Bhutan, (208th) in the October 2014 rankings, a 0–0 draw with Estonia during the Euro 2016 qualifying rounds ensured their departure from the foot of the rankings. The national side made their first away goal in fourteen years against another Baltic side, Lithuania, during the same qualifying rounds.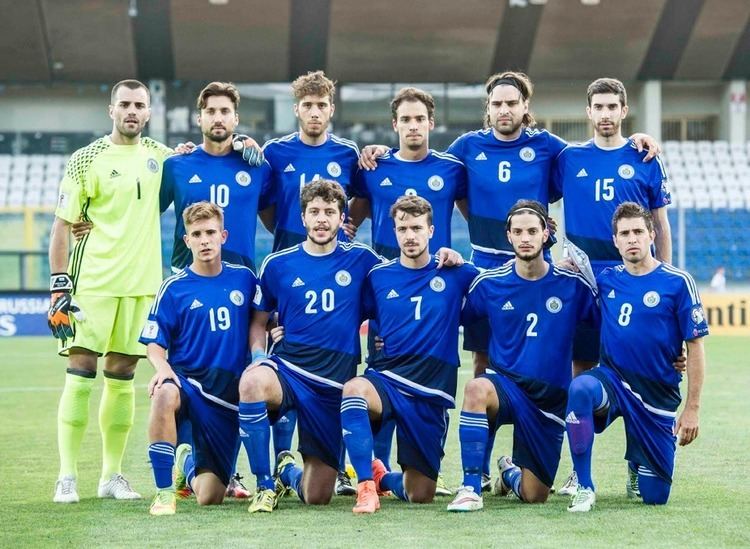 History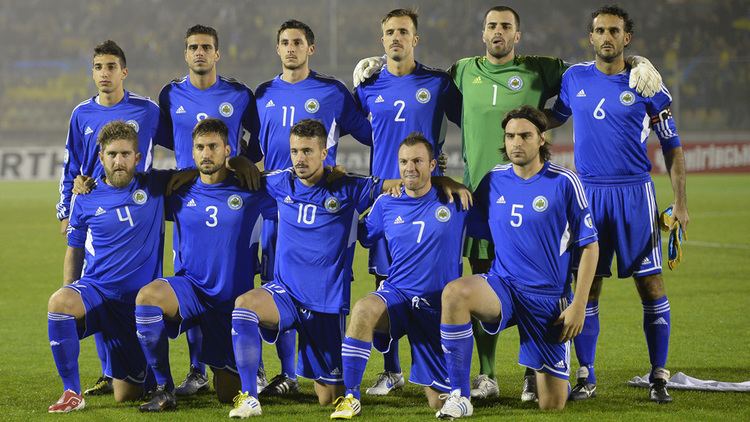 Though the San Marino Football Federation formed in 1931, the federation did not establish a national team until 1986, when a team representing the Federation played Canada's Olympic team in an unofficial international. San Marino gained affiliation to governing bodies FIFA and UEFA in 1988, allowing the team to participate in major championships. Prior to this, Sammarinese players had been considered Italian in international football contexts.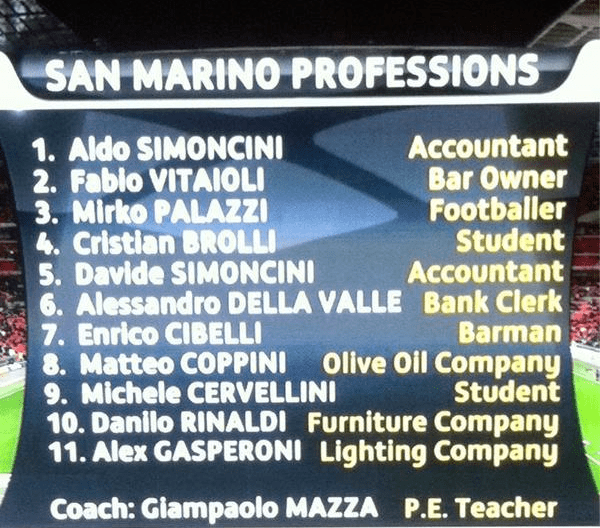 San Marino's first match in a FIFA sanctioned competition was against Switzerland on 14 November 1990 in a qualifier for the 1992 European Championships. San Marino lost 4–0, and went to lose all eight qualifiers. The team particularly struggled in away matches, losing every one by at least four goals. San Marino scored only one goal, a penalty in a 3–1 defeat at home by Romania, and conceded 33 goals in total.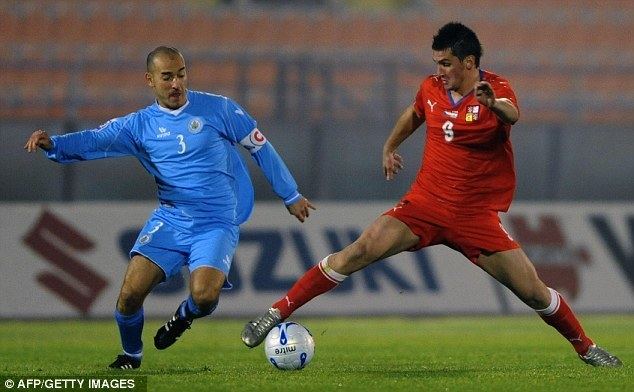 For their first World Cup qualifying campaign, San Marino were drawn in a group with England, the Netherlands, Norway, Poland and Turkey. The opening match resulted in a 10–0 hammering at the hands of Norway. The return match was less one-sided, finishing 2–0 to the Norwegians. A 4–1 defeat in Turkey saw San Marino score their first World Cup goal, and a 0–0 draw against the same opposition on 10 March 1993 gave them their first ever point. In their final qualifier, against England, Davide Gualtieri scored the second fastest goal in World Cup Qualifying history—after 8.3 seconds—though the team went on to lose 7–1. San Marino finished the campaign with one point, and conceded 46 goals in 10 matches.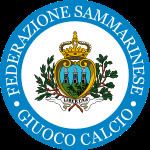 The team's qualification campaign for Euro 1996 followed a similar pattern to that of the previous European championships, as they lost every game. A match away to Finland gave San Marino their first goal away from home in the European championships, but the team lost 4–1. Their only other goal came in a 3–1 home defeat by the Faroe Islands; the two wins over San Marino were the only points gained by the Faroe Islands in the group. In the return match, a 3–0 scoreline in Toftir, is the Faroe Islands record competitive win.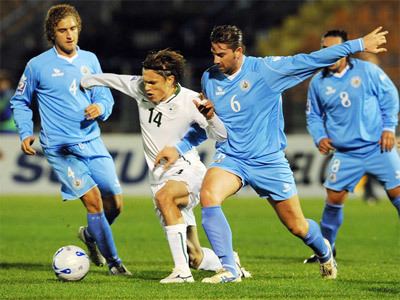 Even by Sammarinese standards, qualification for the 1998 World Cup was disappointing. Losing every game by three goals or more, San Marino failed to score a single goal. This is the only World Cup qualifying tournament in which they have failed to score. Qualification for Euro 2000 again resulted in defeats in every game. The closest game was against Cyprus, a 1–0 defeat on 18 November 1998.
In April 2001, San Marino gained their first ever away point, drawing 1–1 with Latvia in Riga. The team ended the 2002 World Cup qualifying group with a new best of three goals, though one of these came in a 10–1 defeat by Belgium. In Euro 2004 qualifying San Marino lost all eight matches, failing to score. The closest result was a 1–0 home defeat by Latvia, with the winner scored in the last minute.
In April 2004, San Marino gained their first, and as of September 2016 only, win in their 65th attempt, a 1–0 victory over Liechtenstein in a friendly on 28 April 2004 courtesy of a fifth-minute goal by Andy Selva. The match was Martin Andermatt's debut as Liechtenstein manager. Results during qualification for the 2006 World Cup followed a similar vein to previous qualifying groups. Matches were generally one-sided defeats, with the exception of single goal defeats at home by Lithuania and Belgium.
San Marino's opening Euro 2008 qualifying match resulted in a record 13–0 defeat at home by Germany on 6 September 2006. They scored only twice and conceded fifty-seven goals in losing all twelve matches, although the home matches against Ireland, Cyprus and Wales were each lost by a single goal.
In the qualification tournament for the 2010 World Cup, they lost all ten matches played and failed to qualify. They conceded 47 goals in those fixtures, including 10 in a defeat by Poland, which became Poland's highest scoring victory of all time, and scored just once, in a 3–1 defeat by Slovakia. Qualifying for UEFA Euro 2012 started in a similar way, the first nine matches all being defeats with an aggregate of 49 goals conceded and none scored, their best result being a one-goal loss to Finland at home, with the worst being a heavy 11–0 loss to the Netherlands, which became the Netherlands' highest scoring victory of all time and San Marino's worst-ever away defeat. This was then followed up by two lighter defeats, a 5–0 home loss against Sweden, before completing the campaign with a 4–0 away loss to Moldova.
On 10 September 2013, Alessandro Della Valle scored San Marino's first competitive goal for 5 years. With the score 0–1 to Poland in the Serravalle stadium, he headed in a free-kick in the 22nd minute, beating A.F.C. Bournemouth goalkeeper Artur Boruc at his front post. Poland then regained the lead a minute later, winning 5–1. It was the first international goal of any kind scored by San Marino since the national team lost 3–2 at home to Malta, the second time (after a 2-2 friendly draw against Liechtenstein away in 2003) the national team has scored more than once in any given international at senior level.
On 15 November 2014, San Marino drew 0–0 at home against Estonia. It was the first time in 10 years that the team had not lost a game, ending a 61–match losing streak, and securing the country's first ever point in a European Championship qualifier.
Stadium
San Marino play home matches at the San Marino Stadium, a municipally owned stadium in Serravalle which also hosts the matches of club side San Marino Calcio. It has a capacity of 7,000. Crowds are low, and on occasion travelling supporters outnumber the Sammarinese support. For example, in the fixture against the Republic of Ireland in February 2007, 2,500 of the 3,294 crowd were Irish supporters.
San Marino have played two "home" matches outside their borders. For World Cup qualifiers against England and the Netherlands in 1993 the Stadio Renato Dall'Ara in Bologna was used.
Reputation
San Marino once had the smallest population of any UEFA country, until the May 2013 election of Gibraltar. The republic has never won a competitive fixture and its poor record has led the country to gain a very low reputation in world football. A 2004 1–0 friendly win against Liechtenstein remains their sole victory to date.
The national side is mainly composed of amateur players. Only a small number of players are professionals, with many holding second jobs outside of the sport. Their 13–0 defeat at home by Germany is a European Championship record, and they have conceded ten goals on four other separate occasions. In media terms they are constantly referred to as the 'whipping boys', a remark regarding their emphatic number of goals conceded in each tournament entered.
In the FIFA World Rankings, San Marino traditionally have the lowest rank of any UEFA country. Since the creation of FIFA rankings in 1992, San Marino's average position has been 176th.
In 2001, Latvia manager Gary Johnson resigned after failing to beat San Marino in a World Cup qualifier. The Republic of Ireland's 2–1 win in February 2007 (due to a last-second goal) resulted in scathing press criticism.
San Marino set a European record when they went over 20 games without scoring between October 2008 and August 2012. On 8 September 2015, San Marino scored its first away goal in 14 years when Matteo Vitaioli scored against Lithuania in Euro 2016 qualification.
Results and fixtures
2018 FIFA World Cup qualification
2018 FIFA World Cup qualification
2018 FIFA World Cup qualification
2018 FIFA World Cup qualification
Friendly match
Friendly match
2018 FIFA World Cup qualification
2018 FIFA World Cup qualification
2018 FIFA World Cup qualification
2018 FIFA World Cup qualification
2018 FIFA World Cup qualification
2018 FIFA World Cup qualification
San Marino all-time record against all nations
Official matches
As of 22 February 2016
Unofficial matches
As of 15 October 2013
Managers
From 1986 to present days:
Current squad
The following is the list of players for the Friendly match against Moldova on 19 March 2017.
Caps and goals as of 19 March 2017 after the game against Moldova.
Recent call-ups
The following players have been called up in the last twelve months.
Records
In January 2006, the Sammarinese Football Association named Massimo Bonini as their greatest ever player. Three-times Italian Serie A champion, he is the only Sammarinese player to have won an official international competition including the European Champions' Cup and the Intercontinental Cup. Bonini represented Italy at under-21 level in the early 1980s, and he played for Juventus from 1981 to 1988, but was prevented from gaining full honours due to a rule change. By the time San Marino became a full UEFA member, Bonini was in his thirties, but gained 19 caps between 1990 and 1995.
After retiring from playing, Bonini became San Marino's manager, succeeding Giorgio Leoni. He held the position until 1998, when he was replaced by Giampaolo Mazza. As of 2012, Mazza is the longest-serving manager of any European national team. Though he gave up his position after their 2014 FIFA World Cup Qualification campaign, giving way to former u-21s boss Pierangelo Manzaroli.
The appearance record for San Marino is held by Andy Selva, whose 73 caps and he also is the record goalscorer with 8 goals.
San Marino's player Davide Gualtieri scored the second fastest goal ever in a Fifa match against England. In the match, which took place in Bologna, Italy, San Marino had the kick-off and the ball was quickly played through the inside-right channel. England defender Stuart Pearce attempted a back-pass to goalkeeper David Seaman. Pearce's pass was under-hit and Gualtieri ran on to touch the ball past Seaman. The goal was timed at 8.3 seconds, which remains the fastest World Cup goal scored in either qualifying or the finals. England took 20 minutes to equalise and eventually finished winning the match 7–1.
References
San Marino national football team Wikipedia
(Text) CC BY-SA