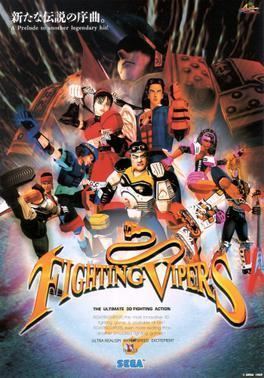 Fighting Vipers features a similar style of gameplay to Sega AM2's more renowned Virtua Fighter series, specifically Virtua Fighter 2, using simply guard, punch and kick attack buttons with a focus on combo moves. The Saturn version uses its three extra buttons for three smaller combos.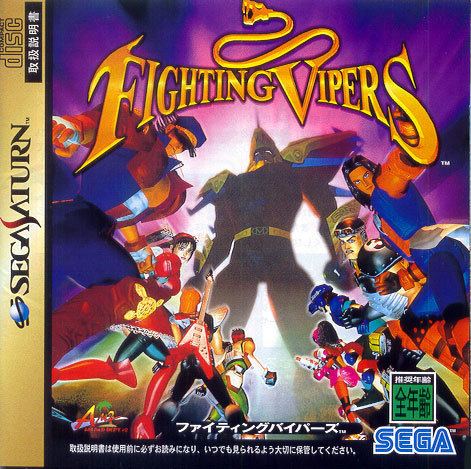 Each of the 9 characters featured in the game sports armor of some kind or another that can be broken off by opponents, leaving characters more vulnerable to taking damage. A human shaped meter in the top corners of the screen monitors damage to the armor. Walls surround each arena, caging the combatants in, allowing for attacks in conjunction with them (bouncing off etc.). If a knockout attack is strong enough, characters can knock their opponent over, on top, or straight through the walls.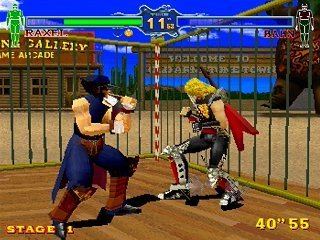 The Saturn port of Fighting Vipers added Playback Mode and Training Mode, both of which are now used widely in the genre, by games such as Tekken and Soulcalibur. Players could save their matches and play them again in Playback Mode, while Training Mode talked the player through the moves of each character one-by-one.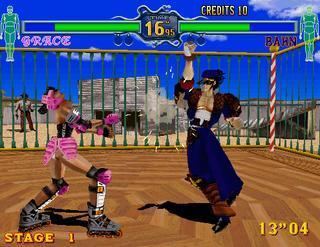 Bahn: despite only being a 17-year-old high school student from Nishino Machi, Bahn is a powerful and imposing fighter in a long coat and hat, who has come overseas to find and fight his father, whom he has never met and abandoned him and his mother when they were small. He has declared himself 'Gengis Bahn III'. His design was inspired by the character Jotaro Kujo from JoJo's Bizarre Adventure.
Honey (or Candy): a petite 16-year-old Fashion Student with a pleasant nature, Honey designed her own trademark plastic fairy costume herself, and has entered the tournament to promote her original fashion line.
Grace: a 19-year-old African-American born in Armstone City whose armor is themed after the protective gear for inline skating, including the skates themselves. Grace is making her living as a fashion model, though she once dreamed of becoming a professional figure skater, but her lover and coach betrayed her, leaving her disillusioned.
Raxel: the narcissistic lead singer and guitarist for a hair metal band called 'Death Crunch' with KISS-styled armor (pretty much looking like Ace Frehley's outfit) and carrying a red Gibson Flying-V electric guitar, Raxel is the son of an Armstone City councilman, a drop out who left home after a fight with said father, Raxel has simply entered the tournament to heighten his own profile and become more famous.
Tokio: a 16-year-old pretty boy rebelling against a strict kabuki actor's household, Tokio is a former leader of a street gang called 'Black Thunder' but left after feeling responsible for another gangmember's death. He has entered the tournament for a challenge and for thrills.
Sanman: a mysterious fat man about whom nothing is known, other than his birthday (3 March) and an obsession with the number 3, hence the name for which he goes (san in the Japanese for "three"). Sanman drives a large customized scooter.
Jane: a butch and muscled 18-year-old part-time construction worker, Jane trained her whole life to join the Navy, but did not make it past training. She was discharged after repeatedly losing control of herself during fights and injuring fellow seamen. Jane now wants to test just how tough she is, hence entering the Fighting Vipers tournament.
Picky: a 14-year-old stereotypical skateboarder Picky's armour is styled after protective gear for skateboarders, he carries his skateboard on his back, and hits opponents with it. Picky began skateboarding to impress his first love, but later on he left her for Honey.
Mahler: the unlockable ninth character, Mahler is a mysterious 20-year-old with a grudge against the Mayor of Armstone City (who has organised the tournament) wearing poisonous armor resembling a snake. He isn't officially registered as a member of the tournament.
B.M.: the boss of the game and the man who organised the tournament, B.M. is a powered-up version of Mahler. Both Mahler and B.M.'s names may have been inspired by musician Samuel Coleridge-Taylor, who was known in America as the "Big Mahler".
Kumachan: a 10-year-old smiling bear character wearing an orange hat, who is included as a unlockable character in the Sega Saturn port. It is based on the giant floating balloon mascot seen in the Old Armstone Town stage. It uses Sanman's fighting style, and its 2nd player counterpart is called Pandachan.
Pepsiman: the Japanese mascot of Pepsi who only appears in the Japanese Sega Saturn version of the game as an unlockable character. He was removed from the US and PAL releases.
Fighting Vipers was developed using the same game engine which was first used for Virtua Fighter 2, and uses a nearly identical arcade board, though with slightly faster processing speed. Unlike Virtua Fighter 2, there are no ring-outs; producer Yu Suzuki stated, "We received comments about the ring-outs in VF indicating different changes, [sic] and so for FV the fighting can continue mercilessly."
A demo of the game was displayed at the 1995 JAMMA show with all eight characters playable, though they did not yet have all their moves available.
The original Japanese version had a large amount of advertising for Pepsi, due to product placement agreements with Sega at the time. This licensing was removed in the US and PAL versions.
In some versions of the game, Honey has been renamed as Candy for unspecified reasons.
Reviewing the arcade version, a Next Generation critic called Fighting Vipers "a beautiful, highly polished, polygon-rendered and texture-mapped game featuring brand new characters, unprecedented closed-in arenas (for a 3D fighter), a slightly different set of fighting strategies using armor, and a more cinematic style of viewing." He also praised the more intuitive button combinations used to execute moves. Despite this, he concluded that the game fails to measure up to recent fighting games, chiefly due to the "strained" character designs: "Raxel, Jane, Picky, Sanman are undeniably trendy and conclusively uncool ... They lack the artful, graceful movements of VF2's Lau, Sarah, or Pai." He gave it three out of five stars.
A sequel, Fighting Vipers 2 was released, introducing new characters (Emi, a computer geek who fights with a self-developed mecha armor, and Charlie, a BMX rider - also some bonus ones, like Del Sol, a Mexican wrestler with a Sun mask, and Kuhn, a Dural exact copycat) and was ported to the Dreamcast but only in Japan and Europe.
All of the Fighting Vipers characters were used in Sega AM2's Fighters Megamix for the Sega Saturn. Fighting Vipers was also re-released for the PlayStation 2 as part of the Sega Ages line. A PAL version was planned, but never released.
Fighting Vipers was re-released in late 2012 on PlayStation Network and Xbox Live as one of five games included in the Sega Model 2 Collection. The re-release features online play, but does not contain any of the extra content found in the Saturn version.
Bahn appears as a solo unit in Project X Zone, an 3DS' RPG crossover of Capcom, Sega and Namco Bandai Games.
A programmer working on Fighting Vipers put Sonic the Hedgehog and Tails in the game for amusement, which led to Sega AM2 commissioning a Sonic fighting game, Sonic the Fighters. Hidden within the data of the arcade version of Sonic the Fighters is an additional character named Honey, a yellow cat wearing Candy's red plastic fairy costume. Honey's model was removed from the Sonic the Fighters port on Sonic Gems Collection. However, in the Xbox 360 and PlayStation 3 port, she is a playable character, and was later introduced to the cast of Archie Comics' Sonic the Hedgehog comics during an arc based on Sonic the Fighters. The arc depicted Honey as a fashion designer similar to her human counterpart, and also featured a Boar character based on Jane.