Covid-19
7.6

/

10

1

Votes

Alchetron

Rate This





Perfect Strangers






17 July 1998






Family sitcom, Teen sitcom, Black sitcom




William Bickley Michael Warren




Robert L. Boyett Thomas L. Miller




Reginald VelJohnson Jo Marie Payton Rosetta LeNoire Darius McCrary Kellie Shanygne Williams Jaimee Foxworth Joseph & Julius Wright Telma Hopkins Bryton McClure Jaleel White Shawn Harrison Michelle Thomas Orlando Brown Judyann Elder




Jesse Frederick, Bennett Salvay & Scott Roeme (episodes 1–5: Bob Thiele, George David Weiss & George Douglas)




"As Days Go By," performed by Jesse Frederick (originally in episodes 1–5: "What a Wonderful World" by Louis Armstrong)




As Days Go By, What a Wonderful World, Family Matters Ending Theme Song




Jaleel White, Reginald VelJohnson, Kellie Shanygne Williams, Darius McCrary, Jaimee Foxworth





Facebook
Family Matters is an American sitcom which originated on ABC from September 22, 1989 to May 9, 1997, before moving to CBS from September 19, 1997 to July 17, 1998. A spin-off of Perfect Strangers, the series revolves around the Winslow family, a middle-class African American family living in Chicago, Illinois. Midway through the first season, the show introduced the Winslows' nerdy neighbor Steve Urkel (played by Jaleel White), who quickly became its breakout character and eventually the show's main character. Having run for nine seasons, Family Matters is the second longest-running non-animated U.S. sitcom with a predominantly African American cast, behind only The Jeffersons (11). Having aired 215 episodes, Family Matters is ranked third, behind only Tyler Perry's House of Payne (254) and The Jeffersons (253).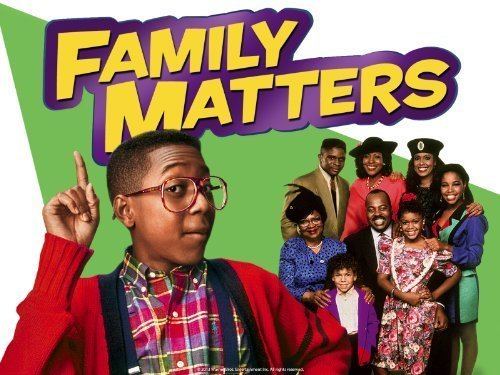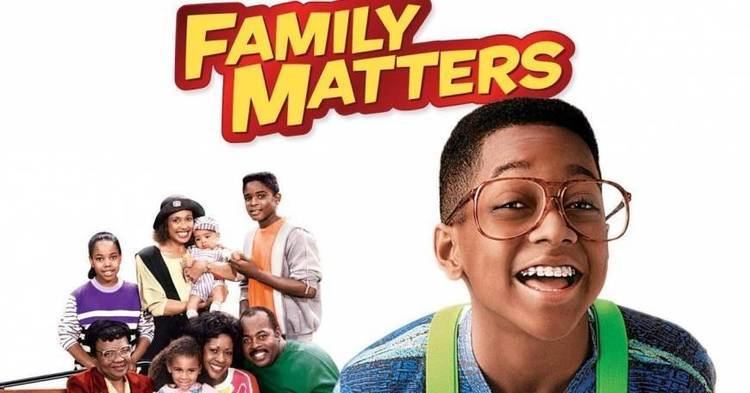 The series originally focused on the character of police officer Carl Winslow and his family: wife Harriette, son Eddie, elder daughter Laura and younger daughter Judy (who appeared until the character was written out in season four). In the pilot episode, "The Mama Who Came to Dinner," the family had also opened their home to Carl's street-wise mother, Estelle (Rosetta LeNoire), usually known as "Mother Winslow." Prior to the start of the series, Harriette's sister, Rachel Crawford and her infant son, Richie, had moved into the Winslow household after the death of Rachel's husband. The Winslows' nerdy teenage next-door neighbor, Steve Urkel (played by Jaleel White), was introduced midway through the first season in the episode "Laura's First Date" and quickly became the focus of the show. The popular sitcom was a mainstay of ABC's TGIF lineup from 1989 until 1997, at which point it became part of the CBS Block Party lineup for its final season. Family Matters was produced by Bickley-Warren Productions and Miller-Boyett Productions, in association with Lorimar Television (1989–1993) and later Warner Bros. Television (1993–1998). As the show progressed, episodes began to center increasingly on Steve Urkel and other original characters also played by White, including Steve's suave alter-ego, Stefan Urquelle, and his female cousin, Myrtle Urkel.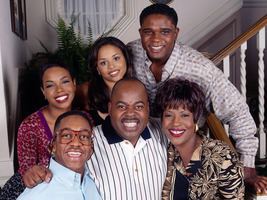 In early 1997, CBS picked up Family Matters and Step by Step in a $40 million deal to acquire the rights to the programs from ABC. ABC then promised to pay Miller-Boyett Productions $1.5 million per episode for a ninth and tenth season of Family Matters. However, tensions had risen between Miller-Boyett Productions and ABC's corporate parent, The Walt Disney Company (which had bought the network in 1995 as part of its merger with ABC's then-parent Capital Cities/ABC, Inc.). Miller-Boyett thought that it would not be a big player on ABC after the network's recent purchase by Disney. In turn, Miller-Boyett Productions agreed to a $40 million offer from CBS for a 22-episode season for both Family Matters and Step By Step. CBS scheduled Family Matters, along with Step By Step, as a part of its new Friday lineup branded as the "CBS Block Party" and scheduled the family-oriented block against ABC's TGIF lineup, where the two series originated. Near the end of the ninth season, the cast was informed that a tenth and final season was planned, so scripts and plot synopses were written for the show. Ultimately, due to poor ratings, CBS cancelled Family Matters (as well as Step By Step) after one season, along with the rest of the "Block Party" lineup. CBS also pulled the show from its regular schedule in the winter and ended up airing the series finale with little fanfare during "burn off" summer TV time in 1998.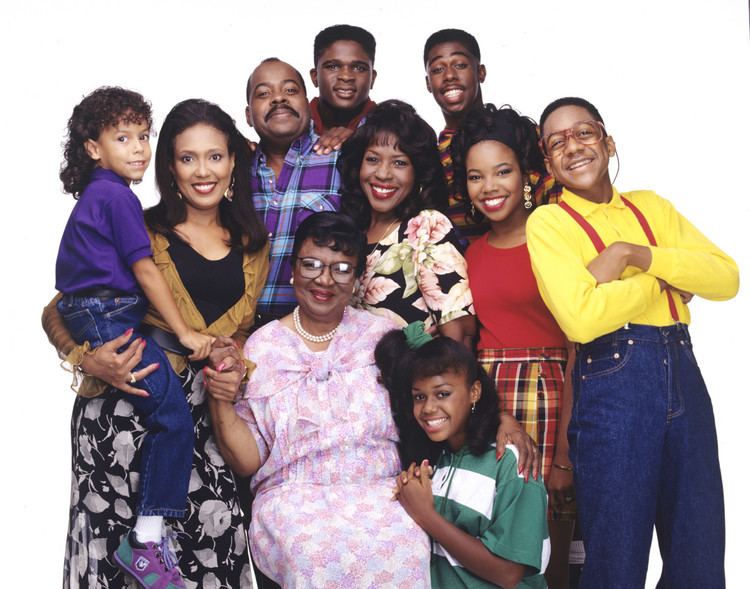 Family Matters is set in the same "TV universe" as several other TV shows related to ABC's TGIF or CBS' Block Party: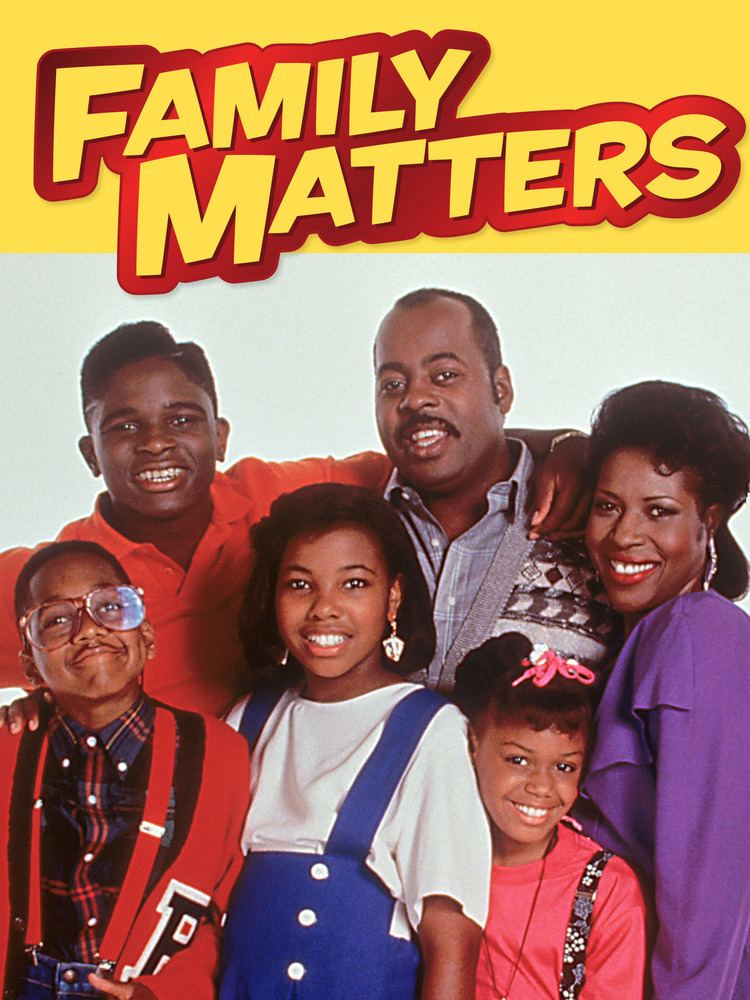 Perfect Strangers—Before Family Matters, Harriette Winslow was originally the elevator operator at the Chicago Chronicle newspaper office in the third and fourth seasons of Perfect Strangers. Family Matters was a spin-off series given to this character in 1989. In the second episode of Family Matters, Harriette was fired as elevator operator at the Chronicle, but was soon re-hired as "Chief of Security," which explained her absence from dealings with the Perfect Strangers cast.
Full House—In the season 4 Full House episode "Stephanie Gets Framed," Urkel helps Stephanie Tanner (Jodie Sweetin) deal with her anxiety after she finds out she has to wear eyeglasses because her vision is fading.
Boy Meets World—In the episode "Beauty and the Beast" Urkel sent a chain letter to his friend Cory Matthews (Ben Savage), who lived in Philadelphia. The two never actually appeared together on either show. (In the spin-off Girl Meets World, VelJohnson made a cameo appearance as "James," a NYPD officer.)
Step by Step—In the original ABC broadcast, the ending gag of Family Matters' third season episode "Brains Over Brawn" is crossed over with the opening of the second episode of Step By Step, "The Dance." Urkel's jet-propelled flight pack causes him to fly through the Winslows' roof as one show ends and crash-land in Port Washington, Wisconsin, where the Lambert-Foster family is enjoying a barbecue as the other show opens. Urkel goes on to help his science-fair pen pal, Mark Foster (Christopher Castile) and lifts Al Lambert's (Christine Lakin) spirits after her potential date dumps her just before a school dance. He reprises his "Do the Urkel" dance in the scene where Al gives the guy who dumped her his comeuppance. Urkel also makes a brief cameo in the 1997 episode "A Star Is Born," snapping a clapperboard on the set of the movie that Al was cast in over her two sisters.
Meego—In this short-lived series, Steve makes a non-speaking cameo appearance in the second episode "Love and Money" where he angrily retrieves a television set stolen by Meego. He then appears in the third episode "The Truth About Cats and Dogs" helping out at a model car derby competition.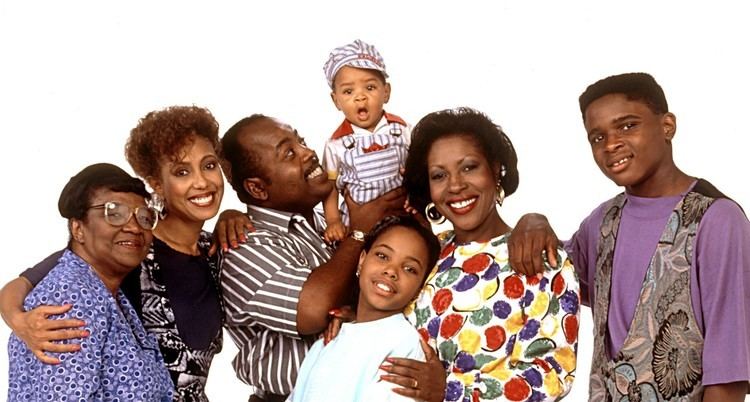 In September 1993, Warner Bros. Domestic Television Distribution began distributing Family Matters for broadcast in off-network syndication; most television stations stopped carrying the show by around 2002, though some stations in larger markets such as WTOG in Tampa, Florida continued to air Family Matters until as recently as 2005. In 1995, reruns of the series began airing on TBS Superstation, where it ran until 2003. From 1997 to 2003, reruns of the series aired on WGN America. In 2003, ABC Family picked up the series and aired it for five years until February 29, 2008. From 2004 to 2006, UPN aired the show for 2 years. BET aired reruns briefly in December 2009 and began airing the series on a regular basis on March 1, 2013. MTV2 also began airing reruns on September 7, 2013. The show aired on Nick at Nite from June 29, 2008 to December 31, 2012. ABC Family and Nick at Nite airings cut the tag scenes at the end of all episodes, despite the fact that many episodes during the series have tag scenes during the closing credits. In 2015, the series now airs on a Viacom owned cable network Centric. In Canada, the series also aired on CTV and CBC for reruns.
Warner Home Video has released the first four seasons of Family Matters on DVD in Region 1 while the remaining five seasons were released by the Warner Archive Collection. On February 4, 2014, Warner Home Video released season 4 on DVD, but consumers complained when it was found that the season 4 set contained syndication edits rather than the original broadcast masters. Warner Bros. responded to the complaints, offered a replacement program to receive corrected discs and reissuing the set with corrected broadcast copies on April 4. All episodes are the original broadcast form, except for the episode "Number One With a Bullet", disc 1, episode 6. The entire series is also available for digital download on Amazon.com and the iTunes Store, all but season 6 remastered in both SD and HD.
WatchMojo.com rated Family Matters as the #8 African American TV show. Steve Urkel was rated as the #2 most annoying TV character and as the #4 TV neighbor. His catchphrase Did I do that? was rated as the #10 sitcom catchphrase.
A 2014 episode of the Comedy Central sketch comedy program Key & Peele featured a sketch about how the Steve Urkel character took over Family Matters, and how that change affected others involved in show.
The website Funny or Die featured an 2014 April Fool's skit in which Reginald VelJohnson tried to crowdfund a Family Matters movie, which would cross over with the film series Taken.
Family Matters Wikipedia