8.1

/

10

Alchetron

8.2

Rate This





Opening theme

John Rubinstein


No. of seasons

5




First episode date

9 March 1976




Number of seasons

5






Created by

Jay Presson Allen


Country of origin

United States




No. of episodes

86 (list of episodes)


Final episode date

25 June 1980







Starring

Sada ThompsonJames BroderickGary FrankKristy McNicholElayne HeilveilMeredith Baxter BirneyQuinn Cummings




Network

American Broadcasting Company


Genres

Drama, Family film, Soap opera




Cast

Kristy McNichol, Sada Thompson, Meredith Baxter, Gary Frank, James Broderick


Similar

Fantasy Island, The Love Boat, The Waltons, Knots Landing, Little House on the Prairie
Family (1976) ABC - Kate has Nancy's number
Family is an American television drama series that aired on the ABC television network from 1976 to 1980. Creative control of the show was split among executive producers Leonard Goldberg, Aaron Spelling and Mike Nichols. A total of 86 episodes were produced. It is seen occasionally on the Decades digital TV network.
Contents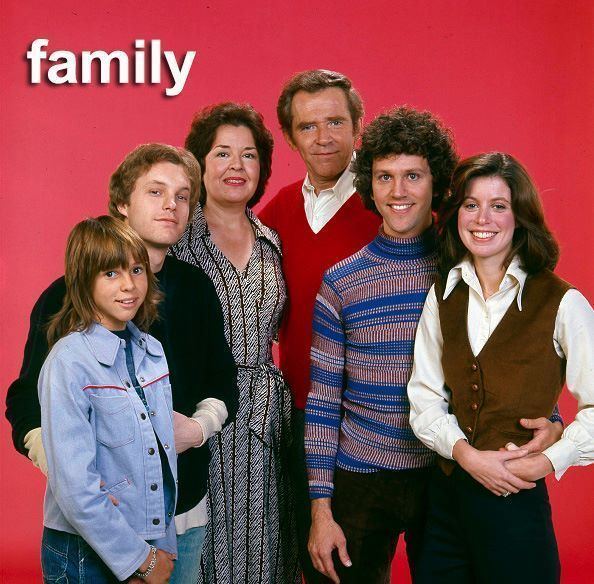 This series is not related to the ABC sitcom A New Kind of Family that aired concurrently with Family during its final season.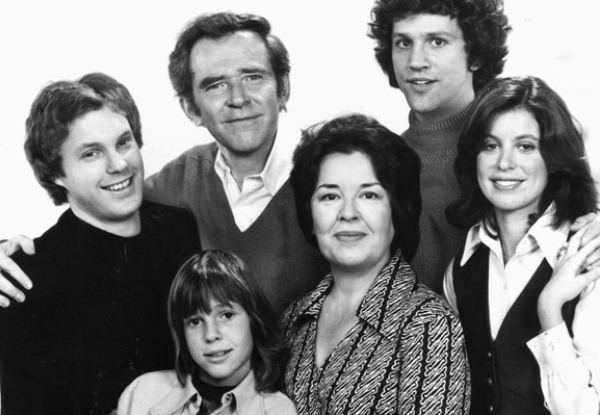 Premise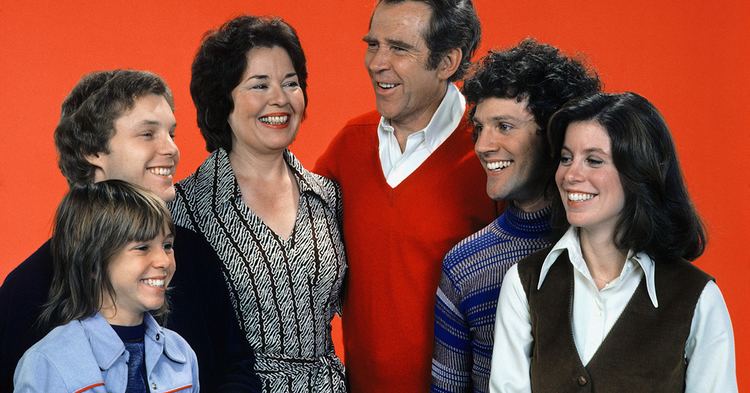 The show featured Sada Thompson and James Broderick as Kate and Doug Lawrence, a happily married middle-class couple living at 1230 Holland Street in Pasadena, California with their three children: Nancy (portrayed by Elayne Heilveil in the original miniseries and later by Meredith Baxter Birney), Willie (Gary Frank), and Letitia, nicknamed "Buddy" (Kristy McNichol). (An early episode established that the couple had another son, Timothy, who had died five years before.) The show raised the profile of all of its featured actors and, in particular, catapulted McNichol to stardom.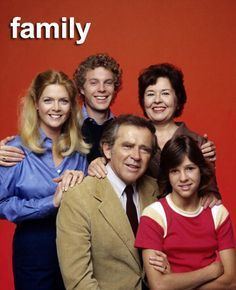 Family was an attempt to depict a contemporary traditional family with realistic, believable characters. Kate was the practical, rational voice of the show. She always stood by her opinion and was motivated to do what was right, even if it made her unpopular ("Jury Duty"). An accomplished full-time homemaker, she resented it when people told her she could have attained much more, because she had high aspirations in school and had achieved a great deal academically ("Home Movie"). However, at one point she expressed frustration with the monotony of her life, feeling that all she did was run errands and make phone calls, usually on behalf of other people ("An Eye to the Future"). She eventually returned to college as a music major. Doug was an independent lawyer who aspired to be a judge, but never used his intellect to make others feel inferior. He was a family man who listened to what Kate told him and always made time for Buddy.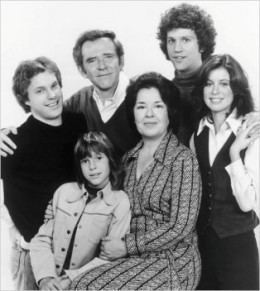 Younger daughter Buddy was somewhat tomboyish, although she at times expressed interest in adopting a more feminine appearance ("Coming of Age"). She was a loyal friend, compassionate toward others and well-liked by her classmates. She had a habit of walking into a room where adults were discussing something confidential and demanding (in a friendly way) to know what was transpiring. She usually sought her mother's help when faced with a dilemma. She was self-conscious about her height and considered herself short, believing that her body was not developing as quickly as it should.
Son Willie had a close relationship with Buddy, whom he affectionately called "Peaches". An aspiring writer, he secured his parents' permission to take a year off from high school to write a screenplay but later dropped out of school completely, to his father's chagrin. Although he was making passing grades and his father believed he had a high IQ, some of his fellow students speculated that he was failing. Ironically, the school's yearbook named him most likely to succeed. He later pursued work assisting in a photography studio but eventually quit, saying the work ("debs and dogs") didn't inspire him and expressing an aspiration to leave Pasadena.
Eldest daughter Nancy Lawrence Maitland moved back home with her young son, Timmy, during the first episode of the series--after catching her husband of several years, Jeff Maitland (John Rubinstein), in bed with another woman. Later in the series they would divorce and Nancy would enroll in law school, where she excelled. (Rubinstein also composed the series' theme song.)
Story lines were very topical, and the show was one of the first to feature what have recently been termed "very special episodes". In the first episode, Nancy walked in on her husband having sex with one of her friends. During the second season she and Jeff divorced, but he appeared regularly as an active father to Timmy and became involved in more of the Lawrence family's affairs. Other topical story lines included Kate's possible breast cancer and Buddy's dilemmas about whether to have sex; she always chose to wait, most notably in an episode with guest star Leif Garrett, who was a popular teen idol at the time. Another topical episode dealt with Buddy's friendship with a teacher who was revealed to be a lesbian. Family also dealt with alcoholism (Doug's sister; Buddy's old friend) as well as adoption, when the family adopted a girl named Annie Cooper (Quinn Cummings) after her parents' death. A 1979 episode (directed by actress Joanne Woodward) guest-starred Henry Fonda as a visiting elderly relative who was beginning to experience senility and memory loss.
In 1988 plans for a reunion movie were in the works, but the writer's strike that year halted production and it was never picked up again.
Theme music
In the original spring 1976 miniseries run of Family, the theme music was a dramatic-sounding, yet low-key piano solo with minor orchestral contingents, composed by cast member John Rubinstein (son of classical musician Arthur Rubinstein). When Family was picked up as a regular series for the fall 1976 schedule, the theme music was changed to a more cheery, upbeat instrumental dominated by trumpets and horns, also written by Rubinstein. This version lasted the rest of the run.
Legal dispute
Family became the subject of a 24-year legal dispute due to a lawsuit filed by writer Jeri Emmet in 1977. The claim was against Spelling Television and alleged that Spelling had stolen the idea for the show from a script that Emmet had submitted, entitled "The Best Years". Spelling responded to the lawsuit with a statement explaining that he had conceived the idea in his kitchen with Leonard Goldberg, his professional partner at the time. Next they pitched the idea to scriptwriter Jay Presson Allen to create the pilot. She had just completed writing the screenplay for the film Funny Lady, starring Barbra Streisand and directed by Herbert Ross.
In October 1981, the suit was dismissed for lack for prosecution. Jeri Emmet filed an appeal the same month. Around a year later, she withdrew her appeal as part of a settlement with Spelling and Goldberg for $1,000. Emmet later filed a legal malpractice action against her own lawyers in which it was argued that she would have won her original lawsuit but for the malpractice. The case went to trial and a jury awarded her $1.7 million in damages. The verdict was then successfully appealed based on the resumption of the suit having occurred beyond a one-year limitation period allowed in the law. The trial result and the judgment were thrown out.
Emmet sued Spelling a second time, in 1996, after Spelling published his memoirs. She claimed that Spelling had defamed her in his book, as she had not been credited with conceiving the original idea for Family. She lost on appeal in 2001, with the court sayng she had not met the standard for showing damages due to the alleged defamation and that she had not explained how the defamation legally constituted a second theft of the same intellectual property. The litigation finally concluded with Allen retaining her "Created by" credit for the series.
Awards
Family was nominated three times for the Primetime Emmy Award for Outstanding Drama Series, in 1977, 1978 and 1980. Three of its stars won acting Emmy Awards, Sada Thompson, Gary Frank and Kristy McNichol. James Broderick and Meredith Baxter Birney were nominated.
DVD release
On September 5, 2006, Sony Pictures Home Entertainment released the first two seasons of Family on DVD in Region 1. It is unknown if the remaining three seasons will ever be released. On January, 2016, two box sets containing a total of 28 episodes were released in Germany by ALIVE VERTRIEBS- UND MARKETING. These box sets contain select episodes from seasons 1-3.
International Broadcasts
Argentina: Canal 13
Venezuela: Venezolana de Televisión
Japan: TV Tokyo
United Kingdom: ITV
References
Family (1976 TV series) Wikipedia
(Text) CC BY-SA