Position

Quarterback




Name

Everett Golson




Class

Senior




Height

1.85 m





Major

Business




Nationality

American




High school

Myrtle Beach (SC)




Home town

Myrtle Beach







College

Notre Dame (2011–2012, 2014) Florida State (2015)




Bowl games

2013 BCS National Championship Game 2014 Music City Bowl




Role

American football quarterback




Education

University of Notre Dame (2011–2015), Florida State University




Number

5 (Notre Dame Fighting Irish football / Quarterback), 6 (Florida State Seminoles football / Quarterback)




Similar People

Dalvin Cook, Jimbo Fisher, Brian Kelly, Tommy Rees, Jameis Winston
Fsu qb everett golson looks to gain respect from team acc now
Everett Demone Golson (born January 2, 1993) is a Canadian football quarterback for the Hamilton Tiger-Cats of the Canadian Football League (CFL). He previously played quarterback for Notre Dame from 2011 to the spring of 2015. Upon his May 2015 graduation from Notre Dame, Golson announced he would transfer to Florida State University for his final year of eligibility.
Contents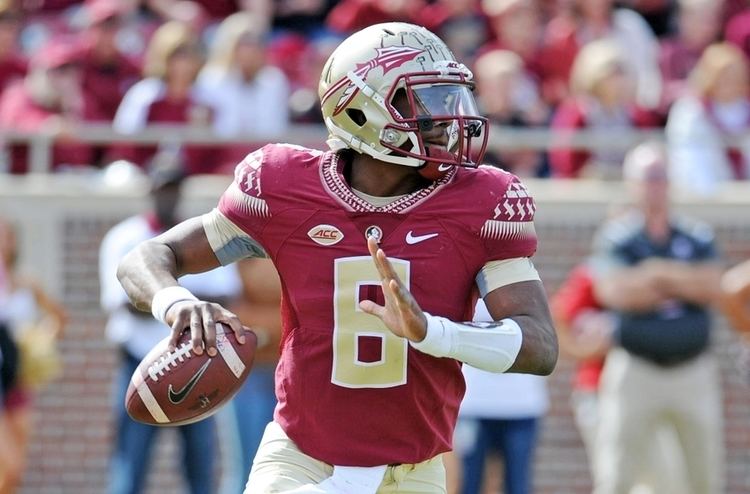 Fsu qb everett golson throws 1st td as a seminole acc must see moment
Early years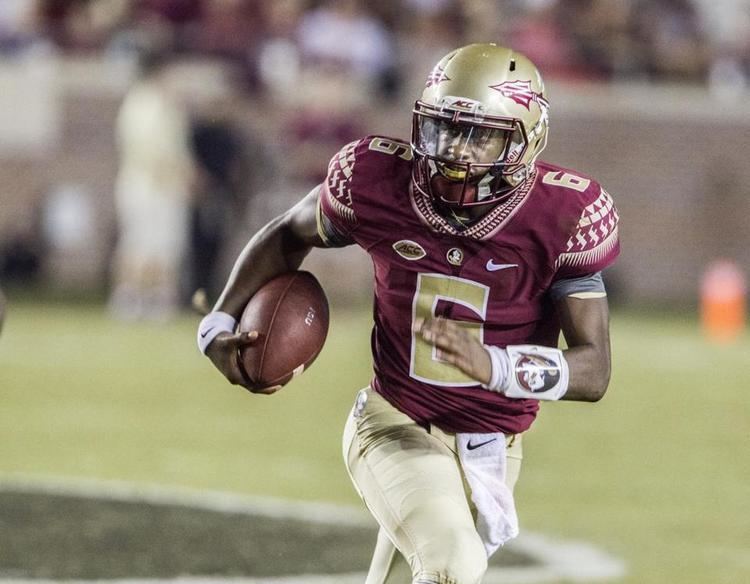 Golson was born to Way and Cynthia Golson and grew up in Myrtle Beach, South Carolina. At Myrtle Beach High School, Golson threw 151 career touchdown passes for the football team, leading them to the AAA state titles in both 2008 and 2010. In addition, he helped lead the basketball team to a state championship in 2008 as a point guard and was named to the all-state team.
Golson originally committed to North Carolina before changing his college choice to Notre Dame.
2011 season
During the 2011 season, Golson was redshirted as sophomore quarterback Tommy Rees led the Notre Dame Fighting Irish to an 8–5 record.
2012 season
Coming into the BCS National Championship Game in Miami, Florida, starting quarterback Golson and #1 ranked Notre Dame were actually a 10-point underdog in the game which was played on January 7, 2013. In his first season playing for the Fighting Irish, Golson, a redshirt freshman, was considered by some to be a weakness coming into the national championship matchup with perennial powerhouse second-ranked Alabama (12–1) as Notre Dame's strength supposedly existed in its front seven on both sides of the ball—most notable among those linemen, junior Louis Nix III – a 6–3, 340-pound nose guard.
Things happened quite the opposite though as the Crimson Tide exploded upon Notre Dame's vaunted defense, winning a game that was never close, 42–14. "Golson did not allow 265 rushing yards; Golson did not give up 264 passing yards on just 28 attempts," explained journalist Shawn Brubaker of BleacherReport.com who defended the native from Myrtle Beach, S.C. following Notre Dame's blowout loss to Alabama. "No, it was the vaunted Irish defense that failed to get a single sack, that gave up over seven yards per play, that failed to force a turnover." Brubaker continued, "Unlike the defense, Golson had a performance he can look back on and be proud of ... Against the nation's best defense, Golson threw for 270 yards [off 21 of 36 passing attempts] and a touchdown (and an interception); the numbers aren't bad, Golson's performance defies numbers and scores."
Apart from the very last game that was played, it was a remarkable year for Golson and the Fighting Irish who finished a perfect 12–0 regular season in 2012. The last time that had happened was also the last time in which Notre Dame and former head coach Lou Holtz had won it all back in 1988—when they were led by an explosive dual threat quarterback who was very similar to Golson. His name was Tony Rice.
The season began with Golson beating out incumbent Tommy Rees for the starting quarterback's job back in late August.
Two weeks into the season, Notre Dame got to 2–0 by taking care of Navy (playing their opener abroad) in Dublin, Ireland, 50–10, and by defeating Purdue 20–17 in the game's closing seconds. Golson played very well by completing 12 of his 18 passes for 144 yards and a TD against the Midshipmen on September 1, 2012. He was superb versus Purdue (21-of-31 for 289 passing yards and 1 TD) a week later, but his costly fumble with 3:44 left in the 4th quarter put the Boilermakers back in the game. Notre Dame's coach Brian Kelly then turned to junior Tommy Rees, a seasoned veteran, who promptly took the Irish deep into Purdue territory (going 3-of-6 passing for 35 yards). Place kicker Kyle Brindza then added the finishing touches by hitting a game winning 27-yard field goal with seven seconds left.
Next, Golson and the Fighting Irish ventured into the state of Michigan—facing two Michigan teams on back-to-back weekends. Notre Dame first played Michigan State in East Lansing, and then faced the 18-ranked Michigan Wolverines (finished 8–5 in 2012) back in South Bend, Ind. on September 22. The Irish defense silenced Michigan State (linebacker Manti Te'o led with 12 tackles and a recovered fumble), limiting the Spartans to a 50-yard field goal in the 2nd quarter as Notre Dame took a 20–3 win on the road. Golson scored the game's first 2 TDs off a 36-yard touchdown pass to wide receiver John Goodman and off a 6-yard keeper to give Notre Dame a 14–3 lead at the half. Golson was safe with the football completing 14-of-32 passes for 178 yards as the Irish had no turnovers for the night.
Against Michigan, the Irish defense (led by Manti Te'o's 8 tackles and 2 interceptions) dominated the Wolverines as their speedy quarterback, Denard Robinson, struggled going 13-of-24 for 138 passing yards and 4 interceptions. The redshirt freshman Golson also struggled going 3 of 8 passing in the contest for just 30 yards. It didn't matter though as the Irish limited Michigan to 299 total yards of offense while forcing 6 turnovers.
Golson and Notre Dame got to 5–0 after defeating a nemesis from their past—the Miami Hurricanes. This would be Golson's last tune-up performance before going into battle with the meat of the schedule as this game was played in Chicago, Ill. (Soldier Field). It would also be a signature win for the 6-foot-1, 185-pound quarterback who was gaining confidence with each performance as the season continued. In the early goings, the 4–1 Miami Hurricanes (finished 2012 at 7–5) cut into Notre Dame's lead at 7–3 after Jake Wieclaw connected on a 28-yard field goal with 5:32 left in the first quarter. Golson and company responded by scoring 34 unanswered points as the dual threat QB went 17 of 22 passing for 186 yards and rushed 6 times for 51 yards during the contest. Notre Dame won the grudge match, 41–3.
Trying times were awaiting Golson and Notre Dame in October and going into the beginning of November as four tough tests would truly challenge this up-an-coming Irish program that was off to its best start in a decade. Bruised and battered, Golson and his teammates performed very well in the clutch. Golson suffered a concussion on October 13 from a helmet-to-helmet collision that knocked him out of the game with 3:27 left in regulation against Stanford in a hotly contested matchup between #7 Notre Dame and the #4 Stanford Cardinal (Pac-12 Champions; finished season at 12–2, ranked No. 7). Stanford had gained control by taking a 10–3 lead going into the locker room. Golson answered with a 24-yard TD pass to his 6-foot-6 tight end, Tyler Eifert, to tie the score at 10–10 with 14:15 left in the 4th quarter. Tommy Rees entered the game with the Irish down 13–10 following Golson's concussion and finished with a game-tying drive in the last minute of regulation—as place kicker Brindza made good on a 22-yard field goal attempt. Next, Rees hit wideout T.J. Jones in overtime for a go-ahead 7-yard touchdown strike as the Irish held on to win 20–13. Golson went 12 of 24 for 141 yards passing and a TD. He also rushed for 41 yards on 15 carries against Stanford that included a 23-yard run.
The concussion caused Golson to miss the entire BYU game on October 20 as running backs Theo Riddick (15 rushes, 143 yards, and a 55-yard run) and Cierre Wood (18 carries, 114 yards) had to pick up the slack in what was a dangerous trap game for Notre Dame. BYU (finished season at 8–5) led 14–7 at the half, but running back George Atkinson III was able to find the end zone from 2 yards out with 12:52 left in the fourth quarter to assist the Irish cause as Notre Dame prevailed at home, 17–14.
Golson and the Fighting Irish next traveled to face No. 8 Oklahoma (finished the season at 10–3, ranked #15) on October 27. The matchup quickly turned into a hard-hitting slugfest as Cierre Wood broke off on a 62-yard TD run to give Notre Dame a 7–3 lead with 6:24 left in the first quarter. The Irish led 10–6 at the half. With the score still 10–6 with a minute left in the third quarter, Notre Dame received a scare when Golson took the snap out of the shotgun and raced with all of his quick, 4.59 (in the 40 yard dash) sprinter's speed up the middle of the field only to be met by Oklahoma's safety Tony Jefferson. Jefferson hit Golson square in the ribs, knocking him to the ground—and scooped up a loose football that was dangling on top of the grass. The Sooners' safety raced downfield with the ball toward the end zone for an apparent touchdown. Fortunately for the Irish, the fumble was ruled as a "dead ball" which preserved Notre Dame's lead and possession of the football. Golson, in the meantime, stayed down on the ground wincing in pain, crumpled, for several minutes as coach Kelly and several trainers came quickly to his rescue at the 40 yard line. Three plays later, he showed resilience—that he was mentally tough—by returning to complete the drive as Kyle Brindza connected on a 44-yard field goal to give Notre Dame a commanding 13–6 lead with 13:57 left in the 4th quarter. In the game's final five minutes of play, Golson scored on a 2-yard run as Notre Dame exploded in the end to defeat Oklahoma, 30–13. Golson finished with 11 rushes for 64 yards while completing 13 of his 25 passes for 177 yards during the contest.
The month of November belonged to Notre Dame, but it didn't start out that way. On November 3, Pittsburgh gave the Fighting Irish all they could stand as the Panthers expanded their 10–6 halftime lead to a 20–6 score going into the 4th quarter. Golson and the Irish had squandered three opportunities inside Pittsburgh's red zone. With Notre Dame fighting to stay alive and with their unbeaten streak on the line, Golson managed to hook up with wide receiver T.J. Jones for an 11-yard TD pass with 13:40 remaining in regulation. Notre Dame, playing at home, trailed Pittsburgh 20–12. With time running out, Golson threw deep to DeVaris Daniels for a 45-yard gain down to the five yard line. Moments later, Golson found Theo Riddick for a 5-yard TD pass with 2:11 remaining as the Irish signal caller converted the 2-point conversion with a keeper following Riddick's score. The game went into overtime as both teams traded field goals in the first of three overtime periods. In the second overtime, the Irish drove down to the 1-yard line only to have Cierre Wood caugh up the football, but Pitt was unable to cash in on Notre Dame's mistake as the Panther's place kicker Kevin Harper went wide right on a 33-yard field goal try a series later. In the third overtime, Harper was able to give Pitt a 26–23 lead by making good on a 44-yard field goal. Finally, Golson was able to put the game away with a QB sneak 6 plays later as the Fighting Irish pulled off a monumental comeback win, 29–26, in three overtimes. Golson had solid numbers going 23-of-42 for 227 passing yards while rushing 15 times for 74 yards. He also had a 27-yard run in the contest.
After the struggles with Stanford, BYU, and Pittsburgh, Notre Dame and Golson could now put their season on cruise control leading up to their matchup with the vaunted No. 2 ranked Alabama. On November 10, the Irish ground out a win on the road over Boston College, 21–6. Notre Dame led 14–3 at the half. Golson scored on a 2-yard run and had touchdown passes of 7 and 18 yards to two different receivers against the Eagles. He was 16 of 24 passing the ball for 200 yards and two TDs while rushing 11 times for 40 yards and another score during this rivalry matchup.
The following week, Notre Dame blasted Wake Forest 38–0. There was breathing room, a chance to relax for coach Kelly's Irish as Cierre Wood got things started with a 68-yard TD run. Golson followed Wood's heroics with some of his own by throwing touchdown passes of 2, 50, and 34 yards to three different receivers. Notre Dame led 31–0 at halftime. Golson was 20 of 30 for 346 yards passing with 3 TDs against the Demon Deacons while Wood finished with 11 rushes for 150 yards.
Notre Dame traveled to face unranked Southern Cal on November 24 as this was the first time ever in history that a preseason ranked #1 team (USC), that was currently unranked, had to face another team that was ranked #1, but was unranked during the preseason. Right away, Notre Dame took advantage of the momentum by going up, 10–0, in the 1st quarter. The Irish led 16–10 at the half. USC, without star QB Matt Barkley due to an injury he suffered against UCLA, struggled with Max Wittek as their starting quarterback. With Golson managing the game, Notre Dame held a 22–13 lead late in the fourth quarter as Southern Cal drove deep into Irish territory thanks to its fleet-footed, sure-handed receiver Marqise Lee. However, an outstanding goal line stand (nine straight plays for the Trojans from inside the Irish five yard line)— performed by Manti Te'o, Louis Nix III, Prince Shembo, and the rest of the Irish defense—kept USC out of the end zone. Finally, Golson and his offense ran a few snaps which salted the game away as the Fighting Irish claimed a perfect 12–0 regular season. The Irish signal caller was 15 of 26 for 217 passing yards versus USC. He also ran 9 times for 47 yards during the contest.
No. 1 ranked Notre Dame (12–0) was promptly invited to play in the 2013 BCS National Championship Game on January 7, 2013 during Golson's redshirt freshman season. They had to face a national power, the Alabama Crimson Tide (13–1), which has now claimed three BCS National Championships in the last four seasons (2009–12). Golson accomplished much as the starting quarterback for coach Kelly's talented unit. Golson was 187-of-318 passing the football for 2,405 yards with 12 touchdowns, 6 interceptions, and a pass efficiency rating 131.8. He rushed for 299 yards and 6 touchdowns on 94 carries. His longest pass play of the season went for 50 yards to wideout John Goodman. Golson's Fighting Irish finished the season ranked No. 3 by the USA Today Poll and No. 4 by the AP Top 25 Poll with a record of 12–1.
Academic suspension from Notre Dame
In May 2013, it was reported that Golson was suspended from Notre Dame because of an academic violation and other reasons. Initially, Notre Dame's assistant vice president for public information and communications said in an email: "Everett is not enrolled at Notre Dame. Federal law and our own policies preclude us from discussing specifics."
After having sat out the entire 2013 season, Golson was readmitted to Notre Dame on December 13, 2013. He was not allowed to practice or travel with the team for the Pinstripe Bowl. In a conversation with Andy Staples of Sports Illustrated, Golson admitted to cheating on a test as the reason for his academic suspension.
2014 season
For Notre Dame and its redshirt junior quarterback Everett Golson, things started off well for the 2014 Fighting Irish as they began the year at 6–0 ranked #5 in the country by October 12. This fast start included a flurry of routs as Notre Dame got past Rice (49–17), Michigan (31–0), Purdue (30–14), and Syracuse (31–15)—all in September.
After the early successes Golson and his teammates had enjoyed, signs began to surface showing that the season would not finish out as well as his excellent 2012 unit had. Notre Dame wound up at 8–5 while not being ranked by the AP Top 25 Poll to finish out the year.
The first of these warning signs came with Notre Dame's October 4 matchup with #14 Stanford when it took a 23-yard touchdown pass by Everett Golson to TE Ben Koyack on 4th down-and-11 with only 1:01 left in the game to lift the Irish past the Cardinal, 17–14. Golson was 20-of-43 for 241 passing yards and a couple of scores that day.
Later, Notre Dame would struggle in the games that followed: a 50–43 shootout win over a struggling North Carolina (October 11) and a heartbreaking and controversial loss to then-#2 ranked Florida State, 31–27, on October 18.
Afterwards, Notre Dame experienced a dreadful November as the Irish went 1–4 that month, culminating in a blowout loss to rival USC in which the struggling Golson was benched early in favor of his backup Malik Zaire. Closing out the season in a bowl game, Golson's teammate Malik Zaire was named the starter in a time-splitting arrangement as the Irish defeated SEC powerhouse LSU (finished 8–5 in 2014) in the Franklin American Mortgage Music City Bowl in a close one, 31–28. Golson was 6 of 11 for 90 yards passing in the bowl game, while Zaire threw for 96 yards and rushed for 96 more in this surprising win over Les Miles's Tigers.
He opened the 2014 season against Rice on August 30 by throwing for 295 yards (14 of 22 passing attempts) and for two touchdowns. The next weekend, he went 23-of-34 for 226 passing yards and 3 touchdowns versus the Michigan Wolverines. On September 13, Golson threw for 259 yards and 2 scores while leading the team in rushing with 56 yards against Purdue on the road.
His early season successes continued as Golson shined against Syracuse on September 27. At the MetLife Stadium, Golson set a Notre Dame school record by completing 25 consecutive passes, one shy of tying the NCAA record. He threw for 362 yards and 4 touchdowns off 32-of-39 passing attempts against the Orangemen.
In Notre Dame's tough loss to Florida State (finished 13–1, ranked #5 in 2014), Golson finished the evening with 313 passing yards (31 of 52 passing attempts) and 3 scores in a game in which he received much praise from his coach, Coach Brian Kelly. "He was terrific," Kelly explained following a road matchup that involved much controversy over the officiating at the game's conclusion.
Other big games for Golson that year included a 315-yard passing effort at Navy as he finished 18 of 25 for 3 touchdowns on November 1 in a 49–39 win over the Midshipmen. He also had a big day on November 15 in a 43–40 overtime loss to Northwestern running with and throwing the football. Golson broke off on a 61-yard touchdown run out of the shotgun on the 4th play of the game. He finished with 10 rushes for 78 yards while going 21 of 40 passing the ball for 287 yards and 3 touchdowns against the Wildcats.
Against #24 Louisville—on November 22—Golson had another fine outing as he threw for 236 yards off 16-of-24 passing attempts that included a 28-yard touchdown pass to Will Fuller in the 4th quarter of yet another tough loss that season, 31–28. He also threw a 7-yard touchdown pass to Corey Robinson in the 3rd quarter.
Golson's turnover problems cost the Irish significantly during the 2014 season; Golson fumbled 8 times and threw 14 interceptions, 4 of which were returned for defensive touchdowns. Not all of the blame was on Golson, however, as the Irish defense suffered multiple injuries at key positions early in the season and never recovered.
Transfer from Notre Dame to Florida State
On May 7, as many expected following his lackluster finish to 2014, Golson announced his intent to transfer from Notre Dame. Golson provided roughly 10 schools to the Notre Dame compliance office as to where he was interested in transferring. Among the schools on Golson's initial wish list were Florida State, Alabama, South Carolina, and UCLA. On May 19, he announced he would transfer to Florida State for his final season of eligibility.
Football season with Florida State
Golson took command as the quarterback of the Florida State Seminoles in his final season collegiately as a graduate student. He guided the Seminoles to a glittering 6–0 start and an AP No. 9 ranking nationally by October 18, 2015. Golson and teammate Sean Maguire—both starters at quarterback—helped FSU to complete a solid 10–3 record and a #14 finish in the AP Poll at the season's end. Golson netted eight starts to a season that was reduced significantly from a concussion—which the Seminole signal caller suffered in the 22–16 loss to Georgia Tech on October 25.
He opened the season with a 59–16 blasting of Texas State on September 5 and was accurate passing the ball (19-of-25 for 302 yards and 4 TDs) in a game where he had no turnovers.
Florida State won in its second game of the season on September 12 convincingly, 34–14, over South Florida to get to 2–0. This game helped cement Golson's role as a game manager as Florida State's explosive running back Dalvin Cook (1,691 rushing yards, 19 touchdowns in 2015) burned South Florida for 266 rushing yards in the victory. Golson's numbers (14-of-26 passing for 163 yards and 1 TD) were modest, but his zero turnovers helped FSU to prevail past the Bulls.
The rest of the first half of the season resumed as Florida State glided past four opponents in five weeks with Golson at the helm. Three close games—wins over Boston College (14–0), Wake Forest (24–16), and Miami-Fla. (29–24)—helped set up Florida State's confrontation with recent-powerhouse Louisville (finished 8–2 in the last 10 games after an 0–3 start in 2015) on October 17.
Golson's stats in the September 18 matchup with Boston College had him completing 15-of-24 passes for 110 yards which included a 9-yard touchdown pass to teammate Travis Rudolph in the first quarter against the Eagles. Golson's numbers at Wake Forest two weeks later were a little better as he finished with 202 passing yards (20 completions out of 31 attempts) and a touchdown—which was a five-yard pass thrown to FSU running back Kermit Whitfield in the 3rd quarter against the Demon Deacons.
Golson's signature win for the 2015 season came a week later against heated rival Miami (8–5 record in 2015) on October 3rd as he threw for a lofty 291 yards off 25 of 33 passing attempts that included a 36-yard touchdown pass to running back Dalvin Cook in the first quarter of this contest. Miami's QB Brad Kaaya had been able to help Miami reclaim its lead at 24–22 late in the game with a TD pass, but it was FSU's Cook that sealed the 29–24 win for Golson's Seminoles in the fourth quarter as he broke loose on a 23-yard touchdown run with 6:44 left to play.
Finally, Golson took his Florida State team to its high-water mark at 6–0 for the year when the Seminoles dismantled Louisville at home, 41–21, on October 10, 2015. Louisville actually led the contest at 14–13 early in the 2nd half when Golson found Kermit Whitfield for a 70-yard touchdown pass with 8:05 left in the third quarter. This was his best game of the season as the graduate student threw for a season-high 372 yards (26-of-38 passing attempts) and for 3 TDs.
With National Championship hopes in the balance, Golson's season turned bitter when Florida State traveled to Atlanta to face the Georgia Tech Yellow Jackets on October 24. In a night game, he played well going 20 of 30 passing the ball for 210 yards but was unable to score any touchdowns. With 0:54 left in the game, Georgia Tech had tied the score at 16–16 after their kicker Harrison Butler made a 35-yard field goal. Afterwards, Golson quickly led Florida State on a drive from its own 25-yard line down to the Georgia Tech 38. Golson had key pass plays of 22- and 9-yards to sustain the drive. The 9-yard pass went to his wide receiver Jesus Wilson as this set up for a long 55-yard field goal try for kicker Robert Aguayo—as the Seminoles had just 0:01 left in the game. Disaster struck however as the Seminoles had their kick blocked. The ball was then scooped up by Georgia Tech's Lance Austin who quickly raced 78 yards for the game-winning score.
Even worse than the Georgia Tech loss (which ended FSU's perfect season), Golson had suffered from a concussion in that hard-hitting slugfest with ACC rival Georgia Tech (3–9 in 2015). Florida State's Coach Jimbo Fisher rested his battle-weary Golson for the next two weeks as the Seminoles had to face Syracuse and powerhouse #2 Clemson (13–1 in 2015).
With Coach Fisher's team looking ahead to the 2016 season following their second loss of the year (a 23–13 road loss to Clemson on November 3), redshirt junior Sean Maguire took over as Florida State's primary quarterback for the remainder of the season.
After nearly three weeks of rest, Golson returned to the lineup healthy on November 14 as Coach Fisher gave him the nod to start in Florida State's home matchup with North Carolina State. Things got off to a rocky start in Golson's final collegiate start as FSU fell behind 17–7 in the first quarter. Golson was only 5 of 9 passing for 52 yards and had two uncharacteristic interceptions in his return. Maguire, who had the hot hand for Florida State (512 yards and 3 TDs passing against Syracuse and Clemson the last two weeks), had to come off the bench and rescue the Seminoles as he did so by throwing for 231 yards and for two TDs in the comeback win. Golson's final start ended in a Florida State win, 34–17.
The remaining games all went as starts for Maguire as the Seminoles finished a 10–3 season. On November 21, Florida State hammered Chattanooga 52–13. Next, they capped off their regular season by handily defeating in-state rival #25 Florida 27–2 on November 28. Florida State was invited to the Chick-fil-A Peach Bowl afterwards where they faced Houston in Atlanta on December 31. The Seminoles fell behind 17–3 at the half and never recovered as Houston's standout QB Greg Ward Jr. proved to be too much to contain. Florida State lost the game, 38–24.
In Golson's remaining games, he only saw action in the lopsided win over the UTC Mocs. The game was played in Tallahassee, Florida where he threw for 67 yards off 3-of-3 passing attempts in mop-up duty. With Florida State's Peach Bowl invitation, Golson was unable to attend this matchup as he was dealing with a death in the family.
In his unique collegiate career that spanned over five years and with two different teams, Golson really got to see a lot of the college football landscape—from two different vantage points, completely different cultures. He had started with the disappointing University of Notre Dame Fighting Irish and had worked his way into the lineup while working with former Notre Dame quarterback Tommy Rees. He finished his career taking over at Florida State, who had lost only one of their past 30 games before he arrived, after sensational quarterback Jameis Winston (2013 Heisman Trophy winner) as the Seminoles' starting quarterback. Golson reached the BCS National Championship Game in January 2013. He threw for 7,628 yards and 52 touchdowns for his career. Golson was on teams that compiled a winning record of 30–9.
Professional career
Golson went undrafted in the 2016 NFL Draft. He attended the Indianapolis Colts' rookie camp on a tryout basis, but was not offered a contract at the conclusion of the camp. The following week, he attended the Philadelphia Eagles' rookie camp as a tryout player. He was signed to the practice roster of the Hamilton Tiger-Cats of the CFL in June 2016. He was later signed to their active roster.
References
Everett Golson Wikipedia
(Text) CC BY-SA