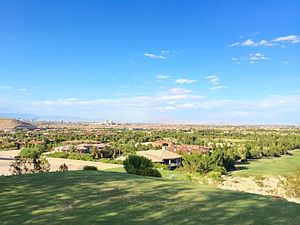 According to the United States Census Bureau, the census-designated place (CDP) of Enterprise (which may not coincide exactly with the town boundaries) has a total area of 46.51 square miles (120.5 km2). Enterprise is the location of the Mountain's Edge planned community.
Federally, all of Enterprise falls within Nevada's 3rd Congressional District, which is represented by Jacky Rosen, a Democrat. Several State Senators represent parts of the area, including Republicans Becky Harris (District 9) and Michael Roberson (District 21), and Democrat Aaron Ford (District 11). Significant portions of Enterprise are represented in the Assembly by Democrats Jason Frierson (District 8), Justin Watkins (District 35) and Sandra Jauregui (District 41).
As of the census of 2010, there were 108,481 people, 39,848 households, and 25,834 families residing in the CDP. The population density was 2,332.3 people per square mile (900.5/km²). There were 49,563 housing units. The racial makeup of the CDP was 56.3% White, 8.1% African American, 0.6% Native American, 21.2% Asian, 0.9% Pacific Islander, 6.8% from other races, and 6.1% from two or more races. Hispanic or Latino of any race were 17.3%. Non-Hispanic Whites were 48.1%.
There were 39,848 households out of which 36.6% had children under the age of 18 living with them, 46.4% were married couples living together, 11.6% had a female householder with no husband present, and 35.2% were non-families. 21.9% of all households were made up of individuals and 13.0% had someone living alone who was 65 years of age or older. The average household size was 2.72 and the average family size was 3.24.
In the CDP, the age distribution was 24.4% under the age of 18 and 6.2% was 65 years of age or older. The median age was 32.5 years.
The median income for a household in the CDP between 2007-2011 was $75,688.
The affluent Southern Highlands area, which borders Enterprise to the south, has an average household income of $100,207 and an average household net worth of $579,866.
Allegiant Air has its corporate headquarters in Enterprise. The Silverton and the South Point Hotel, Casino & Spa are the only casino resorts located in Enterprise. Town Square Las Vegas, previously the location of the Vacation Village hotel and casino, is another major attraction that falls within the boundaries.
The Clark County School District serves Enterprise. There are also several private schools in the area.
Charles and Phyllis Frias Elementary School
Aldeane Comito Ries Elementary School
Evelyn Stuckey Elementary School
Louis Wiener Junior Elementary School
Charlotte Hill Elementary School
Beverly S. Mathis Elementary School
Carolyn S. Reedom Elementary School
William V. Wright Elementary School
Mark L. Fine Elementary School
Tony Alamo Elementary School
Judith D. Steele Elementary School
Wayne Tanaka Elementary School
Lois and Terry Tarkanian Middle School
Lawrence and Heidi Cannarelli Middle School
Wilbur and Theresa Faiss Middle School
Desert Oasis High School
Sierra Vista High School
Southern Highlands Preparatory School
This is an incomplete list of notable residents in the Enterprise area.
Nick Carter, musician
Terry Fator, ventriloquist
Tony Hsieh, businessman
Penn Jillette, magician
Maloof family, entrepreneurs and businessmen
Floyd Mayweather Jr., professional boxer
Sig Rogich, businessman
Elaine Wynn, philanthropist