Emma Peel is a fictional spy played by Diana Rigg in the British 1960s adventure television series The Avengers, by Diane Appleby in the South African radio series of The Avengers (1971–73), and by Uma Thurman in the 1998 film version of the show. She was born Emma Knight, the daughter of an industrialist, Sir John Knight.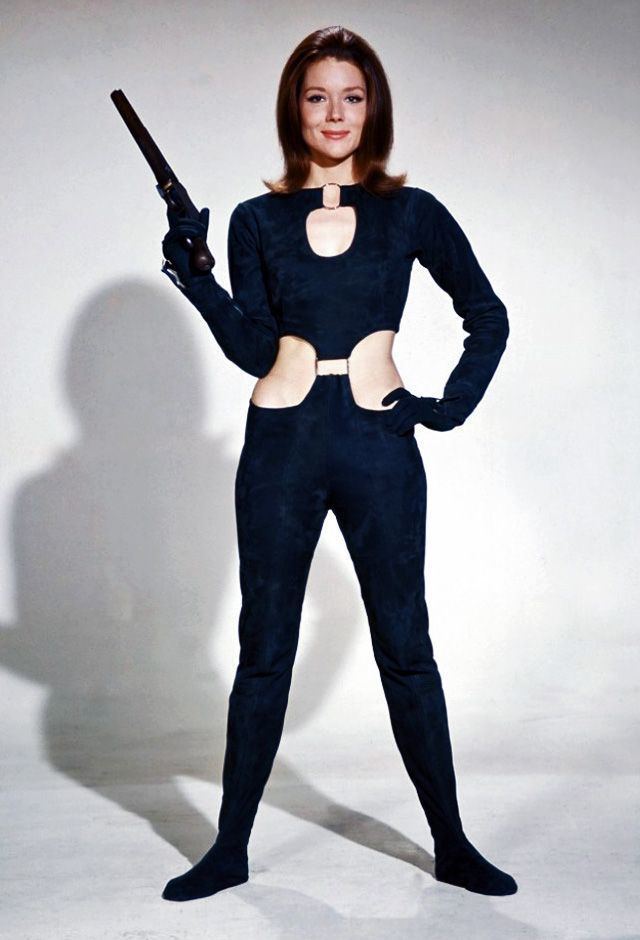 The partner of John Steed, Mrs. Peel was introduced as a replacement for the popular Cathy Gale, played by actress Honor Blackman, who left the programme at the end of the programme's third season to co-star in the James Bond film Goldfinger.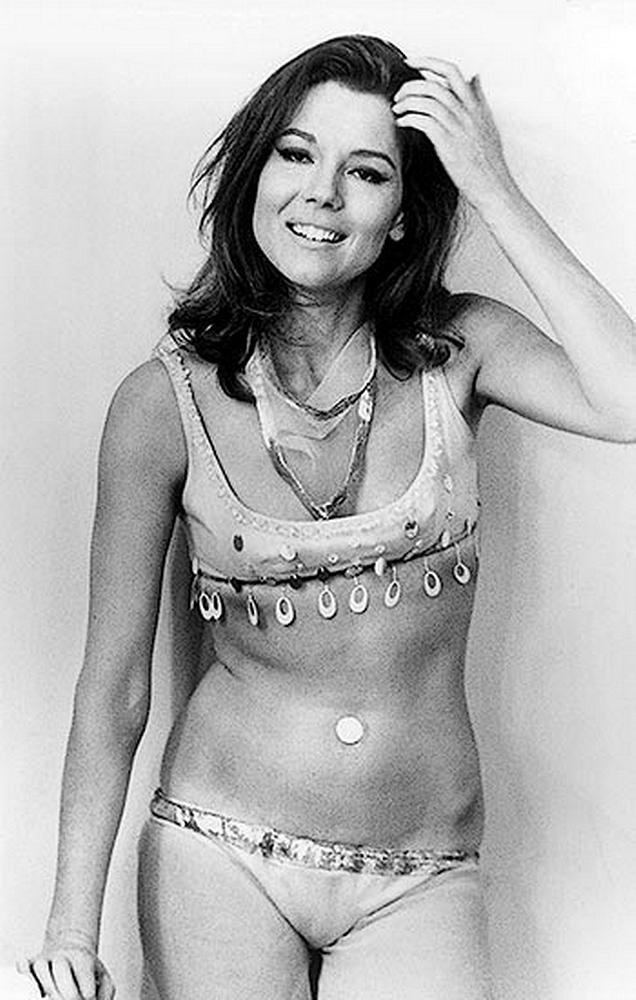 Elizabeth Shepherd was cast as Emma Peel and production on the fourth series began. After filming all of one episode and part of a second, however, the producers decided that Shepherd was not right for the part, and she was dismissed. No footage of Shepherd as Peel is known to have survived.
The producers scrambled to replace her and gave the job to Diana Rigg; the Shepherd episodes were subsequently re-filmed.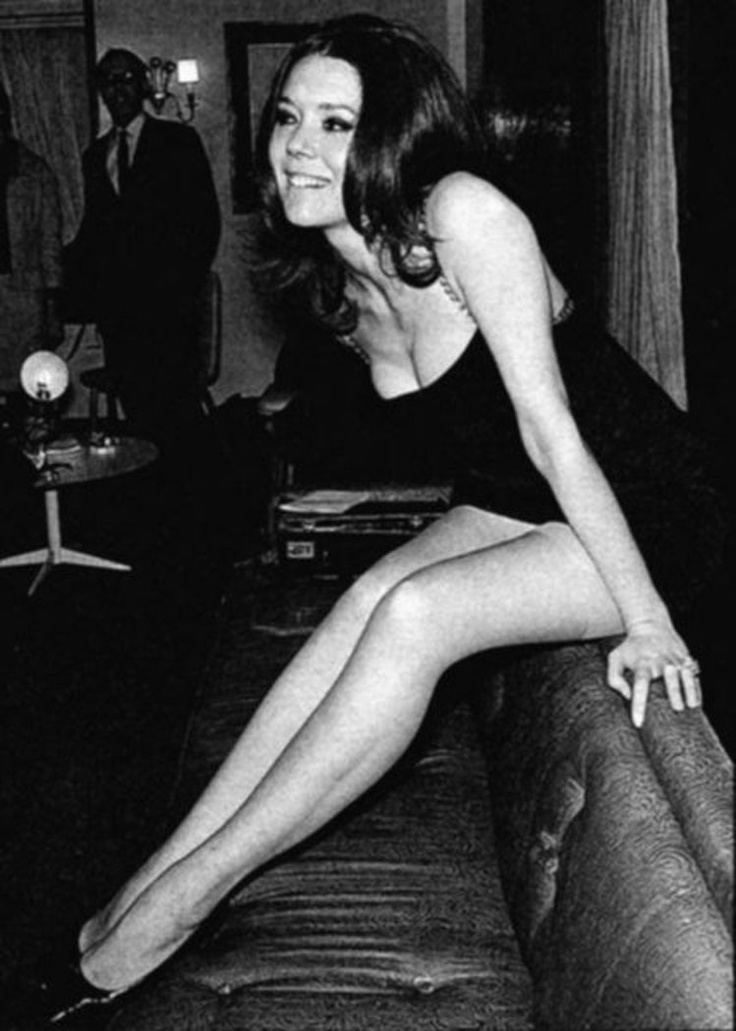 The character was notable for a number of characteristics. She is a heroine; she is rarely defeated in fights and is capable of rescuing Steed if he is in trouble. She is a master of martial arts and a formidable fencer. A certified genius, she specializes in chemistry and other sciences. She is often seen in episodes engaging in artistic hobbies and had success in industry at the helm of the company of her late father, Sir John Knight. Her husband, Peter Peel, was a pilot whose plane disappeared over the Amazonian forest. He was presumed dead for many years, and Peel went on to work with Steed. She drove a convertible Lotus Elan at high speeds, and convincingly portrayed any series of undercover roles, from nurse to nanny. Her favourite guise was that of a women's magazine reporter, trying to interview big business tycoons and rich playboys. The name "Emma Peel" is a play on the phrase "Man Appeal" or "M. Appeal", which the production team stated was one of the required elements of the character.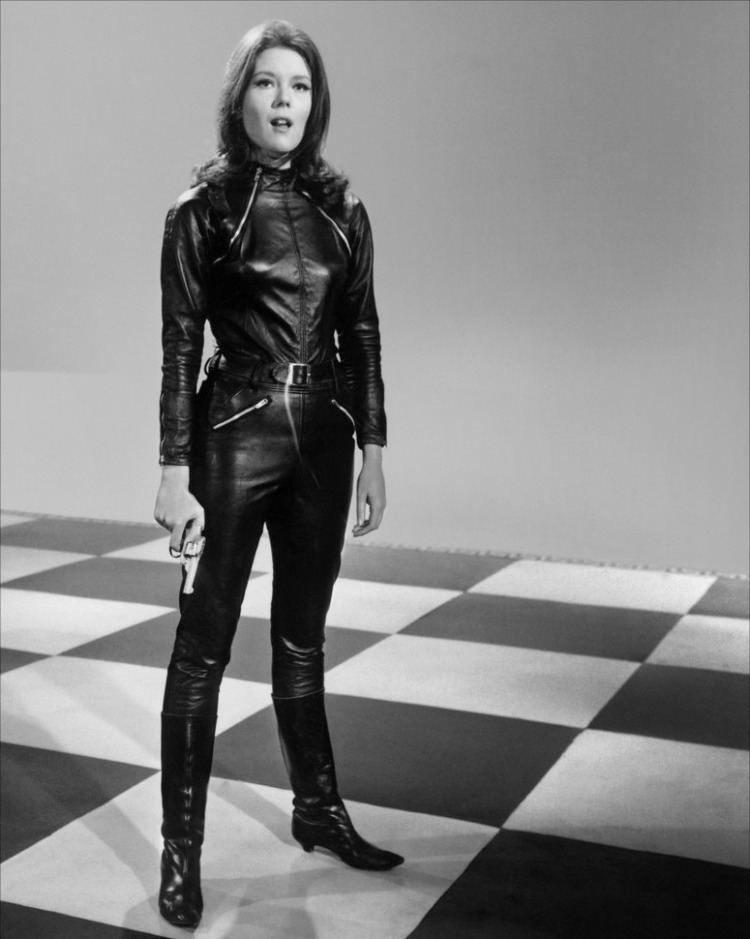 Peel's verbal interactions with Steed range from witty banter to thinly disguised innuendo. Regarding the question of whether they had a sexual relationship at any time, Patrick Macnee thought they went to bed on a very regular basis (just not in view of the camera), Rigg thought they were engaged in a very enjoyable extended flirtation that ultimately went nowhere, and Brian Clemens said he wrote them with the idea they had an affair before Emma's first appearance in the series.
Her style of dress typified the period, and the character is still a fashion icon. John Bates was brought in as the costume designer for Emma Peel in the second half of the fourth series. He created a wardrobe of black and white op-art mod clothing and mini skirts. Before this, people had believed that lines, circles and other bold patterns would not work on the television cameras of the day. It was also filmed before the mini skirt had become mainstream. Bates even had to stop leaving hems on the mini skirts because the production team kept lowering them again. He also licensed his designs to several manufacturers under the Avengerswear label and these pieces were sold in various shops throughout the country. Diana Rigg is often remembered for the leather catsuit she wore early on in her first season. She in fact disliked wearing leather, so Bates designed softer stretch jersey and PVC catsuits for her instead.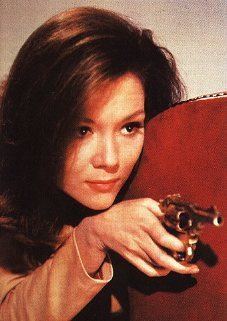 For the colour season, the designer was Alun Hughes, who used bold colours and lurid, psychedelic patterns. Hughes also created the Emmapeeler catsuit, which was made of stretch jersey in bright block colours. The Emmapeelers and several other pieces from this season's wardrobe were also licensed and sold in the shops.
When Peter Peel surprisingly reappears, at the end of "The Forget-Me-Knot", Emma leaves Steed and her spy career behind. In the distant shot in which he appears, Peter Peel looks suspiciously like Steed (and was played by Patrick Macnee's stunt double, Peter Weston), and like him drives a two-door convertible Bentley, albeit a contemporary model. Emma meets her replacement, Tara King, who enters the building as she herself is leaving, and tells her that Steed likes his tea stirred "anti-clockwise".
In real life, Diana Rigg had chosen to leave the series for a number of reasons, one of which was to accept a role in the James Bond film On Her Majesty's Secret Service. (Her predecessor on the series Honor Blackman (Cathy Gale) had also left The Avengers to be in a Bond movie Goldfinger). During her first series, as she eventually learned, she was making less than the cameraman: afterwards her salary was tripled, and that, combined with her loyalty to Macnee persuaded her to come back for 25 additional episodes (including her farewell episode, which was actually shot well into the Tara King season). Eventually the arduous shooting schedules, conflicts with the producers, the lure of film and stage roles, and a desire to challenge herself as an actress all combined in her decision to leave the show for good.
She was the last in a string of "talented amateurs" with whom John Steed was teamed: her successor was a neophyte professional agent named Tara King, played by actress Linda Thorson.
After leaving the series, Rigg played Emma Peel in two unofficial German short films produced for the 8mm market: The Diadem and The Mini-Killers. Little information has survived regarding these films, though the films themselves survive.
In the South African radio series adaptation of The Avengers (1971–73), Emma Peel was played by Diane Appleby.
Although Emma Peel appeared on-screen only in The New Avengers in flashback clips from the original series, she features in the episode entitled "K is for Kill". She speaks briefly with Steed over the phone and mentions in passing that her last name isn't Peel anymore; Steed replies, "You'll always be Mrs. Peel to me." For this scene, Sue Lloyd provided her voice.
The character was revived and reworked for The Avengers, 1998 movie version of the TV show, with Uma Thurman playing Peel and Ralph Fiennes playing Steed. In the movie, Mrs. Peel is a scientist working as part of the Prospero Project - an attempt to influence the weather. When the project is sabotaged by someone who appears to be Mrs. Peel, she is investigated by Ministry agent John Steed. They work together to investigate the sabotage, first questioning Sir August De Wynter (played by Sean Connery), and then Wonderland Weather - a business that artificially creates weather. At Wonderland Weather Emma is attacked by an evil duplicate of herself, which is witnessed by Steed, verifying her innocence. Further investigation leads to Sir August who is now trying to blackmail the world's leaders with his control of the weather, but Steed and Mrs. Peel defeat him on his secret island.
In 2003, Total Film magazine voted Ralph Fiennes (Steed) and Uma Thurman (Mrs. Peel) as "The Worst Movie Double Act Of All Time" for their performances in The Avengers movie.