Years active

1959-present




Full Name

Enid Diana Elizabeth Rigg

Parents

Beryl Helliwell, Louis Rigg

Movies and TV shows




Similar People

Died

10 September 2020 (aged 82)

London

, England
are you there with another girl tribute to english actress diana rigg
Dame Enid Diana Elizabeth Rigg, DBE (born 20 July 1938) was an English actress. She was known for playing Emma Peel in the 1960s TV series The Avengers (1965–68), and Olenna Tyrell in Game of Thrones (2013–17). She also had an extensive career in theatre, including playing the title role in Medea, both in London and New York, for which she won the 1994 Tony Award for Best Actress in a Play. She was made a CBE in 1988 and a Dame in 1994.
Contents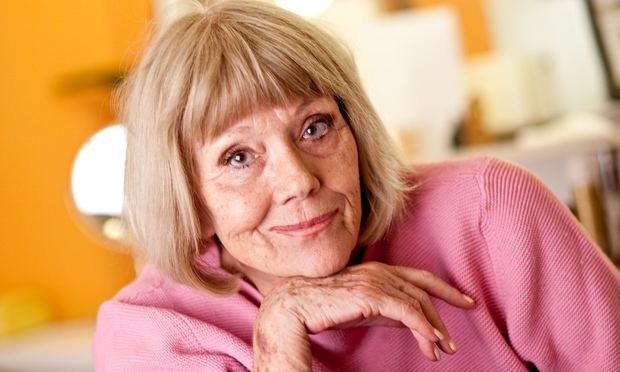 Rigg made her professional stage debut in 1957 in The Caucasian Chalk Circle, and joined the Royal Shakespeare Company in 1959. She made her Broadway debut in the 1971 production of Abelard & Heloise. Her film roles include Helena in A Midsummer Night's Dream (1968); Countess Teresa di Vicenzo, wife of James Bond, in On Her Majesty's Secret Service (1969); Lady Holiday in The Great Muppet Caper (1981); and Arlena Marshall in Evil Under the Sun (1982). She won the BAFTA TV Award for Best Actress for the 1989 BBC miniseries Mother Love, and an Emmy Award for her role as Mrs. Danvers in the 1997 adaptation of Rebecca. Her other television credits include You, Me and the Apocalypse (2015), Detectorists (2015), and the Doctor Who episode "The Crimson Horror" (2013) opposite her daughter, Rachael Stirling.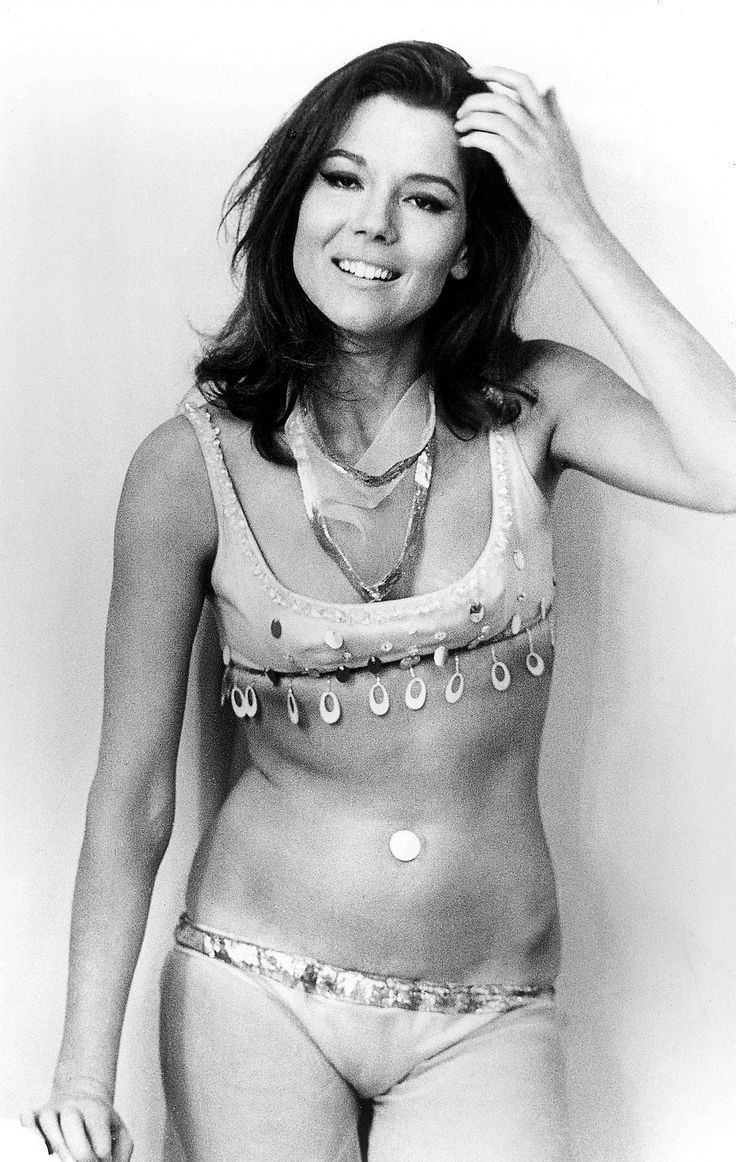 Early life and education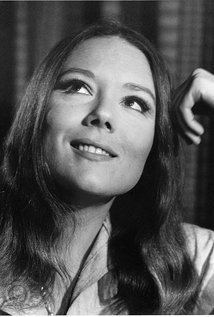 Rigg was born in Doncaster, which was then in the West Riding of Yorkshire, now in South Yorkshire to Louis Rigg (1903–1968) and Beryl Hilda (née Helliwell; 1908–1981); her father was a railway engineer who had been born in Yorkshire. Between the ages of two months and eight years Rigg lived in Bikaner, India, where her father was employed as a railway executive.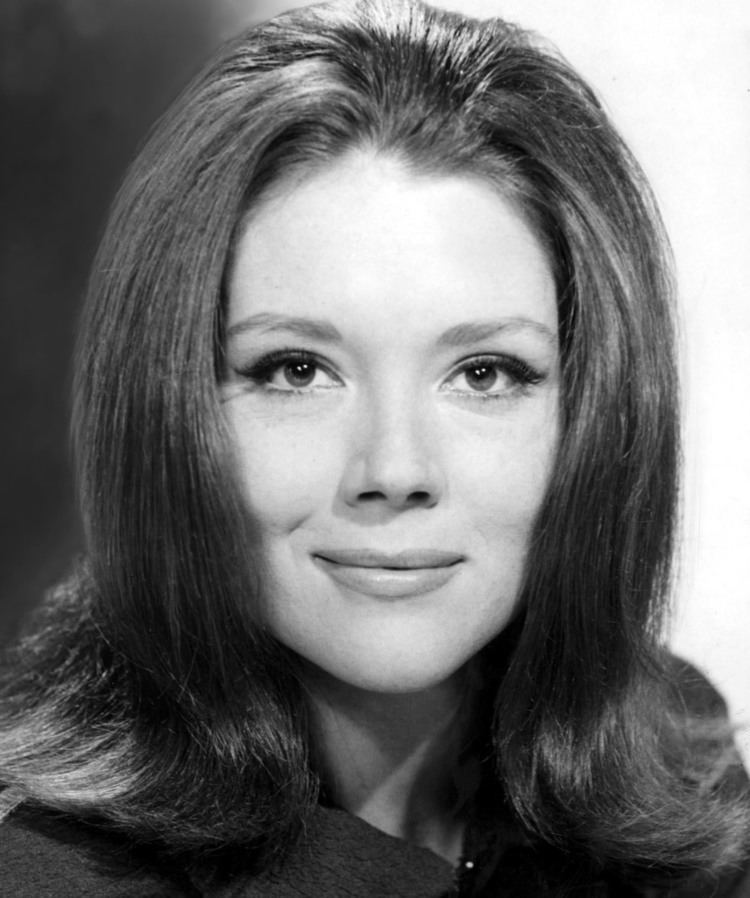 Hindi was her second language in those young years (and she used to enjoy using a smattering of words and phrases when ordering Indian food). She was then sent to a boarding school, the Moravian School in Fulneck, near Pudsey. She disliked her boarding school, where she felt like a fish out of water, but she believed that Yorkshire played a greater part in shaping her character than India did. She trained as an actress at the Royal Academy of Dramatic Art from 1955–57, where her classmates included Glenda Jackson and Siân Phillips.
Theatre career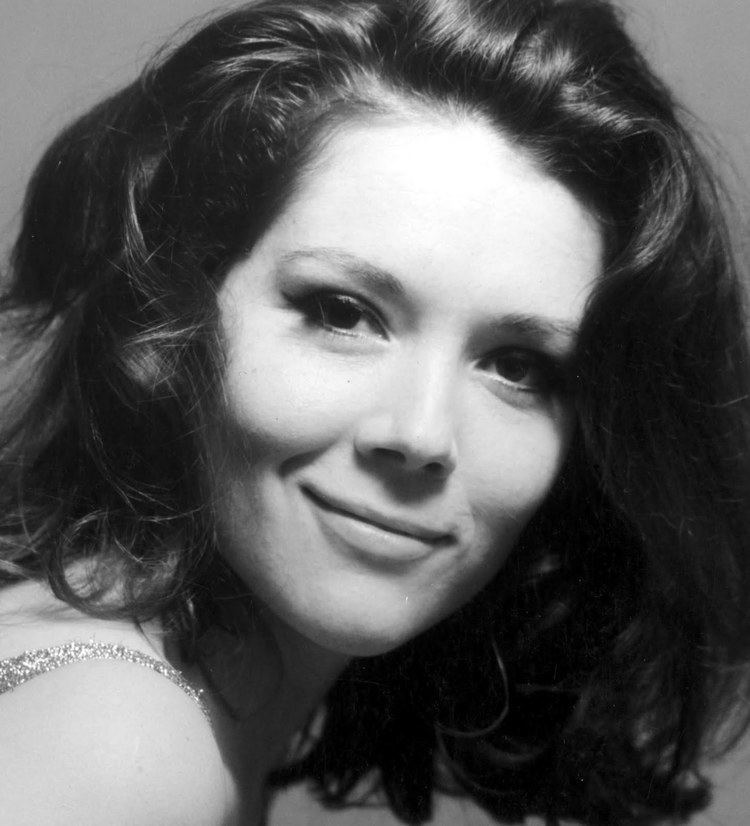 Rigg's career in film, television and the theatre has been wide-ranging, including roles in the Royal Shakespeare Company between 1959 and 1964. Her professional debut was in the RADA production of The Caucasian Chalk Circle at the York Festival in 1957. Her role was Natasha Abashwilli.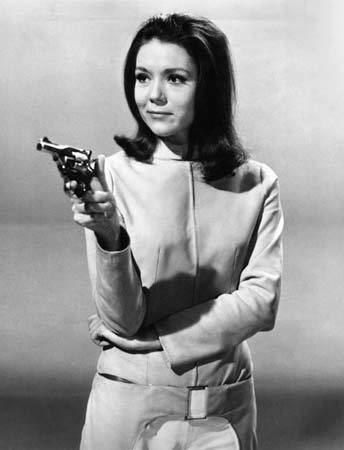 She returned to the stage in the Ronald Millar play Abelard and Heloïse in London in 1970, and made her Broadway debut with the play in 1971, earning the first of three Tony Award nominations for Best Actress in a Play. She received her second nomination in 1975, for The Misanthrope. A member of the National Theatre Company at the Old Vic from 1972 to 1975, Rigg took leading roles in premiere productions of two Tom Stoppard plays, Dorothy Moore in Jumpers (National Theatre, 1972) and Ruth Carson in Night and Day (Phoenix Theatre, 1978).
In 1982, she appeared in a musical called Colette, based on the life of the French writer and created by Tom Jones and Harvey Schmidt, but it closed during an American tour en route to Broadway. In 1987 she took a leading role in the West End production of Stephen Sondheim's musical Follies. In the 1990s, she had triumphs with roles at the Almeida Theatre in Islington, including Medea in 1992 (which transferred to the Wyndham's Theatre in 1993 and then Broadway in 1994, for which she received the Tony Award for Best Actress), Mother Courage at the National Theatre in 1995 and Who's Afraid of Virginia Woolf? at the Almeida Theatre in 1996 (which transferred to the Aldwych Theatre in 1997).
In 2004, she appeared as Violet Venable in Sheffield Theatres' production of Tennessee Williams's play Suddenly Last Summer, which transferred to the Albery Theatre. In 2006, she appeared at the Wyndham's Theatre in London's West End in a drama entitled Honour which had a limited but successful run. In 2007, she appeared as Huma Rojo in the Old Vic's production of All About My Mother, adapted by Samuel Adamson and based on the film of the same title directed by Pedro Almodóvar.
She appeared in 2008 in The Cherry Orchard at the Chichester Festival Theatre, returning there in 2009 to star in Noël Coward's Hay Fever. In 2011 she played Mrs Higgins in Pygmalion at the Garrick Theatre, opposite Rupert Everett and Kara Tointon, having played Eliza Doolittle 37 years earlier at the Albery Theatre.
Film and television career
Rigg appeared in the British 1960s television series The Avengers (1965–68) playing the secret agent Mrs Emma Peel in 51 episodes, replacing Elizabeth Shepherd at very short notice when Shepherd was dropped from the role after filming two episodes. Rigg auditioned for the role of Emma Peel on a whim, without ever having seen the programme. Although she was hugely successful in the series, she disliked the lack of privacy that it brought. She also did not like the way that she was treated by the Associated British Corporation (ABC). After a dozen episodes she discovered that she was being paid less than a cameraman. For her second season she held out for a pay rise from £150 a week to £450, but there was still no question of her staying for a third year. Patrick Macnee, her co-star in the series, noted that Rigg had later told him that she considered Macnee and her driver to be her only friends on the set.
On the big screen she became a Bond girl in On Her Majesty's Secret Service (1969), playing Tracy Bond, James Bond's only wife, opposite George Lazenby. She said she took the role with the hope that she would become better known in the United States.
Her other films from this period include The Assassination Bureau (1969), Julius Caesar (1970), The Hospital (1971), Theatre of Blood (1973), In This House of Brede (1975), based on the book by Rumer Godden, and A Little Night Music (1977). She appeared as the title character in The Marquise (1980), a television adaptation of play by Noël Coward. She appeared in the Yorkshire Television production of Ibsen's Hedda Gabler (1981) in the title role, and as Lady Holiday in the film The Great Muppet Caper (also 1981). The following year she received acclaim for her performance as Arlena Marshall in the film adaptation of Agatha Christie's Evil Under the Sun, sharing barbs with her character's old rival, played by Maggie Smith.
She appeared as Regan, the king's treacherous second daughter, in a Granada Television production of King Lear (1983), which stars Laurence Olivier in the title role. As Lady Dedlock she costarred with Denholm Elliot in a television version of Dickens' Bleak House (BBC, 1985), and played the Evil Queen, Snow White's evil stepmother, in the Cannon Movie Tales's film adaptation of Snow White (1987). In 1989 she played Helena Vesey in Mother Love for the BBC; her portrayal of an obsessive mother who was prepared to do anything, even murder, to keep control of her son won Rigg the 1989 BAFTA for Best Television Actress.
In the 1990s, she appeared on television as Mrs. Danvers in Rebecca (1997), winning an Emmy, as well as the PBS production Moll Flanders, and as the amateur detective Mrs. Bradley in The Mrs Bradley Mysteries. In this BBC series, first aired in 2000, she played Gladys Mitchell's detective, Dame Beatrice Adela Le Strange Bradley, an eccentric old woman who worked for Scotland Yard as a pathologist. The series was not a critical success and did not return for a second season.
From 1989 until 2003, she hosted the PBS television series Mystery!, shown in the United States by PBS broadcaster WGBH, taking over from Vincent Price, her co-star in Theatre of Blood. Her TV career in America has been varied. She starred in her own sitcom Diana (1973), but it was not successful.
She also appeared in the second series of Ricky Gervais's comedy Extras, alongside Harry Potter star Daniel Radcliffe, and in the 2006 film The Painted Veil.
In 2013 she appeared in an episode of Doctor Who in a Victorian-era based story called "The Crimson Horror" alongside her daughter Rachael Stirling, Matt Smith and Jenna-Louise Coleman. The episode had been specially written for her and her daughter by Mark Gatiss and aired as part of series 7. It was not the first time mother and daughter had appeared in the same production – that was in the 2000 NBC film In the Beginning – but the first time she had worked with her daughter and also the first time in her career her roots were accessed to find a Doncaster, Yorkshire, accent.
The same year, Rigg secured a recurring role in the third season of the HBO series Game of Thrones, portraying Lady Olenna Tyrell, a witty and sarcastic political mastermind popularly known as the Queen of Thorns, the grandmother of regular character Margaery Tyrell.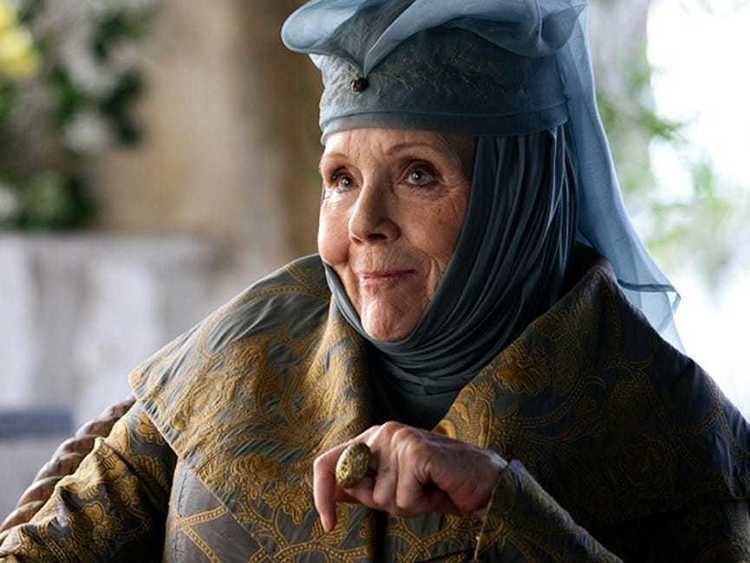 Her performance was well received by critics and audiences alike, and earned her an Emmy nomination for Outstanding Guest Actress in a Drama Series for the 65th Primetime Emmy Awards in 2013.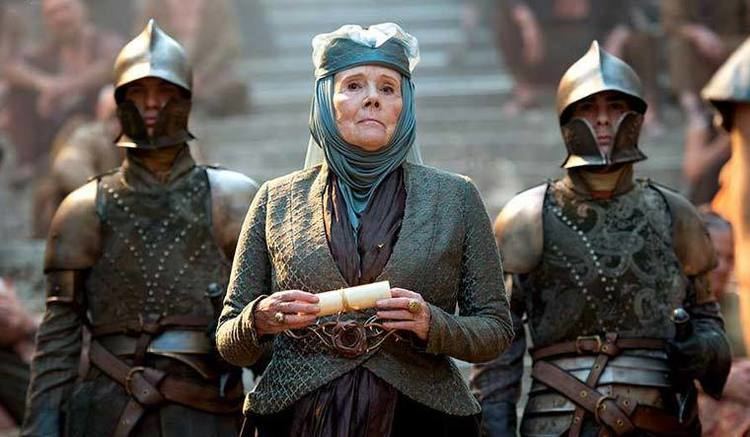 She reprised her role in season four of Game of Thrones, and in July 2014 received another Guest Actress Emmy nomination. In 2015 and 2016, she again reprised the role in seasons five and six in an expanded role from the books. The character was finally killed off in the seventh season, with Rigg's final performance receiving critical acclaim.
Personal life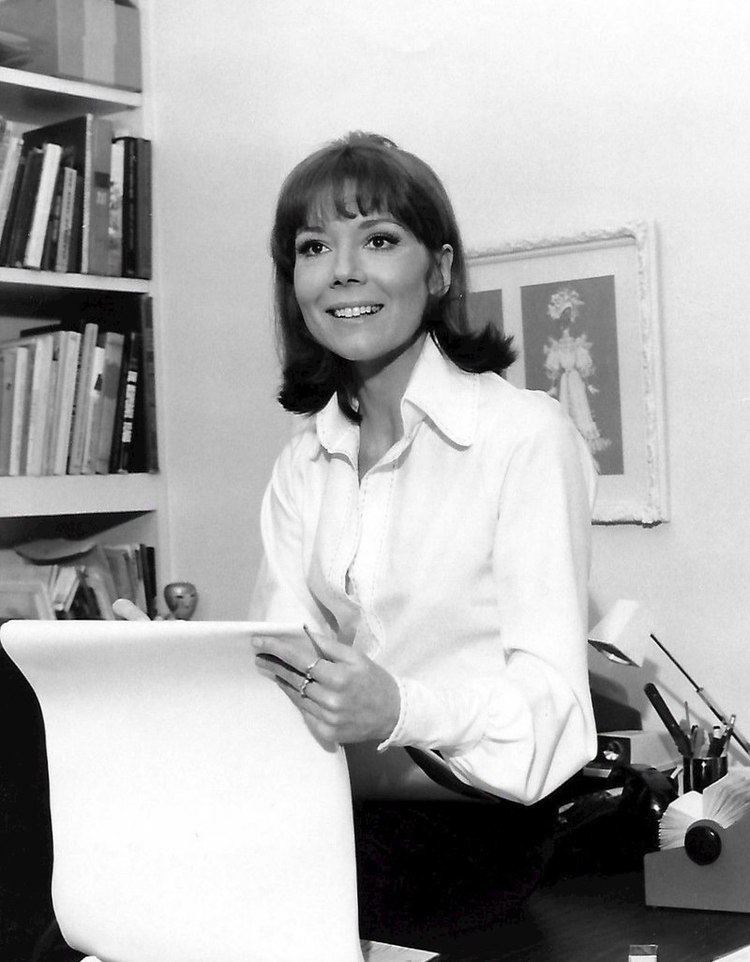 In the 1960s, Rigg lived for eight years with director Philip Saville, gaining attention in the tabloids when she disclaimed interest in marrying the older, already-married Saville, saying she had no desire "to be respectable". She was married to Menachem Gueffen, an Israeli painter, from 1973 until their divorce in 1976, and to Archibald Stirling, a theatrical producer and former officer in the Scots Guards, from 25 March 1982, until their divorce in 1990. With Stirling, Rigg has a daughter, actress Rachael Stirling, who was born in 1977.
Rigg has long been an outspoken critic of feminism, saying in 1969, "Women are in a much stronger position than men."
Rigg is a Patron of International Care & Relief and was for many years the public face of the charity's child sponsorship scheme. She was also chancellor of the University of Stirling, being succeeded by James Naughtie when her ten-year term of office ended on 31 July 2008.
Michael Parkinson, who first interviewed Rigg in 1972, described her as the most desirable woman he ever met, who "radiated a lustrous beauty". A smoker from the age of 18, Rigg was still smoking 20 cigarettes a day in 2009. In 2011, she said she had given up smoking because she "had to".
Honours
Rigg received honorary degrees from the University of Stirling in 1988 and the University of Leeds in 1992.
Rigg was made a Commander of the Order of the British Empire (CBE) in the 1988 New Year Honours and a Dame Commander of the Order of the British Empire (DBE) in the 1994 Birthday Honours.
In 2014, Rigg received the Will Award, presented by the Shakespeare Theatre Company, along with Stacey Keach and John Hurt.
On 25 October 2015, to mark 50 years of Emma Peel, the BFI (British Film Institute) screened an episode of The Avengers followed by an onstage interview with Rigg about her time in the television series.
Death
Diana Rigg was sufferring from Cancer since march 2020 as per her daughter Rachael Stirling. She died at her home in London on 10 September 2020, at the age of 82.
Filmography
Actress
2021
Last Night in Soho
as
Ms. Collins
2020
Black Narcissus (TV Mini Series)
as
Mother Dorothea
- Episode #1.1 (2020) - Mother Dorothea
- Episode #1.2 (2020) - Mother Dorothea
2020
All Creatures Great and Small (TV Series)
as
Mrs Pumphrey
- A Tricki Case (2020) - Mrs Pumphrey
- Another Farnon? (2020) - Mrs Pumphrey
2019
The Snail and the Whale (TV Movie)
as
Narrator (voice)
2017
A Christmas Carol Goes Wrong (TV Movie)
as
Aunt Diana / Narrator
2017
Victoria (TV Series)
as
Duchess of Buccleuch
- Comfort and Joy (2017) - Duchess of Buccleuch
- The Luxury of Conscience (2017) - Duchess of Buccleuch
- The King Over the Water (2017) - Duchess of Buccleuch
- Faith, Hope & Charity (2017) - Duchess of Buccleuch
- Entente Cordiale (2017) - Duchess of Buccleuch
- The Sins of the Father (2017) - Duchess of Buccleuch
- Warp and Weft (2017) - Duchess of Buccleuch
- The Green-Eyed Monster (2017) - Duchess of Buccleuch
- A Soldier's Daughter (2017) - Duchess of Buccleuch
2015
Detectorists (TV Series)
as
Veronica
- Episode #3.6 (2017) - Veronica
- Episode #3.5 (2017) - Veronica
- Episode #3.4 (2017) - Veronica
- Episode #3.1 (2017) - Veronica
- Episode #2.6 (2015) - Veronica
- Episode #2.1 (2015) - Veronica
2013
Game of Thrones (TV Series)
as
Olenna Tyrell
- The Queen's Justice (2017) - Olenna Tyrell
- Stormborn (2017) - Olenna Tyrell
- The Winds of Winter (2016) - Olenna Tyrell
- The Broken Man (2016) - Olenna Tyrell
- Blood of My Blood (2016) - Olenna Tyrell
- Book of the Stranger (2016) - Olenna Tyrell
- Oathbreaker (2016) - Olenna Tyrell
- The Gift (2015) - Olenna Tyrell
- Unbowed, Unbent, Unbroken (2015) - Olenna Tyrell
- Oathkeeper (2014) - Olenna Tyrell
- Breaker of Chains (2014) - Olenna Tyrell
- The Lion and the Rose (2014) - Olenna Tyrell
- Two Swords (2014) - Olenna Tyrell
- Second Sons (2013) - Olenna Tyrell
- The Climb (2013) - Olenna Tyrell
- Kissed by Fire (2013) - Olenna Tyrell
- And Now His Watch Is Ended (2013) - Olenna Tyrell
- Dark Wings, Dark Words (2013) - Olenna Tyrell
2015
Penn Zero: Part-Time Hero (TV Series)
as
Mayor Pink Panda
- At the End of the Worlds (2017) - Mayor Pink Panda (voice)
- Be My Ghost/The Chinchilla (2017) - Mayor Pink Panda (voice)
- Babypocalypse (2015) - Mayor Pink Panda (voice)
2015
Professor Branestawm Returns (TV Movie)
as
Lady Pagwell
2015
The Honourable Rebel
as
Narrator (voice)
2015
You, Me and the Apocalypse (TV Mini Series)
as
Sutton
- The End of the World (2015) - Sutton
- 24 Hours to Go (2015) - Sutton
- T Minus- (2015) - Sutton (voice)
- Home Sweet Home (2015) - Sutton
- Still Stuff Worth Fighting For (2015) - Sutton
2013
Doctor Who (TV Series)
as
Mrs. Gillyflower
- The Crimson Horror (2013) - Mrs. Gillyflower (as Dame Diana Rigg)
2006
The Painted Veil
as
Mother Superior
2006
Extras (TV Series)
as
Diana Rigg
- Daniel Radcliffe (2006) - Diana Rigg
2003
The Last King (TV Mini Series)
as
Queen Henrietta Maria
- Episode #1.3 (2003) - Queen Henrietta Maria
- Episode #1.1 (2003) - Queen Henrietta Maria
2003
Murder in Mind (TV Series)
as
Jill Craig
- Suicide (2003) - Jill Craig
2001
Victoria & Albert (TV Mini Series)
as
Baroness Lehzen
2000
In the Beginning (TV Mini Series)
as
Mature Rebeccah
- Part II (2000) - Mature Rebeccah
- Part I (2000) - Mature Rebeccah
1998
The Mrs Bradley Mysteries (TV Series)
as
Adela Bradley
- The Worsted Viper (2000) - Adela Bradley
- Laurels Are Poison (2000) - Adela Bradley
- The Rising of the Moon (2000) - Adela Bradley
- Death at the Opera (2000) - Adela Bradley
- Speedy Death (1998) - Adela Bradley
1998
The American (TV Movie)
as
Madame de Bellegarde
1997
Rebecca (TV Mini Series)
as
Mrs. Danvers
- Episode #1.2 (1997) - Mrs. Danvers
- Episode #1.1 (1997) - Mrs. Danvers
1996
Samson and Delilah (TV Mini Series)
as
Mara
1996
The Fortunes and Misfortunes of Moll Flanders (TV Mini Series)
as
Mrs. Golightly
- Episode 2 (1996) - Mrs. Golightly
1995
The Haunting of Helen Walker (TV Movie)
as
Mrs. Grose
1995
Zoya (TV Movie)
as
Evgenia
1995
Oliver 2: Let's Twist Again (TV Movie)
as
Mrs. Childkiller
1994
A Good Man in Africa
as
Chloe
1993
Genghis Cohn
as
Frieda von Stangel
1993
Running Delilah (TV Movie)
as
Judith
1993
Avonlea (TV Series)
as
Lady Blackwell
- The Disappearance (1993) - Lady Blackwell
1992
Mrs. 'Arris Goes to Paris (TV Movie)
as
Mme. Colbert
1990
Masterpiece Mystery (TV Series)
as
Helena Vesey / Self - Host
- Mother Love - Part 1 (1990) - Helena Vesey / Self - Host
1989
Mother Love (TV Mini Series)
as
Helena Vesey
- Episode #1.4 (1989) - Helena Vesey
- Episode #1.3 (1989) - Helena Vesey
- Episode #1.2 (1989) - Helena Vesey
- Episode #1.1 (1989) - Helena Vesey
1989
The Play on One (TV Series)
as
Lydia
- Unexplained Laughter (1989) - Lydia
1987
A Hazard of Hearts (TV Movie)
as
Lady Harriet Vulcan
1986
The Worst Witch (TV Movie)
as
Miss Hardbroom
1985
Masterpiece Theatre: Bleak House (TV Mini Series)
as
Lady Honoria Dedlock
- Episode #1.7 (1985) - Lady Honoria Dedlock
- Episode #1.6 (1985) - Lady Honoria Dedlock
- Episode #1.5 (1985) - Lady Honoria Dedlock
- Episode #1.4 (1985) - Lady Honoria Dedlock
- Episode #1.3 (1985) - Lady Honoria Dedlock
- Episode #1.2 (1985) - Lady Honoria Dedlock
- Episode #1.1 (1985) - Lady Honoria Dedlock
1983
King Lear (TV Movie)
as
Regan
1982
Witness for the Prosecution (TV Movie)
as
Christine Vole
1982
BBC Play of the Month (TV Series)
as
Rita Allmers
- Little Eyolf (1982) - Rita Allmers
1982
Evil Under the Sun
as
Arlena Stuart Marshall
1981
The Great Muppet Caper
as
Lady Holiday
1981
Hedda Gabler (TV Movie)
as
Hedda Gabler
1980
The Marquise (TV Movie)
as
Eloise (The Marquise)
1979
Oresteia (TV Mini Series)
as
Clytemnestra
- Furies (1979) - Clytemnestra
- Grave Gifts (1979) - Clytemnestra
- Agamemnon (1979) - Clytemnestra
1977
A Little Night Music
as
Charlotte Mittelheim
1977
Three Piece Suite (TV Series)
as
Various
- Little Things- That Go Bump in the Night/Every Day in Every Way/Walking the Dog (1977) - Various
- Come in, No.1/This Situation/All in the Mind (1977) - Various
- Miss/Celluloid Dreams/Mea Culpa (1977) - Various
- Bitter Suite/Entrance Fee/Public Lives (1977) - Various
- After You've Gone/Little Things- Parking/Wonderful Woman (1977) - Various
- Hearts and Flowers/Screen Night/Briefer Encounter (1977) - Various
1975
In This House of Brede (TV Movie)
as
Philippa
1974
Affairs of the Heart (TV Series)
as
Grace Gracedew
- Grace (1974) - Grace Gracedew
1973
Diana (TV Series)
as
Diana Smythe
- Kung Who? (1974) - Diana Smythe
- New Marshall in Town (1973) - Diana Smythe
- Who's Minding the Cat? (1973) - Diana Smythe
- Never, Never, Ever Again- Maybe (1973) - Diana Smythe
- Long Shots and Fat Chances. (1973) - Diana Smythe
- Pest in the House (1973) - Diana Smythe
- You Can't Go Back (1973) - Diana Smythe
- Take My Father, Please (1973) - Diana Smythe
- Queen for a Night (1973) - Diana Smythe
- Fire One (1973) - Diana Smythe
- Hanrahan's Rainbow (1973) - Diana Smythe
- If No One Answers, That's Me (1973) - Diana Smythe
- Shuffle Off to Buffalo (1973) - Diana Smythe
- The Gilt Complex (1973) - Diana Smythe
- The Lady Comes Across (1973) - Diana Smythe
1973
Theater of Blood
as
Edwina Lionheart
1971
The Hospital
as
Barbara Drummond
1970
ITV Saturday Night Theatre (TV Series)
as
Liz Jardine
- Married Alive (1970) - Liz Jardine
1969
The Diadem (Short)
as
Secret agent
1969
On Her Majesty's Secret Service
as
Tracy
1969
Minikillers (Short)
as
Karate Journalist
1969
The Assassination Bureau
as
Sonya Winter
1968
A Midsummer Night's Dream
as
Helena
1968
Emma Peel: Meine tollsten Abenteuer mit John Steed
as
Emma Peel
1965
The Avengers (TV Series)
as
Emma Peel / Lola
- The Forget-Me-Knot (1968) - Emma Peel
- Mission- Highly Improbable (1967) - Emma Peel
- Murdersville (1967) - Emma Peel
- The Positive Negative Man (1967) - Emma Peel
- You Have Just Been Murdered (1967) - Emma Peel
- Dead Man's Treasure (1967) - Emma Peel
- The £50,000 Breakfast (1967) - Emma Peel
- Death's Door (1967) - Emma Peel
- Return of the Cybernauts (1967) - Emma Peel
- Who's Who??? (1967) - Emma Peel / Lola
- The Joker (1967) - Emma Peel
- Something Nasty in the Nursery (1967) - Emma Peel
- A Funny Thing Happened on the Way to the Station (1967) - Emma Peel
- The Superlative Seven (1967) - Emma Peel
- Epic (1967) - Emma Peel
- Never, Never Say Die (1967) - Emma Peel
- The Correct Way to Kill (1967) - Emma Peel
- The Hidden Tiger (1967) - Emma Peel
- The Living Dead (1967) - Emma Peel
- The Winged Avenger (1967) - Emma Peel
- The Bird Who Knew Too Much (1967) - Emma Peel
- The See-Through Man (1967) - Emma Peel
- Escape in Time (1967) - Emma Peel
- The Fear Merchants (1967) - Emma Peel
- From Venus with Love (1967) - Emma Peel
- Honey for the Prince (1966) - Emma Peel
- How to Succeed -. At Murder (1966) - Emma Peel
- A Sense of History (1966) - Emma Peel
- The House That Jack Built (1966) - Emma Peel
- What the Butler Saw (1966) - Emma Peel
- A Touch of Brimstone (1966) - Emma Peel
- The Danger Makers (1966) - Emma Peel
- Quick-Quick Slow Death (1966) - Emma Peel
- The Thirteenth Hole (1966) - Emma Peel
- The Girl from Auntie (1966) - Emma Peel
- Small Game for Big Hunters (1966) - Emma Peel
- Room Without a View (1966) - Emma Peel
- Silent Dust (1965) - Emma Peel
- Too Many Christmas Trees (1965) - Emma Peel
- Two's a Crowd (1965) - Emma Peel
- Man-Eater of Surrey Green (1965) - Emma Peel
- Dial a Deadly Number (1965) - Emma Peel
- The Hour That Never Was (1965) - Emma Peel
- A Surfeit of H2O (1965) - Emma Peel
- The Murder Market (1965) - Emma Peel
- The Master Minds (1965) - Emma Peel
- Castle De'ath (1965) - Emma Peel
- Death at Bargain Prices (1965) - Emma Peel
- The Cybernauts (1965) - Emma Peel
- The Gravediggers (1965) - Emma Peel
- The Town of No Return (1965) - Emma Peel
1965
ITV Play of the Week (TV Series)
as
Bianca
- Women Beware Women (1965) - Bianca
1964
Armchair Theatre (TV Series)
as
Anita Fender
- The Hothouse (1964) - Anita Fender
1964
Festival (TV Series)
as
Adriana, Wife to Antipholus of Ephesus
- The Comedy of Errors (1964) - Adriana, Wife to Antipholus of Ephesus
1963
The Sentimental Agent (TV Series)
as
Francy Wilde
- A Very Desirable Plot (1963) - Francy Wilde
1961
Theatre Night (TV Series)
as
The King
- Ondine (1961) - The King
1959
A Midsummer Night's Dream (TV Movie)
as
Bit part
Costume Department
1966
The Avengers (TV Series) (costumes - 1 episode)
- A Touch of Brimstone (1966) - (costumes: "Queen of Sin" - uncredited)
Costume Designer
1968
Emma Diana (TV Movie documentary)
Soundtrack
1987
Snow White (performer: "More Beautiful Than Me", "Lovely Hair")
1982
Evil Under the Sun (performer: "You're the Top")
1977
A Little Night Music (performer: "Every Day A Little Death", "A Weekend in the Country")
1975
The Morecambe & Wise Show (TV Series) (performer - 1 episode)
- 1975 Christmas Show (1975) - (performer: "How Could You Believe Me When I Said I Loved You When You Know I've Been A Liar All My Life?")
1965
The Avengers (TV Series) (performer - 1 episode)
- Too Many Christmas Trees (1965) - (performer: "Green Grow the Rushes, O" - uncredited)
Thanks
2021
The Oscars (TV Special) (in memoriam)
2021
27th Annual Screen Actors Guild Awards (TV Special) (in memory of)
2020
Black Narcissus (TV Mini Series) (in memory of - 1 episode)
- Episode #1.3 (2020) - (in memory of)
2020
All Creatures Great and Small (TV Series) (in memory of - 2 episodes)
- A Tricki Case (2020) - (in memory of - as Dame Diana Rigg)
- Andante (2020) - (in memory of - as Dame Diana Rigg)
Self
2021
Broadway: Beyond the Golden Age (Documentary)
as
Self
2019
Fall of the Shah (Podcast Series)
as
Self - Host
2018
Morecambe & Wise in America (TV Mini Series)
as
Self
- Episode #1.1 (2018) - Self
2018
The 72nd Annual Tony Awards (TV Special)
as
Self - Nominee
2018
CBS News Sunday Morning (TV Series)
as
Self
- Episode #40.35 (2018) - Self
2018
Elstree Studios: A Celebration of 60s and 70s TV (Documentary)
as
Self
2016
Richard E. Grant on Ealing Comedies (TV Mini Series documentary)
as
Self
- Killer Jokes (2016) - Self (as Dame Diana Rigg)
- Kind Hearts and Accolades (2016) - Self (as Dame Diana Rigg)
2016
HARDtalk (TV Series)
as
Self
- Episode dated 17 August 2016 (2016) - Self
2015
2015 Primetime Creative Arts Emmy Awards (TV Special)
as
Self - Nominee (credit only)
2015
Red Nose Day (TV Special)
as
Self
2015
The Jonathan Ross Show (TV Series)
as
Self - Guest
- Diana Rigg, Mel Giedroyc, Sue Perkins, Danny Dyer and Johnny Vegas (2015) - Self - Guest
2014
Celebrity Antiques Road Trip (TV Series)
as
Self
- Episode #4.2 (2014) - Self
2014
Edinburgh Nights (TV Series)
as
Self
- Episode #14.2 (2014) - Self
2008
The Paul O'Grady Show (TV Series)
as
Self - Guest
- Episode dated 29 April 2014 (2014) - Self - Guest
- Episode #8.35 (2008) - Self - Guest (as Dame Diana Rigg)
2014
The Kumars (TV Series)
as
Self
- Episode #1.2 (2014) - Self (as Dame Diana Rigg)
2013
2013 Primetime Creative Arts Emmy Awards (TV Special)
as
Self - Nominee (credit only)
2013
Sunday AM (TV Series)
as
Self - Guest
- Episode dated 28 April 2013 (2013) - Self - Guest
2012
British Legends of Stage and Screen (TV Series documentary)
as
Self
- Diana Rigg (2012) - Self
2012
Game of Thrones: Season 2 - Invitation to the Set (Video documentary short)
as
Olenna Tyrell / Self
2012
The Lark Ascending (TV Movie documentary)
as
Self - Presenter (as Dame Diana Rigg)
2011
Mark Lawson Talks to... (TV Series)
as
Self
- Diana Rigg (2011) - Self
2010
Daily Politics (TV Series)
as
Self
- Episode dated 27 January 2010 (2010) - Self
2009
Loose Women (TV Series)
as
Self
- Episode #13.138 (2009) - Self (as Dame Diana Rigg)
1972
Parkinson (TV Series)
as
Self - Guest
- Episode dated 15 September 2007 (2007) - Self - Guest (as Dame Diana Rigg)
- Episode dated 26 February 1999 (1999) - Self - Guest (as Dame Diana Rigg)
- Episode #9.50 (1980) - Self - Guest
- Episode #9.29 (1979) - Self - Guest
- Episode #5.23 (1976) - Self - Guest
- Episode #2.19 (1972) - Self - Guest
2007
Newsnight (TV Series)
as
Self
- Episode dated 3 September 2007 (2007) - Self
2007
Empire's Children (TV Series documentary)
as
Self
- Diana Rigg (2007) - Self
2007
The Best of Masterpiece Theatre (TV Special documentary)
as
Self
2006
Casting on 'Her Majesty's Secret Service' (Video documentary short)
as
Self
2006
Press Day in Portugal (Video documentary short)
as
Self
2006
Frost Tonight (TV Series)
as
Self
- Episode dated 2 March 2006 (2006) - Self
2006
London Tonight (TV Series)
as
Self
- Episode dated 13 February 2006 (2006) - Self
2004
The Evening Standard Theatre Awards 2004 (TV Special)
as
Self
2003
Broadway: The Golden Age, by the Legends Who Were There (Documentary)
as
Self
1978
The South Bank Show (TV Series documentary)
as
Self
- The South Bank Show Awards 2003 (2003) - Self
- The South Bank Show Awards (1997) - Self
- Tom Stoppard (1978) - Self
2002
The Laurence Olivier Awards 2002 (TV Special)
as
Self - Interview
2002
A Centennial Toast to Symphony Hall (TV Special)
as
Self - Hostess
1987
Calendar (TV Series)
as
Self
- Episode dated 7 December 2001 (2001) - Self
- Episode dated 22 July 1992 (1992) - Self
- Episode dated 31 December 1987 (1987) - Self
2001
The Brian Conley Show (TV Series)
as
Self - Guest
- Episode #2.3 (2001) - Self - Guest
1998
Wish You Were Here...? (TV Series documentary)
as
Self - Presenter / Self
- Episode dated 8 January 2001 (2001) - Self - Presenter
- Episode dated 23 March 1998 (1998) - Self
2000
The BAFTA TV Awards 2000 (TV Special)
as
Self
1998
Close Up (TV Series documentary)
as
Self
- Ted Hughes: Force of Nature (1998) - Self
1998
Dear John: A Tribute to John Wells (TV Movie documentary)
as
Self
1998
Des O'Connor Tonight (TV Series)
as
Self
- Episode #22.6 (1998) - Self
1998
Undressed: Fashion in the Twentieth Century (TV Series documentary)
as
Narrator (UK version)
- Sex (1998) - Narrator (UK version)
- Power (1998) - Narrator (UK version)
- Fantasy (1998) - Narrator (UK version)
- Rebellion (1998) - Narrator (UK version)
1998
Heat of the Sun (TV Mini Series)
as
Self - Mystery Presenter
- The Sport of Kings (1998) - Self - Mystery Presenter
- Hide in Plain Sight (1998) - Self - Mystery Presenter
- Private Lives (1998) - Self - Mystery Presenter
1997
The 49th Annual Primetime Emmy Awards (TV Special)
as
Self
1997
The Laurence Olivier Awards 1997 (TV Special)
as
Self
1997
Joy to the World (TV Movie documentary)
as
Self
1996
Theatreland (TV Series)
as
Self
- Episode dated 23 November 1997 (1997) - Self
- Episode dated 1 December 1996 (1996) - Self
1997
Richard and Judy Exclusive (TV Series)
as
Self
- Episode #1.13 (1997) - Self
1997
Face to Face (TV Series)
as
Self
- Diana Rigg (1997) - Self
1996
The Making of Moll Flanders (TV Movie documentary)
as
Self
1996
The Evening Standard Drama Awards (TV Special)
as
Self
1996
Happy Birthday Ma'am (TV Movie documentary)
as
Self
1995
Northern Eye (TV Series documentary)
as
Self
- The Man Behind the Dresser (1995) - Self
1994
GMTV (TV Series)
as
Self
- Episode dated 13 December 1994 (1994) - Self
1994
Panorama (TV Series documentary)
as
Self
- Long to Reign Over Us? (1994) - Self
1993
This Morning (TV Series)
as
Self - Guest
- Episode dated 16 September 1994 (1994) - Self - Guest
- Episode dated 8 September 1993 (1993) - Self - Guest
1994
Cleveland Plays the Proms (TV Movie documentary)
as
Presenter
1994
The Business (TV Series documentary)
as
Self
- Episode dated 7 July 1994 (1994) - Self
1994
The 48th Annual Tony Awards (TV Special)
as
Self - Winner
1994
Masterchef (TV Series)
as
Self
- Episode #5.1 (1994) - Self
1994
Joy to the World (TV Movie)
as
Self
1993
Entertainment UK (TV Series)
as
Self
- Episode dated 4 November 1993 (1993) - Self
1993
Biography (TV Series documentary)
as
Self
- Vincent Price (1993) - Self
1993
Big City (TV Series documentary)
as
Self
- Episode #1.25 (1993) - Self
1992
Alistair Cooke Salute (TV Special)
as
Self
1992
A Birthday Party for Julia Child: Compliments to the Chef (TV Movie documentary)
1992
The Laurence Olivier Awards 1992 (TV Special)
as
Self - Presenter
1992
Without Walls (TV Series documentary)
as
Self
- The Avengers (1992) - Self
1991
Continentales (TV Series)
as
Self
- Episode dated 21 October 1991 (1991) - Self
1991
Backstage at Masterpiece Theatre (TV Special)
as
Self
1991
The 8th Annual American Cinema Awards (TV Special)
as
Self
1990
6 O'Clock Live (TV Series)
as
Self
- Episode dated 14 December 1990 (1990) - Self
1990
The Evening Standard Drama Awards (TV Special)
as
Self
1989
Masterpiece Mystery (TV Series)
as
Self - Host
- Mother Love - Part 3 (1990) - Self - Host
- Mother Love - Part 2 (1990) - Self - Host
- Campion I: Look to the Lady 2 (1989) - Self - Host
- Campion I: Look to the Lady 1 (1989) - Self - Host
- Campion I: Death of a Ghost 2 (1989) - Self - Host
- Campion I: Death of a Ghost (1989) - Self - Host
- Campion I: Police at the Funeral 2 (1989) - Self - Host
- Campion I: Police at the Funeral 1 (1989) - Self - Host
- Campion I: The Case of the Late Pig 2 (1989) - Self - Host
- Campion I: The Case of the Late Pig (1989) - Self - Host
1990
Forty Minutes (TV Series documentary)
as
Self - Narrator
- Thawing of a Cold War Warrior (1990) - Self - Narrator
1990
Survival (TV Series documentary)
as
Self - Narrator
- The Secret Owl (1990) - Self - Narrator
1990
The Incredible Edible Dormouse (TV Movie documentary)
as
Self - Narrator
1990
Public Eye (TV Series documentary)
as
Self
- Funding the Arts - Is More subsidy in the National Interest? (1990) - Self
1983
Wogan (TV Series)
as
Self / Self - Guest
- Episode #9.142 (1989) - Self
- Episode #7.93 (1987) - Self
- Episode #6.133 (1986) - Self
- Episode #2.1 (1983) - Self - Guest
1989
The Royal Variety Performance 1989 (TV Special)
as
Self
1988
The Evening Standard Drama Awards (TV Special)
as
Self
1986
Channel 4 News (TV Series)
as
Self
- Episode dated 24 September 1986 (1986) - Self
1986
The Late Clive James (TV Series)
as
Self - Guest
- Episode dated 3 May 1986 (1986) - Self - Guest
1981
This Is Your Life (TV Series documentary)
as
Self
- Denis Quilley (1986) - Self
- Patrick Macnee (1984) - Self
- John Thaw (1981) - Self
1986
Held in Trust (TV Mini Series documentary)
as
Self - Presenter
1986
Masterpiece Theatre: Fifteen Years (TV Special)
as
Self
1986
Good Morning America (TV Series)
as
Self - Guest
- Episode dated 21 January 1986 (1986) - Self - Guest
1985
Good Morning Britain (TV Series)
as
Self - Guest
- Episode dated 30 April 1985 (1985) - Self - Guest
1984
Sunday, Sunday (TV Series)
as
Self - Guest
- Episode #2.18 (1984) - Self - Guest
1983
The Variety Club Awards for 1982 (TV Special)
as
Self
1982
The Making of Agatha Christie's 'Evil Under the Sun' (TV Short documentary)
as
Self / Arlena Stuart Marshall
1977
Nationwide (TV Series documentary)
as
Self
- Episode dated 13 September 1982 (1982) - Self
- Episode dated 12 December 1977 (1977) - Self
1980
The Dick Cavett Show (TV Series)
as
Self - Guest
- Episode dated 22 May 1980 (1980) - Self - Guest
1980
The Evening Standard Drama Awards (TV Special)
as
Self - Presenter
1966
Call My Bluff (TV Series)
as
Self
- Episode #12.18 (1978) - Self
- Episode #12.17 (1978) - Self
- Episode #1.21 (1966) - Self
1976
Anno Domini (TV Series)
as
Self
- Episode #4.11 (1976) - Self
1976
The 30th Annual Tony Awards (TV Special)
as
Self - Co-Host & Presenter
1976
The British Academy Awards (TV Special)
as
Self - Host
1976
The British Screen Awards (TV Special)
as
Self - Host
1976
Under Bow Bells (TV Series)
as
Self
- Episode #1.1 (1976) - Self
1975
The Morecambe & Wise Show (TV Series)
as
Self - Guest
- 1975 Christmas Show (1975) - Self - Guest
1975
The Mike Douglas Show (TV Series)
as
Self - Guest
- Episode #14.161 (1975) - Self - Guest
1975
The 29th Annual Tony Awards (TV Special)
as
Self - Nominee
1974
The Russell Harty Show (TV Series)
as
Self - Guest
- Episode dated 11 October 1974 (1974) - Self - Guest
1974
Good Afternoon! (TV Series)
as
Self - Guest
- Episode dated 2 September 1974 (1974) - Self - Guest
1974
The Book Programme (TV Series documentary)
as
Self
- Episode #1.13 (1974) - Self
1974
Russell Harty Plus (TV Series)
as
Self
- Episode dated 2 February 1974 (1974) - Self
1973
Dinah's Place (TV Series)
as
Self
- Episode dated 28 September 1973 (1973) - Self
1971
The Tonight Show Starring Johnny Carson (TV Series)
as
Self - Guest
- Episode dated 25 September 1973 (1973) - Self - Guest
- Episode dated 7 August 1973 (1973) - Self - Guest
- Episode dated 1 April 1971 (1971) - Self - Guest
1972
Aquarius (TV Series documentary)
as
Self
- "Rallying? Eeeee-..it's like goin' on 'oliday."/"Why Shun a Nude Tag" (1972) - Self
1972
Queen of Hearts (TV Movie documentary)
as
Narrator
1972
V.I.P.-Schaukel (TV Series documentary)
as
Self
- Episode #2.2 (1972) - Self
1971
Presenting Keith Michell (TV Movie)
as
Self
1971
The 25th Annual Tony Awards (TV Special)
as
Self - Nominee
1971
The Dick Cavett Show (TV Series)
as
Self - Guest
- Episode #5.129 (1971) - Self - Guest
- Episode #5.123 (1971) - Self - Guest
1969
The David Frost Show (TV Series)
as
Self - Guest
- Episode #3.122 (1971) - Self - Guest
- Episode #2.70 (1969) - Self - Guest
1971
The British Screen Awards (TV Special)
as
Self - Presenter
1971
The Merv Griffin Show (TV Series)
as
Self - Guest
- Salute to the Theater (1971) - Self - Guest
1970
Stars on Sunday (TV Series)
as
Self
- Episode dated 24 May 1970 (1970) - Self
1970
NBC Experiment in Television (TV Series)
as
Self
- A Bad Case of Shakespeare (1970) - Self
1970
Omnibus (TV Series documentary)
as
Self
- Ian Fleming Creator of the James Bond Myth (1970) - Self
1969
Above It All (Documentary short)
as
Self (uncredited)
1969
On Her Majesty's Secret Service: Shot on Ice (Documentary short)
as
Self
1969
On Her Majesty's Secret Service: Swiss Movement (Documentary short)
as
Self
1969
On Her Majesty's Secret Service: Royal Send-off for New James Bond Film (Documentary short)
as
Self / Teresa di Vicenzo
1969
The Joey Bishop Show (TV Series)
as
Self - Guest
- Episode #4.61 (1969) - Self - Guest
1969
Dee Time (TV Series)
as
Self
- Episode #4.47 (1969) - Self
1969
On Her Majesty's Secret Service: James Bond's Wedding in Portugal (Documentary short)
as
Self
1968
On Her Majesty's Secret Service: Filming of James Bond Epic in Progress in the Swiss Alps (Documentary short)
as
Self
1968
On Her Majesty's Secret Service: Diana Rigg Named for Leading James Bond Film Role (Documentary short)
as
Self
1968
Mit Schirm, Charme und Melone - Einleitung (TV Short)
as
Self
1968
Emma Diana (TV Movie documentary)
as
Self
1967
Good Evening! (TV Series)
as
Self - Guest
- Marriage (1967) - Self - Guest
1967
J. Walter Thompson Demonstration Reel 1967a (Short)
as
Self
1967
The Hollywood Squares (Daytime) (TV Series)
as
Self - Panelist
- Episode #2.55 (1967) - Self - Panelist (as Patrick & Diana)
- Episode #2.54 (1967) - Self - Panelist (as Patrick & Diana)
- Episode #2.53 (1967) - Self - Panelist (as Patrick & Diana)
- Episode #2.52 (1967) - Self - Panelist (as Patrick & Diana)
- Episode #2.51 (1967) - Self - Panelist (as Patrick & Diana)
1967
Vergißmeinnicht (TV Series documentary)
as
Self
- Westfalenhalle in Dortmund (1967) - Self
1966
Midlands News (TV Series)
as
Self
- Episode dated 22 June 1966 (1966) - Self
1966
ATV Today (TV Series)
as
Self
- Episode dated 3 May 1966 (1966) - Self
- Episode dated 17 February 1966 (1966) - Self
1965
The Eamonn Andrews Show (TV Series)
as
Self - Guest
- Episode #2.10 (1965) - Self - Guest
1962
Look Around (TV Series)
as
Self
- Nightlife in the Midlands (1962) - Self
Archive Footage
2022
The Sound of 007: Live from the Royal Albert Hall (Video documentary)
as
Self
2021
Die Unbeugsamen (Documentary)
as
Emma Peel (uncredited)
2020
NOS Uit het Leven (TV Series documentary)
as
Actrice
- Episode #7.1 (2020) - Actrice
2020
CBS News Sunday Morning (TV Series)
as
Self
- 12-27-2020 (2020) - Self
2020
TCM Remembers 2020 (TV Special)
as
Self
2020
7 News: Morning News (TV Series)
as
Self
- Episode dated 11 September 2020 (2020) - Self (uncredited)
2020
Sky Midnight News (TV Series)
as
Self - Actress
- Episode dated 11 September 2020 (2020) - Self - Actress (as Dame Diana Rigg)
2020
Sky World News (TV Series)
as
Self - Actress
- Episode dated 11 September 2020 (2020) - Self - Actress (as Dame Diana Rigg)
2020
The Early Rundown (TV Series)
as
Self - Actress
- Episode dated 11 September 2020 (2020) - Self - Actress (as Dame Diana Rigg)
2020
Sky News at 10 (TV Series)
as
Self - Actress
- Episode dated 10 September 2020 (2020) - Self - Actress (as Dame Diana Rigg)
2020
Sky News at 9 (TV Series)
as
Self - Actress
- Episode dated 10 September 2020 (2020) - Self - Actress (as Dame Diana Rigg)
2020
Sky News Tonight (TV Series)
as
Self - Actress
- Episode dated 10 September 2020 (2020) - Self - Actress (as Dame Diana Rigg)
2017
Talking Pictures (TV Series documentary)
as
Miss Scarlett
- Barry Norman (2017) - Miss Scarlett
2017
Becoming Bond (Documentary)
as
Self (uncredited)
2016
Outlander (TV Series)
as
Emma Peel
- Dragonfly in Amber (2016) - Emma Peel (uncredited)
2015
Knights of Classic Drama at the BBC (TV Mini Series documentary)
- Dames of Classic Drama (2015)
2004
Timeshift (TV Series documentary)
as
Self - Speaking in 1969 / Emma Peel
- Looking for Mr Bond: 007 at the BBC (2015) - Self - Speaking in 1969
- Fantasy Sixties (2004) - Emma Peel
2014
The Sixties (TV Mini Series documentary)
as
Emma Peel
- When Television Came of Age (2014) - Emma Peel (uncredited)
2012
Colorspace Vol. 3 (Video)
as
Self
2012
Special Collector's Edition (TV Series)
as
Tracy
- Colección James Bond (2012) - Tracy
2012
Everything or Nothing (Documentary)
as
Tracy (uncredited)
2012
Sky Movies James Bond 007 HD Launch Television Commercial (Video short)
as
Tracy di Vicenzo
2012
London: The Modern Babylon (Documentary)
as
Self / Actrice
2011
The Avengers: Wish You Were Here? - The Top Ten London Locations (Video short)
as
Emma Peel
2009
Late Night with the Loose Women (Video)
as
Self (as Dame Diana Rigg)
2008
The South Bank Show (TV Series documentary)
- James Bond (2008)
2008
How TV Changed Britain (TV Series documentary)
as
Emma Peel
- Women (2008) - Emma Peel (uncredited)
2007
Sunrise (TV Series)
as
Self
- Episode dated 7 December 2007 (2007) - Self
2007
La tele de tu vida (TV Series)
as
Emma Peel
- Episode #1.14 (2007) - Emma Peel
2007
This Morning (TV Series)
as
Emma Peel (segment "The Forget-Me-Knot")
- Episode dated 1 March 2007 (2007) - Emma Peel (segment "The Forget-Me-Knot")
2006
Premiere Bond: Opening Nights (Video documentary short)
as
Self
2006
The 60s: The Beatles Decade (TV Series documentary)
as
Self
- Swinging Britain 1965-1966 (2006) - Self
2005
The Agatha Christie Code (TV Movie documentary)
as
Arlena Stuart Marshall
2005
Must See TV (TV Series documentary)
as
Emma Peel
- The Avengers (2005) - Emma Peel
2005
The Avengers Revisited (TV Movie documentary)
as
Self
2005
ITV 50 Greatest Shows (TV Special)
as
Emma Peel
2005
After They Were Famous (TV Series documentary)
as
Emma Peel
- Crime-fighters (2005) - Emma Peel
2002
Best Ever Bond (TV Movie documentary)
as
Tracy Vincenzo (uncredited)
2002
In Other Times (TV Series documentary)
as
Self
- De vergeten James Bond (2002) - Self (uncredited)
2002
Bond Girls Are Forever (TV Movie documentary)
as
Tracy Di Vicenzo
2001
Top Ten (TV Series documentary)
as
Self / Emma Peel
- Sex Bombs (2001) - Self / Emma Peel
2001
The Greatest (TV Series documentary)
as
Ms. Emma Peel
- 100 Greatest TV Characters (2001) - Ms. Emma Peel (uncredited)
2000
Avenging the Avengers (Video documentary short)
as
Self
2000
Inside 'on Her Majesty's Secret Service' (Video documentary short)
as
Self
2000
Now Pay Attention 007: A Tribute to Actor Desmond Llewelyn (TV Movie documentary)
as
Tracy Di Vicenzo (uncredited)
1999
Television: The First Fifty Years (Video documentary)
as
Emma Peel
1998
The Avengers: The Journey Back (TV Movie documentary)
as
Emma Peel / Self
1996
Télé Séries (TV Series documentary)
as
Emma Peel
1996
Parkinson: The Interviews (TV Series)
as
Self
- Diana Rigg & Miss Piggy (1996) - Self
1994
Great Performances (TV Series)
as
Lady Holiday
- The World of Jim Henson (1994) - Lady Holiday
1993
Destination séries (TV Series documentary)
as
Emma Peel
- The Avengers (1993) - Emma Peel
1993
The Avengers: A Retrospective (Video)
as
Emma Peel
1990
Nicholas Craig, the Naked Actor (TV Series)
as
Self
- Awards (1990) - Self (uncredited)
1989
Good Morning America (TV Series)
as
Emma Peel (segment "Escape in Time")
- Episode dated 14 September 1989 (1989) - Emma Peel (segment "Escape in Time")
1989
Club X (TV Series)
as
Emma Peel (segment "Death at Bargain Prices")
- Episode #1.13 (1989) - Emma Peel (segment "Death at Bargain Prices")
1989
Black Leather Jacket (TV Movie)
as
Emma Peel (segment "Death at Bargain Prices")
1986
James Bond at the Movies (Video short)
as
Self
1983
At the Movies (TV Series)
- James Bond (1983)
1979
V.I.P.-Schaukel (TV Series documentary)
as
Edwina Lionheart
- Episode #9.2 (1979) - Edwina Lionheart
1978
Parkinson (TV Series)
as
Self
- Parkinson and the Ladies (1978) - Self
1977
The New Avengers (TV Series)
as
Emma Peel
- K Is for Kill: Part 1: The Tiger Awakes (1977) - Emma Peel (uncredited)
1972
Review (TV Series documentary)
as
Dottie Moore
- Family Life/Tom Stoppard (1972) - Dottie Moore
1962
Our Man in the Caribbean
as
Francy
References
Diana Rigg Wikipedia
(Text) CC BY-SA