Genres

Indie rock, new wave




Name

Emily Haines




Occupation(s)

Singer-songwriter





Years active

1990–present




Parents

Jo Haines, Paul Haines




Labels

Last Gang Records




Movies

This Movie Is Broken






Origin

Toronto, Ontario, Canada




Instruments

Vocals, keyboards, piano, guitar, tambourine, harmonica




Role

Singer-songwriter · emilyhaines.com




Music groups

Metric (Since 1998), Broken Social Scene, Young Artists for Haiti (2010)




Similar People

James Shaw, Joshua Winstead, Avery Haines, Joules Scott‑Key, Paul Haines




Profiles




Myspace




Siblings

Avery Haines, Tim Haines



Emily haines advice room for thought
Emily Haines (born January 25, 1974) is a Canadian singer and songwriter. She is best known as the lead singer, keyboardist and songwriter of the rock band Metric and a member of Broken Social Scene. As a solo artist, she has performed under her own name and under the moniker Emily Haines & The Soft Skeleton. Haines possesses a soprano vocal range.
Contents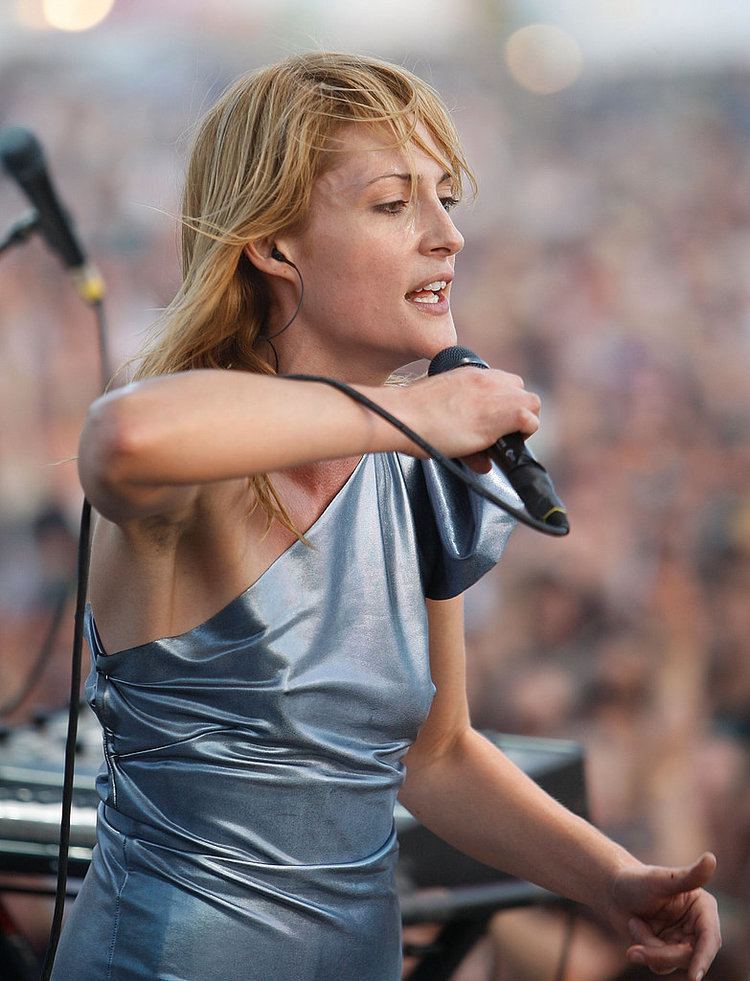 Emily haines the soft skeleton fatal gift official video
Early life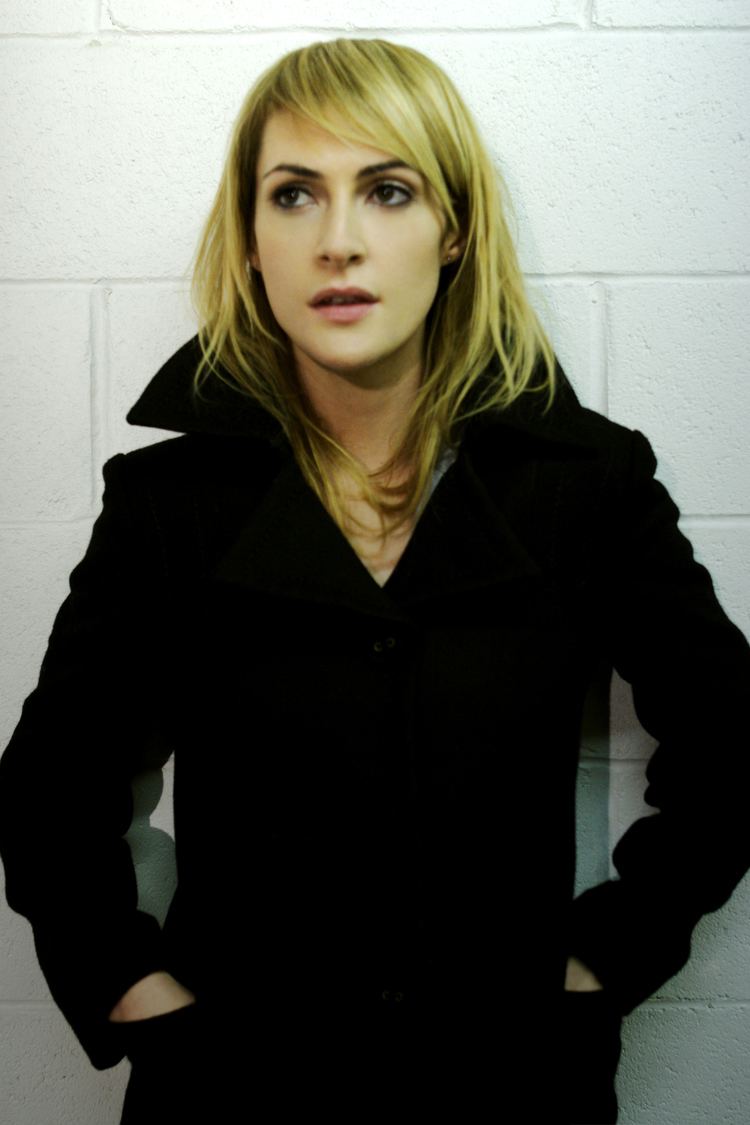 Born in New Delhi, India and raised in Ontario, Haines grew up as a dual citizen of Canada and the United States, the latter related to her American-born parents. She is the daughter of Canadian poet Paul Haines. Her sister is the Canadian television journalist Avery Haines and her brother is Tim Haines, owner of Bluestreak Records in Peterborough, Ontario, Canada.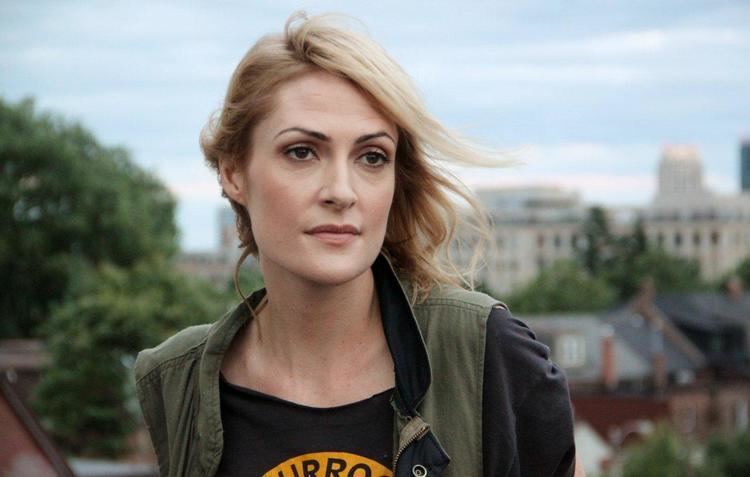 After settling in Peterborough at the age of three, she grew up in a house rich with experimental art and musical expression. Paul would often make cassettes of rare and eclectic music for his daughter to listen to and her early influences included Carla Bley, Robert Wyatt, and later PJ Harvey. By her teens, she followed in her parents' footsteps by attending the Etobicoke School of the Arts (ESA) to study drama. There she met Amy Millan and Kevin Drew, with whom she would later collaborate in Broken Social Scene (co-founded by Drew), a musical collective. During their time at ESA, Haines and Millan formed their first band together (around 1990), and she also briefly dated Drew.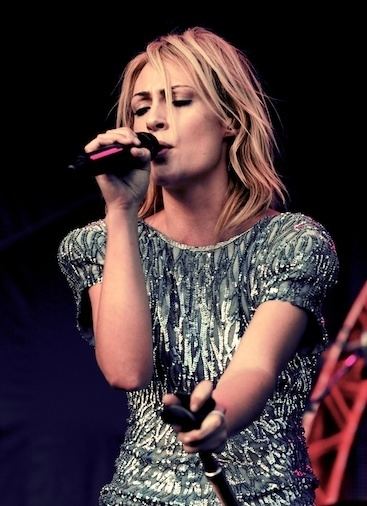 Haines attended the University of British Columbia in Vancouver between 1992 and 1993, and Concordia University in Montreal between 1995 and 1996. In 1996, she distributed a limited-edition album entitled Cut in Half and Also Double that included songs written and recorded during her student years.
Professional music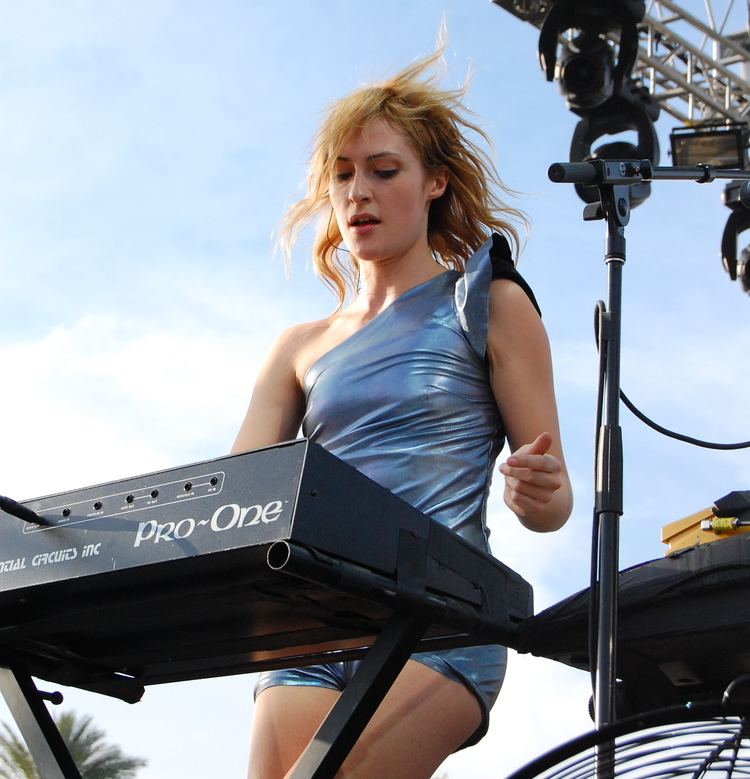 Haines met James Shaw in Toronto in 1997. Initially, the duo's name was "Mainstream". After releasing an EP entitled Mainstream EP, they changed the band's name to "Metric", after a sound that was programmed by Shaw on his keyboard in 1997 or 1998. In 2001 Winstead and Scott-Key joined them.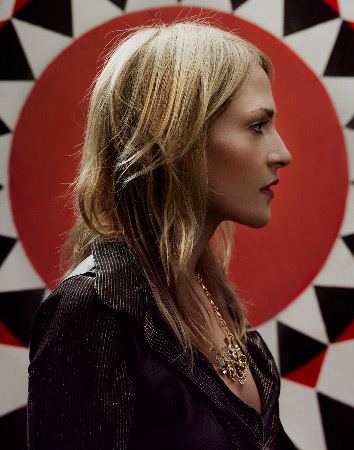 As of July 2016, Metric has released six studio albums: Old World Underground, Where Are You Now? (2003), Live It Out (2005), Grow Up and Blow Away (2007, but recorded in 2001), Fantasies (2009), Synthetica (2012), and Pagans in Vegas (2015).
During her time in Metric, Haines also contributed vocals or backing vocals to songs by Broken Social Scene, Jason Collett, Stars, Delerium, K-Os, KC Accidental, MSTRKRFT, The Stills, Tiësto, The Crystal Method and Todor Kobakov.
In 2004 Metric appeared in the 2004 drama film Clean. Haines and the rest of the band, appearing as themselves, performed their song "Dead Disco" and completed minor speaking roles in a backstage scene. "Dead Disco" also featured on Clean Original Soundtrack.
In 2006 Haines released the studio album Knives Don't Have Your Back, under the moniker "Emily Haines & The Soft Skeleton". The songs "Our Hell" and "Doctor Blind" were issued as singles and corresponding music videos were produced. Knives Don't Have Your Back was followed in 2007 by the EP What Is Free to a Good Home?—recordings that were inspired by the death of her father.
I found myself with a body of work that was dealing with a whole whack of themes that really weren't suited to Metric. It would've been very strange to bring those songs to a band. The way Metric songs usually develop is that I write something on the piano that sounds a lot like those songs.
Her solo work is typically more subdued and piano-based than her work with Metric. She occasionally plays solo shows, with Amy Millan featured as the opening act.
According to Haines, the album Synthetica is "about forcing yourself to confront what you see in the mirror when you finally stand still long enough to catch a reflection. Synthetica is about being able to identify the original in a long line of reproductions. It's about what is real vs what is artificial." The album contains the song "The Wanderlust", Haines's collaboration with Lou Reed.
In an August 2013 interview, Haines reflected on the early years of her musical career in relation to the success of Metric in 2013:
There are a million things that I could have done that would have made it less difficult in the beginning, but the moments I'm most proud of are those first shows where we managed to get 15 people in a random bar to be committed to what's happening with the music. I know it's hard for people to imagine that would be the hardest shows we've ever played. I've played with Lou [Reed], I've played to tens of thousands of people, I've played for the Queen, but nothing is harder than those moments when you have the conviction to play in front of those 15 people and own it.
Haines has explained that she is a "big leaver" when she encounters difficulty with the creative process, or is lacking inspiration. Prior to the fourth Metric album Fantasies, Haines traveled to Argentina. Haines further explains: "The advice that I would give anyone is just get over yourself and forget yourself. Realize what you don't know ... Don't be so precious about yourself."
Emily Haines became good friends with Lou Reed and Laurie Anderson before Reed's death. When Lou Reed and Emily met, he asked if she would rather be The Beatles or The Rolling Stones and she shot back "Velvet Underground."
Haines performed with Broken Social Scene on The Late Show with Stephen Colbert March 30, 2017.
Haines contributed to Broken Scial Scene's album Hug of Thunder, released summer 2017. It is their first new album in seven years.
Haines is set to release the second studio album as Emily Haines & The Soft Skeleton, titled Choir of the Mind on September 15, 2017. The album's lead single "Fatal Gift" was released on June 9, 2017. This will be her first release in one decade.
A tour for "Choir of the Mind" is also set for fall and winter 2017 throughout North America.
Instruments
When performing live with her band Metric, Haines sings and plays two synthesizers. Her primary synthesizer is a Sequential Circuits Pro-One, which she has played since the band's early years. As secondary synthesizer, she played a Kawai MP9000 in Metric's early years, which was replaced by E-mu PK-6 Proteus Keys from 2003 to 2011, and followed by Clavia Nord Wave since 2012.
During some Metric live songs, Haines also plays a tambourine or an electric guitar. During Metric acoustic appearances, Haines sings and sometimes plays piano or harmonica, while her band mate James Shaw plays the acoustic guitar.
Haines sang and played a piano when she performed live with a backing band as Emily Haines & The Soft Skeleton.
Other projects
As of late August 2013, Haines is involved with FLEET4HEARme, a collaboration between herself, Fleet Jewelry, and HearMe—the latter is an organization that aims to increase children's access to music programs in public schools. In support of the project, Haines explained: "I feel like anybody who wants to play an instrument should be able to." September 2015, Rudsak unveiled a leather jacket customized by Emily Haines. The jacket is a classic black motor-cycle style with lyrics from "The Governess" on the back.
Emily Haines
Albums
Cut in Half and Also Double (1996)
Emily Haines & The Soft Skeleton
Albums
Knives Don't Have Your Back (2006, No. 28 in Canada)
Choir of the Mind (2017)
EPs
What Is Free to a Good Home? (2007)
Singles
"Doctor Blind"
"Our Hell"
"Fatal Gift"
"Statuette"
Music videos
"Doctor Blind"
"Our Hell"
"Fatal Gift"
"Statuette"
Metric
Albums
Old World Underground, Where Are You Now? (2003)
Live It Out (2005)
Grow Up and Blow Away (2007)
Fantasies (2009)
Synthetica (2012)
Pagans in Vegas (2015)
Collaborations
The following songs are credited with Emily Haines on either lead or backing vocals:
Filmography
Clean (2004, as herself)
This Movie Is Broken (2010, performing with Broken Social Scene)
Guest appearances
Cameo appearance on the k-os music video, "Man I Used to Be".
Cameo appearance on The Stills music video for "Love and Death" playing a secretary.
Stars in Julian Plenti's music video for the song "Games For Days".
Stars in Jason Collett music video for the song "Fire".
References
Emily Haines Wikipedia
(Text) CC BY-SA