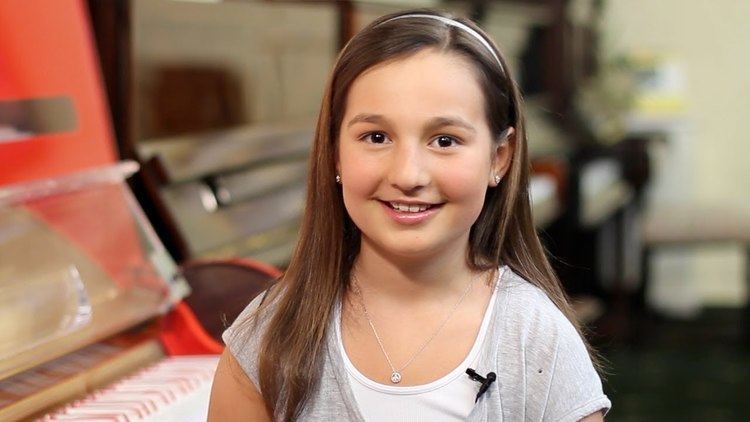 Bear was born and raised in Rockford, Illinois, the youngest of three children of Brian, an orthopedic surgeon, and Andrea Bear. Her mother has sung professionally and has a music education degree. After being home-schooled for a few years, Bear enrolled in Guilford High School in Rockford in 2015, graduating at age 15 in 2017. She plans to attend Berklee College of Music in Boston, Massachusetts.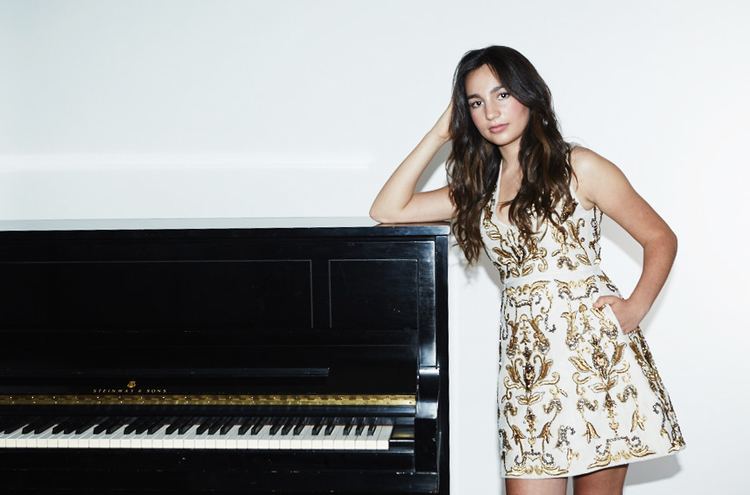 When Bear was two years old, her grandmother Merle Langs Greenberg, a piano teacher, recognized her talent at the piano. By age three, she had composed her first song, "Crystal Ice". The next year, Bear began to study with Emilio del Rosario at the Music Institute of Chicago. Hal Leonard Music has been publishing Bear's original compositions since she was 4 years old. She made her professional piano debut at the Ravinia Festival at age five, the youngest performer to play there. Soon she was enrolled at the Winnetka campus to study classical music. At age six, in 2008, she won her first ASCAP Foundation Morton Gould Young Composer Award for her piece "Northern Lights", the youngest composer ever to win the award. She also won the Rockford Area Music Industry Outstanding Achievement Award (RAMI) that year.
As a small child, Bear made six appearances on The Ellen DeGeneres Show. She played in 2008 at the White House for President George W. Bush, at the age of six, and performed Mozart's Piano Concerto No. 23 with the Champaign-Urbana Symphony Orchestra at the age of 7. She performed the same piece later in 2008 with the Rockford Symphony Orchestra. She also participated that year at the McDonald's Thanksgiving Parade in Chicago and performed the next year on Good Morning America. By the age of eight, she had composed more than 350 pieces.
Since age six, Bear has studied classical piano with the former principal keyboardist of the Chicago Symphony Orchestra, Mary Sauer, and also studies with Veda Kaplinsky, head of the piano department at the Juilliard School. She studies jazz improvisation with Frank Kimbrough and composing with Ron Sadoff, head of NYU Steinhardt film scoring department. She has expressed a strong interest in film scoring, and in 2013 she was the youngest composer in history to attend the NYU Steinhardt Film Scoring Workshop.
In 2010, Bear made her Carnegie Hall debut at the age of 9, playing her own piece for orchestra and chorus, "Peace: We Are the Future". The same year, she performed on the television show Dancing with the Stars.
In 2011, at the 3rd PTTOW! Youth Media and Innovation Summit in California addressed by the Dalai Lama, Bear performed her song "Diversity", which she had written in honor of the Dalai Lama. The same year, she began working with Quincy Jones. He presented Bear at the 45th Montreux Jazz Festival in Switzerland and the Festival Castell at the Peralada Castle in Spain, where she performed her original song, "Peralada", and a trio with Esperanza Spalding and Andrea Motis. Later in 2011, she appeared with him at the Hollywood Bowl before an audience of 11,000, where she played a medley of her own arrangement, "Bumble Boogie" and accompanied "Miss Celie's Blues", from The Color Purple, sung by Gloria Estefan, Patti Austin, Siedah Garrett and Nikki Yanofsky. Jones stated: "I am at once astounded and inspired by the enormous talent that Emily embodies [with] the ability to seamlessly move from Classical to Jazz and Be-bop. ... She is the complete 360-degree package, and there are no limits to the musical heights that she can reach."
In 2012, she performed as a guest in Zurich, Switzerland, on the "Art on Ice" skating arena tour before an audience of 15,000. She also performed at the Life Ball 2012 gala benefit in Vienna, Austria, and was one of 25 celebrities there who signed Steinway pianos that were auctioned to benefit the charity AIDS Life. She also performed at the 2012 Global Citizen Award Dinner in New York, where Jones and others were honored by the Atlantic Council. The same year, she played the first movement of the Schumann piano concerto in A minor with the Santa Fe Concert Association. At this concert the orchestra also debuted her composition "Santa Fe" and performed her arrangement of "Satin Doll". She returned two years later.
In 2013, Bear released Diversity, an album of original jazz compositions, on the Concord Records label, with bassist Carlitos del Puerto, drummer Francisco Mela and cellist Zuill Bailey, led by Bear at the piano. It was produced by Jones and recorded at Westlake Recording Studios in Los Angeles. The album peaked at No. 5 on Billboard's Jazz Albums chart and No. 3 on its Traditional Jazz Albums chart. Jeff Tamarkin wrote for JazzTimes:
Bear is a gifted (if not quite virtuosic yet) pianist ... who understands innately the role of her instrument in both solo and group capacities. She can improvise smartly, shift between genres, tempos and dispositions effortlessly, elevate a melody. ... [T]here's nothing childlike about Bear's music: While some of her classically informed ballads teeter on the edge of new age, she never quite falls into that hole; she already knows the difference between jazz and Muzak. With many super-talented children, there's often a sense that some sort of rote mechanism takes over and guides them, but Diversity feels like the work of an artist of depth and sensitivity."
Also in 2013, she again performed with the Rockford Symphony Orchestra as part of its salute to big bands. She also composed the music for a national ad campaign for Weight Watchers, called "Simple Start". The same year, WGN-TV presented the documentary "Girl with a Gift", exploring Bear's early promise. The program won a 2014 Chicago/Midwest Emmy Award.
Ellen Marie Hawkins, in Relate magazine, commented: "There's an excitement to this music, and ... I felt as if I was being whisked off with limitless energy, eager to see one thing and then just as quickly, experience another. ... I was smiling and I was dancing, and I was living through this music." As with her earlier recordings and many of her performances, Bear donates a portion of all proceeds to charity. In July 2013 she was part of a few Quincy Jones 80th birthday concerts in Montreux, Switzerland, Seoul, South Korea and in Japan.
Bear performed in 2014 on the The Queen Latifah Show show, accompanying herself at the piano and singing "The Girl from Ipanema". The same year, she performed a solo program of jazz and classical pieces in Clinton, Connecticut, one of many concerts and broadcasts where she has demonstrated her ability to compose musical stories and mood music improvisationally upon request. In late 2014, Bear performed George Gershwin's Rhapsody in Blue, as well as her own compositions, with New Haven Symphony Orchestra, Winnipeg Symphony Orchestra and Performance Santa Fe Orchestra. Holly Harris wrote for the Winnipeg Free Press: "After wowing the crowd with a two-hour program of jazz and classical music selections, [Bear] tossed off Gershwin's knuckle-busting Rhapsody in Blue as easily as child's play." She also performed with her trio and cellist Dave Eggar at the ASCAP Centennial Awards in November. Since 2014, Bear has led the Emily Bear Trio, consisting of Bear, bassist Peter Slavov and drummer Mark McLean.
In 2015, Bear won another ASCAP Foundation Morton Gould Young Composer Award for her orchestral piece "Les Voyages". At the Jazz Open Stuttgart 2015 jazz festival, she gave several concerts. Later that year, Bear was a speaker at the Chicago Ideas Week and, on the 2015 Broadway Cast Recording of the musical Doctor Zhivago, played a solo piano version of "He's There". The same year, she composed, orchestrated and performed an orchestral piece, "The Bravest Journey", for the event "Stars & Stripes: A Salute to Our Veterans", with Rockford Symphony Orchestra before General Colin Powell, 1,500 veterans and 4,500 others in her hometown of Rockford, Illinois. She ended the year with her debut at Joe's Pub in New York City.
In 2016, for the opening charity gala of the "Play Me, I'm Yours" street piano event in Mesa, Arizona, Bear re-orchestrated "The Bravest Journey" for 25 pianos. The same year, Bear received a Herb Alpert Young Jazz Composers Award, from the ASCAP Foundation, for her jazz song "Old Office". In August 2016, she was featured in a Disney Channel program, performing the song "Reflection", from the film Mulan, with singer Laura Marano. Among her other performances in 2016, Bear returned to Rockford Symphony Orchestra to play "Les Voyages" and Edvard Grieg's Piano Concerto in A minor. She also played with her trio at the Gilmore Festival in Kalamazoo, Michigan, and gave a concert with the Kishwaukee Symphony Orchestra, playing her own symphonic compositions "Santa Fe", "The Bravest Journey" and "Les Voyages", and George Gershwin's Rhapsody in Blue.
On January 27, 2017, Bear released a jazz EP, Into the Blue, with her trio, on her independent label, Edston Records. The EP includes "Old Office", four other original jazz songs, and her arrangement of Richard Rodgers' "My Favorite Things". Reviewing the album for All About Jazz, C. Michael Bailey wrote: "Bear demonstrates a capability well beyond her age. ... [She] tears percussively through her short and tightly composed originals 'Old Office' and 'Je Ne Sais Pas,' before showing her willowy ballad chops on 'Araignee.' 'Tiger Lily' returns to up-tempo form, descending figures over a light, almost stride, beat. On 'My Favorite Things' the pianist surprises with an emotional depth translated into a mature lyricism." Luiz Orlando Carneiro of Jornal do Brasil felt that "Old Office" is driven by chords that refer to Dizzy Gillespie's "A Night in Tunisia"; "Je ne sais" pas has a bossa nova beat; "Indigo", also with a bossa nova feel, is more melancholy; and "Tiger Lily" has a theme that recalls Thelonious Monk's "It's Over Now". He also noted that "Araingnée" (spider in French), is adapted from Bear's soundtrack for an animated film about two spiders competing to create increasingly elaborate webs inspired by famous works of art. Mike Greenblatt of The Aquarian Weekly called the disc "a thoroughly delightful trio romp". The EP debuted at No. 7 on Billboard's Jazz Albums chart.
In January 2017, Bear performed three of her pieces at Valley Performing Arts Center near Los Angeles, California, in a concert benefit for Save a Child's Heart, an Israel-based international humanitarian organization that provides lifesaving heart surgery for children in developing countries. In 2017, she received her second ASCAP Herb Alpert Young Jazz Composers Award, for her song "Je ne sais pas", and won a 2017 RAMI award for composition of the year. Bear participated in Chicago, in March, in Concert for America: Stand Up, Sing Out! to benefit several human rights charities, co-produced by Seth Rudetsky. As a recipient of the Morton Gould Young Composers Award, she was commissioned to write a choral piece, "We have a dream", which she premiered and accompanied at St. Ignatius of Antioch Church in New York City on May 20, 2017. In June, Bear performed with her trio at the Blues'n'Jazz Festival in Rapperswil, Switzerland. In November and December, Bear is scheduled to perform at Night of the Proms 2017, a 22-concert tour in the Netherlands, Belgium, Germany and Luxembourg. She will be the youngest artist ever to appear at Night of the Proms. Bear has been named as a 2018 recipient of Illinois' Order of Lincoln Award.
Five Years Wise (2007)
The Love in Us (2008)
Once Upon a Wish (2008)
Always True (2009)
Hope (2010)
Diversity (2013)
Into the Blue EP (2017)