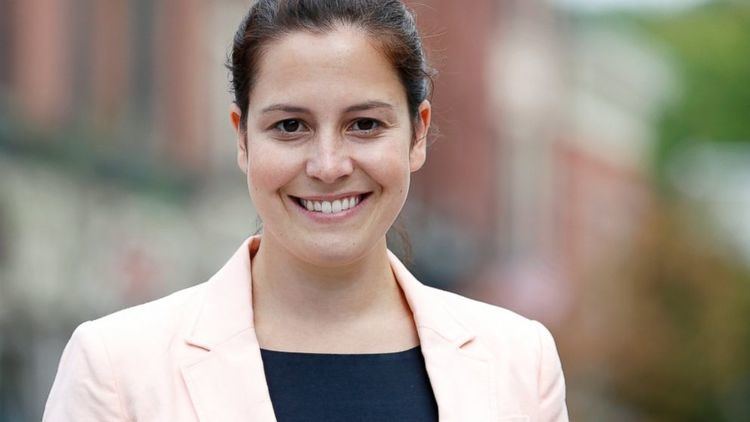 Stefanik was born in Albany, New York in 1984. Her parents, Melanie and Ken Stefanik, own a plywood business in the Albany area. She attended the Albany Academy for Girls and Harvard University (class of 2006).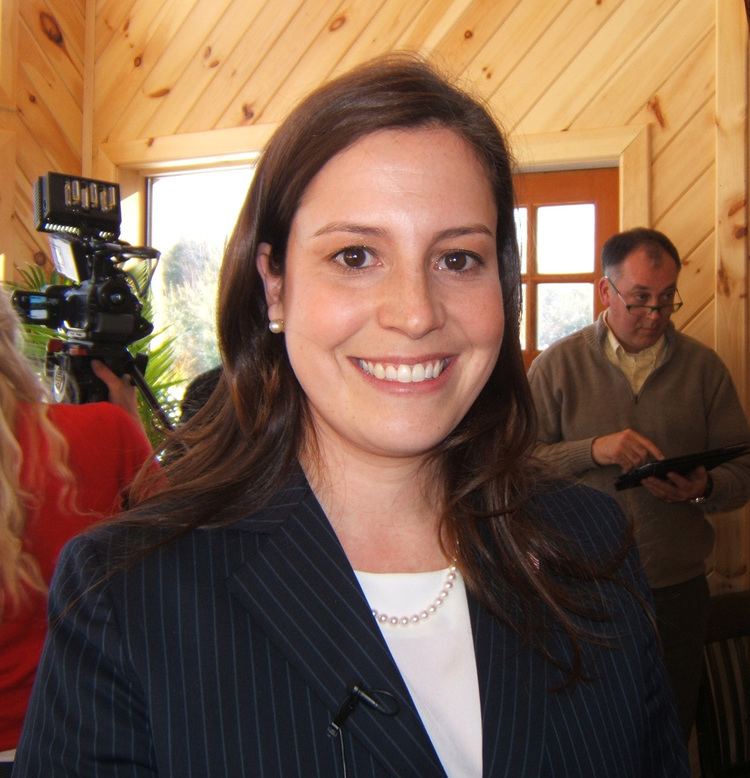 While at Harvard she was awarded the Women's Leadership Award. After graduating from Harvard, she joined the administration of President George W. Bush, working on the Domestic Policy Council.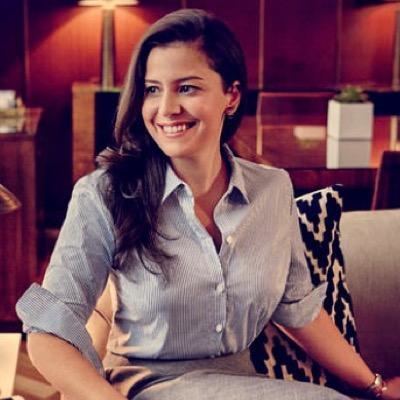 She also worked in the office of the White House Chief of Staff for Bush's second deputy chief of staff, Joshua Bolten. She has worked as communications director for the Foreign Policy Initiative and as the policy director for former Minnesota governor Tim Pawlenty during his 2012 presidential campaign.
Stefanik managed Wisconsin congressman Paul Ryan's debate preparation as he ran for Vice President of the United States in the 2012 general election. Following the Romney-Ryan loss in the 2012 presidential election, she returned to upstate New York to join her parents' wholesale plywood business, located in Guilderland Center.
In 2013, Stefanik declared her candidacy in the 2014 election for the United States House of Representatives in New York's 21st congressional district. The district and its predecessors had been in Republican hands for 136 years before Democrat Bill Owens won a 2009 special election and subsequently won re-election in 2010 and 2012. In 2014, Owens opted not to seek reelection following a re-districting.
Stefanik defeated Matt Doheny in the Republican primary election 61 to 39 percent, She faced Aaron Woolf, the Democratic Party nominee, and Matt Funiciello, the Green Party nominee, in the general election on November 4. Stefanik defeated Woolf and Funiciello 55.2% to 33.5% and 10.6% respectively, becoming the youngest woman ever elected to Congress.
Stefanik ran for re-election in 2016. She ran unopposed in the Republican primary. Stefanik supported Donald Trump for president after he won the 2016 Republican presidential primaries.
She faced Democrat Mike Derrick and Green Party candidate Matt Funiciello in the general election.
She won re-election with 63 percent of the vote, while Derrick (D) received 27.8% and Funiciello (G) received 4.3% of the vote.
In January 2015, Stefanik was appointed to the House Armed Services Committee. She was elected by the freshman Representatives in the 114th Congress to serve as the Freshman Representative to the Policy Committee.
In February 2015, she was appointed vice chairwoman of the House Armed Services Committee's Subcommittee on Readiness.
Committee on Armed Services
Subcommittee on Military Personnel
Subcommittee on Readiness (Vice Chair)
Subcommittee on Intelligence, Emerging Threats and Capabilities
Committee on Education and the Workforce
Subcommittee on Workforce Protections
Subcommittee on Higher Education and Workforce Training
Stefanik was ranked as the 31st most bipartisan member of the U.S. House of Representatives during the 114th United States Congress (and the sixth most bipartisan member of the U.S. House of Representatives from New York) in the Bipartisan Index created by The Lugar Center and the McCourt School of Public Policy that ranks members of the United States Congress by their degree of bipartisanship (by measuring the frequency each member's bills attract co-sponsors from the opposite party and each member's co-sponsorship of bills by members of the opposite party).
On May 4, 2017, Stefanik voted in favor of repealing the Patient Protection and Affordable Care Act (Obamacare) and passing the House Republican-sponsored American Health Care Act. Following a televised community forum in Plattsburgh four days later, Stefanik represented herself as having been unfairly criticized for her vote for AHCA. She defended her vote in a post on Medium, "Setting the Record Straight on the American Health Care Act." Her claims about the effects of the AHCA have been disputed by journalists' fact-checking from the Glens Falls Post-Star, North Country Public Radio, and the Albany Times Union. Following the constituent backlash over Stefanik's AHCA vote, the Democratic Congressional Campaign Committee added Stefanik to their list of targeted 2018 House races.
In 2017, Stefanik co-sponsored the Preserving Employee Wellness Programs Act (H.R. 1313) in 115th Congress – legislation that, among other things, would eliminate the genetic privacy protections of the Genetic Information Nondiscrimination Act of 2008 and allow companies to require employees to undergo genetic testing or risk paying a penalty of thousands of dollars, and would let employers see that genetic and other health information.
Stefanik voted in favor of the Keystone Pipeline. Stefanik opposed the 2013 sequestration cuts to the federal U.S. military budget, citing its effect on Fort Drum in Watertown, New York.
Stefanik criticized President Donald Trump's decision to withdraw from the Paris climate agreement, saying the decision was "misguided" and "harms the ongoing effort to fight climate change while also isolating us from our allies."
Stefanik opposed Trump's 2017 executive order imposing a temporary ban on travel and immigration to the United States by the nationals of seven Muslim-majority countries.
Stefanik claims residency in Willsboro, New York. She owns a minority interest in a townhouse near Capitol Hill in Washington, D.C., valued at $1.3 million.
Stefanik married Matthew Manda from Lawrence, Kansas, spokesman for the Independent Journal Review (best known for being the only media outlet allowed access to Secretary of State Rex Tillerson on his first trip to Asia), on August 19, 2017. The couple met in Washington in 2012 and were engaged August 27, 2016 publicly announcing their engagement on October 27 of that year. Manda is also Director of Communications for the political consulting firm IMGE, a firm retained by Stefanik's campaign. Both Independent Journal Review and IMGE are divisions of Media Group of America.