Preceded by

Mario Biaggi




Religion

Judaism




Preceded by

Alan Hochberg




Name

Eliot Engel





Succeeded by

Stephen B. Kaufman




Role

U.S. Representative




Political party

Democratic




Spouse

Patricia Ennis








Full Name

Eliot Lance Engel




Born

February 18, 1947 (age 68) New York City, New York, U.S. (

1947-02-18

)


Alma mater

City University of New York, Lehman New York Law School




Office

Representative (D-NY 16th District) since 2013




Previous offices

Representative (NY 17th District) 1993–2013, Representative (NY 19th District) 1989–1993




Children

Julia Engel, Philip Engel, Jonathan Engel




Education

New York Law School (1987), Lehman College (1973), Lehman College (1969)




Similar People

Nita Lowey, Jerrold Nadler, Steve Israel, Gregory Meeks, Joseph Crowley




Profiles




Twitter

Facebook
Dennis kucinich and eliot engel 07 jan 09
Eliot Lance Engel (born February 18, 1947) is the U.S. Representative for New York's 16th congressional district. He is a member of the Democratic Party. His new district, District 16, contains parts of the Bronx and Westchester County. In Westchester, it includes Yonkers, Mt. Vernon, New Rochelle, Scarsdale. Mamaroneck, Pelham, Pelham Manor, Larchmont, Tuckahoe, Bronxville, Eastchester, Hastings-on-Hudson, Ardsley, Hartsdale, and Rye City. In the Bronx, it includes Riverdale, Woodlawn, Edenwald, Baychester, Williamsbridge, Van Cortlandt Village, and Wakefield, and Co-op City. He represented the 19th District from 1989 to 1993, and the 17th District from 1993 to 2013. District 17 consisted of parts of the Bronx, Westchester County, and Rockland County.
Contents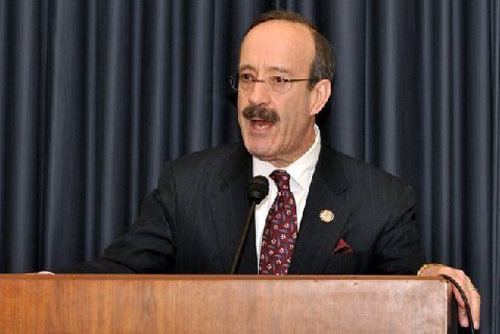 In 2013, he became the ranking minority member of the House Foreign Affairs Committee, replacing Howard Berman, who lost his re-election bid in the 2012 elections.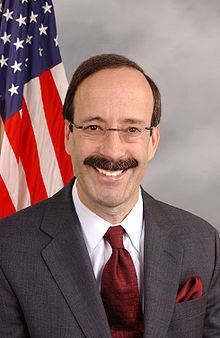 Green tip bullet ban harry reid rogue 47 with eliot engel
Early life, education, and teaching career
Engel was born in the Bronx, the son of Sylvia (née Bleend) and Philip Engel, an ironworker. His grandparents, of Ukrainian Jewish background, immigrated from the Russian Empire. He grew up in a city housing project Eastchester Gardens and attended New York City public schools. In 1969, he graduated from Hunter-Lehman College of the City University of New York with a Bachelor of Arts in history. He subsequently received a master's degree in guidance and counseling in 1973 from the same institution, by now renamed Lehman College following the severance of its relationship with Hunter College. In 1987, he received a law degree from New York Law School. He began his political career in local Democratic clubs. He taught in the New York City School District and was a guidance counselor. He taught at Intermediate School 52 from 1969 to 1976 and at Intermediate School 174 after that.
New York State Assembly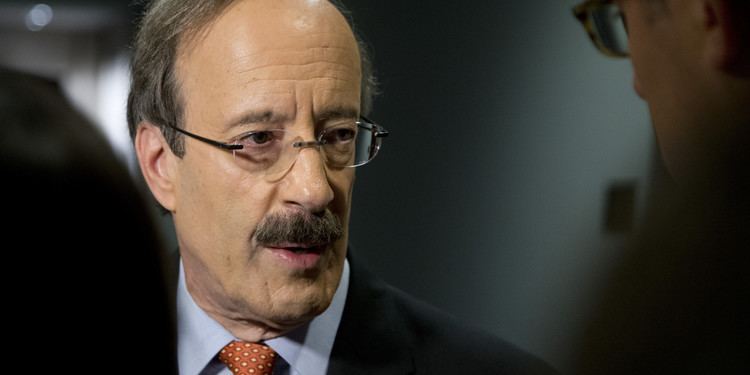 In 1977, Engel entered the special election for a seat in the New York State Assembly after the incumbent Democrat Alan Hochberg was forced to resign. He risked all of his life savings and won by 103 votes. He was the Liberal Party nominee in the special election, and on March 1, 1977, he defeated Democratic nominee Ted Weinstein and Republican nominee Arlene Siegel.
Engel was a member of the New York State Assembly from 1977 to 1988, sitting in the 182nd, 183rd, 184th, 185th, 186th and 187th New York State Legislatures. He chaired the Committee on Alcoholism and Substance Abuse, as well as the Subcommittee on the Mitchell-Lama Housing Program.
Elections
In 1988, Engel ran for the U.S. House of Representatives in New York's 19th congressional district. He defeated incumbent Democrat Mario Biaggi in the primary with 48% of the vote. Biaggi had been charged with racketeering in the Wedtech scandal; he was eventually jailed by Rudy Giuliani. He won the general election with 56% of the vote. He never won re-election with less than 61% in a general election. He only faced competitive primary elections (getting less than 70%) twice (1994 and 2000). In 1994, he defeated musician Willie Colón 62%-38%. In 2000, Engel defeated State Senator Larry Seabrook, who had the support of Bronx County Democratic Party Chairman Roberto Ramirez, 50%-41%.
Committee assignments
Committee on Energy and Commerce
Subcommittee on Energy and Power
Subcommittee on Health
Committee on Foreign Affairs – (Ranking Member)
Party leadership
Vice Chair of the Democratic Task Force on Homeland Security
Assistant Democratic Whip
Caucus memberships
Arab-Israeli Peace Accord Monitoring Group
Congressional Albanian Caucus
Congressional Caucus on Global Road Safety
Congressional Hellenic-Israeli Alliance
Congressional Irish Caucus
Democratic Leadership Council
Democratic Task Force on Health
House Oil and National Security Caucus (Founder and Co-Chair)
Israel Allies Caucus
New Democrat Coalition
House Caucus on Human Rights
House Caucus on the Hudson Valley
International Conservation Caucus
Congressional Arts Caucus
Attendance at the State of the Union address
Engel can be seen shaking hands with the president during televised State of the Union addresses. Along with other Members of Congress, Engel shows up to the Capitol early in order to guarantee that he will get an aisle seat. Engel has managed to shake hands with the president at every address, and be seen by his constituents on television since 1989. He has expressed that, "It's an honor to shake the hand of the president of the United States no matter who it is." Although not technically a State of the Union address, he chose not to do so for Trump's first address to a joint session of Congress
Healthcare reform
Engel supports quality access to health care, and refers to himself as pro-choice "all the way". Engel is a co-sponsor of the United States National Health Care Act, which would implement a single-payer health care system in the United States. He was a strong supporter of the landmark Affordable Care Act, committing his vote only after securing provisions that New York would not be penalized for being a do-gooder state.
In 2008, Engel authored the ALS Registry Act (P.L. 110-373), which established a national registry for the collection and storage of data on those suffering from ALS. He also authored the Paul D. Wellstone Muscular Dystrophy Act (P.L. 110-361), which promoted research at Centers of Excellence for Muscular Dystrophy.
He wrote the Partnering to Improve Maternity Care Quality Act, introduced in 2010, to improve maternity care for mothers and newborns, and to do so in partnership with doctors, advocates, payers, and purchasers. In 2010, Engel wrote the Gestational Diabetes Act of 2010, which passed the House, but didn't come to a vote in the Senate. The legislation could be re-introduced in the 113th Congress for consideration. The legislation would provide for better tracking and research into gestational diabetes, which, if untreated, could lead to Type 2 diabetes for both mother and child.
Global health
Rep. Engel supports an improved re-authorization of the President's Emergency Plan for AIDS Relief (PEPFAR). Within the PEPFAR bill, Engel included his bill, the Stop Tuberculosis Now Act. This measure provides increased U.S. support for international Tuberculosis control activities, and promotes research to develop new drugs, diagnostics, and vaccines.
Energy
In 2005, Engel, along with Congressman Jack Kingston (R-GA), introduced the Fuel Choices for American Security Act (H.R. 4409), later modified and re-introduced in 2007 as the DRIVE Act (H.R. 670) - the Dependence Reduction through Innovation in Vehicles and Energy Act - with more than 80 bi-partisan co-sponsors. It was designed to promote America's national security and economic stability by reducing dependence on foreign oil through the use of clean alternative fuels and advanced vehicle technologies. It also called for increased tire efficiency - to increase a vehicle's gas miles.
Many provisions of the DRIVE Act were included in the Energy Independence and Security Act, which was signed into law on December 19, 2007, and became Public Law No. 110-140. This law mandates increased fuel efficiency standards from 25 miles per gallon to 35 miles per gallon by 2020. The law also requires improved energy efficiency standards for appliances, lighting and buildings, and the development of American-grown biofuels like cellulosic ethanol, biodiesel, and biobutanol.
On July 22, 2008, Engel introduced, with Congressmen Kingston, Steve Israel (D-NY), and Bob Inglis (R-SC) the Open Fuel Standards Act. This bill requires 50 percent of new cars sold in the United States by 2012 (and 80 percent of new cars sold by 2015) to be flexible-fuel vehicles capable of running on any combination of ethanol, methanol, or gasoline. Flex fuel vehicles cost about $100 more than the same vehicle in a gasoline-only version. This bill was re-submitted in the 111th United States Congress by Rep. Engel, Inglis, Israel, and Roscoe Bartlett (R-MD). It was re-introduced in the 112th Congress, with Rep. John Shimkus as the lead Republican. It will likely be re-introduced in the 113th Congress.
Engel is the senior Representative from New York on the Energy and Commerce Committee, and the Representative from New York on the Subcommittee on Energy and the Environment. He played a key role in negotiating the American Clean Energy and Security Act, HR 2454, which passed the House on June 26, 2009. That legislation was intended to revitalize the economy by creating millions of new jobs, increase American national security by reducing dependence on foreign oil, and preserve the planet by reducing the pollution. It passed the House in 2009, but was not voted on by the Senate in the 111th Congress.
Gun control
Engel believes in requiring background checks on gun sales between private citizens at gun shows, and disagrees with the statement that, "District of Columbia does not have the authority to enact laws or regulations that 'discourage or eliminate' private ownership or use of firearms." Rep. Engel signed a letter to President Barack Obama urging the "return to enforcement of the law banning imports of assault weapons, which was previously enforced during the administrations of Presidents George H.W. Bush and Bill Clinton". He also opposed a bill that would allow visitors to carry firearms while inside certain national parks.
Engel has received an "F" grade from the National Rifle Association. Engel strongly believes in restricting citizen gun use through "smart gun" technology, extending waiting periods for citizens, and allowing the victims of gun violence to sue firearm manufacturers and authorized sellers.
Conversely, Engel has received a 100 percent rating from the Brady Campaign to Prevent Gun Violence. He has also been given a 100 percent grade from the Coalition to Stop Gun Violence. Engel repeatedly votes in favor of stricter gun control laws. He introduced H.R. 1784, the Protect Law Enforcement Armor (PLEA) Act, which would ban the Five-seveN handguns. Engel introduced H.R. 2217, intended to protect parents and children from faulty gun locks by instructing the Consumer Product Safety Commission (CPSC) to set a national quality standard for all child safety devices used on firearms.
Other domestic issues
On December 22, 2010, President Barack Obama signed into law the Truth in Caller ID Act. The legislation was introduced by Bill Nelson in the Senate, passed the House on December 15, and is virtually identical to Rep. Engel's bill. The new law cracks down on the use of caller ID spoofing, often used by criminals to trick their victims into giving out personal information. The legislation will help law enforcement combat identity theft.
Rep. Engel originally introduced the Securing our Borders and Our Data Act in July 2008, HR 6702. That bill would ensure that when a traveler enters the United States, a border agent cannot search or seize the traveler's data or equipment without cause. The legislation was re-introduced in the 111th Congress as HR 239. The Department of Homeland Security altered their rules to prevent agents from searching and seizing without cause. This encompassed much of Rep. Engel's legislation.
In the 109th Congress, Engel introduced the Calling Card Consumer Protection Act, HR 3402. The bill was intended to stop some of the massive fraud in the prepaid calling card industry. The legislation passed the House unanimously, but the Senate did not act on it. In 2011, Rep. Engel introduced the Drug Testing Integrity Act, which would prohibit products to be sold that enable cheating on drug tests.
In 2010, Engel urged the Federal Housing Finance Agency to stop their plan to ban private transfer fees on cooperative apartment sales. Some developers and investors had been abusing the system by imposing transfer fees that would have provided them with percentages on all future sales of the property over many decades. The transfer fee, when used correctly, can help owners and developers fund projects and remain affordable. The FHFA decided not to pursue this plan in 2011.
In 2012, Engel introduced SNOPA, the Social Network Online Protection Act. It guarantees online privacy, and ensures that employers and educational institutions cannot use personal data as a bargaining chip for employment or education. Employers/schools would be barred from requesting or requiring usernames or passwords to social media sites as part of the hiring, employment, or enrollment process. The bill has been re-introduced in the 113th Congress, with Rep. Michael Grimm as the Republican lead, and Rep. Jan Schakowski as an original co-sponsor.
International affairs
Engel is a supporter of recognizing Jerusalem as the capital of Israel, and has also been an advocate for the causes of Albanian-Americans and ethnic Albanians in Kosovo. In 2003, he authored the Syria Accountability and Lebanese Sovereignty Restoration Act, which was signed into law by President George W. Bush on December 12, 2003. In this Law, Congress authorized penalties and restrictions on US relations with Syria for its occupation of Lebanon, and for its relationship with terrorist groups.
Western Hemisphere Subcommittee
As Chairman of the House of Representatives Foreign Affairs Subcommittee on the Western Hemisphere, Engel has called for stronger U.S. relations with Latin America and the Caribbean. His Subcommittee has held hearings on issues such as the crisis in Haiti, poverty, and inequality in Latin America.
Engel pushed for increased funding for emergency relief in Haiti, and for Temporary Protective Status (TPS) of Haitian nationals in the U.S. Engel is also supportive of the "Mérida Initiative", in which the U.S. is cooperating with Mexico, Central America, the Dominican Republic, and Haiti to counter narco-trafficking and related violence in the region. In the 110th United States Congress, he introduced the Social Investment and Economic Development Act for the Americas of 2007 (re-introduced in 2009, where it also died in committee) and sponsored the Western Hemisphere Energy Compact Act to develop partnerships to strengthen diplomatic relations with the Government of Brazil, and the governments of other countries in the Western Hemisphere (died in committee).
The bi-partisan Western Hemisphere Drug Policy Commission Act of 2009 (sponsored by Rep. Engel) was passed by the House on December 8, 2009; it would have taken a fresh look at the United States' counter-narcotics efforts, both at home and abroad. The bill did not pass the Senate.
Middle East
Engel has been a vocal and uncritical supporter of Israel. In 2008, he was the lead Democrat on a resolution condemning Palestinian rocket attacks on Israeli civilians by Hamas and other Palestinian terrorist organizations. Shortly after entering Congress, he sponsored a resolution declaring Jerusalem the undivided capital of Israel. He also wrote the Syria Accountability and Lebanese Sovereignty Restoration Act, which was signed into law by President George W. Bush on December 12, 2003. This law authorized restrictions on American relations with Syria, and penalties for its occupation of Lebanon, and for its relationship with terrorist groups.
Kosovo and the Balkans
In 1996, The Washington Post wrote, "The Kosovo cause has been kept alive in Washington by a small group of congressmen led by Rep. Eliot L. Engel (D-N.Y.)...." While a member of the Subcommittee on Europe and Chair of the Congressional Albanian Issues Caucus, Engel fought ethnic cleansing in Kosovo in 1999 and voiced support in Congress for independence of Kosovo. A street has been named after him in Peć, and he was the first foreign dignitary to address the Kosovo parliament.
Cyprus
Engel called for the withdrawal of Turkish troops from Cyprus, and authored a resolution in 1996 calling for its demilitarization. His 1994 law allowed the United States Department of State to conduct an investigation of five Americans who disappeared during the Turkish invasion of Cyprus, and found the remains of one. Engel received the George Paraskevaides Award on May 17, 2007, given to those who have utilized ancient Hellenic values to contribute to the nations and people of Cyprus and America and to the Hellenics in the modern world.
Iraq War
In 2002, Engel joined the two Senators from New York, Chuck Schumer and Hillary Clinton, and almost 300 members of the United States House of Representatives in voting for the resolution granting President Bush the authority to use force in Iraq. After revelations that intelligence provided to Congress was partially unreliable, and the subsequent problems faced after Saddam Hussein was deposed, Engel has come to regret his decision to support the invasion, and consistently votes in favor of gradual withdrawal. He has met with anti-war activists, and in 2008, he publicly called for the closing of the Guantanamo Bay detention camp. Engel received an "A" grade from the Iraq and Afghanistan War Veterans in 2008.
Irish affairs
In 2007, Engel became a Co-Chair of the Congressional Ad Hoc Committee on Irish Affairs. He supported the 1998 Good Friday Agreement, and aided Irish nationals facing deportation from the United States. He has been a friend of Gerry Adams, leader of Sinn Féin, and was the author of legislation that prohibits employers in Northern Ireland and Ireland from receiving U.S. funds from the International Fund for Ireland, unless they comply with fair employment and non-discrimination principles called the "MacBride Principles". In 2010, Rep. Engel was instrumental in helping Joe Byrne return to the United States, after a bureaucratic problem left him detained in Ireland and separated from his family in Rockland County
Human rights
As a member of the Congressional Human Rights Caucus, Engel has supported Albanian-Americans and ethnic Albanians in Kosovo. He is co-author of the Harkin-Engel Protocol, along with Senator Tom Harkin (D-IA), which addresses child labor in the cocoa fields of West Africa.
In early 2001, he wrote the House resolution condemning the Taliban for forcing Hindu citizens to wear distinguishing marks as reminiscent of the Nazis forcing Jews to wear a yellow Star of David. In 2008, he wrote a resolution commending the U.S.-Brazil Joint Action Plan to Promote Racial and Ethnic Equality.
Engel sponsored a bill to support the Day of Silence, during which students vow to remain silent to bring attention to the harassment and discrimination faced by lesbian, gay, bisexual, and transgender people in schools. That bill has been re-submitted in the 111th United States Congress. He also voted against the Defense of Marriage Act (DOMA), which allowed for states not to be required to recognize same-sex marriages in other states. In 2010, he voted in 2010 to repeal the "Don't Ask, Don't Tell" policy, enabling homosexuals to serve openly in the U.S. Military.
Iran nuclear deal
In August 2015, Engel announced that, along with fellow Jewish lawmakers Senator Charles Schumer and Nita Lowey, he would oppose the Joint Comprehensive Plan of Action Iran nuclear deal in congress, saying that, "The answers I've received simply don't convince me that this deal will keep a nuclear weapon out of Iran's hands, and may in fact strengthen Iran's position as a destabilizing and destructive influence across the Middle East."
Controversies
Engel was criticized for choosing to attend a July 2008 event hosted by the controversial pastor John Hagee, who has suggested that God sent Adolf Hitler to bring the Jews to Israel.
In March 2009, the AP reported that Engel had been taking an annual tax credit on his Maryland residence for at least ten years, despite the fact that the credit is reserved for people who declare Maryland their primary residence. Engel ran for reelection in the Bronx at least five times while claiming a primary residence credit in Maryland, during which time he received "thousands of dollars" in tax credits. Maryland officials revoked the tax credit. The Washington Post reported that the matter was reviewed by the Office of Congressional Ethics in August, 2009, and that the Office was "[e]xpecting OCE notice of termination" for Engel." The OCE eventually ended its review on Engel, and Reps. Doris Matsui and Edolphus Towns, without recommending further investigation by the ethics committee.
Publisher Christopher Hagedorn has often used his Bronx weekly newspapers, the Bronx News, the Parkchester News, and the Co-op City News, to attack Engel. Hagedorn believes that Engel, when he was still an assemblyman, was behind a failed effort in 1988 to evict the Co-op City News from its offices in Co-op City. Since 1988, Hagedorn has published numerous editorials and articles attacking Engel and even reprinted critical articles about him that have been published in other newspapers. Hagedorn has often endorsed Engel's opponents in the Democratic primary and the general election but the Congressman always won re-election to Congress. In 2000, Hagedorn intensified his campaign against Engel when the leadership of the powerful Bronx County Democratic organization decided to support former Assemblyman and City Councilman Larry Seabrook in the primary against Engel. Seabrook, whose campaign was plagued with problems, lost the primary to Engel by a wide margin.
Engel has mostly ignored Hagedorn's attacks. In 1995, however, his then-communications director Greg Howard, told the Bronx Beat newspaper, which wrote about the feud, "We don't consider Mr. Hagedorn a legitimate journalist. He uses the paper as his own personal platform for whatever agenda he has. He chooses the paper to malign people with whom he has philosophical differences." In the last decade, Hagedorn's newspapers have mostly ignored Engel.
Grades and recognition
Engel received an "A" on the Drum Major Institute's 2005 Congressional Scorecard on middle-class issues. He also received a 100% from the League of Conservation Voters for his record on the environment.
Engel has received positive marks from major environmental groups such as the League of Conservation Voters and the Sierra Club.
In 1998, as a response to Engel's work in Albania and Kosovo, the Italian government presented him, and his then-Administrative Assistant John Calvelli, with a ceremonial knighthood for his work in promoting United States-Italian ties. Ambassador Fernando Salleo issued the knighthood and Italian Consular General in New York Antonio Bandini performed the ceremony.
Engel received the "National Association of Public Hospitals Safety Net Award" in 2007 primarily for the introduction of The Public and Teaching Hospital Preservation Act. He also earned the "100% Perfection in the Pursuit of Equality" in 2002 from the Human Rights Campaign. Engel was presented with "The AIDS Institute National HIV/AIDS Care and Treatment Award" in 2007 and is the 2008 "Distinguished Community Health Superhero" as deemed by the National Association of Community Health Centers.
He was honored in 2008 by the American Farm Bureau Federation and the New York Farm Bureau as a "Friend of the Farm Bureau" for his support of farm issues during the 110th United States Congress. He received an "A" on the Drum Major Institute's Congressional Scorecards in 2005 and 2008 for supporting middle-class issues. Engel has had a nearly 100% rating from the AFL-CIO over his entire legislative career. On 11 November 2011 the Municipality of Peć, Kosovo, gave Engel the title of "Honorary Citizen of Peć".
Electoral history
[3]
1988
Democratic primary – NY District 19
Eliot Engel – 50%
Vincent Marchiselli – 25%
Mario Biaggi – 25%
General election
Eliot Engel (D) – 59%
Mario Biaggi (R) – 29%
Robert Blumetti (O) – 9%
Martin O'Grady (O) – 3%
1990
Democratic Primary – NY District 19
Eliot Engel – 71%
Dominick Fusco – 29%
General Election
Eliot Engel (D) – 61%
William Gouldman (R) – 23%
Kevin Brawley (O) – 16%
1992
Democratic Primary – NY District 17
Eliot Engel – 73%
Mario Biaggi – 27%
General Election
Eliot Engel (D, L) – 81%
Martin Richman (R) – 14%
Kevin Brawley (C) – 3%
Martin O'Grady (RTL) – 2%
Nana LaLuz (NLP) – 1%
1994
Democratic Primary – NY District 17
Eliot Engel – 61%
Willie Colón – 39%
General Election
Eliot Engel (D, L) – 74%
Edward Marshall (R) – 19%
Kevin Brawley (Other) – 5%
Ann Noonan (Other) – 2%
1996
Democratic Primary – NY District 17
Eliot Engel – 76%
Herbert Moreira-Brown – 24%
General Election
Eliot Engel (D, L) – 85%
Denis McCarthy (R) – 14%
Dennis Coleman (Ind.) – 2%
1998
Democratic Primary – NY District 17
Eliot Engel – 80%
Herbert Moreira-Brown – 20%
General Election
Eliot Engel (D, L) – 88%
Peter Fiumefreddo (R) – 12%
2000
Democratic Primary – NY District 17
Eliot Engel – 50%
Larry Seabrook – 41%
Sonny Zayas – 9%
General Election
Eliot Engel (D, L) – 89%
Patrick McManus (R) – 11%
2002
Democratic Primary – NY District 17
None
General Election
Eliot Engel (D, WF) – 62%
C. Scott Vanderhoef (R) – 35%
Arthur Gallagher (RTL) – 2%
Elizabeth Shanklin (Green) – 1%
2004
Democratic Primary – NY District 17
Eliot Engel – 65%
Kevin McAdams – 23%
Jessica Flagg – 12%
General Election
Eliot Engel (D, WF) – 76%
Matthew Brennan (R) – 23%
Kevin Brawley (Con.) – 2%
2006
Democratic Primary – NY District 17
Eliot Engel – 83%
Jessica Flagg – 17%
General Election
Eliot Engel (D, WF) – 76%
James Faulkner (R) – 24%
2008
Democratic Primary – NY District 17
None
General Election
Eliot Engel (D, WF) – 79%
Robert Goodman (R) – 21%
2010
Democratic Primary – NY District 17
No Democratic Primary. Anthony Mele defeated York Kleinhandler 51% to 49% in the Republican primary.
General Election
Eliot Engel (D, WF) – 73%
Anthony Mele (R) – 23%
York Kleinhandler (Con) – 4%
2012
Democratic Primary – NY District 16
Democratic Primary – NY District 17
Eliot Engel – 90.9%
Aniello Grimaldi – 9.1%
General Election
Eliot Engel (D, WF) – 66.4%
Joseph McLaughlin (R) – 2%
Joseph Diaferia (Green) – 1.1%
Other – 12.5%
References
Eliot Engel Wikipedia
(Text) CC BY-SA