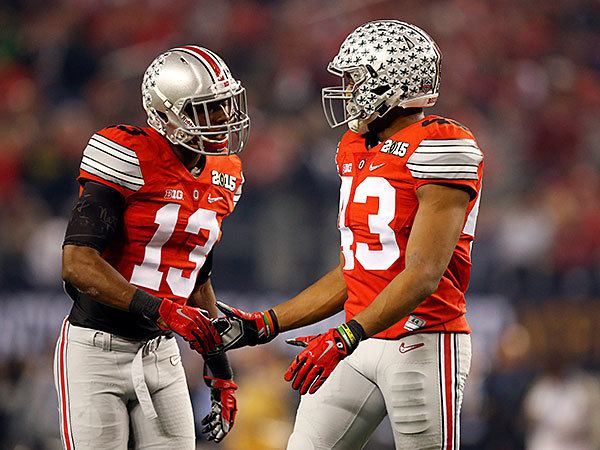 He attended Eastern Regional High School in Voorhees, New Jersey and played under head coach Dan Spittal and was teammates with Tennessee Titans cornerback Logan Ryan. Besides cornerback, he also played quarterback and wide receiver throughout high school. Apple was the rated the top prospect in New Jersey in Rival's 2013 class and was ranked the 28th best prospect nationally. He received about twenty scholarship offers from Alabama, California, Virginia Tech, Boston College, Wisconsin, Tennessee, Purdue, Miami, Georgia Tech, Maryland, Michigan, Ole Miss, Nebraska, North Carolina, NC State, and Clemson and ranked his top three schools as Rutgers, Ohio State, and Notre Dame. On February 12, 2012, he announced his verbal commitment to Ohio State after Rutgers head coach Greg Schiano left for the Tampa Bay Buccaneers.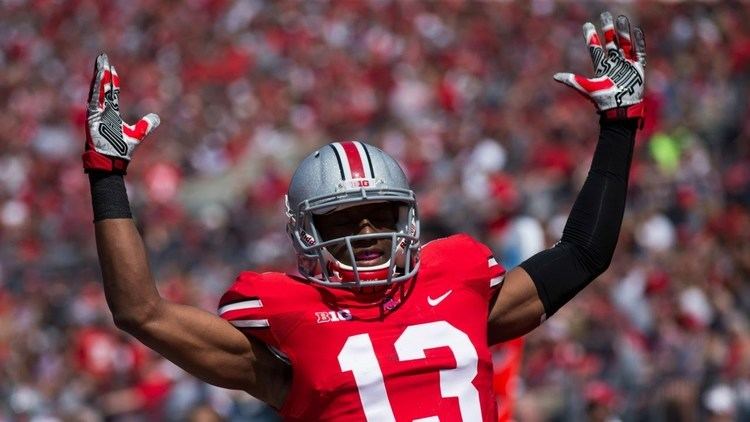 Apple enrolled at Ohio State in January 2013 as a five-star prospect (ESPN 150) and rated as high as the No. 11 prospect nationally on the ESPN 150. He was also rated as the No. 1 overall prospect in New Jersey and No. 6 cornerback prospect nationally by 247sports. He redshirted as a true freshman and went on to play in 2014 as a redshirt freshman. He played in the 2015 Sugar Bowl and the 2015 College Football Playoff National Championship. In his second season with the Buckeyes, he was the Defensive MVP.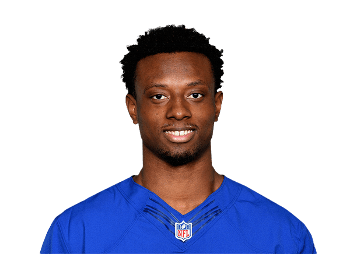 Apple ranked 10th overall in the 40-yard dash at the 2016 NFL Combine with a time of 4.40 seconds. He was an overall consensus first round draft selection and was projected by the majority of analysts to be selected in the early to mid first round. He was ranked the third best cornerback and 20th best prospect by NFLDraftScout.com. Apple received many positive reviews from scouts and analysts for his frame, height, natural ability, quick footwork, competivness, work ethic, technical improvement, and optimal size and speed. Negative reviews were solely based on his inconsistent play, slow play recognition, and limited experience. He was invited to the NFL Combine but did not complete the entire workout after suffering cramps. At Ohio State's Pro Day, Apple only participated in the three-cone drill and shuttle.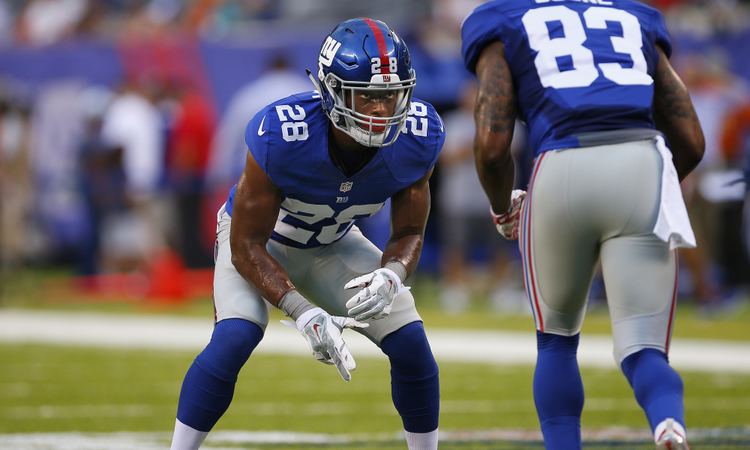 Apple was selected by the New York Giants with the 10th overall pick in the 2016 NFL draft. On May 6, 2016, it was reported that the New York Giants and Apple had agreed to terms on a contract that is for four years and is fully guaranteed for $15.15 million with a signing bonus of $9.21 million.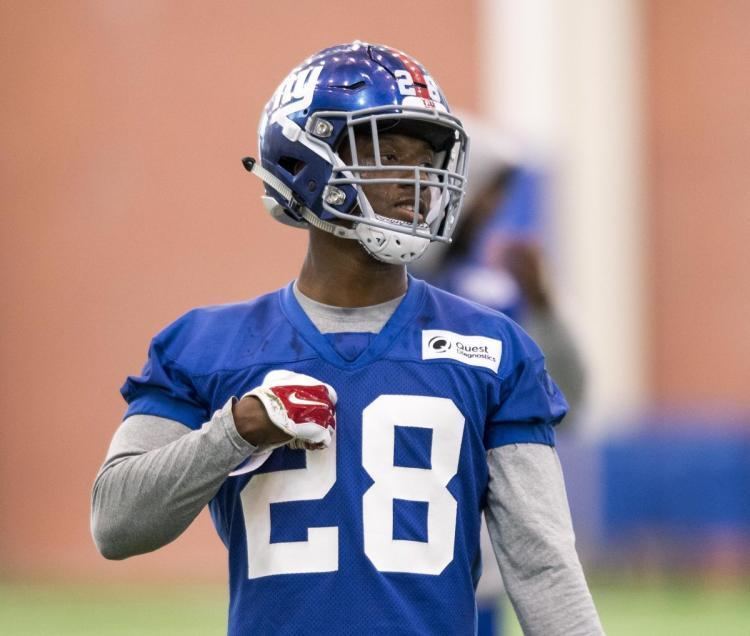 Going into his rookie season, Apple was slated as the third cornerback behind veterans Janoris Jenkins and Dominique Rodgers-Cromartie. He began the season opener as their slot cornerback and finished his professional debut with a total of four solo tackles during the Giant's victory over the Dallas Cowboys. The following game against the New Orleans Saints, he managed to accumulate a season-high six solo tackles, an assisted tackle, and a pass deflection. On September 25, 2016, Apple received his first career start in a 29-27 loss to the Washington Redskins and left the game in the second quarter after suffering an injured hamstring. He made one solo tackle against the Redskins and missed two of the next three games. Apple missed Week 4 with a hamstring injury and missed Week 6 with a groin injury. He returned in Week 7 and made three total tackles, a pass deflection, and forced a fumble during a 17-10 victory over the Los Angeles Rams. On November 7, 2016, he started his second game in-a-row and made four solo tackles against the Philadelphia Eagles but was benched in favor of Trevin Wade as the Giants won 28-23.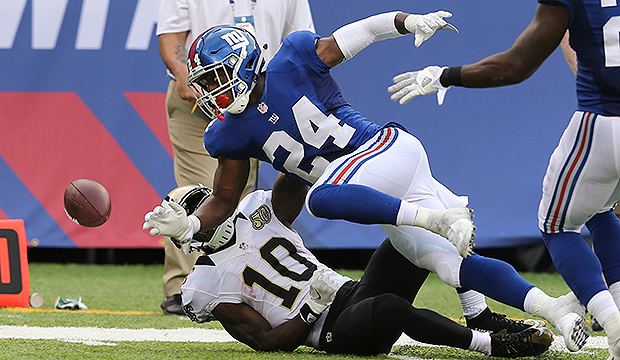 On November 14, 2016, Apple started his first game at outside corner, with Rodgers-Cromartie covering the slot and made one solo tackle in a 21-20 victory over the Cincinnati Bengals. The following game, Apple recorded a season-high nine combined tackles in a 22-16 victory over the Chicago Bears. In Week 13, Apple recorded a fumble recovery and also intercepted Ben Roethlisberger for his first career interception in the Giant's 24-14 loss to the Pittsburgh Steelers. He finished the game with five combined tackles, two pass deflections, a sack, and a forced fumble. Apple started the last ten consecutive games of the season and finished his rookie year with 51 combined tackles, 7 pass deflections, an interception, and forced fumble in 14 games and 11 starts.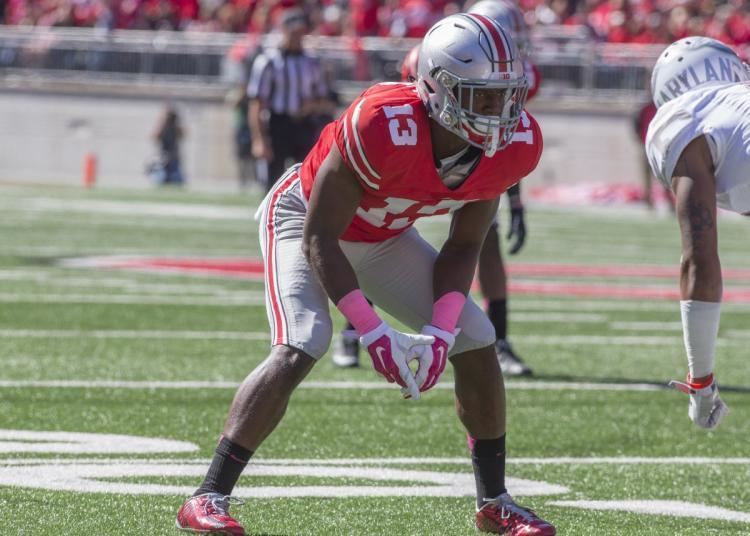 Apple was born in Philadelphia, Pennsylvania and was raised by his mother Annie Apple and stepfather Tim Apple in Voorhees, New Jersey. Tim Apple is his stepfather but raised him since the age of two. On December 21, 2012, Apple honored him by legally changing his name from Eli Woodard to Eli Apple. He began playing football at the age of 11.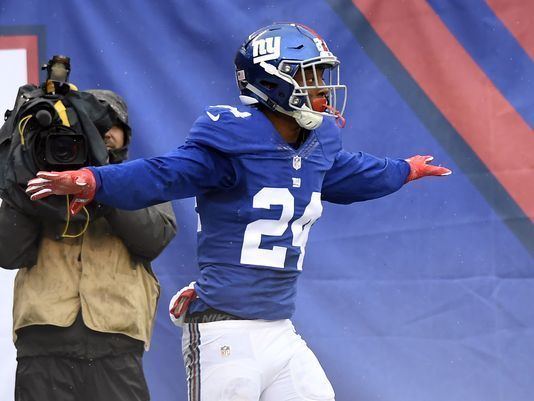 On June 19, 2016, Apple threw out the ceremonial first pitch at a Mets game at Citi Field. "It was a little nerve-racking", he stated to reporter Danielle McCartan at a separate event. He is the nephew of comedian Michael Blackson. During his true freshman year at Ohio State, Apple had issues with his iron deficiency that limited his play.