On November 29, 2016, President-elect Donald Trump nominated Chao to serve as the Secretary of Transportation. She was confirmed by the Senate on January 31, 2017, in a 93–6 vote.
Chao served as the 24th United States Secretary of Labor under President George W. Bush from 2001 to 2009, and as Deputy Secretary of Transportation and Director of the Peace Corps under President George H. W. Bush. She had earlier spent four years as the president of the United Way of America, and served as a Distinguished Fellow with The Heritage Foundation, a conservative think tank.
Born in Taipei, Chao was the first Asian American woman and the first Taiwanese American in U.S. history to be appointed to a President's Cabinet. Chao is married to Senator Mitch McConnell of Kentucky, who has been the Senate Republican Leader since January 3, 2007.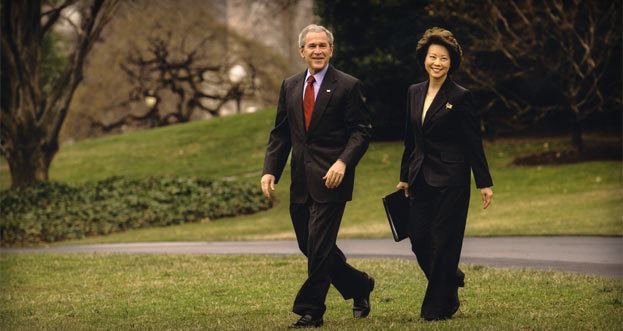 Chao was born in Taipei, Taiwan Province in the Republic of China. The eldest of six daughters, Chao was born to Ruth Mulan Chu Chao (趙朱木蘭), a historian, and James Si-Cheng. Chao (趙錫成), who began his career as a merchant mariner and founded a successful shipping company in New York City called Foremost Shipping. Chao's parents had fled to Taiwan from Jiading, Shanghai in China after the Chinese Communists took over following the Chinese Civil War in 1949. When she was 8 years old, in 1961, she came to the United States on a freight ship along with her mother and two younger sisters, a long journey that took 37 days. Her father had arrived in New York three years earlier after receiving a scholarship.
Chao attended Tsai Hsing Elementary School in Taipei for kindergarten and first grade, and subsequently attended Syosset High School in Syosset, New York, on Long Island. She was naturalized as a U.S. citizen at the age of 19.
She received a bachelor of arts in Economics from Mount Holyoke College in South Hadley, Massachusetts, in 1975. While at Mount Holyoke, she worked for the Admissions Department, and the Economics Department, edited the yearbook, played field hockey and was a member of the horseback riding club. In the first semester of her junior year Elaine was co-editor in chief of the yearbook. In the second semester of her junior year she did a domestic exchange to Dartmouth College, where she studied money and banking.
She received a MBA degree from Harvard Business School in 1979. While at Harvard Business School she was the first woman at Harvard to be elected class officer and class marshall. She was a member of the finance club, the financial accounting club, the international business club and the transportation club.
Chao has received 36 honorary doctorates, including an honorary Doctor of Humane Letters degree from Georgetown University in 2015.
Before entering public service, Chao was Vice President for syndications at Bank of America Capital Markets Group in San Francisco, California, and an International Banker at Citicorp in New York for four years.
She was granted a White House Fellowship in 1983 during the Reagan Administration.
In 1986, Chao became Deputy Administrator of the Maritime Administration in the U.S. Department of Transportation. From 1988 to 1989, she served as Chairwoman of the Federal Maritime Commission. In 1989, President George H. W. Bush nominated Chao to be Deputy Secretary of Transportation, serving from 1989 to 1991. From 1991 to 1992, she was the Director of the Peace Corps. She was the first Asian Pacific American to serve in any of these positions. She expanded the Peace Corps's presence in Eastern Europe and Central Asia by establishing the first Peace Corps programs in Poland, Latvia, Lithuania, Estonia, and other newly independent states of the former Soviet Union.
Following her service in the government, Chao worked for four years as President and CEO of United Way of America. She is credited with returning credibility and public trust in the organization after a financial mismanagement scandal involving former president William Aramony. From 1996 until her appointment as Secretary of Labor, Chao was a Distinguished Fellow with The Heritage Foundation, a conservative think tank in Washington, D.C. She was also a board member of the Independent Women's Forum. She returned to the Heritage Foundation after leaving the government in January 2009.
Chao was the only cabinet member in the George W. Bush administration to serve for the entirety of his eight years. She was also the longest-serving Secretary of Labor since Frances Perkins, who served from 1933 to 1945, under President Franklin D. Roosevelt.
According to Occupational Safety and Health Administration statistics, in 2007 – six years into Chao's tenure – "the workplace fatality rate... declined 14 percent since 2001, and since 2002, the workplace injury and illness rate... dropped 21 percent – with both at all time lows." Under her leadership, the U.S. Department of Labor undertook regulatory and legislative reforms in "protecting the health, safety, wages, and retirement security" of U.S. workers by "recovering record levels of back wages and monetary recoveries for pension plans, and obtaining record financial settlements for discrimination by federal contractors." She also restructured departmental programs and modernized regulations. Over the course of her tenure, the Department reduced their discretionary budget from $11.7 billion to $11.6 billion and was the first cabinet-level agency to have been rated "green" by the Office of Management and Budget, having exhibited excellence in budget management practices in every area.
In 2002, a major West Coast ports dispute costing the U.S. economy nearly $1 billion daily was resolved when the Bush administration obtained a national emergency injunction against both the employers and the union under the Taft–Hartley Act for the first time since 1971. Led by Chao In 2003, for the first time in more than 40 years, the Department updated the labor union financial disclosure regulations under the Landrum–Griffin Act of 1959, which created more extensive disclosure requirements for union-sponsored pension plans and other trusts to prevent embezzlement or other financial mismanagement.
In 2004, the Department issued revisions of the white-collar overtime regulations under the Fair Labor Standards Act.
After analyzing 70,000 closed case files from 2005 to 2007, the Government Accountability Office reported that the Department's Wage and Hour Division (WHD) inadequately investigated complaints from low- and minimum-wage workers alleging that employers failed to pay the federal minimum wage, required overtime, and failed to issue a last paycheck.
A 2008 Government Accountability Office report noted that the Labor Department gave Congress inaccurate numbers that understated the expense of contracting out its employees' work to private firms during Chao's tenure.
A 2007 report by the department's inspector general found that mine safety regulators did not conduct federally required inspections at more than 14% of the country's 731 underground coal mines, and that the number of worker deaths in mining accidents more than doubled to 47. Subsequently, on December 10, 2008, Chao announced that the Department of Labor's Mine Safety and Health Administration (MSHA) had, for the first time in the agency's 31-year history, achieved its goal of completing every mandated regular inspection for the year, then consisting of 14,800 active mining operations. This announcement was made within the first year of the agency's "100 Percent Plan," which was launched by the MSHA in October 2007 to improve the completion of quarterly and biannual inspections.
OSHA statistics for 2007 and 2008 revealed that overall workplace fatality rates and workplace injury and illness rates were "both at all-time lows." A 2009 internal audit appraising an Occupational Safety and Health Administration (OSHA) initiative focusing on problematic workplaces, however, stated that employees had failed to gather needed data, conducted uneven inspections and enforcement, and failed to discern repeat fatalities because records misspelled the companies' names or failed to notice when two subsidiaries with the same owner were involved.
In 2009 Chao resumed her previous role as a Distinguished Fellow at The Heritage Foundation, and she contributed to Fox News and other media outlets.
She also served as a director on a number of corporate and non-profit boards, including the Institute of Politics at the Harvard Kennedy School of Government, Wells Fargo, New York–Presbyterian Hospital, News Corp, Dole Food Company, and Protective Life Corporation. According to financial disclosure forms, Chao was slated to receive between $1-5 million for compensation for her service on the board of Wells Fargo. In June 2011, she was awarded the Woodrow Wilson Award for Public Service.
In January 2015 she resigned from the board of Bloomberg Philanthropies, which she had joined in 2012, because of its plans to significantly increase support for the Sierra Club's "Beyond Coal" initiative.
In 2011 and 2013, Chao attended Shanghai signing ceremonies for Capesize bulkers launched by the Foremost Group, her father's company, where she spoke publicly about U.S.–China relations. At the 2013 ceremony, Chao stated, "The U.S.-China relations[hip] is among the most important bilateral relationships in the world. And as such, there is no other alternative but to have a harmonious and a cooperative relationship. As with any relationship, there are bound to be ups, downs, disagreements, but in the overall scheme of things, in the overall direction, for the benefit of the world, [the] U.S. and China must get along, and must find a way to do so."
In 2013, Chao recorded a motivational video to inspire Asian-American children.
In February 2017, it was reported by the Associated Press that Chao had been paid five-figure sums by organizations linked to the People's Mujahedin of Iran (aka Mojahedin-e Khalq or MEK), an exile group that was previously described as "cult-like" by the State Department, in exchange for making two speeches in 2015–16. The MEK had previously claimed responsibility for the assassination of U.S. Army Lt. Col. Lewis L. Hawkins, the deputy chief of the U.S. military mission to Tehran in 1973. However, the group was delisted as a foreign terrorist organization in 2012, with the US government acknowledging that the organization had renounced violence.
Chao is a distinguished fellow at the Hudson Institute. She also organized the "orientation for the spouses of Republican senators" in Washington, D.C.
President Donald Trump nominated Chao to Secretary of Transportation. The U.S. Senate confirmed Chao on January 31, 2017 by a vote of 93–6.
In 1993, Chao married Mitch McConnell, the senior U.S. Senator from Kentucky and the eventual Senate Majority Leader. They were introduced by Stuart Bloch, an early friend of McConnell's, and his wife Julia Chang Bloch, a Chinese American and a future U.S. Ambassador to Nepal, the first Asian American to serve as US Ambassador, who mentored Chao. Bloch described Chao as a "tiger wife," a reference to Amy Chua's 2011 book about her disciplinarian parenting style. Previously, she had dated C. Boyden Gray, the White House Counsel to President George H. W. Bush.
The University of Louisville's Ekstrom Library opened the "McConnell-Chao Archives" in November 2009. It is a major component of the university's McConnell Center.
In an interview with CNN, Chao said she sometimes regrets not having children, and she counseled young women that there are trade-offs in life.
In the two years leading up to the 2014 U.S. Senate elections, she "headlined fifty of her own events and attended hundreds more with and on behalf of" her husband and was seen as "a driving force of his reelection campaign" and eventual victory over Democratic candidate Alison Lundergan Grimes, who had portrayed McConnell as "anti-woman." After winning the election, McConnell said, "The biggest asset I have by far is the only Kentucky woman who served in a president's cabinet, my wife, Elaine Chao."
She has been described by Jan Karzen, a longtime friend of McConnell's, as adding "a softer touch" to McConnell's style by speaking of him "in a feminine, wifely way." She has also been described as "the campaign hugger" and is also known for bipartisan socializing. For example, in 2014 she hosted a dinner with philanthropist Catherine B. Reynolds to welcome Penny Pritzker as Secretary of Commerce, where she spent the evening socializing with Valerie Jarrett, Obama's top advisor.
The New York Times has described her as "an unapologetically ambitious operator with an expansive network, a short fuse, and a seemingly inexhaustible drive to get to the top and stay there." It reported that as labor secretary, she "had gold-colored coins minted with her name in bas-relief and employed a "Veep"-like staff member who carried around her bag."
The Chao family emigrated from Taiwan; Elaine Chao is the oldest of six sisters, the others being Jeannette, May, Christine, Grace, and Angela. The New York Times reported that "several of her five younger sisters married Wall Street titans, including Bruce Wasserstein, the late owner of New York Magazine."
Her father, James S.C. Chao, is a shipping magnate who founded the Foremost Group. In April 2008, Chao's father gave Chao and McConnell between $5 million and $25 million, which "boosted McConnell's personal worth from a minimum of $3 million in 2007 to more than $7 million" and "helped the McConnells after their stock portfolio dipped in the wake of the financial crisis that year."
In 2012, the Chao family donated $40 million to Harvard Business School for scholarships for students of Chinese heritage and the Ruth Mulan Chu Chao Center, an executive education building named for Chao's late mother. It is the first building named after a woman on the Harvard campus and the first building named after an American of Asian ancestry. Ruth Mulan Chu Chao returned to school at age 51 to earn a master's degree in Asian literature and history from St. John's University in the Queens borough of New York City.