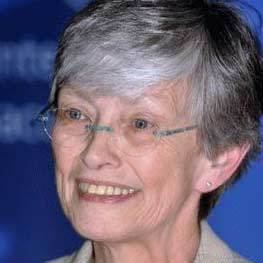 Bellamy was born and raised in Scotch Plains, New Jersey, where she graduated from Scotch Plains-Fanwood High School in 1959. She attended Gettysburg College, where she was a member of Delta Gamma, and graduated in 1963. She earned her law degree from New York University School of Law in 1968. She was a Peace Corps volunteer in Guatemala from 1963 to 1965.
Bellamy was a managing director at the now defunct Bear Stearns from 1990 to 1993, a Principal at Morgan Stanley from 1986 to 1990, and an associate in the New York law firm of Cravath, Swaine & Moore from 1968 to 1971. In 1968, she was to be one of the subjects of Jean-Luc Godard's film One A.M. (later released as One P.M. by D. A. Pennebaker) where she described her philosophy of using business to accomplish social change. Her speech was then satirized by Rip Torn wearing a US Civil War uniform in front of a Brooklyn middle school class.
Bellamy was a member of the New York State Senate from 1973 to 1977, sitting in the 180th, 181st and 182nd New York State Legislatures. In November 1977, she was the first woman to be elected as President of the New York City Council, a position she held until her unsuccessful bid for Mayor of New York in 1985. In 1982 she considered running for Governor of New York. In 1990 she was an unsuccessful candidate for New York State Comptroller. In 2005 she was appointed to the New York State Board of Regents, which oversees all state education activities and the state Department of Education.
From 1993 to 1995, Bellamy was the director of the Peace Corps. Appointed by President Bill Clinton, she was the first person to have been both a Peace Corps Volunteer and director.
As of 2014 Carol Bellamy is the Chair of the Governing Board of the Global Community Engagement and Resilience Fund which is the first global effort to support local, community-level initiatives aimed at strengthening resilience against violent extremist agendas, for example through job creation and empowering women and youth. As a public-private partnership operating in the fields of security and development, the fund works with governments, civil society, and the private sector in beneficiary countries to support national strategies to address the local drivers of violent extremism.
From 1995 to 2005, Bellamy completed ten years as Executive Director of UNICEF. She was appointed to that position in 1995 by Boutros Boutros-Ghali, then the Secretary-General of the United Nations. Bellamy was granted a second five-year term in 2000 by Boutros-Ghali's successor, Kofi Annan. UN policy states that agency heads may serve no more than two five-year terms.
Bellamy is credited with having left behind a fiscally sound organization with strong internal controls. She increased UNICEF's resources from roughly $800 million in 1994 to more than $1.8 billion in 2004.
Bellamy was appointed the President and CEO of the Brattleboro, Vermont-based World Learning and president of its School for International Training in 2005. World Learning is a global organization with operations in more than 75 countries that fosters global citizenship through experiential education and community-driven development programs. Organizations that fund World Learning include the Tides Foundation and Rockefeller Financial Services.
On July 25, 2007, Bellamy was elected Chair of the board of directors of the Fair Labor Association (FLA). The FLA advocates for workers' interests by promoting international labor standards. "For eight years the FLA has been strengthening its capacity to work with companies, factories, civil society organizations and others to end sweatshop labor and protect workers' rights. It is now moving beyond its rigorous monitoring program to focus greater attention on identifying the root causes of these problems and to develop sustainable compliance programs," said Bellamy in accepting the position.
In April 2009, Bellamy was appointed as Chair of the International Baccalaureate (IB) Board of Governors. Between 2010 and 2013, Carol Bellamy was the Chair of the Board of Directors of the Global Partnership for Education. Bellamy is a member of the Board of the American University of Beirut.
In 1981, she was selected to be one of the first Young Leaders of the French-American Foundation.
Bellamy is a former Fellow of the Harvard Institute of Politics at the John F. Kennedy School of Government and an honorary member of Pi Alpha Alpha. At its 1982 commencement ceremonies, Barnard College awarded Bellamy the college's highest honor, the Medal of Distinction.
Bellamy received an honorary Doctor of Humane Letters from Bates College in 2003. She returned to her alma mater, the NYU School of Law, to deliver a commencement day speech in May 2006.
In Japan, she was awarded the Order of the Rising Sun in 2006.