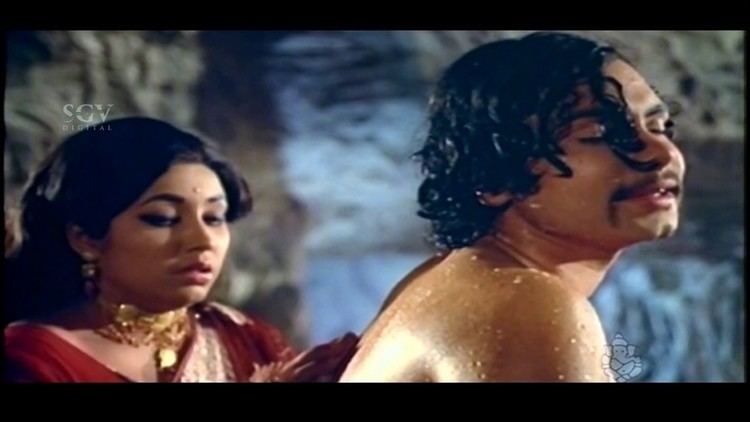 Edakallu Guddada Mele is loosely based on an eponymous novel by Bharathi Suta. It has different layers to it, but the storyline is built around a couple and their young neighbour who get entangled in a complex relationship. The Kannada novel is an Indian adaptation of the famous English novel of D. H. Lawrence, Lady Chatterley's Lover.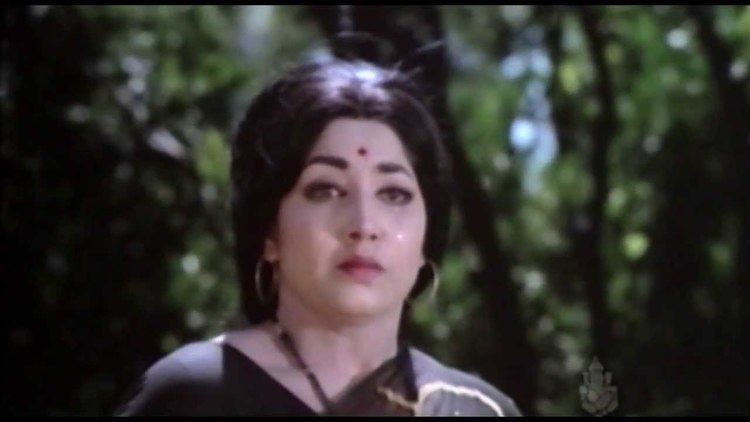 The movie begins with Sanskrit saying, 'Kaamaaturaanam nabhayam nalajja (A lustful person knows neither fear nor shame),' and the rest of the movie attempts to illustrate the same. Kama is one of the six moral weaknesses: kama (passion/lust), krodha (anger), lobha (greed), moha (attachment), madha (pride) and matsara (envy).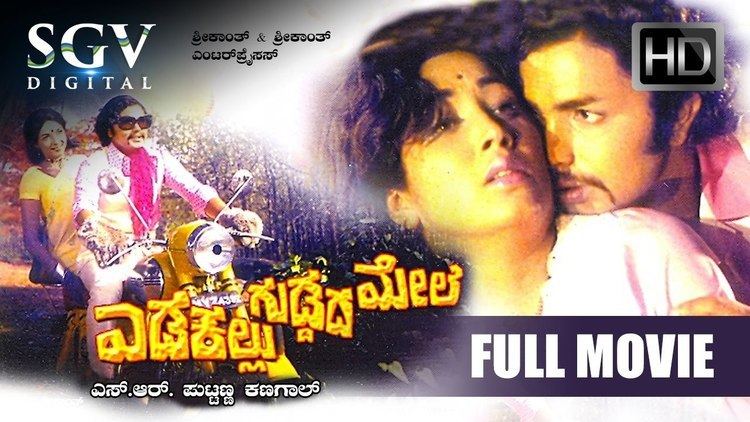 Jayanthi begins with a song expressing pangs of separation with her soldier-husband. The song -- 'Viraha,' is a classic in Kannada movie lore, and is quite often interjected in banter to express estrangement. As the song ends with the return of her husband, it becomes evident that the war has not just crippled his leg. Subsequently, the trauma of a marriage bereft of a physical relationship is portrayed in sing-song histrionics prevalent in movies of this period. The introduction of the brash, loud, motorbike-riding Nanjunda, infuses enthusiasm into a hitherto hurried and jarring narrative. Nanjunda, a fresh college graduate, also happens to be the Captain's neighbor. A word on topography and co-ordinates is in order here. The movie appears to be depicting Kodagu (Coorg) as inferred by the frequently portrayed undulating hills, and typical Kodava dresses. The Captain and Nanjunda, own adjoining estates in this region. Nanjunda is on a visit, and seems to indulge in little but bike-riding and indolence. His dad's estate is managed by his uncle, Shivaram, another stentorian voice that strains the eardrums.
The next part is the heart of the movie where Kanagal shines through with his trademark symbolism and narrative restraint. Many sequences are edited to be suggestive but incomplete, leaving just enough room to make it imaginative, but not enough to make vague. Nanjunda and the couple (Madhavi and the Captain) move from being well-acquainted to being cosy friends through card-games and raucous, if unnecessary, laughter. And then it happens. Madhavi and Nanjunda embark on a picnic to Edakallu gudda (gudda = hill in Kannada), a desolate hilltop that houses a cavern, and has a little pond in it to boot. Though merely playful to begin with, proximity and solitude combine to tempt them, and Madhavi, in a moment of weakness falls prey to lust. Whether Nanjunda seduced her has no objective answer.
Kanagal's subsequent portrayal of the uneasy relationship between Nanjunda and Madhavi deserves merit for its transitional nature. Nanjunda's infatuation in the immediate aftermath of their first corporeal encounter and Madhavi's tortured complaisance in furthering the passion till a fog of guilt and doom descends on her, are excellent in injecting a dash of reality. As the confused relationship teeters, a twist arrives in the form of Devaki, Madhavi's sister who arrives to stay with her sister. Nanjunda is immediately enamoured, and switches allegiance in a trice. But Devaki proves a harder nut to crack, and his advances are spurned with minimal effort. As a hapless onlooker to this courtship, Madhavi's welling emotions brimmeth over, adding anger and betrayal to guilt and remorse. Meanwhile, Nanjunda achieves a breakthrough as he machinates a picnic to, where else—Edakallu gudda, with Devaki. He isn't as lucky this time. As Nanjunda gets more desperate in wooing Devaki, and Madhavi gets even more desperate in protecting her sister, things come to a head. The cat is let out of the bag in the form of too audible a meow emanating from Nanjunda's bedroom—that Madhavi creates and (a conveniently somnambulating) Devaki overhears. An interspersed song with the two sisters as muses, is pleasant for its departure from being a typical male-female duet. The climax is best left to the viewer.
Ranga as Captain Kumar, an ex-soldier
Jayanthi as Madhavi, the captain's wife
Chandrashekar as Nanjunda, a fresh college graduate and the captain's neighbor.
Aarathi as Devaki, Madhavi's younger sister
Shivaram as Nanjunda's uncle
Kanagal's movies have always enjoyed the presence of striking female characters and this movie is no different. Madhavi and her sister steal the viewer's attention, while the male characters server as adjuncts. Nanjunda's character is reasonably interesting and at times intriguing, however, the Captain's role is disappointingly passive—not helped in the least by Ranga's wooden performance, while Shivaram could have been replaced by a dull piece of furniture.
The plot is loosely bound, and some elements are superfluous. Nanjunda is at times unwittingly hilarious because of his cheesy dialogues or attire. However, the better part of the movie is riveting. That Kanagal touched this theme in a bluenosed era is laudable, but that it was done so only with a 20-foot pole is unfortunate.
Some dialogues are too repetitive ["Gammath", "First time"], and dissonate harshly. But on the whole, an excellent movie, considering the age, and a must-watch for any movie buff, especially Kannada.
The name Edakallu Guddada Mele (Upon Mount Edakallu) seems to be a reference to Edakkal, a tourist place famous for mountain caves in Wayanad district which is in Kerala and neighbours Kodagu.
M. Ranga Rao composed the music for the soundtracks and the background score for the film. The lyrics for the soundtracks were penned by Vijaya Narasimha, R. N. Jayagopal, M. Narendra babu and K. Prabhakar Shastry. The album consists of eight soundtracks.