4.8

/

10

Alchetron

Rate This





Director

Ryan Murphy




Music director

Dario Marianelli




Country

United States







Genre

Drama, Romance




Duration







Language

English Italian Portuguese




Release date

August 13, 2010 (2010-08-13)




Based on

Eat, Pray, Love by Elizabeth Gilbert




Writer

Ryan Murphy (screenplay), Jennifer Salt (screenplay), Elizabeth Gilbert (book)




Screenplay

Ryan Murphy, Jennifer Salt




Cast

Julia Roberts

(Elizabeth Gilbert),

James Franco

(David),

Javier Bardem

(Felipe),

Billy Crudup

(Steven),

Richard Jenkins

(Richard),

Viola Davis

(Delia)


Similar movies

Darna

,

Darna: The Return

,

Darna vs. The Planet Women

,

Catwoman

,

Ghost in the Shell

,

Kekko Kamen: The MGF Strikes Back




Tagline

Let Yourself GO
Javier bardem stars in eat pray love
Eat Pray Love is a 2010 American biographical romantic comedy-drama film starring Julia Roberts as Elizabeth Gilbert, based on Gilbert's best-selling memoir Eat, Pray, Love. Ryan Murphy co-wrote and directed the film, which opened in the United States on August 13, 2010. It received mixed to negative reviews from critics, but was a financial success, grossing $204.6 million worldwide against a $60 million budget.
Contents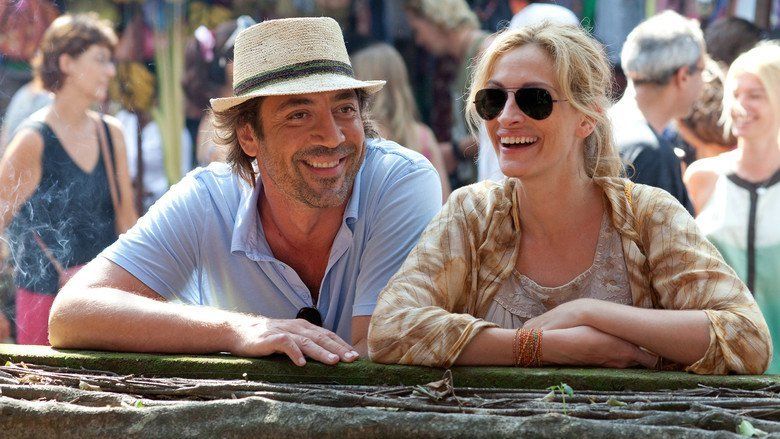 Watch the official eat pray love trailer in hd
Plot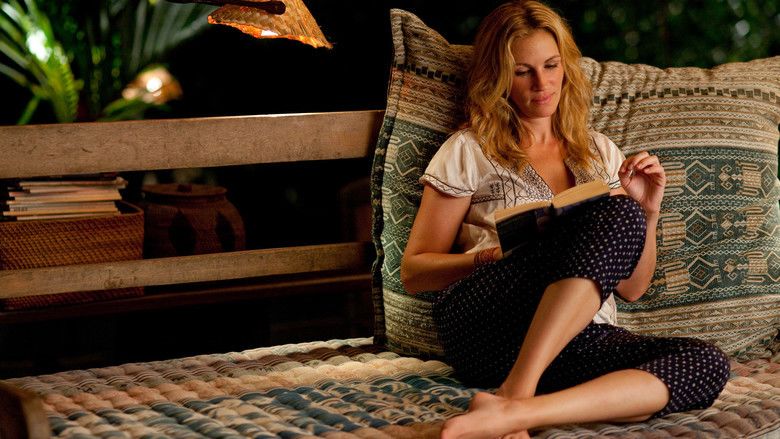 Elizabeth Gilbert had everything a modern woman is supposed to dream of having – a husband, a house, a successful career – yet like so many others, she found herself lost, confused, and searching for what she really wanted in life. Newly divorced and at a crossroads, Gilbert steps out of her comfort zone, risking everything to change her life, embarking on a journey around the world that becomes a quest for self-discovery. In her travels, she discovers the true pleasure of nourishment by eating in Italy, the power of prayer in India, and, finally and unexpectedly, the inner peace and balance of true love in Indonesia.
Cast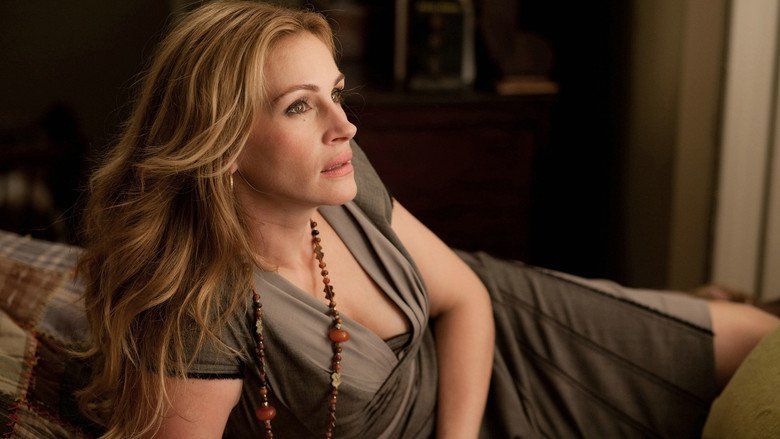 Julia Roberts as Elizabeth "Liz" Gilbert
Javier Bardem as Felipe, a Brazilian businessman Gilbert falls in love with on her journey
Billy Crudup as Steven, Gilbert's ex-husband
Richard Jenkins as Richard, a Texan Liz befriends at an Indian ashram
Viola Davis as Delia Shiraz, Gilbert's best friend
James Franco as David, the man Gilbert has an intense relationship with while she is finalizing her divorce
Sophie Thompson as Corella, a woman at the Indian ashram
Mike O'Malley as Andy Shiraz, Delia's husband
Christine Hakim as Wayan, Gilbert's best friend in Indonesia
Arlene Tur as Armenia
Hadi Subiyanto as Ketut Liyer, Gilbert's advisor in Indonesia
Gita Reddy as The Guru
Tuva Novotny as Sofi, Gilbert's Swedish best friend in Rome
Luca Argentero as Giovanni, Gilbert's Italian tutor and Sofi's love interest
Rushita Singh as Tulsi, Liz's friend at the ashram who has an arranged marriage
Production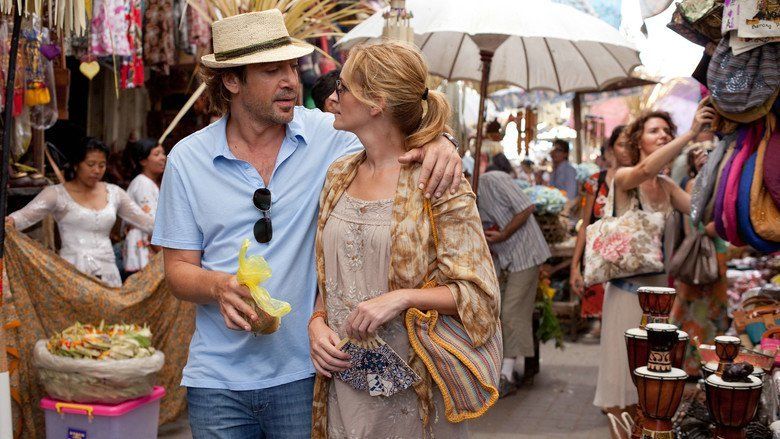 Eat Pray Love began principal photography in August 2009. Filming locations include New York City (United States), Rome and Naples (Italy), Delhi and Pataudi (India), Ubud and Padang-Padang Beach at Bali (Indonesia).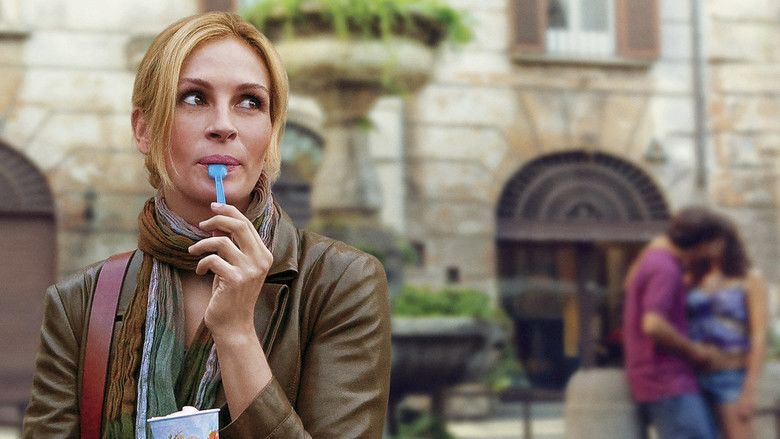 Hindu leaders voiced concern over the production of the film and advocated the use of spiritual consultants to ensure that the film conveyed an accurate reflection of life in an ashram. Both Salon.com and The New York Post have suggested that Gurumayi Chidvilasananda was the guru featured in the film and in the book by Elizabeth Gilbert on which the film was based, though Gilbert herself did not identify the ashram or the guru by name.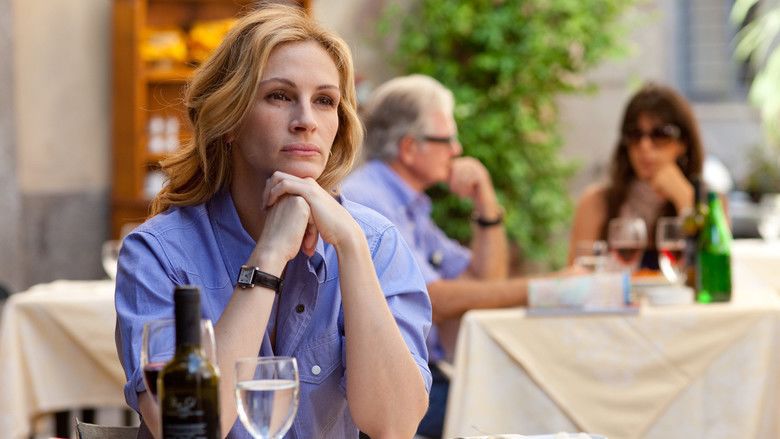 The two Balinese lead characters (Ketut Liyer and Wayan) are played by Indonesian actors Hadi Subiyanto and Christine Hakim, respectively.
Soundtrack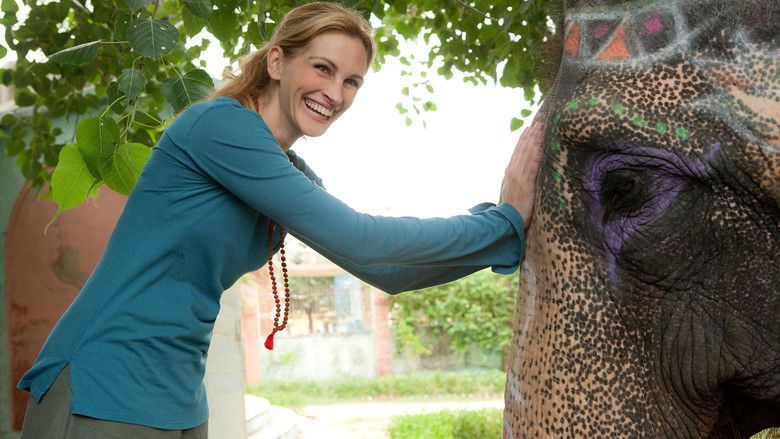 "Flight Attendant" by Josh Rouse
"Last Tango In Paris (Suite, Part 2)" by Gato Barbieri
"Thank You" by Sly & the Family Stone
"Der Hölle Rache kocht in meinem Herzen (Mozart's The Magic Flute)" by Wiener Philharmoniker
"Heart of Gold" by Neil Young
"Kaliyugavaradana" by U. Srinivas
"The Long Road" by Eddie Vedder and Nusrat Fateh Ali Khan
"Harvest Moon" by Neil Young
"Samba da Bênção" by Bebel Gilberto
"Wave" by João Gilberto
"Got to Give It Up, Part 1" by Marvin Gaye
"'S Wonderful" by João Gilberto
"Better Days" by Eddie Vedder
"Attraversiamo" by Dario Marianelli
"Dreams" by Fleetwood Mac
Box office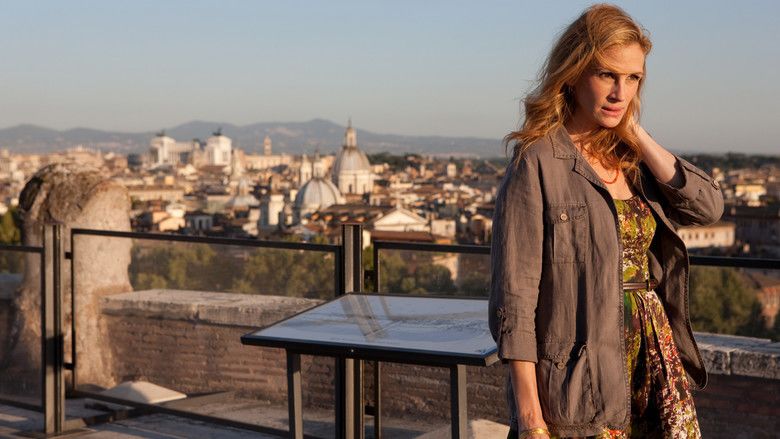 The film debuted at #2 behind The Expendables with $23,104,523. It had the highest debut at the box office with Roberts in a lead role since America's Sweethearts in 2001. In its initial ten-day run, it increased its revenue to a total of $47.2 million. Competing film The Expendables features Eric Roberts, Julia Roberts' brother, and the box office pitted Roberts versus Roberts. Hollywood.com commented that "sibling rivalry is rarely as publicly manifested" as this. The film, produced on a $60 million budget, grossed $80,574,382 in the United States and Canada and has a worldwide total of $204,594,016.
Critical reception
Eat Pray Love received mixed to negative reviews from critics. Based on 193 reviews collected by Rotten Tomatoes, the film has an overall approval rating of 36%. Its consensus states "The scenery is nice to look at, and Julia Roberts is as luminous as ever, but without the spiritual and emotional weight of the book that inspired it, Eat Pray Love is too shallow to resonate." Another review aggregate, Metacritic, calculated an average score of 50 based on 39 reviews.
Wesley Morris of The Boston Globe gave the film 3 out of 4 stars while writing "Is it a romantic comedy? Is it a chick flick? This is silly, since, in truth, it's neither. It's simply a Julia Roberts movie, often a lovely one." San Francisco Chronicle film critic Mick LaSalle overall positively reviewed the film and praised Murphy's "sensitive and tasteful direction" as it "finds way to illuminate and amplify Gilbert's thoughts and emotions, which are central to the story".
Negative reviews appeared in The Chicago Reader, in which Andrea Gronvall commented that the film is "ass-numbingly wrong", and Rolling Stone, in which Peter Travers referred to watching it as "being trapped with a person of privilege who won't stop with the whine whine whine." Humor website Something Awful ran a scathing review. Martin R. "Vargo" Schneider highlighted several aspects of the film that he considered completely unrealistic. Political columnist Maureen Dowd termed the film "navel-gazing drivel" in October, 2010.
The BBC's Mark Kermode listed the film as 4th on his list of Worst Films of the Year, saying: "Eat Pray Love... vomit. A film with the message that learning to love yourself is the greatest love of all, although I think the people who made that film loved themselves rather too much."
In The Huffington Post, critic Jenna Busch wrote:
Eat Pray Love is ultimately charming and inspirational. Though it doesn't have quite the impact of the book, it will likely leave you pondering your life choices and forgiving your flaws. It will certainly have you forgiving the few flaws in the film. The performances are just too fantastic, the vistas too lovely to pay too much attention to anything else.
In the Italian newspaper La Repubblica, journalist Curzio Maltese wrote:
How many platitudes fit in a two-hour-twenty-minutes-long movie? Several, if Eat Pray Love is anything to go by. Sure, if TV director Ryan Murphy's directing weren't so slow, even more would. For example, in the long part shot in Rome, the mandolin is conspicuously absent. There's a shower of spaghetti, Italians who gesticulate all the time and shout vulgarities as they follow foreign girls around. [...] There's lots of pizza. But no mandolin. Why? [...] Goes without saying that the story would've surprised us more if Julia had found out how well one can eat in Mumbai, how much they pray in Indonesia, and how one can fall in love even in the Grande Raccordo Anulare, possibly avoiding rush hour.
The film received generally negative reviews in the Italian press.
Merchandising
Marketers for the film created over 400 merchandising tie-ins. Products included Eat Pray Love-themed jewelry, perfume, tea, gelato machines, an oversized Indonesian bench, prayer beads, and a bamboo window shade. World Market department store opened an entire section in all of their locations devoted to merchandise tied into the movie.
The Home Shopping Network ran 72 straight hours of programming featuring Eat Pray Love products around the time of the film's release. The decision to market such a wide range of products, hardly any of which were actually featured in the film, brought criticism from the Philadelphia Inquirer, The Washington Post and The Huffington Post.
References
Eat Pray Love Wikipedia
(Text) CC BY-SA
Eat Pray Love (film) IMDb
Eat Pray Love (film) Rotten Tomatoes
Eat Pray Love (film) Metacritic
Eat Pray Love themoviedb.org