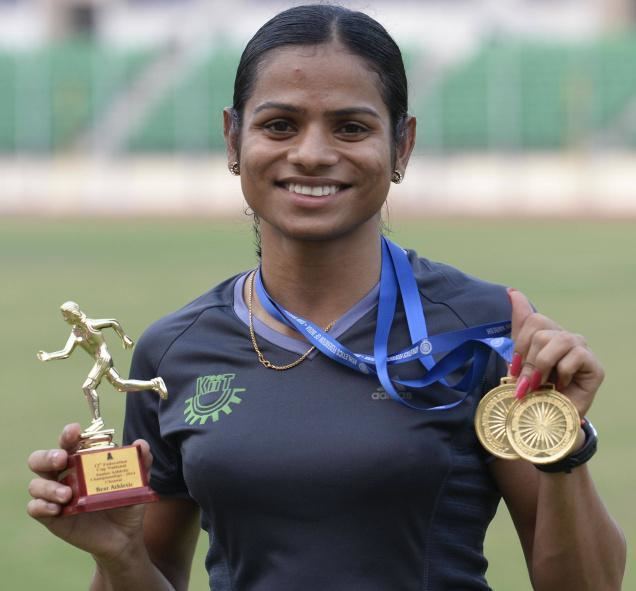 Chand was born on 3 February 1996 to Chakradhar Chand and Akhuji Chand in Gopalpur, Odisha, in the Jajpur district of Odisha. She is from a below poverty line weavers family. Her source of inspiration comes from her elder sister Saraswati Chand, who was an athlete herself. In 2013, she enrolled in the KIIT University to pursue law.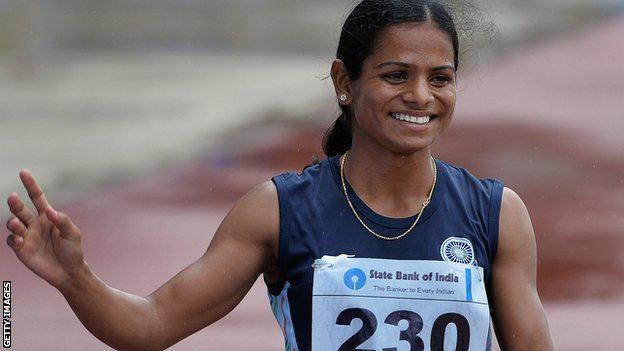 Dutee Chand in 2012 became a national champion in the under-18 category when she clocked 11.8 seconds in the 100 metres event. Clocking 23.811 seconds, Chand won the bronze in the 200 metres event at the Asian Championships in Pune. The year also saw her become the first Indian to reach the final of a global athletics 100 metres final, when she reached the final in the 2013 World Youth Championships. In the same year, she became the national champion in 100 metres and 200 metres when she won the events clocking 11.73 s in the final in 100 metres and a career-best 23.73 s in 200 metres at the National Senior Athletics Championships in Ranchi.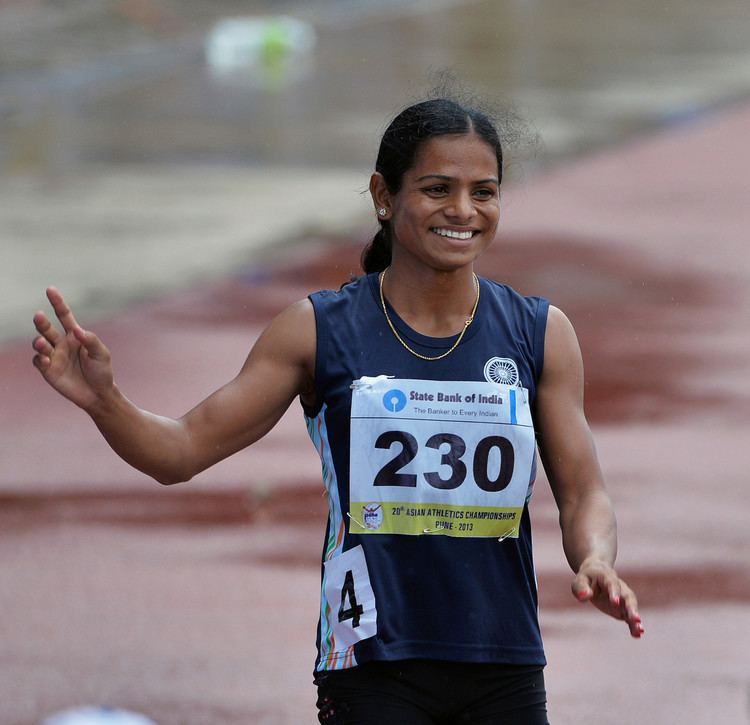 Dutee clocked 11.33 secs in women's 100m dash to win the gold and erase Rachita Mistry's 16-year-old earlier national record of 11.38 secs in the 2016 Federation Cup National Athletics Championships in New Delhi, however she missed the Rio Olympics qualification norm of 11.32 secs by one-hundredth of a second. But finally on 25 June 2016, Dutee broke the very same National record twice in one day after clocking 11.24 at the XVI International Meeting G Kosanov Memorial in Almaty, Kazakhstan, thereby qualifying for the Olympic Games.
Chand was dropped from the 2014 Commonwealth Games contingent at the last minute after the Athletic Federation of India stated that hyperandrogenism made her ineligible to compete as a female athlete. There has been no suggestion that Chand has been involved in cheating or doping—the decision was made in compliance with International Olympic Committee (IOC) regulations on "female hyperandrogenism" designed to address a perceived advantage for female athletes with high androgen levels. The decision has been condemned by Australian intersex advocates. The Athletic Federation of India and IAAF's actions were widely criticised as an affront to Chand's privacy and human rights.
The Indian government appealed to the Court of Arbitration for Sport (CAS) on behalf of Chand, and in July 2015 the CAS issued a decision to suspend the hyperandrogenism regulation for female track and field sports for two years, stating that insufficient evidence had been produced to indicate that there is any link between enhanced androgen levels and improved athletic performance. The court allowed two further years for convincing evidence to be submitted by the IAAF, after which the regulation will be automatically revoked if evidence has not been provided. This effectively removes the suspension of Chand from competition, clearing her to race again.
Santhi Soundarajan, acclaimed middle-distance running athlete for India, extended her support to Chand and said the youngster should not be victimized. She expressed her dismay at the lack of sensitivity in the handling of the issue, fearing that Chand's future may have been jeopardized, and demanded that all steps be taken to ensure Chand's return to the track.
Since Rio, Olympian Dutee Chand has shifted her training base to Hyderabad, where she now trains with young athletes, most notable among them is Indian Badminton Star P. V. Sindhu. Sprinter is glad to have the new training base and P.V Sindhu as a companion. Despite being the first women to represent India in the Olympics sprint event in 36 years, Dutee was made to feel isolated due to her condition of hyperandrogenism.
After Shifting her base She told, "It's like a home away from home. There are lots of friends to gossip with".
In 2017 she took two bronze medals at the 2017 Asian Athletics Championships – Women's 400 metres in Bhubaneswar. In the relay with Srabani Nanda, Merlin K Joseph and Himashree Roy she came third in the 2017 Asian Athletics Championships – Women's 100 metres relay and she took the individual 100m bronze.