Double Barrel, also called Eratta Kuzhal, is a 2015 Indian Malayalam language gangster comedy film written and directed by Lijo Jose Pellissery. The film stars Prithviraj Sukumaran, Indrajith Sukumaran, Arya, Chemban Vinod Jose, Sunny Wayne, Swathi Reddy, Isha Sharvani, Parvathi Menon, Rachana Narayanankutty and Asif Ali, and is jointly produced by Prithviraj, Santhosh Sivan, Arya and Shaji Nadesan under August Cinema, and Lijo Jose Pellissery under Amen Movie Monastery. Prashant Pillai composes the music while Abinandhan Ramanujam is the cinematographer. Double Barrel was made at an estimated cost of ₹16 crore (US$2.5 million).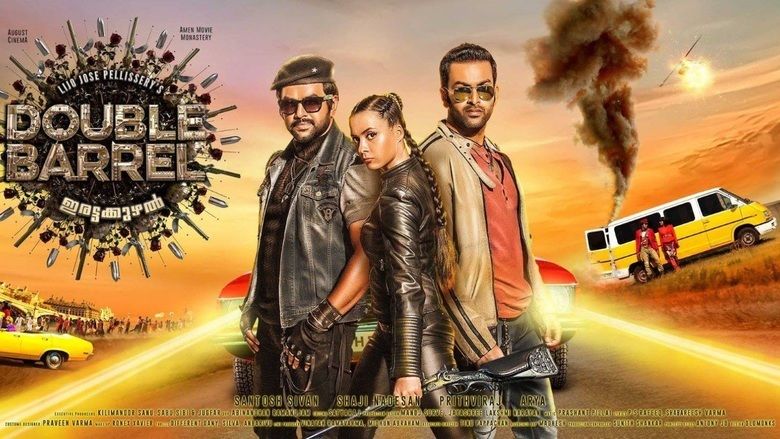 Laila and Majnu are two precious stones, which has value only if they are together. It is now possessed by an underworld don in Goa, who tries to sell it, in order not to lose it to his son, Gabbar, whom he despises. Don approaches two lowly thugs, Pancho and Vinci and offers it for a price of ₹10 crores. They agree and ask for a week's time to arrange the money. Billy, who is Gabbar's man, comes to know of this and offers Pancho and Vinci ₹100 crores to buy it. Pancho and Vinci gets ₹5 crores from Blacky, which actually belongs to the Tarkovs (the Russian mob in Goa). For the remaining ₹5 crores, they plan to rob the black money of Podiyadis (a local hawala gang in Kerala). While the deal happens, things get mixed up and lead to a big gang war between all the groups.
Double Barrel was announced on 2014, as a gangster comedy movie in the backdrop of Goa, starring brothers Prithviraj and Indrajith Sukumaran.
The film features a 2d animated title sequence written, conceived and directed by Mumbai-based Animation and VFX studio, Plexus.
Veeyen of Nowrunning.com rated 1.5/5 and criticized the script, musical score, humour and direction, while concluding as "'Double Barrel' sends the spoof genre on a downward spiral with a relentlessly unexciting script. Real crazy indeed". Moviebuzz of Sify.com heavily criticized the film and described it as a "flawed experiment", adding that, "The script is messy and some of the characters are so badly written that they just come and go in between without any impact in the whole narrative. The overindulgence of the makers is evident, ignoring the hapless viewers in the process". IndiaGlitz.com rated 1.5/5 stars stating that "'Double Barrel' not only is the content insane, so is the presentation", and said that the film fails to engage. Asha Prakash of The Times of India rated 2.5/5 stars and said "Other than the visual spectacle of seeing some major actors in the industry in their clownish avatars in the most impressive of settings, there is nothing much to engage the viewer. The shooting and killing seem never-ending and the jokes tedious".
The film met with lukewarm responses in the box office. It found at the last position among the five Onam release films at the box office. The film grossed an amount of ₹2.90 crore (US$450,000) in 15 days of release against a budget of ₹16 crore (US$2.5 million). Surya TV bought the satellite rights.
Prashant Pillai who had composed for all of Lijo Jose Pelliserry's earlier films, composed the songs and background score of the film.