Height

5 ft 8 in (1.73 m)

Name

Disappearance Jennifer




Full Name

Jennifer Joyce Kesse

Born

May 20, 1981 (

1981-05-20

)

Disappeared

January 24, 2006 (aged 24)

Status

Missing for 9 years, 11 months and 12 days

Similar

Disappearance of Maura Murray, Disappearance of Brian Shaffer, Disappearance of Amy Lynn Bradley
Jennifer Joyce Kesse (born May 20, 1981) is an American woman who lived in Orlando, Florida, and has been missing since January 24, 2006. Her disappearance puzzled investigators and an aggressive search for her was conducted in the area surrounding her home. Shortly after her disappearance, her car was discovered a little over a mile from her home at a nearby apartment complex. Captured footage from a nearby security camera showed a person parking her car and walking away; however, this person was never identified. The case received state and national press attention at the time of her disappearance.
Contents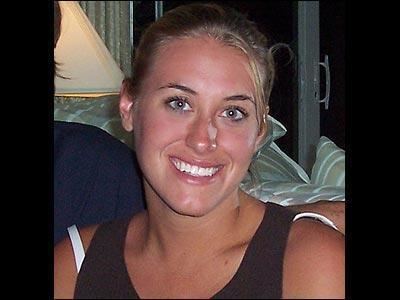 The disappearance of jennifer kesse
What Happened to Jennifer Kesse?: TRUE CRIME CHRONICLES
Events prior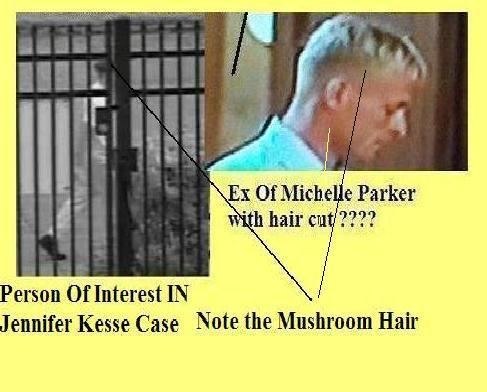 A graduate of Vivian Gaither High School in Tampa, Florida, Kesse attended the University of Central Florida in Orlando, graduating in 2003 with a degree in finance. She was a member of the Alpha Delta Pi sorority (her former sorority sisters have led many searches to find Kesse). Before her disappearance, she had recently bought a condominium and was working at Central Florida Investments Timeshare Company as a finance manager. The weekend before her disappearance, she had visited Saint Croix, U.S. Virgin Islands, with her boyfriend on vacation. After returning from vacation, on the morning of January 23, 2006, Kesse drove straight from her boyfriend's home in south Florida to her work in Ocoee, Florida, and returned home to her condo in Orlando later that evening.
Disappearance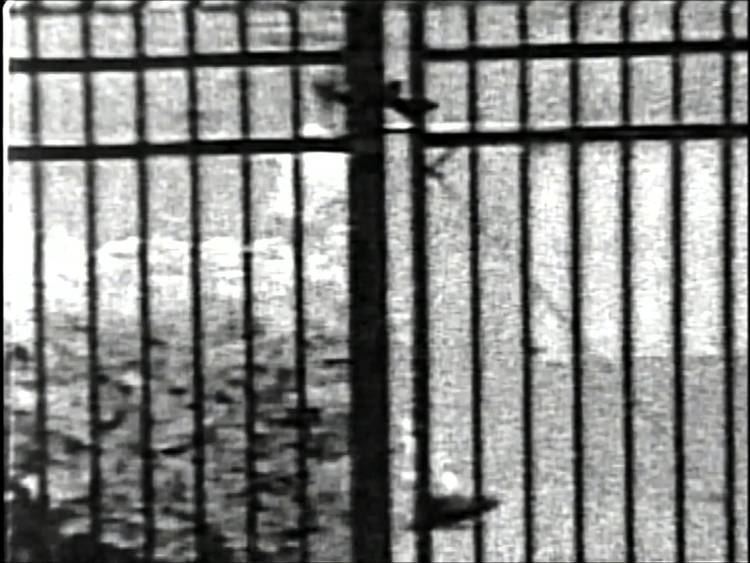 Jennifer Kesse was last seen on January 23, 2006, at approximately 6pm, leaving her place of employment, Westgate Resorts, in Ocoee, Florida. That evening she made several calls to family and friends; the last call around 10 p.m. was to her boyfriend. Typically, Jennifer would call or text her boyfriend every morning on her drive to work to talk and wish him a good day. On the morning of January 24, Jennifer never called or sent a text message. Any call to Jennifer's phone went directly to voice-mail. When Jennifer failed to arrive at work that morning, her employer contacted her parents, who immediately made a two-hour drive from their home to her residence. Her parents noticed that her car was missing, but upon entering her condo, they saw nothing that looked out of the ordinary. Evidence at her residence, including a wet towel and clothes laid out, indicated that Jennifer was at home the morning of January 24 and had showered and dressed for work. Friends and family began passing out fliers of her that evening, and the Orlando Police Department began organizing search parties to scout the surrounding area on foot, horseback, boat, helicopter, and ATV.
Timeline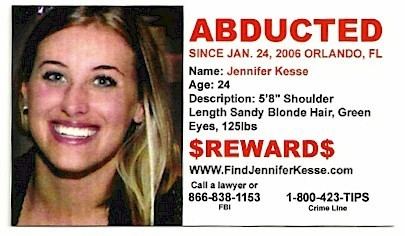 Timestamps are approximate and based on witness statements.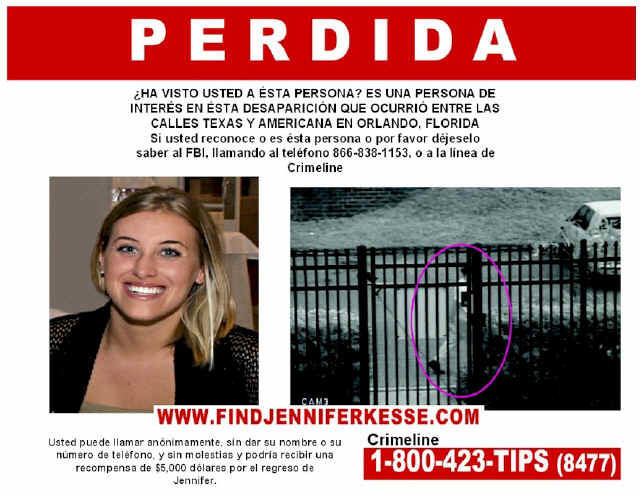 Monday, January 23, 2006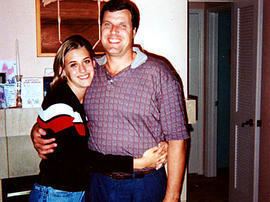 6:00 p.m. – Jennifer gets off from work, returns home and calls her family. This is the first time that she has been to her condo since returning from her vacation and the last time her immediate family would ever hear from her.
10:00 p.m. – Jennifer calls her boyfriend and they talk awhile before telling each other they are going to bed. He is the last known person to talk to her before her abduction.
Tuesday, January 24, 2006
7:30 a.m. - 8:00 a.m. – Investigators believe that Jennifer was abducted at some point after leaving her condo and walking to her car to go to work.
8:00 a.m. - 9:00 a.m. – Jennifer's boyfriend, who has normally heard from her by this time, calls her on his way to work but his call goes directly to voice-mail. Her boyfriend assumes she is busy with a meeting she had told him about previously. He tries to call her again after his 9 a.m. meeting at work but his call goes to her voice-mail again. He continues his day at work until Jennifer's parents call him later that morning to tell him that Jennifer hadn't shown up for her job.
11:00 a.m. – Jennifer's co-workers are worried that she has been a no call, no show and has missed an important meeting at work. Management contacts her parents, who realize that something is wrong. All calls to Jennifer's phone go straight to voice-mail, indicating that it is powered off. Her parents immediately begin driving to Orlando from their home in Tampa. Jennifer's condo manager, at her parent's request over the telephone, obtains a spare key and enters Jennifer's condo. The manager informs them that Jennifer is absent and her car is gone, but everything inside the condo looks normal.
12:00 p.m. – At an apartment complex 1.2 miles (1.9 km) away from Jennifer's condo, a hidden surveillance camera catches an unidentified person parking Jennifer's car and then walking away. The car and the surveillance tape wouldn't be discovered until 2 days later on Thursday, January 26, 2006.
3:00 p.m - 3.15 p.m. – Jennifer's parents arrive, followed shortly after by her brother. They discover that it appears as if Jennifer had been there that morning and prepared for work. They noticed her unmade bed with work clothes on it, a wet towel on the drier, wet bathtub, her pajamas in the bathroom floor, along with her hair drier and makeup products around the bathroom sink. Jennifer's parents notify the police, who at first feel that she may have had a fight with her boyfriend and will return, which is common in missing persons cases. Jennifer's friends and family will go on to use her condo as a base of operations for the next 8 months.
5:00 p.m. - 7:00 p.m. – Jennifer's family and friends began distributing fliers with her picture on it to people around the area. The police start to take the situation more seriously and send a detective to her condo. Police begin their interrogations and searching for Jennifer and her car.
Thursday, January 26, 2006
8:10 a.m. – After seeing Jennifer's car on the news, a tenant at a nearby apartment complex calls police to inform them that a car matching that description had been parked outside their apartment for several days. Police arrive and confirm that it is in fact Jennifer's car. The car is photographed and hauled to the crime-lab for forensic examination. Police confiscate the local surveillance footage and discover an unidentified person parking it, walking away, and never looking back. This would turn out to be the strongest lead that the case would have and confirmed the possibility of foul play.
Investigation
With the absence of any sign of forced entry or struggle, investigators theorized that Jennifer left her condo for work on the morning of January 24, locked the door, and was abducted at some point of the walk to her car or as she was getting into it. Two days later, on January 26, 2006, around 8:10 a.m., Jennifer's car, a black 2004 Chevy Malibu, was found parked at a condo complex approximately a mile away from her residence. Investigators were initially excited to learn that the complex had several hidden surveillance cameras installed and were viewing the place where her car was parked, as well as the exit. The surveillance video shows an unidentified "person of interest" dropping the vehicle off at approximately noon the day that Jennifer went missing. Family and friends of Kesse did not recognize the individual, whose physical features were not made clear on the video. Investigators were disheartened when they realized that the best video captures of the subject was obscured by the complex fencing in three separate snapshots, concealing their face. One journalist called the suspect, "The luckiest person of interest ever". The FBI was called in to help determine the person's size and gender, but could only say the person was someone who was about 5'3" to 5'5". NASA also assisted in the investigation by enhancing the video to help in identifying the suspect. Investigators interpreted that the valuables left inside the vehicle implied that robbery was not a motive in Jennifer's disappearance. A search dog tracked a scent from the car back to her apartment complex, leading investigators to believe that the suspect returned to her apartment parking lot after leaving the car. No other evidence was found along the route. After forensic examination of her car, only two pieces of evidence were found, a latent print and a small DNA fiber. Investigators believed the car was wiped down. The items known to be missing are her cell phone, iPod, keys, purse, briefcase, and the outfit she was wearing. Investigators could not ping her cellphone as it remained turned off and her banking account card was never used.
Investigators first questioned her family and close friends to see if anyone would have a motive for abducting her. Her ex-boyfriend, who had recently been upset and wanted to get back together with her, was also interrogated. Investigators ultimately concluded that he had nothing to do with her abduction. Her current boyfriend at the time was also questioned, but his alibi checked out and eliminated him as a suspect as well. At the time of her abduction, Jennifer's condominium complex was undergoing major expansion and construction, and many of the workers employed were illegal immigrants living in the complex. Jennifer had told her family on several occasions that the workers would continually harass and catcall her. Investigators tried to interrogate many of them but it proved to be very difficult and no other leads were discovered. Investigators then turned to her place of employment and began questioning her coworkers. Her computer was also collected for forensic examination. It was learned that one of her coworkers who was in management wanted to pursue a relationship with her, to which she declined as she was against workplace relationships. Investigators interviewed him on multiple occasions but later concluded that he was not a suspect in the case. Investigators and Jennifer's friends and family have remained open to the possibility that Jennifer was a victim to human trafficking, but do not consider it likely.
In May 2007, her company led by David A. Siegel offered a $1 million reward with a July 4 deadline for information leading to Jennifer's whereabouts with the stipulation that she had to be alive. It was never claimed. A $5,000 reward for information leading to her whereabouts remains available through Central Florida Crimeline. The case received state and national press attention at the time of her disappearance, and Jennifer Kesse is still considered missing and endangered by Orlando Police Department, FBI, Orange County Police, FDLE, NCIC, NCMA, and Interpol. On Friday, May 2, 2008, the Florida House of Representatives unanimously passed Senate Bill 502, "The Jennifer Kesse and Tiffany Sessions Missing Persons Act", changing the way missing persons cases are handled in Florida. As of June 10, 2010, the FBI has taken over the case of Jennifer Kesse from the Orlando Police Department at the urging of police chief Val Demings. She remains on the FBI's Most Wanted/Missing List. The latest search for her took place in February 2014 and investigators continue to receive leads to this day.
References
Disappearance of Jennifer Kesse Wikipedia
(Text) CC BY-SA