Map of Dharavi
Dharavi is a locality in Mumbai, Maharashtra, India. Its slum is one of the largest in the world; home to roughly 700,000 to about 1 million people, Dharavi is the second-largest slum in the continent of Asia and the third-largest slum in the world. With an area of just over 2.1 square kilometres (0.81 sq mi) and a population density of over 277,136/km2 (717,780/sq mi), Dharavi is also one of the most densely populated areas on Earth.
Contents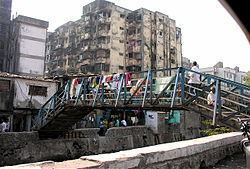 The Dharavi slum was founded in 1882 during the British colonial era, and grew in part because of an expulsion of factories and residents from the peninsular city centre by the colonial government, and from the migration of poor rural Indians into urban Mumbai (then called Bombay). For this reason, Dharavi is currently a highly multi-religious, multi-ethnic, and diverse settlement.
Dharavi has an active informal economy in which numerous household enterprises employ many of the slum residents– leather, textiles and pottery products are among the goods made inside Dharavi. The total annual turnover has been estimated at over US$1 billion.
Dharavi has suffered from many epidemics and other disasters, including a widespread plague in 1896 which killed over half of the population of Mumbai.
Dharavi slum visit in mumbai
Documentary the way of dharavi 2014
History
In the 18th century, Dharavi was an island with predominantly mangrove swamp.[15][16]. It was a sparsely populated village before the late 19th century, inhabited by Koli fishermen. Dharavi was then referred to as the village of Koliwadas.
Colonial era
Mumbai has been one of the centers of India's urbanization for 200 years. At the middle of the 19th century, after decades of urban growth under East India Company and British Raj, the city's population reached half a million. The urban area then covered mostly the southern extension of Mumbai peninsula, the population density was over 10 times higher than London at that time. Most parts of Mumbai faced an acute shortage of housing and serious problems with the provision of water, sanitation and drainage. Residential areas were segregated in Mumbai between European and 'native' residential quarters. Slums were heavily concentrated in areas meant for 'native' Indian population, and it attracted no planning or London-like investment for quality of life of its inhabitants. Unsanitary conditions plagued Mumbai, particularly in the so-called Native Town, the segregated section where Indians lived. In 1869, as with 19th century epidemics in European slums, bubonic plague spread in Mumbai and then across most of India. The epidemic killed nearly 200,000 people in Mumbai and 8 million in India. In 1880s, concerned about epidemics, the British colonial government expelled polluting industries and many Indian residents of the Native Town, away from the peninsular part of the city, to a distant edge of the city in the north in the village of Koliwadas. Thus was born Dharavi.
The most polluting industries were tanneries, and the first tannery moved from peninsular Mumbai into Dharavi in 1887. People who worked with leather, typically a profession of lowest Hindu castes and of Muslim Indians, moved into Dharavi. Other early settlers included the Kumbars, a large Gujarati community of potters (another polluting industry). The colonial government granted them a 99-year land-lease in 1895. Rural migrants looking for jobs poured into Mumbai, and its population soared past 1 million. Other artisans, like the embroidery workers from Uttar Pradesh, started the ready-made garments trade. These industries created jobs, labor moved in, but there was no government effort to plan or invest in any infrastructure in or near Dharavi. The living quarters and small scale factories grew haphazardly, without provision for sanitation, drains, safe drinking water, roads or other basic services. But some ethnic, caste and religious communities that have settled in Dharavi at that time helped build the settlement of Dharavi, by forming organizations and political parties, building school and temples, constructing homes and factories. Dharavi's first mosque, Badi Masjid, started in 1887 and the oldest Hindu temple, Ganesh Mandir, was built in 1913. A large influx of Tamil migrants came in the 1920s. Bombay's first Tamil school and Dharavi's first school was constructed in 1924.
Post-independence
At India's independence from colonial rule in 1947, Dharavi had grown to be the largest slum in Mumbai and all of India. It still had a few empty spaces, which continued to serve as waste-dumping grounds for operators across the city. Mumbai, meanwhile, continued to grow as a city. Soon Dharavi was surrounded by the city, and became a key hub for informal economy. Starting from 1940s, proposals for Dharavi redevelopment plans periodically came out, but most of these plans failed because of lack of financial banking and/or political support. Dharavi's Co-operative Housing Society was formed in the 1960s to uplift the lives of thousands of slum dwellers by the initiative of Shri. M.V. Duraiswamy, a well-known social worker and congress leader of that region. The society promoted 338 flats and 97 shops and was named for Dr. Baliga Nagar. By the late 20th century, Dharavi occupied about 175 hectares (432 acres), with an astounding population density of more than 2900 people per hectare (1200/acre).
Redevelopment plans
There have been many plans since 1997 to redevelop Dharavi like the former slums of Hong Kong such as Tai Hang. In 2004, the cost of redevelopment was estimated to be ₹5,000 crore (US$780 million). Companies from around the world have bid to redevelop Dharavi, including Lehman Brothers, Dubai's Limitless and Singapore's Capitaland Ltd. In 2010, it is estimated to cost ₹15,000 crore (US$2.3 billion) to redevelop.
The latest urban redevelopment plan proposed for the Dharavi area is managed by American-trained architect Mukesh Mehta The plan involves the construction of 2,800,000 square metres (30,000,000 sq ft) of housing, schools, parks and roads to serve the 57,000 families residing in the area, along with 3,700,000 square metres (40,000,000 sq ft) of residential and commercial space for sale. There is still a significant local opposition to the plans, largely because existing residents still feel 33 square metres (350 sq ft) of revised permanent alternate accommodation per tenant is not adequate each. Furthermore, only those families who lived in the area before 2000 are slated for resettlement. Concerns have also been raised by residents who fear that some of their small businesses in the "informal" sector may not be relocated under the redevelopment plan. Due to this opposition, a trust has been proposed called the Dharavi Community Land Trust that will be made up of community members, landowners, and neighborhood associations.
Demographics
The total current population of Dharavi slum is unknown, and estimates vary widely. Some sources suggest it is 300,000 to about a million. With Dharavi spread over 200 hectares (500 acres), this corresponds to an average population density estimate between 1500 and 5000 (600 to 2,000 people per acre). With a literacy rate of 69%, the slums in Mumbai are the most literate in the world
About 33% of the population of Dharavi is Muslim, compared to 13% average population of Muslims in India. The Christian population is estimated to be about 6%, while the rest are predominantly Hindus (60%), with some Buddhists and other minority religions. Among the Hindus, about 20% work on animal skin production, tanneries and leather goods. Other Hindus specialize in pottery work, textile goods manufacturing, retail and trade, distilleries and other caste professions - all of these as small scale household operations. The slum residents are from all over India, people who migrated from rural regions of many different states. The slum has numerous mosques, temples and churches to serve people of Islam, Hindu and Christian faiths; with Badi Masjid, a mosque, as the oldest religious structure in Dharavi.
Location and characteristics
Dharavi is a large area situated between Mumbai's two main suburban railway lines, the Western and Central Railways. To the west of Dharavi are Mahim and Bandra, and to the north lies the Mithi River. The Mithi River empties into the Arabian Sea through the Mahim Creek.The area of Antop Hill lies to the east while the locality called Matunga is located in the South. Due to its location and poor sewage and drainage systems, Dharavi particularly becomes vulnerable to floods during the wet season.
Dharavi is considered one of the largest slums in the world. The low-rise building style and narrow street structure of the area make Dharavi very cramped and confined. Like most slums, it is overpopulated. Compared to Mumbai's urban floor space index (FSI) of a range from 5 to 15, in Dharavi it is about 1.33. Government officials are considering changing the Dharavi's floor space index to 4. Despite the expensive Mumbai lifestyle, Dharavi provides a cheap alternative where rent is as low as Rs.500 per month.
Economy
In addition to the traditional pottery and textile industries in Dharavi, there is an increasingly large recycling industry, processing recyclable waste from other parts of Mumbai. Recycling in Dharavi is reported to employ approximately 250,000 people. While recycling is a major industry in the neighborhood, it is also reported to be a source of heavy pollution in the area. The district has an estimated 5000 businesses and 15,000 single-room factories. Two major suburban railways feed into Dharavi, making it an important commuting station for people in the area going to and from work.
Dharavi exports goods around the world. Often these consist of various leather products, jewelry, various accessories, and textiles. Markets for Dharavi's goods include stores in the United States, Europe, and the Middle East. The total (and largely informal economy) turnover is estimated to be between US$500 million, over US$650 million per year, to over US$1 billion per year. The per capita income of the residents, depending on estimated population range of 300,000 to about 1 million, ranges between US$500 to US$2000 per year.
Utility services
Potable water is supplied by the MCGM to Dharavi and the whole of Mumbai. There's a large amount of water lost by way of water thefts, illegal connection and leakage. The community also has a number of water wells that are sources of non-potable water.
The original power supply was undertook by the Brihanmumbai Electricity Supply and Transport (BEST), which distributes power to the island city. In year 2007, BEST had drawn up a plan for segregating Dharavi from the rest of the city. It was reported that power supply to Dharavi would be privatised on the lines of Bhiwandi to curb power thefts.
Cooking gas is supplied in the form of liquefied petroleum gas cylinders sold by state-owned oil companies, as well as through piped natural gas supplied by Mahanagar Gas Limited.
There are still settlement houses that do not have legal connections to the utility service, and rely on illegal connection to the water and power supply.
Sanitation issues
Dharavi has severe problems with public health. Water access derives from public standpipes stationed throughout the slum. Additionally, with the limited lavatories they have, they are extremely filthy and broken down to the point of being unsafe. Mahim Creek is a local river that is widely used by local residents for urination and defecation causing the spread of contagious diseases. The open sewers in the city drain to the creek causing a spike in water pollutants, septic conditions, and foul odors. Due to the air pollutants, diseases such as lung cancer, tuberculosis, and asthma are common among residents. There are government proposals in regards to improving Dharavi's sanitation issues.
Epidemics and other disasters
Dharavi has experienced a long history of epidemics and natural disasters, sometimes with significant loss of lives. The first plague to devastate Dharavi, along with other settlements of Mumbai happened in 1896, when nearly half of the population perished. A series of plagues and other epidemics continued to affect Dharavi, and Mumbai in general, for the next 25 years, with high rates of mortality. Dysentery epidemics have been common throughout the years and explained by the high population density of Dharavi. Other epidemics reported include typhoid, cholera, leprosy, amoebiasis and polio, through recent years. For example, in 1986, a children cholera epidemic was reported, where most patients were residents of Dharavi. Typical patients to arrive in hospitals were in late and critical care condition, and the mortality rates were abnormally high. In recent years, cases of drug resistant tuberculosis have been reported in Dharavi.
Fires and other disasters are common. For example, in January 2013, a fire destroyed many slum properties and caused injuries. In 2005, massive floods caused deaths and extensive property damage.
Guided tours through Dharavi
A few travel operators offer guided tours through Dharavi, showing the industrial and the residential part of Dharavi and explaining about the problems and challenges Dharavi is facing. These tours give a deeper insight into a slum in general and Dharavi in particular.
In the media
Dharavi has been depicted in a number of Hindi films produced by the Mumbai film industry. These include Salim-Javed films such as Deewaar (1975), Mira Nair's Salaam Bombay! (1988) where several child actors were from the Dharavi slum, Vidhu Vinod Chopra's Parinda (1989), Sudhir Mishra's Dharavi (1991), Ram Gopal Varma's "Indian Gangster Trilogy" (1998–2005) and Sarkar series (2005–2008), Vikram Bhatt's Footpath (2003), Anurag Kashyap's Black Friday (2004) and No Smoking (2007), Madhur Bhandarkar's Traffic Signal (2007), Rajeev Khandelwal's Aamir (2008), and other films based on the Mumbai underworld.
Dharavi has been depicted in films from other Indian film industries, particularly the Tamil film industry. Several films by Mani Ratnam based on the experiences of Tamil immigrants to Mumbai have depicted the Dharavi slum, including Nayagan (1987) and Bombay (1995).
Dharavi features prominently in Danny Boyle's 2008 film Slumdog Millionaire; several of the child actors in the film are from the Dharavi slum.
The movie Mankatha was shot there starring Ajith kumar.
The movie Businessman was shot here starring Mahesh Babu.
In Kaminey, the 2009 Hindi movie, starring Shahid Kapoor.
In the 2009 Swiss/German documentary Dharavi, Slum for Sale by Lutz Konermann and Rob Appleby.
In a programme aired in the United Kingdom in January 2010, Kevin McCloud and Channel 4 aired a two-part series titled Slumming It which centered around Dharavi and its inhabitants.
The poem "Blessing" by Imtiaz Dharker is about Dharavi not having enough water.
For The Win, by Cory Doctorow, is partially set in Dharavi.
In the 2014 movie Bhoothnath Returns, Bhoothnath (Amitabh Bachchan) contests for election from Dharavi against Bhau (Boman Irani).
In 2014, Belgian researcher Katrien Vankrunkelsven made a 22-minute film on Dharavi which is entitled The Way of Dharavi.
References
Dharavi Wikipedia
(Text) CC BY-SA