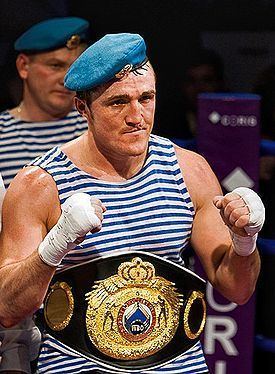 Lebedev turned pro in 2001. In 2004, Lebedev won the vacant Russian light heavyweight title in a shut out 10-round decision win against Artem Vychkin. Following this victory, Lebedev took four years out and returned in 2009 fighting at cruiserweight.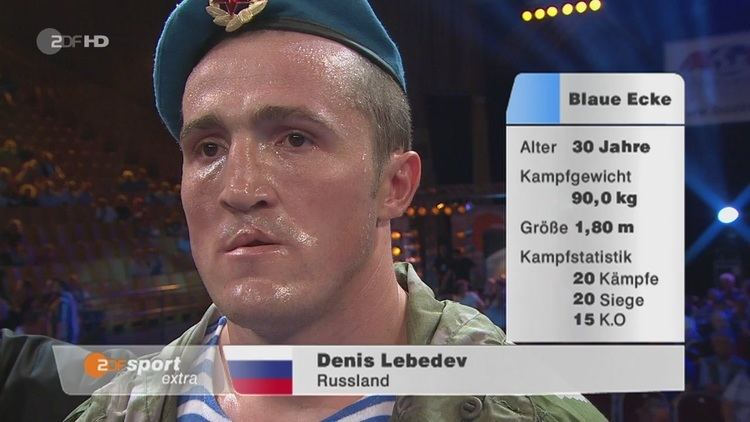 In 2009, having a record of 16 wins, 11 by knockout, Lebedev beat Cuban Eliseo Castillo who held a win over Michael Moorer, but was not highly regarded. Lebedev then managed to knockout former WBO titleholder Enzo Maccarinelli. In 2010 he also stopped 2005 amateur world champion Aleksandr Alekseyev by one-punch knockout. This guaranteed him a shot at Marco Huck's WBO title.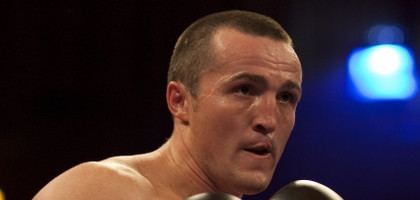 Lebedev challenged Marco Huck for the WBO World cruiserweight title on 18 December 2010 at the Max-Schmeling-Halle in Berlin. Lebedev lost by a very controversial split decision, when both the Dutch and Spanish judges had Huck with 115–113 in front, while the US judge scored it 116–112 for Lebedev. Many experts at ringside thought Lebedev had deserved the decision. After the fight, Marco Huck claimed that he was boxing with a broken rib from the 4th round on.
In May 2011, Lebedev knocked out former multiple weight world champion Roy Jones Jr. with 2 seconds left in their 10-round bout. After round 9, the scorecards read (87–84, 85–86, 90–81). The controversy arose when Lebedev punched Jones, when it was, to some, clear that Jones was not responsive and was out on his feet. The final punch put Jones out cold on the canvas and he did not regain his senses for more than 5 minutes amid active medical help. After the bout, Lebedev said that he had nothing to be sorry about. The referee was also accused of incompetence because he did not stop the fight even though Jones could no longer defend himself which led to Jones taking unnecessary damage. Roy Jones when asked about his feelings on the punch responded "I forgive him".
Lebedev next fought one of Roy Jones' old foes, James Toney, in November 2011 in a scheduled 12-round fight for the interim WBA cruiserweight title. Lebedev was ranked by the WBA at number 3, while Toney entered as number 4, also being the first time he had fought at cruiserweight since 2003.Although Toney still possessed enough defensive skills, Lebedev dominated the fight from the start winning a lopsided decision with scores of 120–108, 120–108 and 120–108.
Lebedev made his first defence of the interim world title at the Crocus City Hall in Myakinino, Russia, on 4 April 2012 against Shawn Cox. In round 2, Cox threw a straight right hand which missed, and walked into a Lebedev counter power left hook to the head, knocking him out. With this win, Lebedev qualified for a shot at the full WBA World Champion Guillermo Jones. Lebedev was then promoted to full champion following Jones being inactive for 12 months. Jones was stripped for backing out of his scheduled WBA title defense against challenger Andres Taylor and then refusing to fight Lebedev.
Lebedev returned to the City Hall in December to defend his WBA title against undefeated Colombian boxer Santander Silgado (23–0, 17 KOs). Silgado started off well but was knocked out for a full ten count in round 4.
Lebedev was left with a shocking eye injury after losing his WBA world cruiserweight title to Guillermo Jones on 17 May 2013. By the end of the bout, he could not see out of the injured eye but two judges had him winning 96–94 while the third had scored the bout 97–93 before he was knocked out in the eleventh round. According to most experts, Jones should have been winning clearly, and the suspicion is that the Russian Federation had fixed the bout. This would also explain the fact that the bout was not stopped, even after Lebedev's eye was grotesquely disfigured. However, Jones was stripped of his title later in the year for failing a drug test for this fight, resulting in Lebedev being reinstated as Champion by the WBA. The fight was reversed to a no-contest after originally being ruled a TKO. A rematch was planned for 25 April 2014, in Moscow, Russia. After Jones was tested positive for the same substance he was tested for after the first fight, the planned rematch was cancelled.
16 months since the Jones fight, Lebedev defended his title against undefeated Polish boxer Paweł Kołodziej (33–0, 18 KOs) at the Dynamo Palace of Sports in Krylatskoye, Moscow. In round 2, Lebedev floored Kolodziej with a well timed power left hook to the face retaining his WBA cruiserweight title.
In April 2015, Lebedev fought at Luzhniki in Moscow against interim WBA titleholder Youri Kayembre Kalenga, who only had one previous loss on his record. Both fighters were dropped once each in the fight that went the full 12 round distance. Lebedev claimed the unanimous decision with judges' scores of 116–111, 115–112 and 116–110.
Lebedev defended his title on 4 November against undefeated Nigerian boxer Lateef Kayode at the Tatneft Arena in Kazan, Russia. Lebedev retained his world title after knocking Kayode down three times in the bout before the fight was eventually stopped by the referee. Kayode started off as the aggressor, however Lebedev was in control throughout the fight. At the time of stoppage, Lebedev was ahead on the scorecard with scores of 69–63, 69–63 and 70–63.
It was announced that Lebedev would be involved in a cruiserweight unification fight against IBF world champion Victor Emilio Ramírez at the Khodynka Ice Palace in Moscow on 21 May 2016. The fight was supposed to be a co-feature of WBC heavyweight title fight between Wilder and Povetkin, however that fight was cancelled. Ramírez was coming off a split decision draw which saw him retain his IBF title against Ovill McKenzie in 2015. Ramírez became the full IBF champion after Yoan Pablo Hernandez stripped due to inactivity.
After a close, tactical first round, Ramírez started to fight on the front foot at the start of round 2, but saw himself hit the canvas. Ramírez got up and as the fight continued Lebedev began landing power shots with both hands. Ramírez stopped throwing back and turned his back. Lebedev waited for Ramírez to turn back around, then continued unloading until Ramírez dropped his hands. The power shots continued from Lebedev until referee Steve Smoger stopped the fight, although giving Ramírez every chance to get back into the bout. The official time of stoppage was 1:57 of round 2. With this win, Lebedev became the unified WBA Super and IBF world champion. Ramírez announced on 27 December 2016 that he would be retiring from boxing, thus making this his last professional fight.
It was announced in August 2016, that a fight between Lebedev and unbeaten IBF #1 challenger Murat Gassiev (23–0, 17 KOs) was in the works for November or December. Gassiev became the mandatory challenger by the IBF after knocking out American boxer Jordan Shimmell in a title eliminator bout in May. The fight was set for 3 December at the Khodynka Ice Palace in Moscow. At the official weigh in on 2 December, Lebedev weighed in at 199.7 lbs as Gassiev weighed 198.3 lbs. Lebedev successfully applied for only the IBF title to be at stake as a result, retaining his WBA (Super) title in the process. Lebedev kept the attack up through the 12 rounds as he went on to lose a split decision, losing the IBF title in the process. Two judges scored it 116–112 and 116–111 for Gassiev as the third scored it 114–113 for Lebedev. Lebedev was knocked down in round 5, following a left shot to the body, but managed to beat the count and immediately changed style to avoid further punishment to the body. In the post fight interviews, Lebedev thought he had done enough to win the fight or at least earn a draw and wanted a rematch.
On June 5, 2017 it was announced that a deal had been finalized for Lebedev to defend his WBA 'Super' cruiserweight title against Australian boxer and WBA Oceania cruiserweight champion Mark Flanagan (22-4, 15 KOs), who was ranked number 8 by WBA, in Ekaterinburg, Russia on July 10, 2017. This would be the first time Flanagan would fight outside of Australia and Lebedev's seventh defence of the title. Lebedev knocked Flanagan down in round 9 with a left hook to the body and went on to win a lopsided unanimous decision with the judges scoring the fight 119-108, 120-107 and 119-108 all in his favour. Lebedev used his jab to control the fight, following with his left hooks and was the clear aggressor, unfortunately for him, was unable to stop Flanagan. Although Flanagan showed heart in recovering well, had little chance overcoming the experienced champion, only winning a round on two judges scorecards.