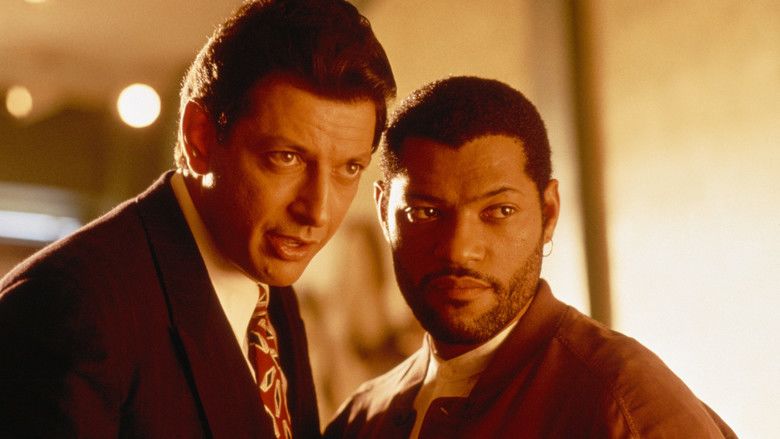 In Cleveland, 1972, Russell Stevens Jr. is the son of a drug addicted, alcoholic man, who tells his son never to be like him. Stevens then witnesses his father getting shot and killed while robbing a liquor store. He swears that he will never end up like him.
In 1991, Stevens is a police officer. He is recruited by DEA Special Agent Gerald Carver to go undercover on a major sting operation in Los Angeles, claiming that his criminal-like character traits will be more of a benefit undercover than they would serve him as a uniformed policeman. Stevens poses as drug dealer "John Hull" in order to infiltrate and work his way up the network of the West Coast's largest drug importer, Anton Gallegos and his uncle Hector Gúzman, a South American politician. Stevens relocates to a cheap hotel in LA and begins dealing cocaine.
One day, Stevens is arrested by the devoutly religious L.A.P.D. Narcotics Detective Taft and his secretly corrupt partner Hernández, when he buys a kilogram in a set-up by Gallegos' low-level street supplier Eddie Dudley. At his arraignment, Stevens discovers that he bought "baby laxative" (mannitol) instead of cocaine and his case is dismissed. Stevens' self-appointed attorney David Jason, who is also a drug trafficker in Gallegos' network, rewards Stevens' silence with more cocaine and introduces Stevens to Felix Barbossa, the underboss to Gallegos. Felix kills Eddie when his finds out he's working with the LAPD and enlists Stevens as Eddie's replacement.
Stevens develops a romance with Betty McCutcheon, the manager of an art dealership which serves as a front to launder Jason's drug money profits. When one of Stevens' dealers is murdered by a rival dealer, Stevens kills him and is awarded a partnership in Jason's new business venture; distribution of a synthetic chemical variant of cocaine.
It turns out that Felix is a police informant working with Detective Hernández. Felix immediately gives up Stevens, Jason and Betty, and wants Jason killed during the arrest because of his business venture. Carver knows about this, but refuses to interfere forcing Stevens to violate orders and stop it himself by exposing Felix, which results in a vengeful Jason killing him, while Betty reneges the drug business because of it with Stevens´protection.
Gallegos comes to meet with Jason and Stevens and informs them that they have inherited Felix's debts to him. Later that day, Stevens meets with Carver to tell him about his meeting with Gallegos. Instead Carver pulls a gun on Stevens and orders him to surrender his weapon and get in his car. Angrily, Stevens disarms Carver and forces him to admit that the State Department has decided to leave Gallegos alone because Guzman may some day be useful as a political asset to them and Carver has decided to play along in exchange for career advancement. Stevens' disillusionment reaches its conclusion and he abandons his undercover status vowing to take down Gallegos and Guzman alone.
Stevens and Jason learn that Gallegos is going to kill them anyway, so they kill him first and steal a van storing over a $100 million of Gallegos' cash. Jason and Stevens invite Guzman to a shipyard and offer to return 80% of Gallegos' money if he agrees to invest the remaining 20% in their synthetic cocaine operation. Detective Taft, who has been tailing Stevens, interrupts the deal but is unable to arrest Guzman because of his diplomatic status. Guzman leaves the scene. Taft orders Stevens to surrender, but is shot and killed by Jason. Stevens reveals himself as a police officer and attempts to arrest Jason, but is forced to kill him in self-defence.
Afterwards, Carver coerces Stevens into testifying in favour of him and the DEA in return for not charging Betty for money laundering, but Stevens produces a videotape of the incriminating conversation with Guzman at the shipyard during his testimony to the House Judiciary Subcommittee, ruining the State Department´s intentions along with Guzman and Carver´s careers. Later he contemplates what to do with the $11 million of Gallegos' money he secretly kept.
Larry Fishburne as Russell Stevens/Johnny "John" Hull
Jeff Goldblum as David Jason
Charles Martin Smith as DEA Agent Gerald Carver
Victoria Dillard as Betty McCutcheon
Gregory Sierra as Felix Barbossa
Glynn Turman as Russell Stevens Sr.
Clarence Williams III as Taft
Roger Guenveur Smith as Eddie
Kamala Lopez-Dawson as Belinda Chacon
Roberto Luis Santana as Dealer (Caution)
Deep Cover was released on April 17, 1992 in 901 theaters grossing $3.4 million on its opening weekend. It went on to make $16.6 million in North America.
The majority of critics responded favorably towards Deep Cover. It holds a certified "Fresh" rating of 84% on film review website Rotten Tomatoes and 73 metascore on Metacritic. Film critic Roger Ebert gave the film three-and-a-half stars out of four and praised the voice-over narration as "poetic and colorful. That's part of the process elevating the story from the mundane to the mythic". Janet Maslin, in her review for The New York Times, praised the "quietly commanding Larry Fishburne and the wry Jeff Goldblum, who make an interestingly offbeat team". In his review for The Chicago Reader, Jonathan Rosenbaum wrote, "What emerges is a powerhouse thriller full of surprises, original touches, and rare political lucidity". Rolling Stone magazine's Peter Travers wrote, "Duke (A Rage in Harlem) makes the perks of the drug lifestyle palpably seductive. But this time there's something new in the snortscrew-slay formula: a working conscience". However, in his review for The Washington Post, Desson Howe wrote, "With Boyz n the Hood, Fishburne broke through to the big time. Here, his acting career takes a step backwards". Entertainment Weekly gave the film a "B-" rating and Owen Gleiberman wrote, "The movie peels away every layer of hope, revealing a red-hot core of nihilistic despair. Fishburne, with his hair-trigger line readings and deadly reptilian gaze, conveys the controlled desperation of someone watching his own faith unravel. And Goldblum reveals a new dimension of comic rottishness". In her review for The Independent, Sheila Johnston wrote, "The disappointment of Night and the City has left some critics lamenting that film noir is dead in the water, but Deep Cover displays many hallmarks of the genre, down to the diffuse paranoia (perhaps the entire operation is a high-level Washington cover-up). It was the most unexpected pleasure to arrive here in many a month".
The film's soundtrack, Deep Cover, was released on April 4, 1992 by SOLAR Records and Epic Records, containing a mix of hip hop, reggae and R&B tracks, peaking at #166 on the Billboard 200 and #9 on the Top R&B/Hip-Hop Albums. The soundtrack was performed by Snoop Doggy Dogg (a newcomer at the time) and Dr. Dre from 1991 to 1992.