Born in Cherokee County, Georgia, Rusk taught at Mills College after graduating from Davidson College. During World War II, Rusk served as a staff officer in the China Burma India Theater. He was hired by the United States Department of State in 1945 and became Assistant Secretary of State for Far Eastern Affairs in 1950. In 1952, Rusk became president of the Rockefeller Foundation.
After winning the 1960 presidential election, Kennedy asked Rusk to serve as Secretary of State. He supported diplomatic efforts during the Cuban Missile Crisis and expressed doubts about the escalation of the U.S. role in the Vietnam War. Rusk served for the duration of the Kennedy and Johnson administrations before retiring from public office in 1969. After leaving office, he taught international relations at the University of Georgia School of Law.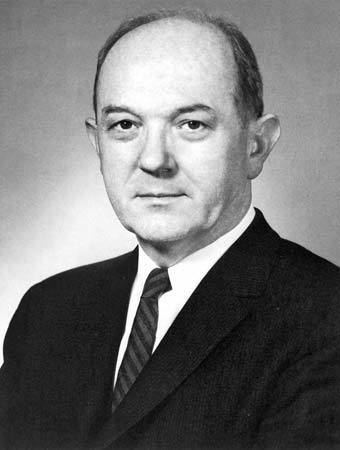 David Dean Rusk was born in a rural district of Cherokee County, Georgia, to Robert Hugh Rusk and Frances Elizabeth (née Clotfelter) Rusk. He was educated in Atlanta's public schools, graduated from Boys High School in 1925, and spent two years working for an Atlanta lawyer before working his way through Davidson College. Rusk was coached in football by William "Monk" Younger and was a member of the Kappa Alpha Order Sigma chapter, and the national military honor society Scabbard and Blade becoming a Cadet Lieutenant Colonel commanding the Reserve Officers' Training Corps battalion. He graduated Phi Beta Kappa in 1931. While studying in England as a Rhodes Scholar at St. John's College, Oxford, he received the Cecil Peace Prize in 1933.
Rusk married the former Virginia Foisie (October 5, 1915 – February 24, 1996) on June 9, 1937. They had three children: David, Richard and Peggy Rusk.
Rusk taught at Mills College in Oakland, California from 1934 to 1949, and he earned an LL.B. degree at the University of California, Berkeley in 1940.
During World War II, Rusk joined the infantry as a reserve captain, and served as a staff officer in the China Burma India Theater. At war's end he was a colonel, decorated with the Legion of Merit with Oak Leaf Cluster.
Rusk returned to America to work briefly for the War Department in Washington. He joined the Department of State in February 1945, and worked for the office of United Nations Affairs. In the same year, he suggested splitting Korea into spheres of U.S. and of Soviet influence at the 38th parallel north. After Alger Hiss left State in January 1947, Rusk succeeded him (as Director of the Office of Special Political Affairs), according to Max Lowenthal. In 1949, he was made Deputy Under Secretary of State. In 1950, Rusk was made Assistant Secretary of State for Far Eastern Affairs. He played an influential part in the US decision to become involved in the Korean War, and in Japan's postwar compensation for victorious countries, such as the Rusk documents. Rusk was a cautious diplomat and always sought international support.
Rusk was a Rockefeller Foundation trustee from 1950 to 1961. In 1952 he succeeded Chester L. Barnard as president of the Foundation.
On December 12, 1960, Democratic President-elect John F. Kennedy nominated Rusk to be Secretary of State. According to historian and former Special Assistant to President Kennedy Arthur Schlesinger Jr., Rusk was not Kennedy's first choice, but rather the "lowest common denominator", as Kennedy's first choice, J. William Fulbright, proved too controversial. David Halberstam also described Rusk as "everybody's number two". Rusk was sworn in on January 21, 1961.
As Secretary of State he believed in the use of military action to combat communism. Despite private misgivings about the Bay of Pigs invasion, he remained noncommittal during the Executive Council meetings leading up to the attack and never opposed it outright. During the Cuban Missile Crisis he supported diplomatic efforts. A careful review by Sheldon Stern, Head of the JFK Library, of Kennedy's audio recordings of the EXCOMM meetings suggests that Rusk's contributions to the discussions probably averted a nuclear war. Early in his tenure, he had strong doubts about US intervention in Vietnam, but later his vigorous public defense of US actions in the Vietnam War made him a frequent target of anti-war protests. Outside of his work against communism, he continued his Rockefeller Foundation ideas of aid to developing nations and also supported low tariffs to encourage world trade. Rusk also drew the ire of supporters of Israel after he let it be known that he believed the USS Liberty incident was a deliberate attack on the ship, rather than an accident.
On March 24, 1961, Rusk released a brief statement saying his delegation was to travel to Bangkok and the SEATO nations' responsibility should be considered if peace settlements are not realized.
As he recalled in his autobiography, As I Saw It, Rusk did not have a good relationship with President Kennedy. The president was often irritated by Rusk's reticence in advisory sessions and felt that the State Department was "like a bowl of jelly" and that it "never comes up with any new ideas". Special Counsel to the President Ted Sorensen believed that Kennedy, being well versed and practiced in foreign affairs, acted as his own Secretary of State. Sorensen also said that the president often expressed impatience with Rusk and felt him under-prepared for emergency meetings and crises. Rusk repeatedly offered his resignation, but it was never accepted. Rumors of Rusk's dismissal leading up to the 1964 election abounded prior to President Kennedy's trip to Dallas in 1963. Shortly after Kennedy was assassinated, Rusk offered his resignation to the new president, Lyndon B. Johnson. However, Johnson refused Rusk's resignation and retained him as the Secretary of State throughout his administration.
November 23, 1963, the day after JFK's assassination, Rusk said the US had "much unfinished business" and offered praises for both the late President Kennedy and LBJ while speaking at Andrews Air Force Base in Washington.
When Johnson died in 1973, Rusk eulogized the former President when he lay in state.
On August 29, 1964, amid the ongoing presidential election, Rusk called for bipartisan support to ensure that the US's foreign policy have both consistency and reliability and said Republican presidential nominee Barry Goldwater was creating "mischief". The following month, at a September 10 press conference in the main auditorium of the State Department, Rusk said that Senator Goldwater's critiques "reflect a basic lack of understanding" of a U.S. President's handling of conflict and peace.
On September 21, Rusk said the US would not be pushed out of the Gulf of Tonkin and that the prevention of it becoming a "communist lake" would be assured by the continued presence of American forces there.
On March 19, 1965, Rusk commented that Russia was appearing "disinclined to put its full weight behind" international agreements on Vietnam and Laos during a press conference.
After President of France Charles de Gaulle withdrew France from the common NATO military command in February 1966 and ordered all American military forces to leave France, President Johnson asked Rusk to seek further clarification from President de Gaulle by asking whether the bodies of buried American soldiers must leave France as well. Rusk recorded in his autobiography that de Gaulle did not respond when asked, "Does your order include the bodies of American soldiers in France's cemeteries?"
On April 18, 1967, during a speech in Washington in regards to ending the conflict in South Vietnam, Rusk said the United States was prepared to "take steps to deescalate the conflict whenever we are assured that the north will take appropriate corresponding steps."
Rusk offered or planned to offer to resign in the summer of 1967, because "his daughter planned to marry a black classmate at Stanford University, and he could not impose such a political burden on the president" after it became known that his daughter, Peggy, planned to marry Guy Smith, "a black Georgetown grad working at NASA". In fact, the Richmond News Leader stated that it found the wedding offensive, further saying that "anything which diminishes [Rusk's] personal acceptability is an affair of state".[1] He decided not to resign after talking first to Robert S. McNamara and Lyndon Johnson. A year after his daughter's wedding, Rusk was invited to join the faculty of the University of Georgia Law School, only to have his appointment denounced by Roy Harris, an ally of Alabama Governor George Wallace and a member of the university's board of regents, who stated that his opposition was because of Peggy Rusk's interracial marriage. The university nonetheless appointed Rusk to the position.
On January 5, 1968, notes by Rusk were delivered to Ambassador of the Soviet Union to the United States Anatoly Dobrynin, pleading support from the US to "avoid recurrence of" claimed bombing of Russian cargo ships in the Haiphong North Vietnam port the day prior.
On February 9, Rusk was asked by Senator William Fulbright over his possible information in regards to a US tactical nuclear weapons introduction in South Vietnam report.
On April 17, during an American Society of Newspaper Editors luncheon meeting, Rusk admitted that the United States has taken "some lumps" propaganda wise but the Johnson administration should persist in trying to find a location of neutrality for the peace talks to occur. The following day, Rusk added 10 sites to the 5 proposed initially, accusing Hanoi of having a propaganda battle over neutral areas for discussion during a press conference.
On June 26, Rusk assured Berlin citizens that the United States along with its North Atlantic Treaty partners were "determined" in securing Berlin's liberty and security, additionally criticizing the recent travel restrictions of East Germany as violating "long standing agreements and practice."
On September 30, Rusk met privately with Foreign Minister of Israel Abba Eban in New York City for discussion on peace plans from the Middle East.
On November 1, Rusk said long term allies of the North Vietnam bomb halt should pressure Hanoi to accelerate their involvement in the peace talks in Paris.
On December 1, citing the halt of bombing in North Vietnam, Rusk said that the Soviet Union would need to come forward and do what it could to forward peace talks in southeast Asia. On December 22, Rusk appeared on television to officially confirm the 82 surviving crew members of the Pueblo intelligence ship, speaking on behalf of the hospitalized President Johnson.
January 2, Rusk met with five Jewish American leaders in his office to assure them the US had not changed its policy in the Middle East recognizing the sovereignty of Israel, one of the leaders, the American-Israeli Public Affairs committee's Irving Kane, saying afterward that Rusk had successfully convinced him.
On July 27, 1969, Rusk voiced his support for the Nixon administration proposed anti ballistic missile system, saying that he would vote for it were he a senator from an understanding further proposals would be reviewed if any progress would be made in Soviet Union peace talks. The same year, Rusk received both the Sylvanus Thayer Award and the Presidential Medal of Freedom, with Distinction.
Following his retirement, he taught international law at the University of Georgia School of Law in Athens, Georgia (1970–1984). Rusk died of heart failure in Athens, Georgia on December 20, 1994, at the age of 85. He and his wife are buried at the Oconee Hill Cemetery in Athens-Clarke County, Georgia.
Rusk Eating House, the first women's eating house at Davidson College, was founded in 1977 and is named in his honor. The Dean Rusk International Studies Program at Davidson College is also named in his honor.
Dean Rusk Middle School, located in Canton, Georgia, was named in his honor, as was Dean Rusk Hall on the campus of the University of Georgia.
Actor Henry Strozier played Secretary Rusk in Thirteen Days, a 2000 American historical political thriller film directed by Roger Donaldson, dramatizing the Cuban Missile Crisis of 1962. The film is almost entirely from the perspective of President John F. Kennedy (Bruce Greenwood) and his advisers.
Actor Ray Wise portrays Dean Rusk in X-Men: First Class, a film centered on the fictionalized Cuban Missile Crisis. Wise is only credited as "Secretary of State."