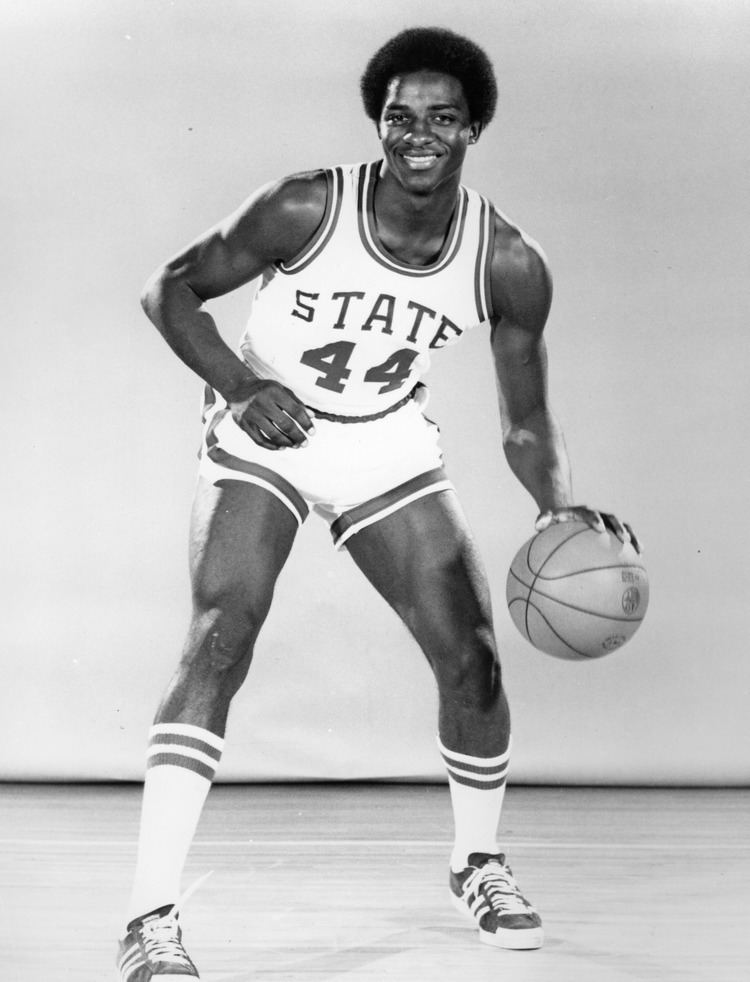 Thompson attended Crest Senior High School and he played for the school's Varsity Basketball team for four years. He starred in the North Carolina Coaches Association's East-West All-Star Basketball Game in 1971. Thompson is a first cousin of Alvin Gentry, both growing up in Shelby, North Carolina.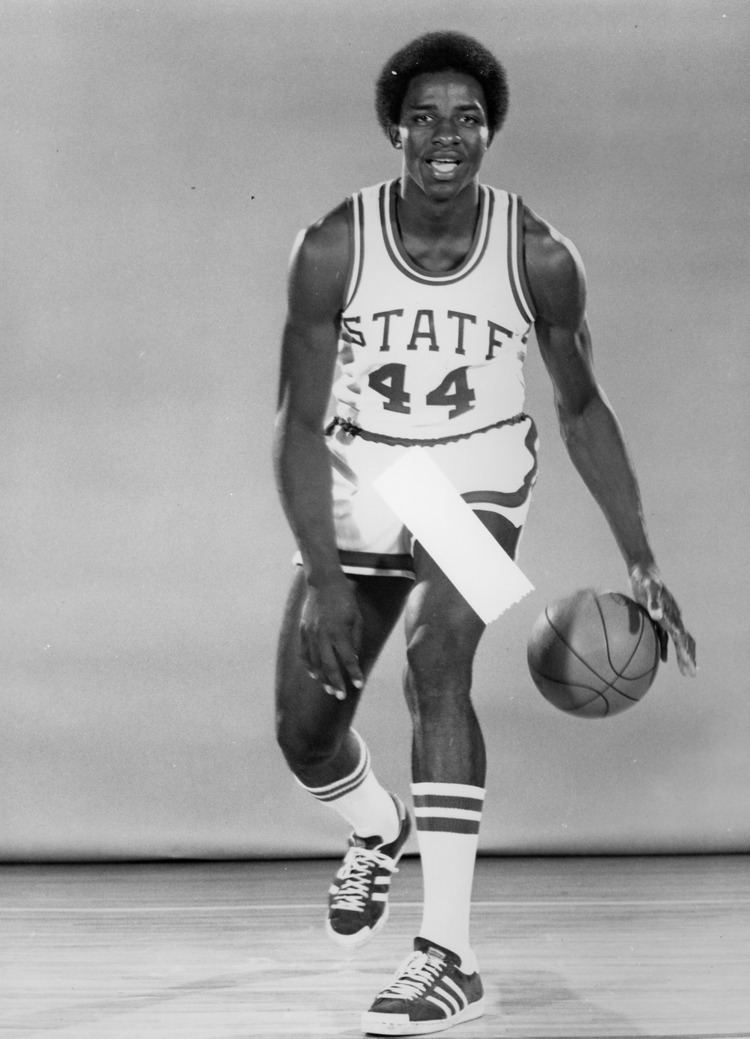 Thompson led North Carolina State University to an undefeated season (27-0) in 1973, but the Wolfpack was banned from post-season play that year due to NCAA rules violations involving the recruiting of Thompson. He then led the Wolfpack to a 30-1 season and the NCAA Men's Division I Basketball Championship in 1974. In the semifinal game NCSU defeated the reigning national champions, the University of California, Los Angeles (UCLA) Bruins in double overtime. In the championship game they won easily over Marquette 76-64. His nickname was "Skywalker" because of his incredible vertical leap. The alley-oop pass, now a staple of today's high-flying, above-the-rim game, was "invented" by Thompson and his NC State teammate Monte Towe, and first used as an integral part of the offense by NC State coach Norm Sloan to take advantage of Thompson's leaping ability.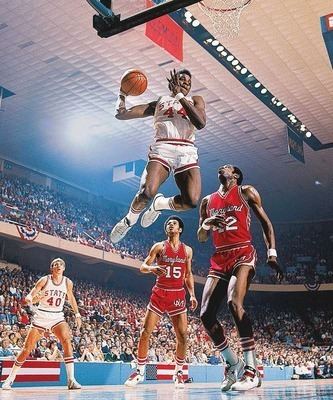 NC State's game against the nationally 4th-ranked University of Maryland Terrapins in the 1974 ACC Tournament finale, in an era in which only conference champions were invited to the NCAA Tournament, is considered one of the best college basketball games of all time. Thompson and teammate Tommy Burleson led the #1-ranked Wolfpack to a 103-100 win in overtime. Thompson and the Wolfpack would go on to win the national championship that year. Maryland's exclusion from the NCAA Tournament due to the loss, despite their high national ranking, would lead to the expansion of the NCAA Tournament the very next season to include teams other than the league champions.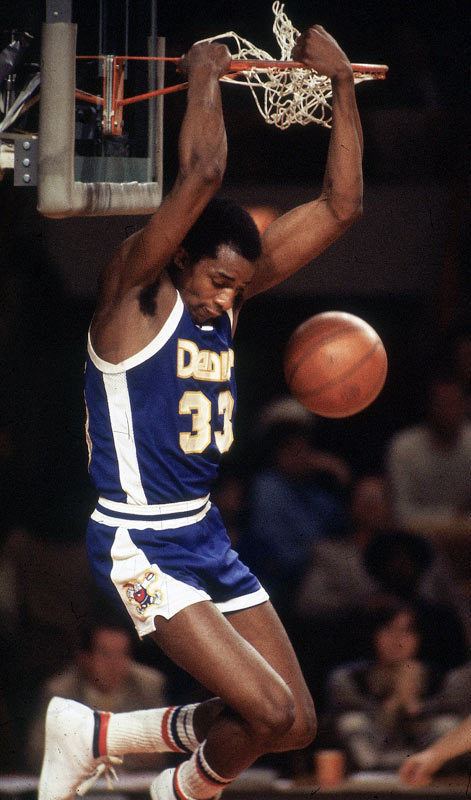 Thompson is considered one of the greatest players in the history of the Atlantic Coast Conference, among such talents as Michael Jordan, Ralph Sampson, Tim Duncan, and Len Bias.
Thompson played basketball while the slam dunk was outlawed by the "Lew Alcindor" rule. In 1975, playing his final home game at NC State against UNC-Charlotte, late in the second half Thompson on a breakaway received a long pass from a teammate, resulting in the first and only dunk of his collegiate career, a goal that was promptly disallowed by technical foul. Head coach Norm Sloan removed Thompson to thunderous applause. The ACC's most exciting player, who had performed for three years without ever executing the game's most exciting act, thus passed into history.
Michael Jordan, who grew up in Wilmington, North Carolina, said that Thompson was his basketball role model as a young man. At some of the basketball camps that Jordan later ran, Jordan would often tell the campers, "He was the guy I looked up to when I was your age." For this reason, Thompson was asked by Jordan in 2009 to introduce him to the Basketball Hall of Fame.
Thompson's 44 remains the only number NC State ever retired in men's basketball (although others have been "honored"). It was retired at his last home game.
Thompson was the No. 1 draft pick of both the American Basketball Association (Virginia Squires) and the National Basketball Association (Atlanta Hawks) in the 1975 drafts of both leagues. He eventually signed with the ABA's Denver Nuggets. Explaining his choice between the establishment NBA and the ABA—which offered less real money (but more "deferred" over the life of the contract)—Thompson said when he met with the Hawks, the organization had seemed almost uninterested, to the point of treating him to a meal at McDonald's. Thompson also told the Denver Nuggets he wanted his friend and point guard at N.C. State Monte Towe to have a chance to play in the NBA, and Denver signed Towe to a 2-year contract.
Thompson and Julius Erving were the finalists in the first ever Slam-Dunk Competition, held at the 1976 ABA All-Star Game at McNichols Sports Arena in Denver. The competition organizers had arranged the seedings to assure a final round pairing these two dynamic players. Erving won with the first ever foul-line dunk, to this day the standard for leaping and dunking prowess. Thompson, inexplicably, performed even more difficult dunks in warmups, but not in the competition itself—including a dunk called the "cradle the baby" whereby he cradled the ball in the crook of his arm, raised it above the rim, and punched it through. (See Loose Balls by Terry Pluto) Thompson won the MVP of the 1976 ABA All-Star Game, and as a prize, he received a credenza television set.
After the ABA–NBA merger in 1976, Thompson continued with the Nuggets through the 1981–82 season, after which he was traded on June 17, 1982 to the Seattle SuperSonics.
Thompson made the NBA All-Star Game four seasons, and reached his peak in 1978 season. On April 9, 1978, the last day of the regular NBA season, Thompson scored 73 points against the Detroit Pistons in an effort to win the NBA scoring title (he barely lost the scoring title to San Antonio's George Gervin, who scored 63 points in a game played later that same day). He also led the Denver Nuggets to the NBA playoffs, but they lost to the eventual Western Conference champion Seattle SuperSonics.
After the 1978 season, Thompson signed a record-breaking contract for $4 million over five-years. That amount was more than any basketball player ever had previously been paid. However, from that point, injuries and persistent problems with substance abuse would trouble Thompson and to the significant detriment of the remainder of his NBA career, which came to an end after the 1983–84 season. He severely injured his knee at the notorious Studio 54, epicenter of the New York party scene and antithesis of his humble beginnings. He attempted a comeback with the Indiana Pacers in 1985 but was unsuccessful.
Following his NBA career, Thompson continued using drugs and alcohol. With encouragement from a pastor, he became a committed Christian and reorganized his life. Thompson now devotes his time to working with young basketball players, helping them to aspire to his achievements and avoid his mistakes. His autobiography, Skywalker, charts the highs and lows of his eventful life.
Thompson was enshrined in the Basketball Hall of Fame as a player on May 6, 1996.
Thompson eventually returned to school at North Carolina State, and in 2003 nearly 30 years after his last game for the Wolfpack he finished his degree in sociology. In 2004 David helped make a movie about his life called "Skywalker". Much of the movie was filmed at the Boys and Girls Club in Gastonia, North Carolina with the assistance of Scott Jimison, a long-time friend of David.
On September 7, 2009, It was announced that Michael Jordan had chosen Thompson to introduce him for his Basketball Hall of Fame induction.
Thompson and his wife Cathy have two daughters, Erika and Brooke. He shared the stage with his daughter Erika when the two graduated together on Dec. 17. 2003, after he returned to earn his sociology degree. His daughter, Brooke, was a participant on Global GUTS.
Thompson's first professional year (1975–1976) was spent in the ABA. The rest of his career he played in the NBA due to the ABA–NBA merger in 1976.
Three-year letter winner (1973–1975)
The Sporting News national Player of the Year (1975)
USBWA College Player of the Year (1975)
Consensus First-Team All-America (1973, 1974, 1975) by Associated Press (AP), United Press International (UPI), Eastman Kodak, The Sporting News
AP National Player of the Year (1974, 1975)
UPI Player of the Year (1975)
Eastman Kodak Award (1975)
Naismith Award (1975)
Adolph Rupp Trophy (1975)
Coach & Athlete Magazine Player of the Year (1975)
2× AP Player of the Year (1974, 1975)
Helms Foundation Player of the Year (1974, 1975)
National Association of Basketball Coaches Player of the Year (1975)
United States Basketball Writers Association Player of the Year (1975)
Dunlop Player of the Year (1975)
Sullivan Award finalist (1974, 1975)
Atlantic Coast Conference (ACC) Player of the Year (1973, 1974, 1975)
ACC Athlete of the Year (1973, 1975)
All-ACC First Team (1973, 1974, 1975)
North Carolina State retired his jersey number 44 (1975)
Led North Carolina State to the 1974 NCAA championship (30-1 record), 76-64 over Marquette University
In national semi-final win over UCLA, scored 28 points
In championship game, scored 21 points against Marquette
Most Valuable Player (MVP), NCAA Tournament (1974)
Led Wolfpack to a 79-7 record during his final three season (freshmen were ineligible then) including 57-1 during his sophomore and junior seasons (27-0, 30-1), the best in ACC history. His senior year record was 22-6.
Scored 2,309 points (26.8 ppg) in 86 varsity games; including highs of 57 points as a senior, 41 as a junior and 40 as a sophomore
Averaged 35.6 ppg, including a 54-point high on the North Carolina State freshman team
Grabbed 694 rebounds (8.1 rpg) in 86 games
World University Games MVP (1973)
Enshrined in North Carolina Sports Hall of Fame (1982)
NCAA All-Decade Team of the 1970s
Named to the ACC 50th Anniversary men's basketball team as one of the fifty greatest players in ACC history
The Sporting News ABA Rookie of the Year (1976)
ABA Rookie of the Year (1976)
All-ABA (1976)
MVP, 1976 ABA All-Star Game
Competed in first ever slam dunk contest during half time of the 1976 ABA All-Star Game, eventually taking second to Julius Erving
All-NBA First Team (1977, 1978)
Four-time NBA All-Star
MVP, 1979 NBA All-Star Game
Only player in history named MVP of both the ABA and NBA All-Star Games
Scored a career-high 73 points against Detroit (April 9, 1978)
One of only 20 NBA players to have scored 60 or more points in a game.
Scored a then-NBA record 32 points in the second quarter against Detroit Pistons, a record that was broken by George Gervin (33 against New Orleans Jazz on the same day ) when Gervin won the 1978 scoring title with a 63-point output
The Nuggets retired his jersey number 33 (Nov. 2, 1992)
Colorado Professional Athlete of the Year (1977)
Scored 2,158 points (26.0 ppg) in the ABA
Scored 11,264 points (22.1 ppg) in the NBA
Atlanta's first pick in the 1975 NBA draft (and first pick overall)
Virginia's first pick in the 1975 ABA draft