Residence

El Cajon, California




Name

David Jeremiah




Nationality

American




Role

Author




Occupation

Pastor Author




Spouse

Donna Jeremiah (m. 1963)




Website

davidjeremiah.org








Full Name

David Paul Jeremiah




Born

February 13, 1941 (age 74) (

1941-02-13

)

Toledo, Ohio, United States




Education

Dallas Theological Seminary Additional studies at Grace Theological Seminary Doctor of Divinity (honorary) Cedarville University




Religion

Evangelical Christian-Baptist




Employer

Shadow Mountain Community Church




Children

Daniel Jeremiah, Jan Jeremiah, Jennifer Jeremiah, David Michael




Parents

James T. Jeremiah, Ruby Jeremiah




Books

Agents of the Apocalyp, I Never Thought I'd See the D, The Joy of Encouragement, Life Wide Open, What Are You Afraid Of?




Similar People

Chuck Swindoll, Charles Stanley, Adrian Rogers, John Hagee, Tony Evans




Profiles




Facebook
Overcomer - Session 1 Preview - Video Bible Study with Dr. David Jeremiah
David Paul Jeremiah (born February 13, 1941) is a conservative evangelical Christian author, founder of Turning Point Radio and Television Ministries and senior pastor of Shadow Mountain Community Church, a Southern Baptist megachurch in El Cajon, California, a suburb of San Diego.
Contents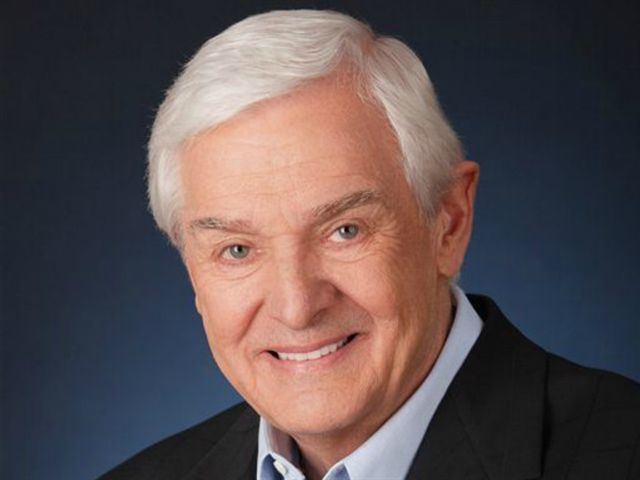 Biography
Jeremiah was born in Toledo, Ohio in 1941 to Ruby Jeremiah and James T. Jeremiah, a Baptist pastor and former president of Cedarville University.
Jeremiah earned a bachelor's degree from Cedarville University (1963) and a master's degree from Dallas Theological Seminary (1967). Cedarville presented him with an honorary Doctor of Divinity degree in 1981.
Jeremiah succeeded Tim LaHaye as Shadow Mountain Community Church's senior pastor in 1981. Jeremiah's leadership of the church has led it to become affiliated with the Southern Baptist Convention.
In 1982, Jeremiah founded Turning Point Ministries which focuses on multi-media Bible instruction. Its flagship program is Turning Point, a half-hour radio program that airs Jeremiah's sermons. Jeremiah has won awards over the years through the Turning Point program, such as the 2006 National Religious Broadcasters award for Best Radio Teaching Program. Turning Point Ministries also developed a national television program in 2000. The television program features a 30-minute Bible study followed by an hour of preaching and worship music.
Turning Point can be heard worldwide on more than 2000 stations, as well as online. Dr. Jeremiah's radio program is available to over 480 million listeners in numerous countries. Additionally, Turning Point Television reaches a total of 2.7 billion households worldwide.
Momento Decisivo, the Spanish language edition of Turning Point, is now available in every country that has a Spanish speaking population.
In addition to being a pastor and leading Turning Point Ministries, Jeremiah is the author of numerous books on Christian theology and morality. Prayer – The Great Adventure won the 1998 Gold Medallion Award for Best Christian Living Book and My Heart's Desire won the 2003 Gold Medallion Award for Best Inspirational Book
In 1994 and again in 1998, Jeremiah was diagnosed with lymphoma. In 1999, a nodule was surgically removed from his neck and he underwent stem cell transplant therapy.
Jeremiah's son, Daniel, is a former NFL scout, and is currently an analyst with the NFL Network.
Jeremiah currently serves on President Donald Trump's evangelical advisory board.
Works
Jeremiah is a nine-time New York Times Best-Selling author. He has authored or co-authored 54 books.
Since 2013, David Jeremiah's "The Jeremiah Study Bible: NKJV" has sold more than 340,000 copies. The Bible is now available in the most widely read Bible translation, the NIV (New International Version).
Jeremiah's latest book, Is This The End? Signs of God's Providence in a Disturbing New World, released in October 2016 was featured on the New York Times Best Seller's list. The book was also featured on USA Today's Best Seller's list and on the Wall Street Journal's Best Seller's list as well.
Books
David Jeremiah; Philippians: Twenty-Six Daily Bible Studies 1983, B C M Publications ISBN 0-86508-208-1
David Jeremiah and C.C. Carlson; The Handwriting on the Wall 1992, W Publishing Group (256 pages) ISBN 0-8499-3365-X
David Jeremiah; Turning Toward Joy/Philippians 1992, Chariot Victor Publishing (237 pages) ISBN 1-56476-009-X
David Jeremiah; Turning Toward Integrity 1993, Chariot Victor Publishing (238 pages) ISBN 1-56476-070-7
David Jeremiah; Acts of Love 1994, Vision House, (204 pages) ISBN 1-885305-00-1
David Jeremiah and C.C. Carlson; Invasion of Other Gods 1996, W Publishing Group (240 pages) ISBN 0-8499-3987-9
David Jeremiah; What the Bible Says About Angels 1996, Multnomah (222 pages) ISBN 0-88070-902-2 (Paperback ISBN 1-57673-336-X)
David Jeremiah; The Power of Encouragement 1997, Multnomah ISBN 1-57673-135-9
David Jeremiah; Gifts from God: Encouragement and Hope for Today's Parents 1999, Chariot Victor Publishing (240 pages) ISBN 1-56476-766-3
David Jeremiah; Escape the Coming Night 2001, W Publishing Group (276 pages) ISBN 0-8499-4368-X
David Jeremiah; Stories of Hope from a Bend in the Road 2001, J. Countryman (128 pages) ISBN 0-8499-5708-7
David Jeremiah; Until I Come 2001, W Publishing Group (212 pages) ISBN 0-8499-4275-6
David Jeremiah; A Bend in the Road: Finding God When Your World Caves In 2002, W Publishing Group (208 pages) ISBN 0-8499-4333-7
David Jeremiah; Sanctuary: Finding Moments of Refuge in the Presence of God 2002, Integrity Publishers (384 pages) ISBN 1-59145-023-3
David Jeremiah; His Majesty's Melody 2003, Integrity Publishers (40 pages) ISBN 1-59145-046-2
David Jeremiah; The Things That Matter: Living a Life of Purpose Until Christ Returns 2003, W Publishing Group (96 pages) ISBN 0-8499-1794-8
David Jeremiah; My Heart's Desire: Living Every Moment in the Wonder of Worship 2004, Integrity Publishers (224 pages) ISBN 1-59145-154-X
David Jeremiah; Prayer: The Great Adventure 2004, Multnomah (272 pages) ISBN 1-59052-182-X
David Jeremiah; Searching for Heaven on Earth: How to Find What Really Matters in Life 2004, Integrity Publishers (323 pages) ISBN 1-59145-066-7
David Jeremiah; The Prayer Matrix: Plugging into the Unseen Reality 2004, Multnomah (96 pages) ISBN 1-59052-181-1
David Jeremiah; When Your World Falls Apart 2004, W Publishing Group (304 pages) ISBN 0-8499-0436-6
David Jeremiah; Life Wide Open: Unleashing the Power of a Passionate Life 2005, Integrity Publishers (205 pages) ISBN 1-59145-319-4
Thomas Kinkade and David Jeremiah; The Secret of the Light 2005, J. Countryman (96 pages) ISBN 1-4041-0108-X
David Jeremiah; Captured by Grace: No One Is Beyond the Reach of a Loving God 2006, Integrity Publishers (216 pages) ISBN 1-59145-389-5
David Jeremiah; God in You: Releasing the Power of the Holy Spirit in Your Life 2006, Multnomah Publishers Inc (348 pages) ISBN 1-59052-803-4
David Jeremiah, Why the Nativity? 2006, Tyndale (155 pages)
David Jeremiah; What In the World is Going On?: 10 Prophetic Clues You Cannot Afford to Ignore 2008, Thomas Nelson (257 pages) ISBN 0-7852-2887-X
David Jeremiah, The Coming Economic Armageddon: What Bible Prophecy Warns About the New Global Economy 2010, FaithWords (293 pages) ISBN 978-0-446-56594-3
David Jeremiah, I Never Thought I'd See the Day!: Culture at the Crossroads 2011, FaithWords (253 pages) ISBN 0-446-56595-4
David Jeremiah; God Loves You: He Always Has – He Always Will 2012, FaithWords (295 pages) ISBN 978-0-446-56597-4
David Jeremiah; The Jeremiah Study Bible 2013, Worthy Publishing (2240 pages) ISBN 978-1-936-03489-5
David Jeremiah; The Heart of Jesus 2014, Worthy Publishing (128 pages) ISBN 978-1-617-95320-0
David Jeremiah; Agents of the Apocalypse: A Riveting Look at the Key Players of the End Times 2014, Tyndale Publishing, (293 pages) ISBN 978-1-4143-8049-0
David Jeremiah; Living With Confidence In A Chaotic World 2009, Thomas Nelson (235 pages) ISBN 978-0-8499-1962-6
David Jeremiah; Slaying The Giants In Your Life 2001, W Publishing Group (203 pages) ISBN 1-59328-007-6
David Jeremiah; Is This The End? Signs of God's Providence in a Disturbing New World 2016, Thomas Nelson (240 pages) ISBN 978-0-718-07986-4
Recordings
9/11: Our Nation's Emergency Call
A Bend in the Road: Experiencing God When Your World Caves in
Best of Christian Living, with Josh McDowell, Ken Hutcherson, and Tim Lahaye
Jesus' Final Warning: Hearing Christ's Voice in the Midst of Chaos
What the Bible Says About Angels
Prayer, the Great Adventure
Fathers and Daughters
Christians Have Stress Too
Raising Well Adjusted Kids (Focus on the Family), with Joe White and James Dobson
References
David Jeremiah Wikipedia
(Text) CC BY-SA