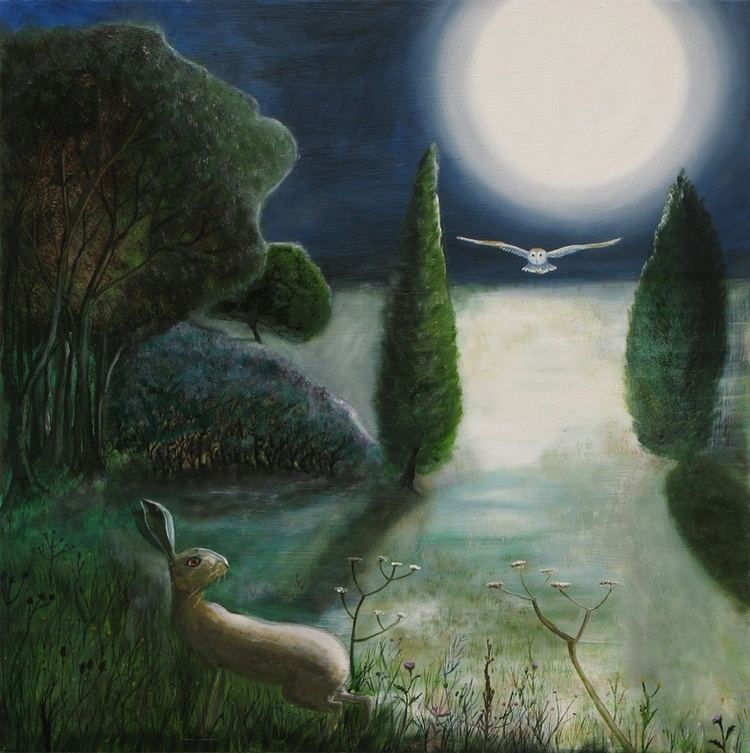 David Harrison was born in 1954 in a severely bombed part of post-war London's East End. He left secondary school in 1969 at the age of fifteen after expressing a desire to be an artist, which was not recognised by his teachers as an appropriate career for a person of working class background.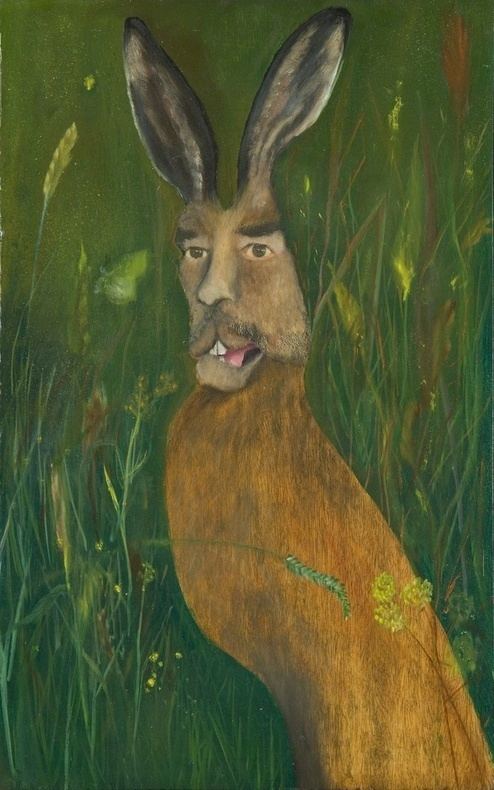 Harrison was subsequently employed by IPC Media, and concurrently began training as a bird illustrator at a local college. Malcolm McLaren also invited him to front the music projects The Sex Pistols and Masters of the Backside, with Chrissie Hynde and David Vanian, around this time. Harrison however ultimately decided to pursue his passion for art, and obtained the qualifications necessary to apply for art school while working at Nostalgia, a vintage clothes shop in Covent Garden. He subsequently completed a Foundation Diploma at Central Saint Martins, from where he also received his BA Fine Art in 1984. It was at Saint Martins that Harrison met and became lifelong friends with the artists Peter Doig and Isaac Julien, Julien making his first film with Harrison and his pet at the time, a dyed pink poodle.
David Harrison's paintings, drawings and sculptures present a world where the natural and supernatural go hand in hand. He expands the languages of contemporary painting and sculpture in order to speak vividly about our own time, drawing into play age-old symbols and fanciful mythologies, irrational beliefs, the legacy of Victorian Fairy painting, exuberant sexuality, barbed wit, modern-day politics and an inexhaustible wonder at the natural world.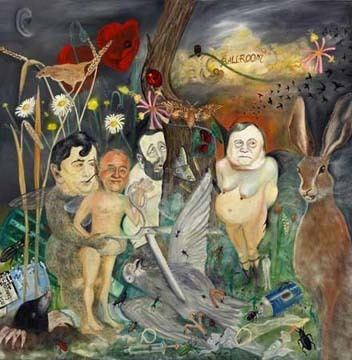 His paintings are made on canvas, wood panels or found flat objects and his sculptures often comprise cheap, prosaic and recycled materials such as cardboard off-cuts. The cast of characters that populate his works include foxes, toads and hares along with Foxglove, Belladonna and Wolfsbane fairies, biographical acquaintances and urban denizens alike, their coexistence energising an artistic world that is always rooted in reality. Our relationship to nature is of paramount importance to Harrison, who often juxtaposes mundane urban and suburban development with the vitality of plants and animals.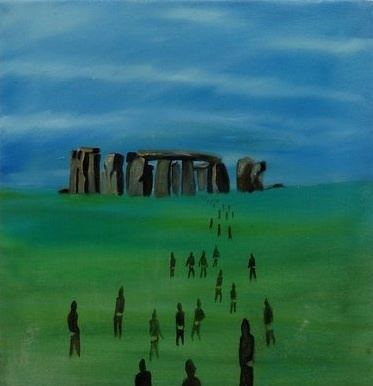 The monograph David Harrison was published in 2009 by Philip Wilson Publishers. The book includes a foreword by architectural historian Lucinda Lambton, a study of Harrison's work to date by Alistair Robinson, director of The Northern Gallery for Contemporary Art, and an interview with artist and fellow student at Central Saint Martin's, Peter Doig.
Remake Remodel, Churchgate Gallery, Porlock (2017)
Photographs, TRAMPS, London (2017)
Nightshift, Sargent's Daughters, New York (2016)
Flowers of Evil, Victoria Miro, London (2015, catalogue)
Second Nature, VW (VeneKlasen/Werner), Berlin (2012)
Existence, Victoria Miro, London (2009)
Green and Pleasant Land, Daniel Reich Gallery, New York (2008)
David Harrison, Victoria Miro, London (2005)
Sickbed, Cubitt Gallery, London (2001)
One-Man Show, Cowboys and Poodles, San Francisco (1986)
House Work, Victoria Miro, London (2017)
Inspired by Soane: I found this and thought of you… Sir John Soane's Museum, London (2015)
lady work work, TRAMPS, London (2014)
Night Studio, Vilma Gold, London (2012)
Each for Oneself and God Against All, Galeria OMR, Mexico City (2007)
Defining the Contemporary, Whitechapel Gallery, London (2006)
London Now: Are We In Love Yet?, Arts Centre St. Petersburg, Florida (2005)
Thinking the Unthinkable or Against Nature, Northern Gallery for Contemporary Art, Sunderland (2005)
Dead Bird Show, Whitechapel Project Space, London (2004)
Collage, Bloomberg Space, London (2004)