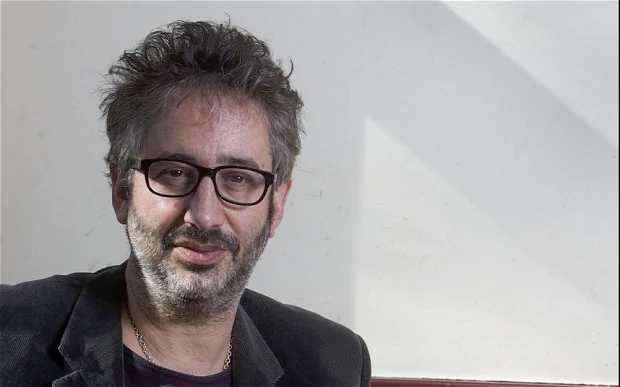 Baddiel was born in Troy, New York, and moved to England with his parents when he was four months old. His father, Colin Brian Baddiel, was a Welsh-born research chemist with Unilever before being made redundant in the 1980s, after which he sold Dinky Toys at Grays Antique Market.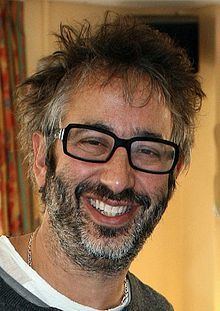 His mother, Sarah, who died in 2014, was a five months old refugee child when she was brought to the United Kingdom in 1939 by her parents after escaping from Nazi Germany, where her father, Ernst, had been stripped of his assets. Soon after their arrival, Ernst was interned as an enemy alien on the Isle of Man for a year. Baddiel is the second of three sons. His parents were both from Jewish families.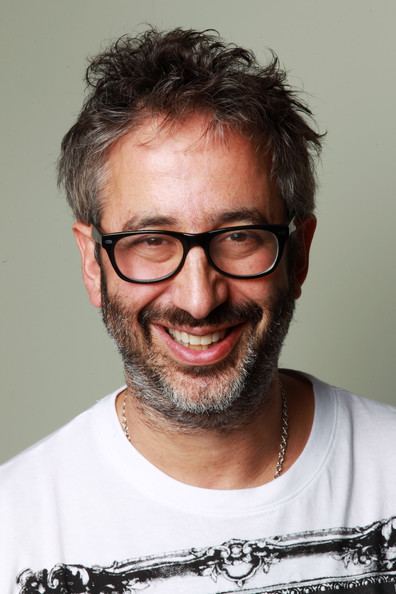 Baddiel grew up in Dollis Hill, Willesden, north London. He attended primary school at the North West London Jewish Day School in Brent. After studying at The Haberdashers' Aske's Boys' School in Elstree, an independent school near Borehamwood, Hertfordshire, he studied English at King's College, Cambridge, where he was a member of the Cambridge Footlights, and graduated with a double first. He began studies for a PhD in English at University College London but did not complete it.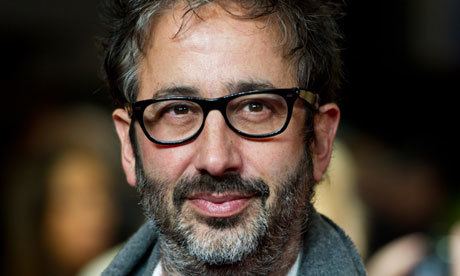 After leaving university, Baddiel became a professional stand-up comedian in London, as well as a writer for acts including Rory Bremner and series including Spitting Image. His first television appearance came in one episode of the showbiz satire,Filthy, Rich and Catflap. In 1988, he was introduced to Rob Newman, and the two formed a writing partnership. Subsequently, paired up with Steve Punt and Hugh Dennis another comedy duo, they began writing and performing in The Mary Whitehouse Experience, on BBC Radio 1 where the show ran for four series and a special. This success led the show to transfer to BBC2 where it ran for two series, after which both duos decided to end the show. During this time, Baddiel also co-hosted the Channel 4 programme, A Stab in the Dark.
Once ''The Mary Whitehouse Experience'' had concluded, Baddiel and Newman decided to once again team up for Newman and Baddiel in Pieces which ran for seven episodes on BBC2 featuring character sketches, as well monologues and observation routines. Despite a famously tense working relationship, the show saw Newman and Baddiel find enormous success as live performers, held up as examples of comedy as 'the new Rock'n'Roll', with their tour (Newman and Baddiel: Live and In Pieces) culminating in the first-ever sold-out gig for a comedy act at Wembley Arena, playing to 12,500 people. Despite this success, increasing tension between the pair led to them announcing that the tour would be their last. Their final tour was also the subject of a BBC2 documentary, Newman and Baddiel on the Road to Wembley.
Baddiel subsequently met and began sharing a flat with fellow comedian Frank Skinner. Both lifelong football fans, the pair created, wrote and performed Fantasy Football League, a popular entertainment show based on the growing fantasy football craze. Running for three series on BBC2, followed by a series of live specials throughout the 1998 World Cup and then again through the 2004 European Championship, as well as a series of podcasts for The Times from Germany at the 2006 World Cup, and another series for Absolute Radio from South Africa during the 2010 World Cup (amassing over three million downloads). During this time the duo also twice topped the UK Singles Chart with the football anthem Three Lions, co-written and performed with The Lightning Seeds. The song was originally written as the England football team's official anthem for UEFA Euro '96, and was subsequently re-recorded with updated lyrics as the unofficial anthem for the 1998 World Cup.
After ending Fantasy Football League, the pair took an improvised question-and-answer show to the Edinburgh Fringe which then became a television series, Baddiel and Skinner Unplanned, which ran for five series on ITV, as well as a West End run at the Shaftesbury Theatre in 2001.
The pair also appeared on a celebrity special of Who Wants to be a Millionaire? in 2001, becoming the first celebrity contestants to reach £250,000 for their charities, the Catholic Children's Society and the Imperial Cancer Research Fund.
Baddiel has written four novels, Time for Bed (1996), Whatever Love Means (2002), The Secret Purposes (2006) and The Death of Eli Gold (2011). In June 2015, Baddiel published his first children's novel, The Parent Agency which won the LOLLIE award (formally the Roald Dahl Funny Book Awards) for 'best laugh out loud book for 9-13 year olds' and is now being developed into a feature film by, also written and produced by Baddiel, by Fox 2000 Pictures. His subsequent children's novels include The Person Controller (2015), AniMalcolm (2016) and The Boy Who Could do What He Liked, a short story published for World Book Day 2016.
In 2001, Baddiel wrote and starred in Baddiel's Syndrome, a sitcom for Sky 1 which also starred Morwenna Banks, Stephen Fry and Jonathan Bailey which ran for fourteen episodes. He also wrote the hit comedy film, The Infidel, starring Omid Djalili, Richard Schiff, Matt Lucas and Miranda Hart. Baddiel has since adapted the film into a musical with music by Erran Baron Cohen. Baddiel directed the production which ran at London's Theatre Royal Stratford East in late 2014. Baddiel's other writing credits include The Norris McWhirter Chronicles for Sky 1 which starred Alistair McGowan and John Thomson and which Baddiel also directed, and two episodes of the ITV reboot of Thunderbirds, Thunderbirds Are Go!
In 2004 Baddiel created and hosted Heresy, a BBC Radio 4 panel show which sees celebrity guests trying to overthrow popular prejudice and received wisdom. The show is currently in its 10th series, and has been hosted by Victoria Coren since 2008, with Baddiel returning regularly as a guest. In 2014 Baddiel created and hosted Don't Make Me Laugh a new panel show for Radio 4 which tasks guests with talking for as long as possible on obviously humorous subjects without getting laughs. The second series aired in 2016. In 2015, he created and fronted David Baddiel Tries to Understand..., a BBC Radio 4 show which sees Baddiel try to understand famously complex subjects as suggested by his followers on Twitter.
Baddiel has appeared in shows including Little Britain, Skins, The Life of Rock with Brian Pern and Horrible Histories and is a regular guest on panel shows including 8 Out of 10 Cats Does Countdown, QI and Alan Davies' As Yet Untitled. In 2016, he fronted a four-part travel documentary for Discovery entitled David Baddiel On the Silk Road, a 4,000 mile journey to explore the most famous trade route in history, as well as presenting two episodes of BBC2's Artsnight and becoming a regular present of The Penguin Podcast in which he interviews authors and the objects that inspired their books which has seen him interview guests including Johnny Marr, Zadie Smith and Ruby Wax. Other documentaries he has fronted include Baddiel and the Missing Nazi Billions (BBC2), Who Do You Want Your Child to Be? (BBC2), World's Most Dangerous Roads (BBC2) and an episode of Who Do You Think You Are? (BBC1).
Baddiel has also filmed a documentary about his father's dementia, The Trouble with Dad. This was screened on Channel 4 in 2017.
In 2013, Baddiel returned to stand-up comedy with his critically acclaimed show FAME: Not the Musical, which ran at the Edinburgh Festival Fringe before transferring to London's Menier Chocolate Factory and a subsequent nationwide tour. In Spring 2016 Baddiel premiered his latest show, My Family: Not the Sitcom, again at the Menier Chocolate Factory. The confessional show tells the true story of Baddiel's recently deceased mother and dementia-suffering father.
Following a five-week run, the show transferred to London's West End in September 2016 for another five-week run at the Vaudeville Theatre. In spring 2017 it was announced that the show would return to the West End for one final ten-week run at the Playhouse Theatre in March 2017. In the same month, it was announced that the show was nominated for an Olivier Award, in The Entertainment And Family category.
Baddiel is a patron of the Campaign Against Living Miserably. He acted as compere for the Stand-Up to Stop Suicide event organised by Claire Anstey and the charity, and has appeared on radio advertisements publicising the issue of young male suicide.
In February 2009 he and several other entertainers wrote an open letter printed in The Times supporting Bahá'í leaders then on trial in Iran.
Following his experiences with his father, David has worked closely with a number of charities supporting the victims of dementia and their families. He performed a special one-off charity gala of his My Family: Not the Sitcom show at the Vaudeville Theatre with all proceeds from the evening being split between Alzheimer's Society, The National Brain Appeal and The Unforgettable Foundation. There were also collections made for the charities throughout the run of the show.
In 2017 it was announced that Baddiel would take part in Comic Relief's Red Nose Convoy, in which three pairs of celebrities travel in convoy from Kenya to Uganda delivering aid.
Baddiel has two children with his partner, fellow comedian Morwenna Banks - daughter Dolly (born 2001) and son Ezra (born 2004). They live in north London.
Baddiel's book, The Secret Purposes, is based in part on the internment of his grandfather on the Isle of Man during the Second World War. His father is from Swansea and his mother was born in Nazi Germany, a swastika appearing on her birth certificate. An episode of the BBC's genealogy series Who Do You Think You Are? investigated his heritage in some detail, but failed to prove his theory that his mother had been secretly adopted from another Jewish family who had no hope of escaping. Despite his upbringing, he has described himself as a "10 out of 10 atheist" and as a "fundamentalist" "Jewish atheist".
During an appearance on the Channel 4 topical panel show 8 Out of 10 Cats (26 May 2006) he revealed that he had been voted the "World's 6th Sexiest Jew". He appeared in a special episode of What Not to Wear where fashion gurus Trinny Woodall and Susannah Constantine gave him a makeover.
Baddiel supports Chelsea F.C.
He is a big fan of the rock band Genesis and introduced the band at their Turn It On Again: The Tour press conference in 2006. He also provided sleeve notes for the reissue of the album Nursery Cryme as part of the Genesis 1970–1975 box set. Baddiel is also a fan of the band's former lead singer Peter Gabriel. A diarist for The Times once incorrectly reported that he had been "loud and offensive" while attending one of Gabriel's concerts, something Baddiel has referred to in his live act. Baddiel is also a fan of David Bowie and marked the singer's 65th birthday in 2012 by expressing a desire on Twitter to see him come out of retirement. Baddiel attended the tribute concert to Bowie at London's Union Chapel following the musician's death and addressed the audience, describing Bowie as "the greatest tunesmith we have".