Wingspan

16 m




Manufacturer

Dassault Aviation




Length

17 m






Engine types

General Electric CF700, Turbofan
truesound classic dassault falcon 20 takeoff from ft lauderdale 3 11 16
The Dassault Falcon 20 is a French business jet. It was the first of a family of business jets built by Dassault Aviation.
Contents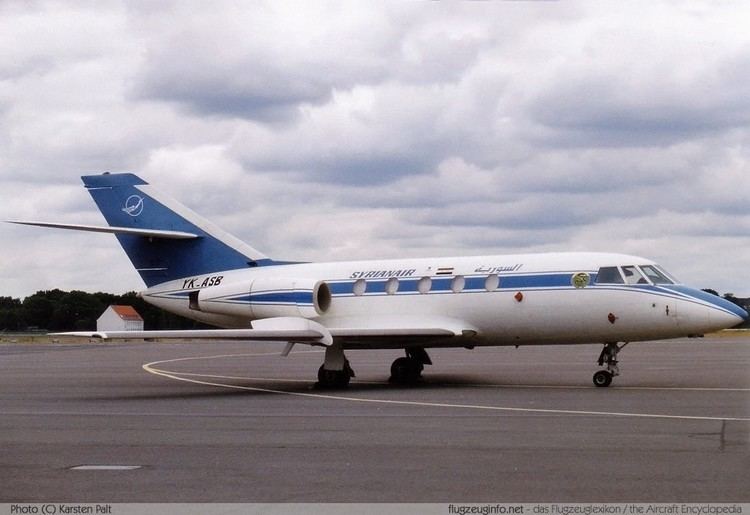 Aerovision dassault falcon 20e 5 flight from paris le bourget lbg to toulon hy res tln france
Design and development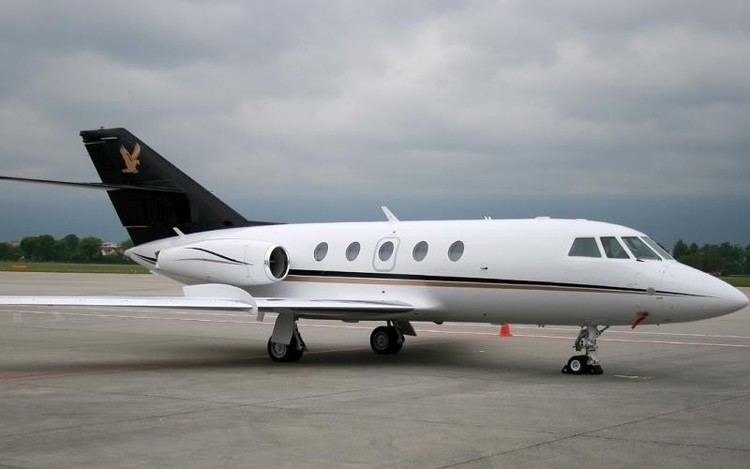 Marcel Dassault gave the go-ahead for production of an eight- or ten-seat executive jet or military liaison aircraft the Dassault-Breguet Mystère 20 in December 1961. The Mystère 20 was a low-wing monoplane with two rear-mounted Pratt & Whitney JT12A-8 engines. The prototype, registered F-WLKB, first flew on 4 May 1963 at Bordeaux-Merignac. Under the influence of Pan American the aircraft was re-engined with two General Electric CF700 engines and some dimensions were increased. Pan American signed a contract to distribute the Mystère 20 in the western hemisphere and ordered 40 aircraft with options on 120. The re-engined aircraft first flew on 10 July 1964. The first production aircraft flew on 1 January 1965 and both French and American certification was awarded in June 1965. On 10 June 1965, Jacqueline Auriol set the women's world record speed in the first Mystère 20 prototype, F-WLKB, with an average speed of 859 kilometers per hour over 1000 km. This prototype was used in the 1966 comedy How to Steal a Million, starring Audrey Hepburn and Peter O'Toole. Deliveries began to the Pan American outfitting facility at Burbank Airport, California. In 1966 the company redesignated the American-delivered aircraft as the Fan Jet Falcon, this later became the Falcon 20. Military orders from Australia and Canada were received. All non-American aircraft were fitted out before delivery at Bordeaux-Merignac. In 1967 Pan American Business Jets Division, a business unit of Pan American World Airways, increased their firm orders to 160 aircraft.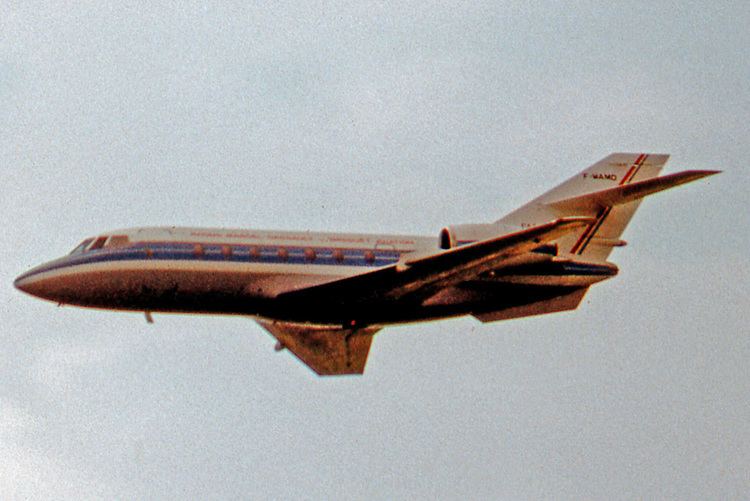 Some Falcon 20s powered by General Electric CF700 engines were re-engined with Garrett TFE731 engines under AMD-BA Service Bulletin No. 731. These aircraft were redesignated with a "-5" after the model number. Volpar, Inc. worked on a program to reengine Falcon 20s with the Pratt & Whitney Canada PW305 engines, but the program was abandoned before a FAA STC was awarded.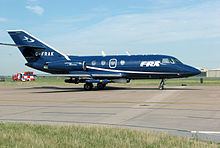 Supplemental Type Certificate SA5858S issued by the US FAA held by Dassault Falcon Jet allows the installation of underwing pylons on the Fan Jet Falcon, Fan Jet Falcon Series D and Fan Jet Falcon Series E. This modification is commonly used to modify Falcon 20s to operate as special mission aircraft with underwing stores.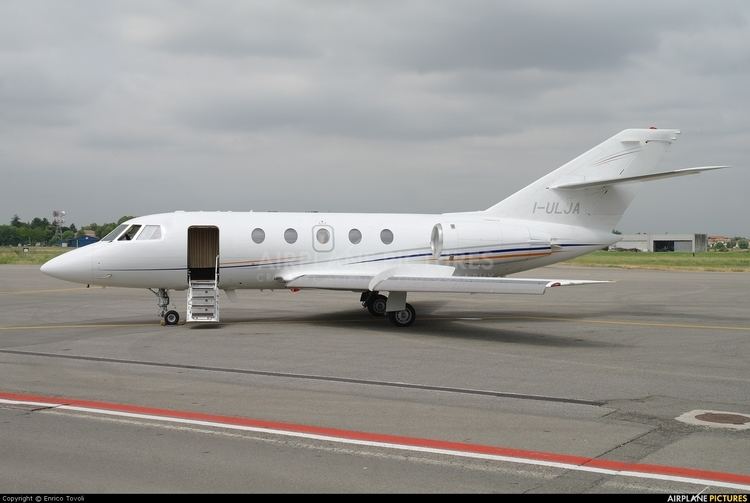 The improved Falcon 200 featured more advanced jet engines and other major improvements to increase range, capacity and comfort. The aircraft proved to be so popular that production did not end until 1988, being superseded by more advanced developments of the Falcon family. The Falcon 20G, HU-25 and Falcon 200 were powered by Garrett ATF3 engines. A total of 473 Falcon 20s and 35 Falcon 200s were built by the time production ended in 1988.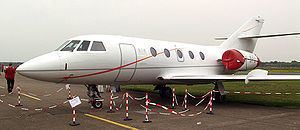 Later developments of the Falcon 20 include the smaller Falcon 10; the larger 30-seat Falcon 30 with a larger fuselage cross section, which was built and flown, but not developed; and the Falcon 50, an improved three-engined development.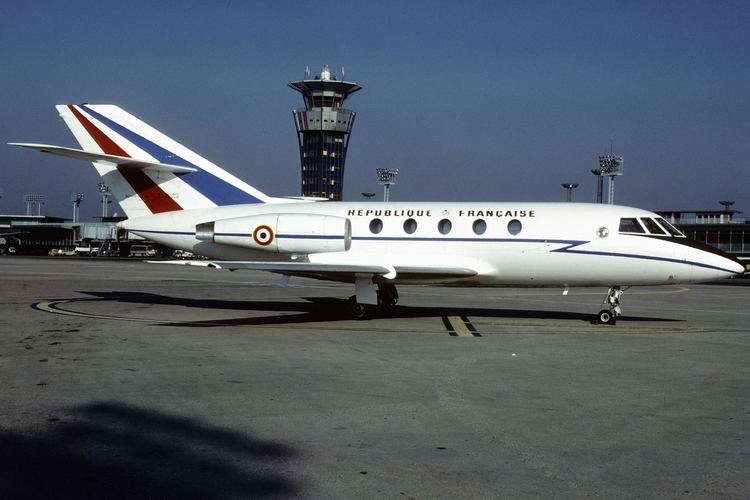 In 2012, a Falcon 20 became the first civil jet to fly on 100% biofuel when it performed a test flight for Canada's National Research Council.
In 2013, the FAA modified 14 CFR part 91 rules to prohibit the operation of jets weighing 75,000 pounds or less that were not Stage 3 noise compliant after 31 December 2015. The Falcon 20 was listed explicitly in Federal Register 78 FR 39576. Any Falcon 20s that had not been modified by installing Stage 3 noise compliant engines or had not had "hushkits" installed for non-compliant engines would not be permitted to fly in the contiguous 48 states after 31 December 2015. 14 CFR §91.883 Special flight authorizations for jet airplanes weighing 75,000 pounds or less - lists special flight authorizations that may be granted for operation after 31 December 2015.
Commercial, corporate, and private use
In April 1973, Federal Express began its air express package delivery service using Falcon 20s out of its distribution centre in Memphis, Tennessee. At the height of its use, the cargo airline flew 33 Falcon 20s, until replacing it with larger aircraft. A Falcon 20 that carried the first Federal Express air express package is now on display at the Smithsonian's Udvar-Hazy Center at Dulles Airport.
U.S. Coast Guard
The United States Coast Guard (USCG) operated a model called the HU-25 Guardian. The Guardian was used as a high-speed spotter aircraft to locate shipwreck survivors and direct slower-moving aircraft and rescue vessels, and to interdict aerial and shipborne drug trafficking. The first HU-25 was delivered in 1982; by December 1983, 41 aircraft had been acquired. The HU-25 was retired from Coast Guard service in 2014, and replaced by the HC-144 Ocean Sentry.
On 26 September 2014, following 32 years of service, the last operational HU-25 Falcon, the only jet ever to be a part of the air fleet of the US Coast Guard, was retired. The Falcon's history of importance in search and rescue, counter drug missions and as a critical asset during the Gulf War has left a major mark on the USCG's aviation legacy. The Falcon's key advantage was greater speed, allowing this plane to get on target faster, crucial for the search and rescue role, and cover great distances quickly to map oil fires during the Gulf War. This high-speed capability will be lost with this type's retirement because its replacements are much slower aircraft.
U.S. Air Force
In 1990, the United States Air Force acquired N20NY (cn 61), a Falcon 20C, for use as a testbed at MIT Lincoln Laboratory. In 2006, the USAF also acquired Coast Guard HU-25A 2125, registered as N448TB (cn 439), for use at Lincoln Laboratory.
NASA
In 2011, NASA acquired a former Coast Guard HU-25C for use in Operation IceBridge. The aircraft, based at NASA's Langley Research Center in Hampton, Virginia, is equipped with a scanning laser altimeter to collect data on Arctic surface topography.
Variants
Mystère/Falcon 20
Prototype, one built. F-WLKB. Now stored at Musée Air et Espace Aéroport Paris - Le Bourget.
Mystère/Falcon 20C
Initial production version. known in the US as the
Falcon 20 Basic
. Used the CF700-2C engines.
Falcon 20CC (s/n 073)
One aircraft similar to the Falcon 20C, equipped with low-pressure tyres (Gravel runway modification, with reinforced belly, larger wheels and no main gear doors).
Mystère/Falcon 20D
Higher thrust engines (General Electric CF700-2D) and lower fuel consumption and more fuel capacity.
Mystère/Falcon 20E
Higher thrust engines (General Electric CF700-2D-2), higher zero fuel weight.
Mystère/Falcon 20F
Full leading edge droops and more fuel capacity.
Falcon 20FH
This was the original designation of the Falcon 200 prototype.
Falcon 20G
Maritime patrol and surveillance version, equipped with two Garrett AiResearch ATF3-6-2C turbofan engines.
Falcon 20H
This was the original designation of the Falcon 200.
Falcon 200
Improved variant, powered by two 2360-kg (5,200-lb) Garrett ATF3-6A-4C turbofan engines and with more fuel. First flown 30 April 1980.
Falcon ST
This designation was given to two Falcon 20s used by the French Air Force as systems training aircraft. The aircraft were equipped with the combat radar and navigation systems of the Mirage IIIE.
HU-25A Guardian
United States Coast Guard version of the Falcon 20G. 41 built. Equipped with two Garrett AiResearch Garrett ATF3-6-2C turbofan engines.
HU-25B Guardian
Pollution control version for the US Coast Guard equipped with side-looking airborne radar (SLAR) under fuselage. Seven converted from HU-25As.
HU-25C Guardian
Drug interdiction version for the US Coast Guard, equipped with a Westinghouse APG-66 search radar and WF-360 Forward looking infrared turret. Nine HU-25As converted.
HU-25C+ Guardian
Upgrade of HU-25C, with improved AN/APG-66(V)2 radar and new FLIR turret. All nine HU-25Cs converted.
HU-25D Guardian
Upgraded HU-25A, with AN/APS-143B(V)3 Inverse synthetic aperture radar (ISAR) and same FLIR as HU-25C+. 15 upgraded.
Guardian 2
Maritime patrol and surveillance version of the Falcon 200. Never put into production.
CC-117
Canadian military designation of Falcon 20C from 1970.
Fan Jet Falcon
The Falcon 20 was marketed in North America under this name.
Falcon Cargo Jet (Falcon 20DC)
Conversion of Falcon 20 to light cargo aircraft. Large numbers purchased/converted by Federal Express for overnight courier service.
Falcon 20C-5, 20D-5, 20E-5, 20F-5
Falcon 20 aircraft equipped with Garrett TFE731-5AR-2C or TFE731-5BR-2C engines. Also includes adaptation of bleed air, anti-ice, hydraulic, fuel, electrical and engine control systems and installation of ATTCS (automatic takeoff thrust control system).
Civilian operators
Mexico
Private
United States
USA Jet Airlines
Kalitta Charters
Ameristar Jet Charter
IFL Group Inc.
France
Aerovision
United Kingdom
Cobham plc
South Africa
Guardian Air
Australia
FalconAir
Former Civilian operators
Lebanon
Government of Lebanon
Nigeria
Imani Aviation (defunct charter company)
United States
Pan Am
Grand Aire Express
Phoenix Air
Fedex Express
Ameriflight/California Air Charter
Military operators
Djibouti
Djibouti Air Force
Egypt
Egyptian Air Force
France
French Navy
Iran
Imperial Iranian Air Force, later Islamic Republic of Iran Air Force as well as Islamic Republic of Iran Army Aviation
Imperial Iranian Navy, later Islamic Republic of Iran Navy (Navy Aviation)
Iranian Revolutionary Guards Corps
Norway
Royal Norwegian Air Force
Pakistan
Pakistan Air Force - Three aircraft in service as of January 2013.
Spain
Spanish Air Force
Japan
Japan Coast Guard
Sudan
Sudanese Air Force
Syria
Syrian Air Force
Tunisia
Tunisian Air Force
Venezuela
Venezuelan Air Force
Former operators
Algeria
Angola
Australia
Royal Australian Air Force - Three in service from 1967 to 1989.
No. 34 Squadron RAAF
Belgium
Belgian Air Component - 2 Falcon 20E-5 operated from 1973 as VIP aircraft. Retired 22 December 2016.
Canada
Royal Canadian Air Force
Canadian Forces
412 Transport Squadron and No. 414 Squadron RCAF 1970-1989 as CC-117
Central African Republic
Chile
Chilean Navy
France
French Air Force
Guinea-Bissau
Military of Guinea-Bissau
Ivory Coast
Jordan
Royal Jordanian Air Force
Jordanian Royal Flight
Lebanon
Lebanese Air Force
Libya
Libyan Air Force (Mirage Weapons Trainer)
Morocco
Royal Moroccan Air Force
Nicaragua
Nicaraguan Air Force
Oman
Oman Royal Flight
Panama
Panamanian Public Forces
Peru
Peruvian Air Force
Portugal
Portuguese Air Force
South Africa
South African Air Force
United States
United States Coast Guard
Specifications (Falcon 20F)
Data from Janes's All The World's Aircraft 1980-81
General characteristics
Crew: two
Capacity: eight-14 passengers
Length: 17.15 m (56 ft 3 in)
Wingspan: 16.30 m (53 ft 6 in)
Height: 5.32 m (17 ft 7 in)
Wing area: 41.0 m² (440 ft²)
Empty weight: 7,530 kg (16,600 lb)
Max. takeoff weight: 13,000 kg (28,660 lb)
Powerplant: 2 × General Electric CF700-2D-2 turbofan, 20 kN (4,500 lbf) each
Performance
Maximum speed: 862 km/h (465 knots, 536 mph) (max cruise) at 6,100 m (20,000 ft)
Cruise speed: 750 km/h (405 knots, 466 mph) (econ cruise) at 12,200m (40,000 ft)
Stall speed: 152 km/h (82 knots, 95 mph)
Range: 3,350 km (1,808 naut mi, 2,080 mi)
Service ceiling: 12,800 m (42,000 ft) (absolute)
References
Dassault Falcon 20 Wikipedia
(Text) CC BY-SA