Written by

Yuan Shuai




Directed by

Lin Helong




Genre

RomanceActionRepublician




Created by

The Fate of Jinxiu by Yu Yi




Starring

Huang XiaomingJoe ChenKimi QiaoLv JiarongTse Kwan-hoQi Ji




Opening theme

"Fate" by Huang Xiaoming


Similar

Princess Agents, The Whirlwind Girl, Stay with Me (TV series)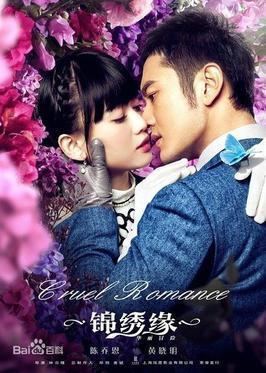 Cruel Romance (Chinese: 锦绣缘华丽冒险) is a 2015 Chinese television series starring Huang Xiaoming, Joe Chen and Kimi Qiao. It is based on the republician novel The Fate of Jinxiu by Yu Yi. It aired on Hunan TV from March 3, 2015 to March 26, 2015.
Contents
The television series is a huge commercial success, achieving high ratings throughout its run. It is the second highest rated television drama for the first half of 2015, and also surpassed 5 billion views online. Broadcasting rights of the drama were also sold to America, Malaysia, Thailand and Hong Kong.
Plot
Set in the 1930s, Rong Jinxiu (Joe Chen) was born in a renowned medical family. When her father saves her teacher Mr Chen from a gunshot wound, her entire family was killed by the Japanese. With only a piece of watch as evidence, Jin Xiu heads to Shanghai to search for her enemies. On the ferry there, she meets the famous triad leader Zuo Zhen (Huang Xiaoming). Through some entanglement, the watch ends up with Zuo Zhen. In order to retrieve her watch, Jin Xiu heads to Bai Le dance hall to look for him. There, she meets her long-lost half-sister Yin Mingzhu (Lv Jiarong), who is currently a famous dancer and the lover of Shanghai's most wealthy businessman Heng Xiangchuan (Tse Kwan-ho). However, Ming Zhu still harbors hatred for the Rong family because they abandoned Mingzhu and her sickly mother many years before.
At the dance hall, Jin Xiu gets injured in the midst of a fight between Zuo Zhen and Long Si. Zuo Zhen then brings her to a high-end hotel owned by Han Yingdong (Kimi Qiao). Thinking that she was rescued by Ying Dong, Jin Xiu develops a crush on him, which she confesses to Zuo Zhen.
In an attempt to make money and get closer to her crush, Jin Xiu takes on Zuo Zhen's job offer as a dancing hostess at Ying Dong's nightclub, The Paramount. At first, Jin Xiu is very unsuccessful because she doesn't know how to attract customers and dresses very conservatively. But after some advice from Zuo Zhen, as well as a wardrobe makeover and dancing tips from him, she becomes more successful. As she spends more time with Zuo Zhen, she slowly falls for him.
Meanwhile, Maeda Ryuichi (Qi Ji), the real murderer behind Jin Xiu's family, arrives to Shanghai and begins to stalk Jin Xiu as she resembles his first love Yang Zi, who was killed by the Japanese. In order to monopolize Shanghai's economy, Ryuichi also manipulates Ming Zhu, causing her to circle around both Ying Dong (her first love) and Han Chuan. Jin Xiu and Zuo Zhen's relationship is put in peril as they face a series of incidents and misunderstandings.
Sequel
A sequel is in the works, titled Splendid Bright Mood (锦绣缘璀璨年华), starring Huang Xiaoming with Park Shin-hye.
References
Cruel Romance Wikipedia
(Text) CC BY-SA